Ark-La-Tex Scout
Serving the local market with drilling activities, permits & multiple listings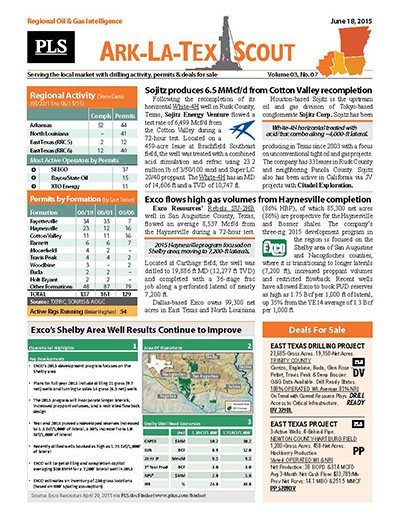 PLS publishes exploration news and drilling insights in Arkansas, Louisiana and East Texas through our Ark-La-Tex Scout. A famed area with significant of oil and gas history- this Region- known for East Texas stacked pays (Smackover, Bossier Sand, Cotton Valley, Travis Peak, Woodbine, Glen Rose, Rodessa, Pettit, James Lime, Edwards, Georgetown); Arkansas's shales (Brown Dense & Fayetteville) and North Louisiana's gas (Hosston & Haynesville) is still a core area for many operators from Dallas to Shreveport.
Stay in front of local prospects, plays & rigs!
Arkansas, Louisiana, East Texas
Hard Copy and Email For 1 Individual
Every 3 to 4 Weeks (12-16 issues per year)
Regional discoveries, drilling activity, permits,
completions and summary drilling statistics, layered
with regional listings and business opportunities
Web access to the Ark-La-Tex Scout archive
Does not include access to MLS
$ 695 /Yr
Search PLS' News Archive for complete oil & gas news for Ark-La-Tex Scout .
See what it is about before you buy. View a sample issue of Ark-La-Tex Scout.
Need more information? Click the button to recieve more details about the Ark-La-Tex Scout
Opportunity is a reflection of information.
Call 713-650-1212 For More Information
Search Ark-La-Tex Scout:

Headline
Publication
News Date
QEP refrac program delivers 215 MMcf/d to date
QEP's Haynesville refrac program is leading to significant production gains for the company on its Haynesville/Cotton Valley position. Q3 volumes of 216.6 MMcf/d were up 18% sequentially and 63% YOY....
Dec 07, 2017
Regional Highlights - December 07, 2017
There are 192 DUCs in the Haynesville as of October, up one from September.The US gas rig count rose four to 180 the week ended Dec. 1 according to the EIA. Active rigs in the Haynesville...
Dec 07, 2017
Chesapeake Highlights - December 07, 2017
Chesapeake completed the top well in recent Ark-La-Tex data, with the PKY 27&22-14-15 HC #3-Alt (8,500-ft lateral) in DeSoto Parish flowing 34.2 MMcf/d from the Haynesville on a 31/64-in. choke...
Dec 07, 2017
Empresa Energy Highlights - December 07, 2017
In Bossier Parish, Empresa Energy IV tested the Padgett 5-6 H#1 (5,730-ft lateral) at a 24-hour IP of 1,113 bo/d and 1,946 Mcf/d, or 1,437 boe/d (77% oil) from the Cotton Valley on a 44/64-in....
Dec 07, 2017
Pivotal Petroleum Highlights - December 07, 2017
Pivotal Petroleum Partners has signed a Haynesville farm-in agreement with Black Stone Minerals in the Shelby Trough of Angelina and San Augustine Cos., TX. Pivotal will fund Black Stone's WI in over...
Dec 07, 2017
Get more news for Ark-La-Tex Scout