Ark-La-Tex Scout
Serving the local market with drilling activities, permits & multiple listings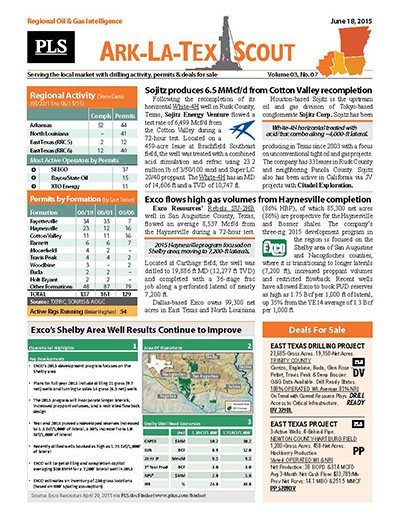 PLS publishes exploration news and drilling insights in Arkansas, Louisiana and East Texas through our Ark-La-Tex Scout. A famed area with significant of oil and gas history- this Region- known for East Texas stacked pays (Smackover, Bossier Sand, Cotton Valley, Travis Peak, Woodbine, Glen Rose, Rodessa, Pettit, James Lime, Edwards, Georgetown); Arkansas's shales (Brown Dense & Fayetteville) and North Louisiana's gas (Hosston & Haynesville) is still a core area for many operators from Dallas to Shreveport.
Stay in front of local prospects, plays & rigs!
Arkansas, Louisiana, East Texas
Hard Copy and Email For 1 Individual
Every 3 to 4 Weeks (12-16 issues per year)
Regional discoveries, drilling activity, permits,
completions and summary drilling statistics, layered
with regional listings and business opportunities
Web access to the Ark-La-Tex Scout archive
Does not include access to MLS
Search PLS' News Archive for complete oil & gas news for Ark-La-Tex Scout .
See what it is about before you buy. View a sample issue of Ark-La-Tex Scout.
Need more information? Click the button to recieve more details about the Ark-La-Tex Scout
Opportunity is a reflection of information.
Call 713-650-1212 For More Information
Search Ark-La-Tex Scout:

Headline
Publication
News Date
ALT - Comstock's consistent Haynesville results driving growth - May 2019
Comstock Resources' Haynesville/Bossier program in North Louisiana has been delivering consistent results for the company for more than four years, and Q1 was no different. The 76 operated wells the company has drilled and completed since 2015 have averaged initial production rates of 25 MMcf/d and new wells during Q1 averaged 26 MMcf/d. Since its last update at the end of February, Comstock has completed six Haynesville wells with laterals averaging 9,799 ft and IPs coming in at 26 MMcf/d....
May 09, 2019
ALT - Chesapeake 2-well Haynesville pad in Caddo flows 80 MMcf/d - May 2019
Chesapeake Energy continues to achieve excellent results in the Haynesville. A recent two-well pad delivered an initial combined flowback of 80 MMcf/d. In Caddo Parish, Louisiana, the JPIL 1HC was completed with a 12,500-ft lateral and flowed a peak rate of 47 MMcf/d, and the JPIL 2HC produced a peak rate of 34 MMcf/d from a 10,000-ft lateral. The company turned 10 wells to sales during Q1 and will bring online another nine in Q2 and five in Q3. Q1 production averaged 759 MMcfe/d, up 5%...
May 09, 2019
ALT - Indigo Natural Resources Highlights - May 2019
Indigo Natural Resources achieved a company-best IP24 in early Q1. At Chemard Lake field in DeSoto Parish, the Hesser 23&14-11-11 HC #004-ALT was completed with a 7,313-ft lateral and tested at an initial 24-hour rate of 34.5 MMcf/d on a 31/64-inch choke at 8,480 psi FTP. On the same pad, the #003-ALT also had an impressive IP rate. That well flowed 31.5 MMcf/d on a 28/64- inch choke at 8,362 psi FTP from a 7,297-ft lateral. Both wells target the...
May 09, 2019
ALT - Goodrich Petroleum Highlights - May 2019
During Q1, Goodrich Petroleum completed two wells and grew production 5% sequentially and 182% YOY to 104 MMcfe/d. Thus far in Q2, the company has completed the Loftus 22&22 #1 and #2 with 7,500-ft laterals. The two wells delivered a combined 24- hour peak of more than 50 MMcfe/d. Additionally, the 4,600-ft-lateral MSR Hunt 5H-1 came online at a peak IP24 of 17...
May 09, 2019
ALT - Jetta Operating Highlights - May 2019
Jetta Operating retained PetroDivest Advisors to assist in the sale of its non-operated Terryville field assets in Lincoln Parish, covering 4,500 gross acres. The package includes 36 net mineral acres with an average 85% NRI, 11 net unleased mineral acres and 89 net royalty acres (at 12.5% royalty). Net production of 1.4 MMcfe/d (62% gas) is from 123 wells (57 horizontal, 66 vertical) targeting the Bossier and Lower Cotton...
May 09, 2019
ALT - O'Ryan Oil Highlights - May 2019
O'Ryan Oil and Gas has retained Detring Energy Advisors to assist in the sale of oil and gas leasehold, midstream and related Smackover assets in East Texas. Located in Navarro and Henderson counties, the assets cover 9,190 net acres with an operated 100% WI and include seven prospect areas targeting the Smackover A through E formations. Net production is 750 boe/d (70% liquids), and proved reserves total 8 MMboe...
May 09, 2019
ALT - Indigo crosses 1 Bcfe/d threshold, leading N. Louisiana pack - April 18, 2019
Private Houston driller Indigo Natural Resources says it reached a milestone of 1 Bcfe/d net production in March (1.4 Bcfe/d gross), making it the largest gas producer in North Louisiana. Throughput on the M5 Louisiana gathering system, which is 50% owned by Indigo and runs through the core of its acreage, increased to 1.0 Bcf/d in April. The company also announced that it increased proved reserves to 4.7 Tcfe at YE18 while maintaining 3P reserves at 16.0 Tcfe. Founder and executive...
Apr 18, 2019
ALT - EXCO gets back in the game, scores a company best - April 18, 2019
Exco Resources took a hiatus from completing Haynesville wells at the end of 1Q18. The company had filed for bankruptcy in January of that year and considered selling substantially all of its assets. EXCO has continued as a going concern and resumed completing wells again at YE18. Since then, the company has reported five completions to the state, including one well that delivered an initial 24-hour rate that is a company best in the Ark-La-Tex region. Located in DeSoto Parish, the...
Apr 18, 2019
ALT - Regional Highlights - April 18, 2019
The EIA projects Haynesville production will sequentially rise 232 MMcf/d in May to 10.754 Bcf/d. There are 212 DUCs in the Haynesville as of March, up by one compared to February. Five upstream deals were announced in the Ark-La-Tex region during Q1. Four had disclosed values totaling $29.6...
Apr 18, 2019
ALT - Chesapeake Energy Highlights - April 18, 2019
In Caddo Parish, Chesapeake Energy's Sentell 2&11-14-16HC #001- ALT was completed with a 9,955-ft effective lateral and tested at an initial 24-hour rate of 36.2 MMcf/d from the Haynesville in Bethany Longstreet field on a 33/64-inch choke at 7,366 psi FCP. This is a top-tier well for the...
Apr 18, 2019
Get more news for Ark-La-Tex Scout