Ark-La-Tex Scout
Serving the local market with drilling activities, permits & multiple listings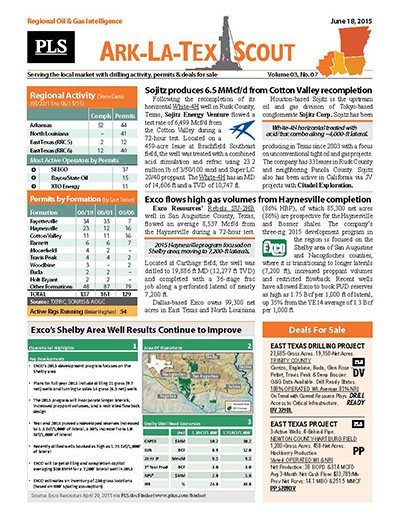 PLS publishes exploration news and drilling insights in Arkansas, Louisiana and East Texas through our Ark-La-Tex Scout. A famed area with significant of oil and gas history- this Region- known for East Texas stacked pays (Smackover, Bossier Sand, Cotton Valley, Travis Peak, Woodbine, Glen Rose, Rodessa, Pettit, James Lime, Edwards, Georgetown); Arkansas's shales (Brown Dense & Fayetteville) and North Louisiana's gas (Hosston & Haynesville) is still a core area for many operators from Dallas to Shreveport.
Stay in front of local prospects, plays & rigs!
Arkansas, Louisiana, East Texas
Hard Copy and Email For 1 Individual
Every 3 to 4 Weeks (12-16 issues per year)
Regional discoveries, drilling activity, permits,
completions and summary drilling statistics, layered
with regional listings and business opportunities
Web access to the Ark-La-Tex Scout archive
Does not include access to MLS
Search PLS' News Archive for complete oil & gas news for Ark-La-Tex Scout .
See what it is about before you buy. View a sample issue of Ark-La-Tex Scout.
Need more information? Click the button to recieve more details about the Ark-La-Tex Scout
Opportunity is a reflection of information.
Call 713-650-1212 For More Information
Search Ark-La-Tex Scout:

Headline
Publication
News Date
Haynesville production trending toward 2012 record
During the month of June, Haynesville production averaged 6.4 Bcf/d, or 8.5% of U.S. natural gas output, according to the EIA. Volumes haven't been this high since September 2012. Production peaked...
Sep 13, 2018
Vine Oil & Gas Highlights - September 13, 2018
In DeSoto Parish, Vine Oil & Gas' Red River LA 18-19HC #5-Alt (7,918-ft lateral) tested at an IP24 of 16 MMcf/d from the Jurassic Res A formation on an 18/64-in. choke at 8,000 psi FCP. Four more...
Sep 13, 2018
Aethon flows personal best in San Augustine County
At the end of Q2, Aethon Energy drilled its first operated well in San Augustine County, Texas. Targeting the Haynesville, the Cook #3HB (8,802-ft lateral; 59 stages; 26 MMlb proppant) tested at an...
Aug 23, 2018
Ark-La-Tex Regional Highlights - August 23, 2018
As of July, there are 182 DUCs in the Haynesville. The number was flat compared to June. The EIA projects Haynesville production will rise 154 MMcf/d in September to 9.579 Bcf/d. If accurate,...
Aug 23, 2018
Get more news for Ark-La-Tex Scout