Ark-La-Tex Scout
Serving the local market with drilling activities, permits & multiple listings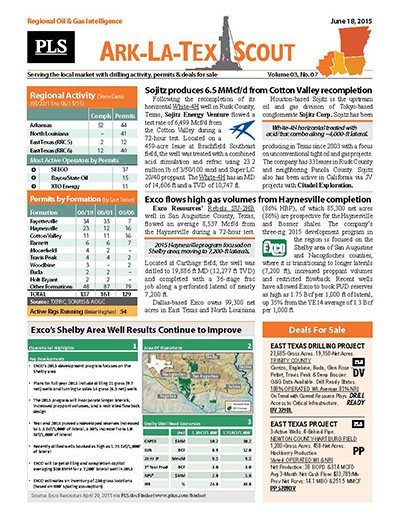 PLS publishes exploration news and drilling insights in Arkansas, Louisiana and East Texas through our Ark-La-Tex Scout. A famed area with significant of oil and gas history- this Region- known for East Texas stacked pays (Smackover, Bossier Sand, Cotton Valley, Travis Peak, Woodbine, Glen Rose, Rodessa, Pettit, James Lime, Edwards, Georgetown); Arkansas's shales (Brown Dense & Fayetteville) and North Louisiana's gas (Hosston & Haynesville) is still a core area for many operators from Dallas to Shreveport.
Stay in front of local prospects, plays & rigs!
Arkansas, Louisiana, East Texas
Hard Copy and Email For 1 Individual
Every 3 to 4 Weeks (12-16 issues per year)
Regional discoveries, drilling activity, permits,
completions and summary drilling statistics, layered
with regional listings and business opportunities
Web access to the Ark-La-Tex Scout archive
Does not include access to MLS
Search PLS' News Archive for complete oil & gas news for Ark-La-Tex Scout .
See what it is about before you buy. View a sample issue of Ark-La-Tex Scout.
Need more information? Click the button to recieve more details about the Ark-La-Tex Scout
Opportunity is a reflection of information.
Call 713-650-1212 For More Information
Search Ark-La-Tex Scout:

Headline
Publication
News Date
ALT - Aethon brings new wells online, trending toward 1 Bcfe/d gross - September 12, 2019
The operating arm of Aethon Energy Management recently reported eight Haynesville completions at Caspiana and Elm Grove fields to the state of Louisiana. In DeSoto Parish, Aethon completed two wells on the JM Peace 23-13 pad at Caspiana field. The #2 well was completed with a 9,926-ft effective lateral and produced an initial 24-hour rate of 22.7 MMcf/d on a 26/64-inch choke at 7,422 psi FCP. The #1 well, sporting a 9,846-ft effective lateral, flowed an IP24 of 21.9 MMcf/d on the same size...
Sep 12, 2019
ALT - Haynesville is home to five of top 25 private US operators - September 12, 2019
Of the top 25 largest private oil and gas operators in the US, five get the majority of their production from the Haynesville shale. Indigo Natural Resources is the fourth-largest private producer in the US, with 1.3 Bcfe/d (99% gas) in gross output of which 99% comes from the Haynesville, according to Enverus data as of July 29. The company notes that its net production is over 1.0 Bcfe/d and that it is the largest natural gas producer in North Louisiana. Indigo is backed by Martin Cos.,...
Sep 12, 2019
ALT - Regional Highlights - September 12, 2019
The EIA projects that Haynesville production will rise by 127 MMcf/d sequentially in September to 11.316 Bcf/d. There are 182 DUCs in the Haynesville as of July, down by seven compared to...
Sep 12, 2019
ALT - Tailwater Capital Highlights - September 12, 2019
Tailwater Capital-backed Elevate Midstream Partners entered into an eight-year gas gathering and treating agreement with Sabine Oil & Gas for its Haynesville asset in Panola and Harrison counties, Texas. Elevate will build 19 miles of 16-inch gas gathering plus associated laterals, including amine, dehydration and compression facilities in the Carthage area of East Texas with interconnections to downstream takeaway...
Sep 12, 2019
ALT - Matador Resources Highlights - September 12, 2019
Matador Resources has a small amount of non-operated Haynesville activity planned for Q3. The company said in July that operator Chesapeake Energy is expected to complete and turn to sales a pair of 2-mile laterals on its LA Wildlife leasehold position in Red River Parish, Louisiana. This acreage was not part of a 2008 Haynesville deal where Matador sold operated Haynesville interests to Chesapeake while retaining non-op stakes. It lies in the southern part of Matador's Elm Grove position....
Sep 12, 2019
ALT - Comstock rolls out post-Covey Park merger plans for H2 - August 23, 2019
Comstock Resources' acquisition of Covey Park Energy closed in mid-July, and the company has outlined its planned activities and expenditures for the remainder of the year. In H2, plans call for completing 19 Haynesville DUCs Comstock drilled in 2018. For the full year, Haynesville drilling activity will be comprised of 78 new horizontals. For Comstock, H1 activity consisted of drilling 21 Haynesville wells with laterals averaging 8,016 ft and completing 19 DUCs from 2018. Of the wells drilled...
Aug 23, 2019
ALT - Chesapeake flows new Haynesville IP24 record of 50.2 MMcf/d - August 22, 2019
Chesapeake Energy set a new IP24 record in the Haynesville during Q2. In Caddo Parish, Louisiana, the JPIL22&15&10-16-15HC #1-ALT was completed with a 12,418-ft effective lateral using 32.8 MMlb of proppant. During a 24-hour test, the well produced 50.2 MMcf/d on a 39/64-inch choke at 6,857 psi FTP. This rate surpasses Chesapeake's prior record, set by the GEPH30&19&18-16-15HC in Caddo Parish. That well was completed with a 15,170-ft effective lateral using 26.8 MMlb of proppant. It delivered...
Aug 23, 2019
ALT - Goodrich Petroleum Highlights - August 22, 2019
Goodrich Petroleum recently brought online the Melody Jones et al 20H No. 1 well at Bethany Longstreet field in DeSoto Parish, Louisiana. The well produced an initial 24-hour rate of 22 MMcf/d from a 4,600-ft lateral in the Haynesville. Goodrich's 4,600-ft type curve assumed EURs of 11.5 Bcf, or 2.5 Bcf per 1,000 lateral ft, and well costs of $8.5 million. The company is currently running one rig and will complete its next well toward the end of...
Aug 23, 2019
ALT - American Patriot Oil & Gas Ltd. Highlights - August 23, 2019
Australia-based American Patriot Oil & Gas Ltd. acquired six wells offsetting its existing properties at Gooch-Gant field targeting the Travis Peak in East Texas. American Patriot assumed $180,000 of plugging liability and received a payment of $45,000 from the seller, resulting in a net acquisition cost of $135,000. The acquired wells have six-month production averaging 7 boe/d from the Travis Peak with multiple zones behind...
Aug 23, 2019
ALT - Ergon Exploration Highlights - August 23, 2019
Ergon Exploration is shopping non-producing assets targeting the Lower Cotton Valley at Terryville Field in North Louisiana. The assets cover 11,210 net acres and include the Winnsboro prospect and the No. 1 Magee-initial test pilot hole drilled by Ergon. Estimated recoverable reserves range 11.8-17.5...
Aug 23, 2019
Get more news for Ark-La-Tex Scout