Ark-La-Tex Scout
Serving the local market with drilling activities, permits & multiple listings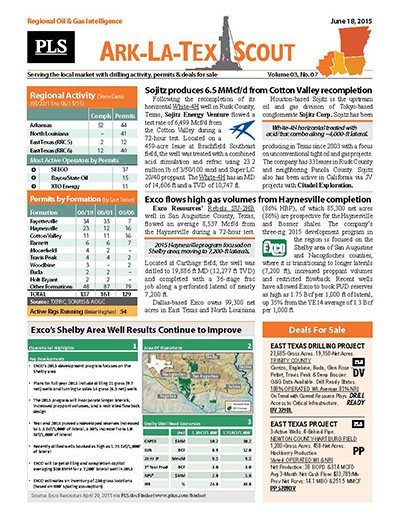 PLS publishes exploration news and drilling insights in Arkansas, Louisiana and East Texas through our Ark-La-Tex Scout. A famed area with significant of oil and gas history- this Region- known for East Texas stacked pays (Smackover, Bossier Sand, Cotton Valley, Travis Peak, Woodbine, Glen Rose, Rodessa, Pettit, James Lime, Edwards, Georgetown); Arkansas's shales (Brown Dense & Fayetteville) and North Louisiana's gas (Hosston & Haynesville) is still a core area for many operators from Dallas to Shreveport.
Stay in front of local prospects, plays & rigs!
Arkansas, Louisiana, East Texas
Hard Copy and Email For 1 Individual
Every 3 to 4 Weeks (12-16 issues per year)
Regional discoveries, drilling activity, permits,
completions and summary drilling statistics, layered
with regional listings and business opportunities
Web access to the Ark-La-Tex Scout archive
Does not include access to MLS
Search PLS' News Archive for complete oil & gas news for Ark-La-Tex Scout .
See what it is about before you buy. View a sample issue of Ark-La-Tex Scout.
Need more information? Click the button to recieve more details about the Ark-La-Tex Scout
Opportunity is a reflection of information.
Call 713-650-1212 For More Information
Search Ark-La-Tex Scout:

Headline
Publication
News Date
ALTS - QEP Highlights - October 25, 2018
In Red River Parish, La., QEP's Batchelor 34-27-22 HC #002-Alt (10,600-ft lateral) tested at an initial 24-hour rate of 29,063 Mcf/d from the Haynesville on a 28/64-in. choke at 7,740 psi FCP. This...
Oct 25, 2018
Goodrich Haynesville volumes cross 100 MMcf/d
Goodrich Petroleum recently brought online a new Haynesville well in Thorn Lake field in Red River Parish. The Harris-Dickson 14&23 No. 1 (6,100-ft lateral) reached a peak 24-hour rate of 27,500...
Oct 04, 2018
Get more news for Ark-La-Tex Scout