Canadian Scout
Serving the Canadian E&P market with news, analysis and business opportunities.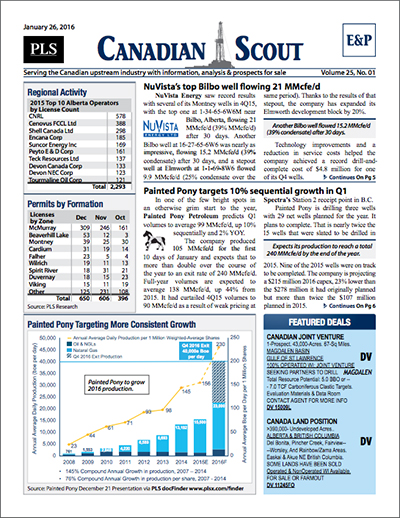 The Canadian Scout (blue banner report) covers news and analysis on the Canadian exploration and production (E&P) sector including new well discoveries, drilling activities, acreage sales, industry statistics (drilling results, activity permits & intents to drill) and technological updates. Besides composite E&P news, the Canadian Scout also carries market insight, analyst comments and respected featured interviews with leading E&P executives.
Covering exploration & production
Single copy pricing; Includes hard copy & email version
Increase market insight & deal flow
Every 3 weeks
Latest in exploration, discoveries, resource plans, land grabs, volumes, development projects & trends
Access to archives covering E&P
Phone request for prospects and lands listed for sale
Includes discounts for other PLS products & events
Search PLS' News Archive for complete oil & gas news for Canadian Scout .
See what it is about before you buy. View a sample issue of Canadian Scout.
Need more information? Click the button to recieve more details about the Canadian Scout
Opportunity is a reflection of information.
Call 713-650-1212 For More Information
Search Canadian Scout:

Headline
Publication
News Date
Spartan wraps up life as a standalone explorer
In its full last quarter as a standalone company, Spartan Energy drilled 52 development wells (76% WI) and brought 50 wells (82% WI) on production in Q1, with six wells (40% WI) remaining to be...
Jun 05, 2018
TransGlobe shuts in Canadian production in May
TransGlobe Energy shut in the bulk of its Canadian production in May because of a planned turnaround at its main third-party gas processing plant in Harmattan. To coincide with the shut-in the...
Jun 01, 2018
Oryx has four new Kurdistan wells on tap for Q2
Oryx Petroleum expects to spud new wells targeting the Cretaceous reservoir at its Zey Gawra field and the Tertiary reservoir at its Banan field, both in the Kurdistan region of Iraq, sometime in...
Jun 01, 2018
Valeura plans focus on Turkey's Thrace Basin
Valeura Energy plans to focus its near-term attention on appraising and de-risking the basin centered gas accumulation it discovered with its Yamalik-1 well. Yamalik-1 was designed as the company's...
Jun 01, 2018
East Duvernay interest drives Alberta land sale
The May 16 land sale in Alberta took in $26.3 million for the province, with 88,378 hectares being acquired at an average $298 per hectare. The sale was nearly three times the $9.1 million raised at...
Jun 01, 2018
Get more news for Canadian Scout