Canadian Scout
Serving the Canadian E&P market with news, analysis and business opportunities.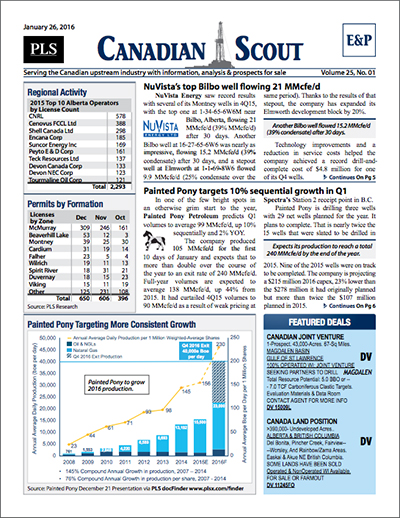 The Canadian Scout (blue banner report) covers news and analysis on the Canadian exploration and production (E&P) sector including new well discoveries, drilling activities, acreage sales, industry statistics (drilling results, activity permits & intents to drill) and technological updates. Besides composite E&P news, the Canadian Scout also carries market insight, analyst comments and respected featured interviews with leading E&P executives.
Covering exploration & production
Single copy pricing; Includes hard copy & email version
Increase market insight & deal flow
Every 3 weeks
Latest in exploration, discoveries, resource plans, land grabs, volumes, development projects & trends
Access to archives covering E&P
Phone request for prospects and lands listed for sale
Includes discounts for other PLS products & events
$ 745 /Yr
Search PLS' News Archive for complete oil & gas news for Canadian Scout .
See what it is about before you buy. View a sample issue of Canadian Scout.
Need more information? Click the button to recieve more details about the Canadian Scout
Opportunity is a reflection of information.
Call 713-650-1212 For More Information
Search Canadian Scout:

Headline
Publication
News Date
Syncrude faces charges in great blue heron deaths
Syncrude Canada is facing federal charges in connection with the deaths of 31 great blue herons near the company's Mildred Lake oil sands mine north of Fort McMurray in 2015. The company was charged...
Nov 15, 2017
Exploration attention turns to the Duvernay
The big news in Canada's oil patch over the past few weeks is renewed interest in the Duvernay, with Chevron Canada announcing a development program at East Kaybob (PG 1). The program will cover...
Nov 15, 2017
People & Companies - November 15, 2017
Baytex Energy has appointed Mark Bly as a director. Bly has more than 35 years of experience in the oil and gas industry, primarily with BP.Bonavista Energy has appointed Theresa Jang and...
Nov 15, 2017
Fungus may help with oil sands tailings cleanup
After discovering that dandelions were hosting a symbiotic fungus that eats petrochemicals in soil and converts them to carbon dioxide and water, University of Saskatchewan biologist Susan Kaminskyj...
Nov 15, 2017
Athabasca, Murphy plan winter Duvernay program
Athabasca Oil Corp. is the latest in a string of companies laying out plans for the Duvernay, launching a two-rig program with JV partner and operator Murphy Oil. Operations on deck include volatile...
Nov 15, 2017
Get more news for Canadian Scout