Canadian Scout
Serving the Canadian E&P market with news, analysis and business opportunities.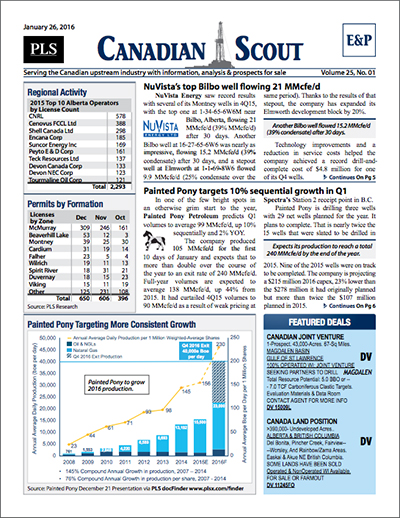 The Canadian Scout (blue banner report) covers news and analysis on the Canadian exploration and production (E&P) sector including new well discoveries, drilling activities, acreage sales, industry statistics (drilling results, activity permits & intents to drill) and technological updates. Besides composite E&P news, the Canadian Scout also carries market insight, analyst comments and respected featured interviews with leading E&P executives.
Covering exploration & production
Single copy pricing; Includes hard copy & email version
Increase market insight & deal flow
Every 3 weeks
Latest in exploration, discoveries, resource plans, land grabs, volumes, development projects & trends
Access to archives covering E&P
Phone request for prospects and lands listed for sale
Includes discounts for other PLS products & events
$ 745 /Yr
Search PLS' News Archive for complete oil & gas news for Canadian Scout .
See what it is about before you buy. View a sample issue of Canadian Scout.
Need more information? Click the button to recieve more details about the Canadian Scout
Opportunity is a reflection of information.
Call 713-650-1212 For More Information
Search Canadian Scout:

Headline
Publication
News Date
A wait & see consensus heading into 2H17
Lack of export options for the increasing amount of gas produced in Western Canada is becoming critical, a situation worsened by Petronas' decision to cancel the construction of a 12-18 mtpa LNG...
Aug 11, 2017
CNSOPB calls for bids on Sydney Basin acreage
The CNSOPB published terms for licensing round NS17-1. The tendered parcels lies in water ranging 50-450 m deep, east of Cape Breton Island in a geological region known as the Sydney Basin. The...
Aug 11, 2017
Thermal technology makes strides in Saskatchewan
Production methods usually seen in Alberta's heavy oil operations have made an appearance in neighboring Saskatchewan, remaking the province's production profile. Ten years ago only about 15% of...
Aug 11, 2017
Seven Generations grows sevenfold in three years
In Q2 Seven Generations Energy marked a key milestone by hitting 1.0 Bcfe/d in June, with condensate surpassing 54,000 bbl/d. This makes the company one of Canada's top 10 producers with its volumes...
Aug 11, 2017
ARC switches up projects & increases capex
ARC Resources revamped its long-term growth plan to incorporate lessons learned to date, resulting in a near 10% increase in its 2017 capex to $830 million. The change will result in a new project...
Aug 11, 2017
Blackbird drills South Wapiti acreage
Blackbird Energy is focusing on the south part of its core Wapiti area. In Q3 the company will drill, complete or recomplete six development wells and drill and complete four delineation wells. Three...
Aug 11, 2017
Get more news for Canadian Scout