Canadian Scout
Serving the Canadian E&P market with news, analysis and business opportunities.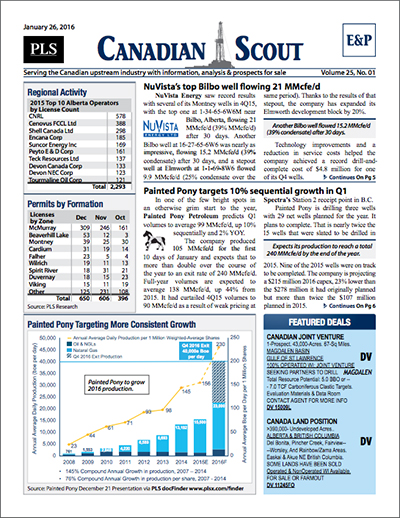 The Canadian Scout (blue banner report) covers news and analysis on the Canadian exploration and production (E&P) sector including new well discoveries, drilling activities, acreage sales, industry statistics (drilling results, activity permits & intents to drill) and technological updates. Besides composite E&P news, the Canadian Scout also carries market insight, analyst comments and respected featured interviews with leading E&P executives.
Covering exploration & production
Single copy pricing; Includes hard copy & email version
Increase market insight & deal flow
Every 3 weeks
Latest in exploration, discoveries, resource plans, land grabs, volumes, development projects & trends
Access to archives covering E&P
Phone request for prospects and lands listed for sale
Includes discounts for other PLS products & events
Search PLS' News Archive for complete oil & gas news for Canadian Scout .
See what it is about before you buy. View a sample issue of Canadian Scout.
Need more information? Click the button to recieve more details about the Canadian Scout
Opportunity is a reflection of information.
Call 713-650-1212 For More Information
Search Canadian Scout:

Headline
Publication
News Date
Canadian companies report higher production
A recovery in world oil prices as well as the narrowing of the discount for Canada's heavy crude has led to a surge in production for nearly all of the country's heavy oil producers. SunCor's Fort...
Aug 02, 2018
People & Companies - August 02, 2018
Cequence Energy announced Kevin Nielson has joined the company as Contract Interim CFO. Nielson has 19 years of public accounting and financial reporting experience. Most recently, he was Audit and...
Aug 02, 2018
Blackbird builds Wapiti well pad, plans to drill
Blackbird Energy has completed the construction of its 9-14 pad site and expects to spud its first well from the location in early August. It has contracted a rig to drill seven Montney wells and two...
Aug 02, 2018
Cequence Dunvegan results surpass 300 bo/d model
Cequence Energy reported estimated production of 1,245 bo/d in June from two recent Dunvegan oil wells, up by 245 bo/d from Q1. The company has 100% WI in well 15-4 and 50% WI in well 12-14, which...
Aug 02, 2018
Point Loma production surpasses 1,000 boe/d
Point Loma Resources reports its Q2 production has grown to over 1,000 boe/d. The current production stream is comprised of about 27% oil and NGLs, which is up 90% from 1Q18. In an operational update...
Aug 02, 2018
Get more news for Canadian Scout