Eastern Scout
Serving the local market with drilling activities, permits & multiple listings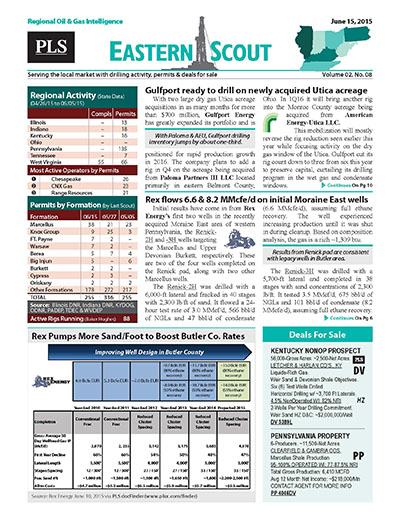 PLS's new Eastern Scout covers local drilling activity, permit data, rig activity and completions in the Eastern region (Pennsylvania, Ohio & West Virginia). Like all of PLS's Regionals this report includes a wealth of statistical analysis on activities and corporate performance. The reports also layer select advertising, business opportunities and multiple listings for sale.
Stay in front of local prospects, plays & rigs!
Pennsylvania, Ohio & West Virginia
Hard Copy and Email For 1 Individual
Every 3 to 4 Weeks (15 issues per year)
Regional discoveries, drilling activity, permits,
completions and summary drilling statistics, layered
with regional listings and business opportunities
Web access to the Eastern Scout archive
Does not include access to MLS
Search PLS' News Archive for complete oil & gas news for Eastern Scout .
See what it is about before you buy. View a sample issue of Eastern Scout.
Need more information? Click the button to recieve more details about the Eastern Scout
Opportunity is a reflection of information.
Call 713-650-1212 For More Information
Search Eastern Scout:

Headline
Publication
News Date
Gulfport Highlight - July 31, 2018
Gulfport turned to sales 14 operated Utica wells during Q2. Production in the play averaged 1.07 Bcfe/d, up 24% YOY. Dry gas volumes of 1.02 Bcf/d were up 28% YOY but NGL volumes were down 17% to...
Jul 31, 2018
EQT Highlights - July 31, 2018
EQT's Q2 sales volumes averaged 3.98 Bcfe/d, up 83% YOY due to the acquisition of Rice Energy. The company drilled 35 Marcellus, three Upper Devonian and 10 (net) Utica wells and turned in-line 44, 5...
Jul 31, 2018
Regional Highlights - July 31, 2018
The Long Ridge Energy Terminal completed of its rail loop track construction project, enabling the facility to take up to three-unit trains of frac sand and other commodities at any given point in...
Jul 31, 2018
Millennium Pipeline - July 31, 2018
FERC has approved Millennium Pipeline's request to place the Valley lateral into service. The 130 MMcf/d, 16-in. line runs 7.8 miles from Millennium's mainline in Orange County, N.Y. to the CPV...
Jul 31, 2018
Piedmont Natural Gas - Highlights July 31, 2018
Piedmont Natural Gas plans to build and operate a 1.0 Bcfe LNG storage facility in Robeson County, N.C. Construction will commence in summer 2019, with completion in summer 2021. The project,...
Jul 31, 2018
Crestwood Highlights - July 31, 2018
The Crestwood's Seneca LPG project will not proceed after New York Department of Environmental Conservation commissioner Basil Seggos ruled against the project, stating that the underground salt...
Jul 31, 2018
Get more news for Eastern Scout