Eastern Scout
Serving the local market with drilling activities, permits & multiple listings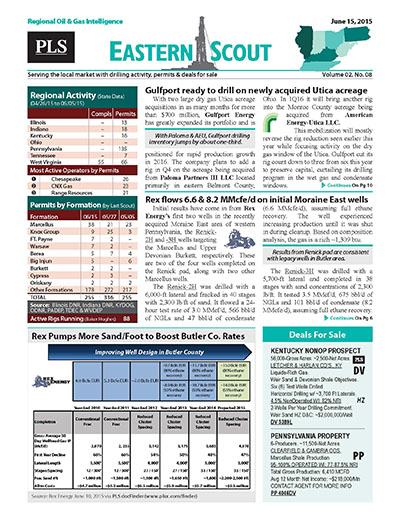 PLS's new Eastern Scout covers local drilling activity, permit data, rig activity and completions in the Eastern region (Pennsylvania, Ohio & West Virginia). Like all of PLS's Regionals this report includes a wealth of statistical analysis on activities and corporate performance. The reports also layer select advertising, business opportunities and multiple listings for sale.
Stay in front of local prospects, plays & rigs!
Pennsylvania, Ohio & West Virginia
Hard Copy and Email For 1 Individual
Every 3 to 4 Weeks (15 issues per year)
Regional discoveries, drilling activity, permits,
completions and summary drilling statistics, layered
with regional listings and business opportunities
Web access to the Eastern Scout archive
Does not include access to MLS
Search PLS' News Archive for complete oil & gas news for Eastern Scout .
See what it is about before you buy. View a sample issue of Eastern Scout.
Need more information? Click the button to recieve more details about the Eastern Scout
Opportunity is a reflection of information.
Call 713-650-1212 For More Information
Search Eastern Scout:

Headline
Publication
News Date
ES - Regional Highlights - October 23, 2018
The EIA projects average Appalachian production in November will sequentially rise 337 MMcf/d to 29.786 Bcf/d. There were 665 DUCs in Appalachia as of September, down 22 compared to August....
Oct 23, 2018
ES - Range Resources Highlights - October 23, 2018
Range Resources sold a proportionately reduced 1% overriding royalty in its Washington County, Pa., leases for gross proceeds of $300 million. Range's Washington County properties encompass 300,000...
Oct 23, 2018
ES - TransCanada Highlights - October 23, 2018
Transcanada placed the Western Build of its WB XPress project into service Oct. 5. WBX is designed to move 760 MMcf/d to a delivery point on Tennessee Gas Pipeline's Broad Run System...
Oct 23, 2018
Cabot tests Knox dolomite potential in NE Ohio
Cabot Oil & Gas is drilling its third exploration well in northeast Ohio and has begun fracking its first, as it scouts locations for two additional wells. The company is testing the Knox dolomite...
Oct 02, 2018
Get more news for Eastern Scout