Eastern Scout
Serving the local market with drilling activities, permits & multiple listings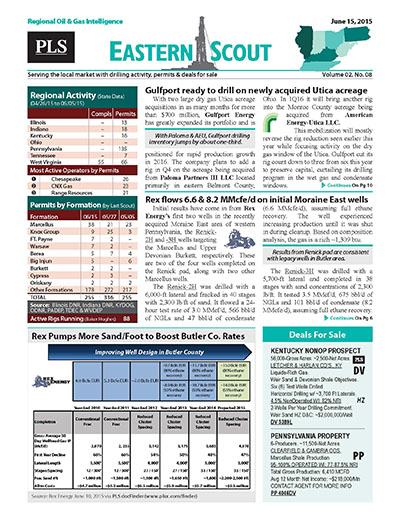 PLS's new Eastern Scout covers local drilling activity, permit data, rig activity and completions in the Eastern region (Pennsylvania, Ohio & West Virginia). Like all of PLS's Regionals this report includes a wealth of statistical analysis on activities and corporate performance. The reports also layer select advertising, business opportunities and multiple listings for sale.
Stay in front of local prospects, plays & rigs!
Pennsylvania, Ohio & West Virginia
Hard Copy and Email For 1 Individual
Every 3 to 4 Weeks (15 issues per year)
Regional discoveries, drilling activity, permits,
completions and summary drilling statistics, layered
with regional listings and business opportunities
Web access to the Eastern Scout archive
Does not include access to MLS
$ 695 /Yr
Search PLS' News Archive for complete oil & gas news for Eastern Scout .
See what it is about before you buy. View a sample issue of Eastern Scout.
Need more information? Click the button to recieve more details about the Eastern Scout
Opportunity is a reflection of information.
Call 713-650-1212 For More Information
Search Eastern Scout:

Headline
Publication
News Date
Chesapeake drills its best Marcellus well ever
Chesapeake Energy drilled a monster Marcellus well during Q2. The McGavin E WYO 6H was drilled with a 10,429- ft lateral and was completed using an enhanced method. The well peaked at 61.8 MMcf/d...
Aug 17, 2017
Regional Highlights - August 17, 2017
• There are 79 active rigs- 76 gas and 3 oil- in the Eastern region this issue, up from 39 YOY. • Washington County, PA is the most active with 11 rigs running, up from six YOY. •...
Aug 17, 2017
EQT Highlights - August 27, 2017
EQT drilled 66 gross wells in Q2, including 43 Marcellus wells (8,200-ft laterals) and 23 Upper Devonian wells (8,300-ft laterals). The company turned-in-line 17 wells, including 15 Marcellus wells,...
Aug 17, 2017
Gulfport Energy Highlights - August 17, 2017
Gulfport Energy's Q2 production averaged 1.04 Bcfe/d (12% liquids), up from 664.7 MMcfe/d in the year-ago quarter. The company drilled 25.5 net Utica wells and plans to drill another 27.6 wells by...
Aug 17, 2017
Consol Energy Highlights - August 17, 2017
Consol Enegy's Q2 output averaged 1.02 Bcfe/d, down 7% sequentially and below expectations due to timing delays in the Utica. The company had planned to turn to sales three pads in Q2 but only one...
Aug 17, 2017
Cabot Oil & Gas Highlights - August 17, 2017
Cabot Oil & Gas drilled 13.7 net, completed eight net and turned six net wells to sales during Q2. The company's 26 Gen. 4 wells placed online in H1 continue to outperform the company's 4.4 Bcf...
Aug 17, 2017
Eclipse drills super-lateral in record time
Eclipse Resources continues to drive efficiencies in its Utica drilling program. The company set an internal record with its most recent "super-lateral." The horizontal Yanosik A 2H was drilled to...
Aug 15, 2017
Gulfport Q2 production expected to exceed 1 Bcf/d
Gulfport Energy started the year off slow, only turning to sales 7% of the wells planned for 2017 but Q2 results are expected show a dramatic uptick in completion activity. Additionally, the company...
Jul 25, 2017
Get more news for Eastern Scout