Eastern Scout
Serving the local market with drilling activities, permits & multiple listings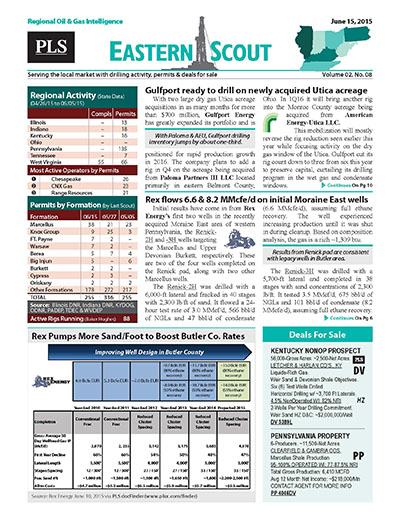 PLS's new Eastern Scout covers local drilling activity, permit data, rig activity and completions in the Eastern region (Pennsylvania, Ohio & West Virginia). Like all of PLS's Regionals this report includes a wealth of statistical analysis on activities and corporate performance. The reports also layer select advertising, business opportunities and multiple listings for sale.
Stay in front of local prospects, plays & rigs!
Pennsylvania, Ohio & West Virginia
Hard Copy and Email For 1 Individual
Every 3 to 4 Weeks (15 issues per year)
Regional discoveries, drilling activity, permits,
completions and summary drilling statistics, layered
with regional listings and business opportunities
Web access to the Eastern Scout archive
Does not include access to MLS
Search PLS' News Archive for complete oil & gas news for Eastern Scout .
See what it is about before you buy. View a sample issue of Eastern Scout.
Need more information? Click the button to recieve more details about the Eastern Scout
Opportunity is a reflection of information.
Call 713-650-1212 For More Information
Search Eastern Scout:

Headline
Publication
News Date
Antero hits operational milestones in Q1
In Q1 Antero Resources achieved strong operational execution with drilling days below the quarter's forecast and completion stages coming in higher than estimates. Also, production was driven by an...
May 29, 2018
CNX eyes stacked pay development at Richhill in H2
During Q1 CNX Resources' sales volumes averaged a company record 1.44 Bcfe/d, up 9% sequentially and 36% YOY driven by increased activity in the Utica. Utica volumes were up 34% sequentially and 257%...
May 29, 2018
Regional Highlights - May 29, 2018
Appalachian basin production is projected to rise 4,000 bo/d and 373 MMcf/d sequentially in June to 114,000 bo/d and 28.1 Bcf/d, according to the EIA. There are 764 DUCs in...
May 29, 2018
Gulfport Highlights - May 29, 2018
Gulfport drilled 13 operated Utica wells (avg. 9,000-ft laterals) in Q1 and completed three. Production averaged 1.03 Bcfe/d in the play, up 37% YOY. The Utica accounted for 80% of the company's...
May 29, 2018
Eclipse Highlights - May 29, 2018
Eclipse trimmed $60 million from its 2018 capex plans due to lower natural gas prices than expected. Full-year capex is now expected to be $250 million. During Q1, the company commenced drilling...
May 29, 2018
Rex Energy Highlights - May 29, 2018
Rex Energy filed for Chapter 11 bankruptcy on May 18 and has begun the "orderly sale process for its remaining assets." Rex holds 112,500 net acres in the Appalachian...
May 29, 2018
Dominion Energy Highlights - May 29, 2018
A federal appeals court nullified a US Fish and Wildlife Service environment permit for Dominion Energy's Atlantic Coast Pipeline. Dominion will delay construction of the line on 21 miles in West...
May 29, 2018
Range hits new production record in Appalachia
Range Resources grew its Appalachian natural gas production to a record 1.2 Bcf/d in Q1. Overall volumes Appalachian volumes were 1.8 Bcfe/d, up 20% YOY. The southwest division averaged 1.7 Bcfe/d,...
May 08, 2018
Regional Highlights - May 08, 2018
The U.S. Supreme court denied to review the judgement of the U.S. Court of Appeals for the Second Circuit that allowed New York State DEC to reject the Water Quality Certification for the...
May 08, 2018
Get more news for Eastern Scout