Permian Scout
Serving the local market with drilling activities, permits & multiple listings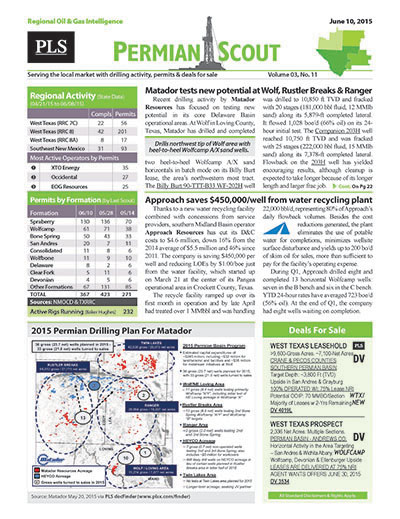 PLS publishes exploration news and drilling insights in West Texas and Southeast New Mexico through our Permian Scout.
Published every two (2) weeks, this regional report (RRC 7C, 8, & 8A) includes lead stories on drilling activity, successes and new projects while also reporting on drilling rigs, new permits, completions and P&A activity.
Stay in front of local prospects, plays & rigs!
West Texas, Southeast New Mexico
Hard Copy and Email For 1 Individual
Every 2 Weeks (22-25 issues per year)
Regional discoveries, drilling activity, permits,
completions and summary drilling statistics, layered
with regional listings and business opportunities.
Web access to the Permian Scout archive.
Does not include access to MLS
$ 795 /Yr
Search PLS' News Archive for complete oil & gas news for Permian Scout .
See what it is about before you buy. View a sample issue of Permian Scout.
Need more information? Click the button to recieve more details about the Permian Scout
Opportunity is a reflection of information.
Call 713-650-1212 For More Information
Search Permian Scout:

Headline
Publication
News Date
RSP Permian doubles output during last year
During Q2, RSP Permian's production averaged 54,300 boe/d (88% liquids), up 106% YOY and 20% sequentially. Growth was fueled by both operational successes and acquisitions, such as its Silver Hill...
Aug 17, 2017
Energen's new Gen 3 wells outperform type curve
Energen is seeing "outstanding results" from its Gen 3 wells across its Permian operations. 59 Gen 3 wells are outperforming the company's highest and midpoint EUR type curves. Of these wells, 76%...
Aug 17, 2017
Regional Highlights - August 17, 2017
• The Permian region has 376 active rigs this issue, up from 188 YOY. • The rig count in Eddy Co., NM has tripled in the last year to 30 rigs. • Upton Co., TX has 15 active rigs, up...
Aug 17, 2017
Andeavor Highlights - August 17, 2017
Andeavor, formerly Tesoro Corp., launched construction of a $225 million, 130 mile crude oil pipeline in the Delaware Basin. The Conan crude oil gathering pipeline will start in Lea County and run to...
Aug 17, 2017
Carrizo Oil & Gas Highlights - August 17, 2017
Carrizo completed two operated wells in the Delaware Basin during Q2. The company is currently not running any rigs. It's planned acquisition of properties from ExL Petroleum Management is set to...
Aug 17, 2017
Diamondback Highlights - August 17, 2017
Diamondback Energy completed two notable wells in the ReWard area during Q2. The wells averaged 30-day IPs of 191 boe/d per 1,000 ft (83% oil). Also, its first well in the Upper Wolfcamp A in Pecos...
Aug 17, 2017
Get more news for Permian Scout