Permian Scout
Serving the local market with drilling activities, permits & multiple listings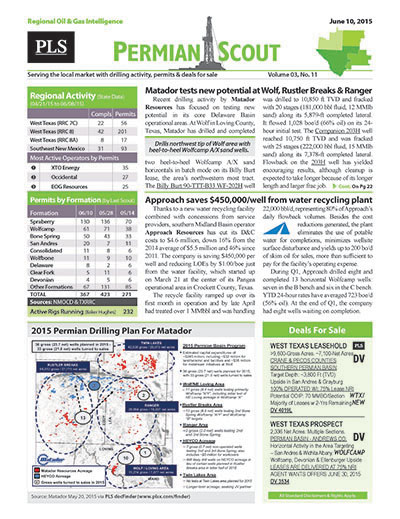 PLS publishes exploration news and drilling insights in West Texas and Southeast New Mexico through our Permian Scout.
Published every two (2) weeks, this regional report (RRC 7C, 8, & 8A) includes lead stories on drilling activity, successes and new projects while also reporting on drilling rigs, new permits, completions and P&A activity.
Stay in front of local prospects, plays & rigs!
West Texas, Southeast New Mexico
Hard Copy and Email For 1 Individual
Every 2 Weeks (22-25 issues per year)
Regional discoveries, drilling activity, permits,
completions and summary drilling statistics, layered
with regional listings and business opportunities.
Web access to the Permian Scout archive.
Does not include access to MLS
Search PLS' News Archive for complete oil & gas news for Permian Scout .
See what it is about before you buy. View a sample issue of Permian Scout.
Need more information? Click the button to recieve more details about the Permian Scout
Opportunity is a reflection of information.
Call 713-650-1212 For More Information
Search Permian Scout:

Headline
Publication
News Date
Jagged Peak lowers F&D costs, boosts output & reserves
Jagged Peak Energy's 2018 operational program resulted in significant production and reserves growth and improved operating margins. Q4 output grew 6% sequentially and 60% YOY to 38,400 boe/d (76% oil), and full-year 2018 output averaged 34,200 boe/d, up 102% YOY. YE18 proved reserves were booked at 118.9 MMboe (60% proved developed), which is up 44% versus YE17 and represents a reserve replacement ratio of 393%. Organic proved developed reserve finding and development costs fell...
Mar 06, 2019
Parsley achieves record efficiency after trimming activity - Permian Scout
Parsley Energy achieved record completion efficiency during Q4, completing more than 400,000 ft of lateral. This came despite reduced activity, as the company cut its rig count by two to 14 and trimmed completions crews from five to four. Primarily in the Midland Basin, Parsley spudded 38 wells and placed 43 wells online, with laterals averaging 9,300 ft. Q4 output grew 5% versus Q3 and 50% YOY to an average of 77,000 boe/d. Notable wells during the quarter include a 3-mile lateral in...
Mar 06, 2019
PS - Luxe Operating Highlights - March 06, 2019
In Reeves County, Texas, Luxe Operating's Angels Envy 4-3W Unit #1H (10,182-ft lateral) tested at a 24-hour IP rate of 6,978 boe/d (81% oil) from the Wolfcamp on a 1-inch choke at 1,305 psi FTP. This is Luxe's top IP24 to date and a top-10 Wolfcamp IP24 for the county...
Mar 06, 2019
PS - PDC Energy Highlights - March 06, 2019
PDC Energy has allocated 40% of its $810-870 million capex for 2019 to the Delaware Basin, where it plans to spud 25-30 wells and turn to sales 20-25 (93% WI), compared to 31 wells spudded and 26 turned online in 2018. An average of 2.5 rigs will be run along with half a completion crew. Lateral lengths are expected to be more than 25% longer at an average 9,200 ft and the company plans to modify its completion design by slightly reducing the amount of proppant per foot while increasing the...
Mar 06, 2019
PS - Callon Petroleum Highlights - March 06, 2019
Callon Petroleum plans to shift to full field development in 2019 as it moves toward a sustainable operating business model. The company is maintaining its commitment to free cash flow generation by driving operational capex down for the second year in a row, having set operational capital expenditures at $500-525 million. Callon will cut its rig count from six currently to four by...
Mar 06, 2019
PS - Apache Corp Highlights - March 06, 2019
Apache Corp. announced updated plans for 2019, reducing capex to $2.4 billion from a prior plan of $3.0 billion. Of the new total, 70-75%, or ~$1.79 billion, will be allocated to the US. Production is expected to come in at the midpoint of the prior 410,000-440,000 boe/d guidance. From 4Q18 to 4Q19, Apache expects overall output to rise 6-10%, with 12-16% growth in the US and 5% growth in the...
Mar 06, 2019
Admiral flows top Wolfcamp HZ in Culberson County
admiral permian resources'Big Red State Unit 32 #5H horizontal, with an estimated 10,000-ft lateral, flowed a top-10 initial 24-hour rate yet for an unconventional well in Culberson County, Texas. The well delivered an IP24 of 3,144 boe/d (44% oil; 314 boe/d per 1,000 lateral ft) from the Wolfcamp on a 1.2-inch choke at 861 psi FTP, which is the highest IP Admiral has achieved to-date. The company is currently running one rig in Culberson County targeting the Wolfcamp.Operating in...
Feb 20, 2019
Anadarko pushes Delaware output to new high in Q4
Anadarko Petroleum's Delaware Basin sales volumes grew 59% YOY in Q4 to an average of 127,000 boe/d (59% oil). During the quarter, the company ran seven rigs, spudded 33 wells and turned 56 to sales. For the full year, Anadarko turned 186 wells to sales in the Delaware Basin.In its Silvertip-A program in Loving County, Texas, 12 extended laterals targeting the Wolfcamp A and Third Bone Spring are online and performing in line with or above the type curve. State data is available for...
Feb 20, 2019
PS - Regional Highlights - February 20, 2019
According to the EIA, Permian production in March will average 4.024 MMbo/d and 13.397 Bcf/d, up by 43,000 bo/d and 219 MMcf/d from the previous month. There are 4,170 DUCs in the Permian as of January, up by 205 compared to...
Feb 20, 2019
PS - XTO Energy Highlights - February 20, 2019
In Loving County, Texas, XTO Energy's St Lucia 76 2833 #22H (10,318-ft lateral) flowed an initial 24-hour rate of 4,705 boe/d (82% oil; 456 boe/d per 1,000 lateral ft) from the Wolfcamp on a 11/3-inch choke at 1,200 psi FTP. This is the company's second-highest IP in the...
Feb 20, 2019
Get more news for Permian Scout