Permian Scout
Serving the local market with drilling activities, permits & multiple listings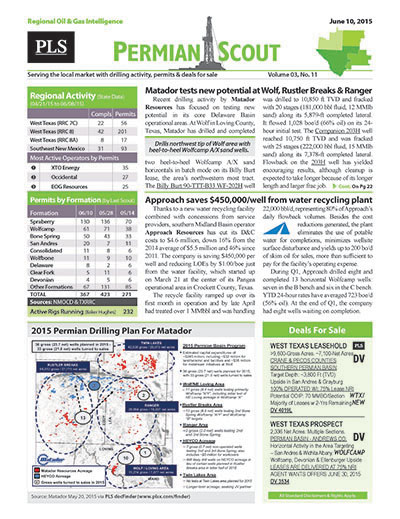 PLS publishes exploration news and drilling insights in West Texas and Southeast New Mexico through our Permian Scout.
Published every two (2) weeks, this regional report (RRC 7C, 8, & 8A) includes lead stories on drilling activity, successes and new projects while also reporting on drilling rigs, new permits, completions and P&A activity.
Stay in front of local prospects, plays & rigs!
West Texas, Southeast New Mexico
Hard Copy and Email For 1 Individual
Every 2 Weeks (22-25 issues per year)
Regional discoveries, drilling activity, permits,
completions and summary drilling statistics, layered
with regional listings and business opportunities.
Web access to the Permian Scout archive.
Does not include access to MLS
Search PLS' News Archive for complete oil & gas news for Permian Scout .
See what it is about before you buy. View a sample issue of Permian Scout.
Need more information? Click the button to recieve more details about the Permian Scout
Opportunity is a reflection of information.
Call 713-650-1212 For More Information
Search Permian Scout:

Headline
Publication
News Date
PS - 3 Bear Energy Highlights - October 11, 2018
3 Bear Energy placed into service its Northern Delaware Gathering and Processing System. The company is also currently expanding its footprint to include more than 20 miles of crude and water...
Oct 11, 2018
Callon flows company record IP24 at Spur
Callon Petroleum tested a Wolfcamp well in Ward County at a company record IP24 for the Permian, according to state data. Located in the company's Spur area, the Rag Run NW #1LA (9,360-ft lateral)...
Oct 10, 2018
Matador spends big in latest BLM sale
In the last issue of Permian Scout, PLS covered the recent record-setting BLM lease sale in New Mexico, which brought in nearly $1 billion. Following our article, we learned that the high bidder in...
Sep 26, 2018
Get more news for Permian Scout