Permian Scout
Serving the local market with drilling activities, permits & multiple listings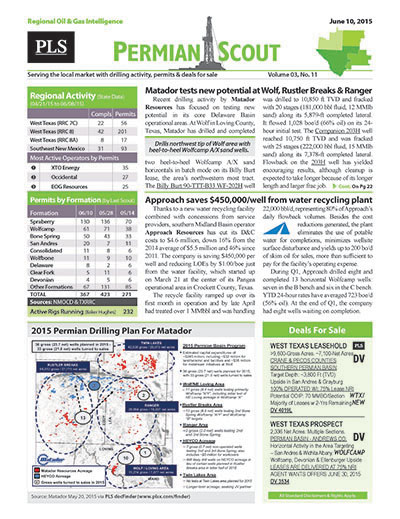 PLS publishes exploration news and drilling insights in West Texas and Southeast New Mexico through our Permian Scout.
Published every two (2) weeks, this regional report (RRC 7C, 8, & 8A) includes lead stories on drilling activity, successes and new projects while also reporting on drilling rigs, new permits, completions and P&A activity.
Stay in front of local prospects, plays & rigs!
West Texas, Southeast New Mexico
Hard Copy and Email For 1 Individual
Every 2 Weeks (22-25 issues per year)
Regional discoveries, drilling activity, permits,
completions and summary drilling statistics, layered
with regional listings and business opportunities.
Web access to the Permian Scout archive.
Does not include access to MLS
Search PLS' News Archive for complete oil & gas news for Permian Scout .
See what it is about before you buy. View a sample issue of Permian Scout.
Need more information? Click the button to recieve more details about the Permian Scout
Opportunity is a reflection of information.
Call 713-650-1212 For More Information
Search Permian Scout:

Headline
Publication
News Date
Halcón Highlights - April 11, 2018
In Monument Draw (Ward County), Halcon's Sealy Ranch 7902H, 7903H and 5902H reached average peak IP30s of 1,680 boe/d (83% oil), or 177 boe/d per 1,000 ft, which is significantly higher than the...
Apr 11, 2018
SM Energy Highlights - April 11, 2018
SM Energy agreed to sell its non-operated assets (60%WI, operated by Concho) known as Halff East located in Upton County. The assets include 5,400 net acres, 1.6 MMboe net proved reserves as of YE17...
Apr 11, 2018
Percussion Petroleum Highlights - April 11, 2018
In Eddy County, Percussion Petroleum's Goodman 22 4H (4,835-ft lateral) flowed a peak IP24 of 1,400 boe/d and an IP30 of 1,208 boe/d (92% liquids, 80% oil) from the Yeso. This is an IP30 record...
Apr 11, 2018
SM's new Wolfcamp A wells outperform prior results
In the second half of 2017 SM Energy completed four of its six best Permian wells to-date. All are located in Howard County and target the Wolfcamp A. The Maverick 9-3 A #1WA (10,418-ft lateral; 62...
Mar 28, 2018
Get more news for Permian Scout