Permian Scout
Serving the local market with drilling activities, permits & multiple listings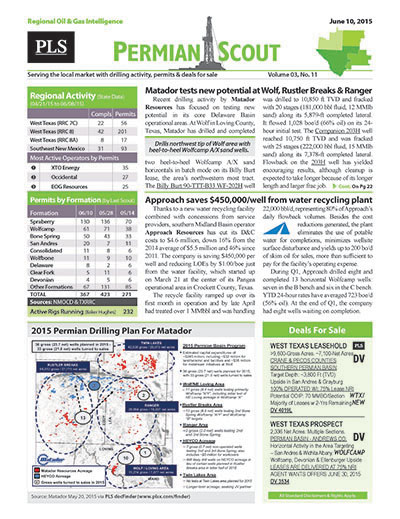 PLS publishes exploration news and drilling insights in West Texas and Southeast New Mexico through our Permian Scout.
Published every two (2) weeks, this regional report (RRC 7C, 8, & 8A) includes lead stories on drilling activity, successes and new projects while also reporting on drilling rigs, new permits, completions and P&A activity.
Stay in front of local prospects, plays & rigs!
West Texas, Southeast New Mexico
Hard Copy and Email For 1 Individual
Every 2 Weeks (22-25 issues per year)
Regional discoveries, drilling activity, permits,
completions and summary drilling statistics, layered
with regional listings and business opportunities.
Web access to the Permian Scout archive.
Does not include access to MLS
$ 795 /Yr
Search PLS' News Archive for complete oil & gas news for Permian Scout .
See what it is about before you buy. View a sample issue of Permian Scout.
Need more information? Click the button to recieve more details about the Permian Scout
Opportunity is a reflection of information.
Call 713-650-1212 For More Information
Search Permian Scout:

Headline
Publication
News Date
Regional Highlights - June 21, 2017
• The Permian region has 367 oil rigs running, more than double the 145 from a year ago. • Ward Co., TX, has 14 rigs running, up from two YOY. • Martin Co., TX, has 27 rigs running,...
Jun 21, 2017
Regional Highlights - June 7, 2017
• The region has 362 oil rigs this issue, up from 142 YOY. • Reeves Co., TX, has 60 rigs running, up from 20 YOY. • Martin Co., TX, has 26 active oil rigs, up from 5 YOY. •...
Jun 07, 2017
Parsley's first Wolfcamp C well tops 3,100 boe/d
Parsley drilled an outstanding Wolfcamp C well that delivered one of the best peak 30-day rates in the Midland Basin. The Taylor 45-33-4601H flowed 3,135 boe/d in Reagan County. Sporting a 2-mile...
May 24, 2017
Callon hikes EUR expectations in Howard County
Callon Petroleum is increasing its Wolfcamp A type curve at Sidewinder field by 85%. The 7,500-ft type curve is now 1.3 MMboe (85% oil), up from 700,000 in early 2016. The company is completing wells...
May 24, 2017
Regional Highlights - May 24, 2017
• There are 358 active oil rigs in the Permian region this issue, up from 138 YOY. • EOG drilled the top well of the issue. The State Mercury 7 #16H flowed 3,997 boe/d (71% oil) on an open...
May 24, 2017
Get more news for Permian Scout