Permian Scout
Serving the local market with drilling activities, permits & multiple listings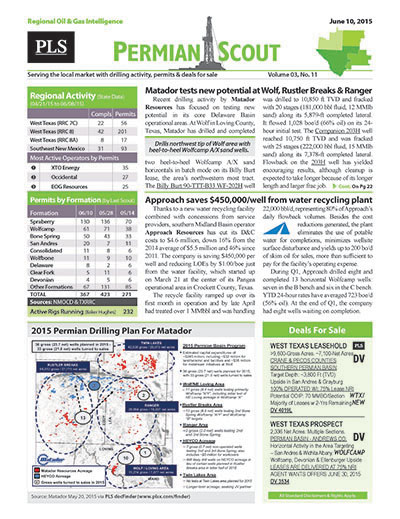 PLS publishes exploration news and drilling insights in West Texas and Southeast New Mexico through our Permian Scout.
Published every two (2) weeks, this regional report (RRC 7C, 8, & 8A) includes lead stories on drilling activity, successes and new projects while also reporting on drilling rigs, new permits, completions and P&A activity.
Stay in front of local prospects, plays & rigs!
West Texas, Southeast New Mexico
Hard Copy and Email For 1 Individual
Every 2 Weeks (22-25 issues per year)
Regional discoveries, drilling activity, permits,
completions and summary drilling statistics, layered
with regional listings and business opportunities.
Web access to the Permian Scout archive.
Does not include access to MLS
Search PLS' News Archive for complete oil & gas news for Permian Scout .
See what it is about before you buy. View a sample issue of Permian Scout.
Need more information? Click the button to recieve more details about the Permian Scout
Opportunity is a reflection of information.
Call 713-650-1212 For More Information
Search Permian Scout:

Headline
Publication
News Date
Double Eagle & FourPoint forms Permian pure play
Fort Worth-based Double Eagle Energy Holdings III and Denver-based FourPoint Energy are getting together to form a Permian pure play. Named DoublePoint Energy, the company will have 70,000 acres in...
Jun 06, 2018
EOG Highlights - June 06, 2018
The top completion in this issue is EOG's Heartthrob 17 State #702H (4,400-ft lateral; 10.8 MMlbs proppant) in Lea County. The horizontal flowed 2,548 bo/d and 6,159 Mcf/d, or 3,575 boe/d (71%...
Jun 06, 2018
Apache Highlights - June 06, 2018
Apache committed 100% of its Alpine High NGL volumes to Enterprise Products Partners' 658-mile Shin Oak Pipeline that runs from Reeves County to Mont Belvieu. The minimum commitment is 205,000 bbl/d...
Jun 06, 2018
Devon sets Delaware Basin IP24 record
Two of Devon's Q1 wells delivered the best IP24s in the history of the Delaware basin. The Boundary Raider 6-7 Com 212H tested at 12,868 boe/d (82% oil) and the Boundary Raider 6-7 Com 213H flowed...
May 23, 2018
Oxy furthers Greater Sand Dunes project
During Q1, Occidental continued its success in the Greater Sand Dunes area after reporting a record well there in early Q1—the Cedar Canyon 27/28 Federal 44H (API 30-015-44438) in Eddy County, NM...
May 23, 2018
Energen Highlights - May 23, 2018
Energen's Intrepid 55-12 #601H (4,342-ft lateral) in Reeves Co. tested at an IP24 of 2,180 bo/d and 7,582 Mcf/d, or 3,444 boe/d (63% oil), from the Wolfcamp on a 54/64-in. choke at 1,500 psi flowing...
May 23, 2018
Jagged Peak Highlights - May 23, 2018
During Q1 Jagged Peak drilled 12 and completed 11 wells (avg. 9,300 ft laterals) in the Permian. The average lateral was a quarterly record for the company. Production averaged 27,596 boe/d (79%...
May 23, 2018
Get more news for Permian Scout