Permian Scout
Serving the local market with drilling activities, permits & multiple listings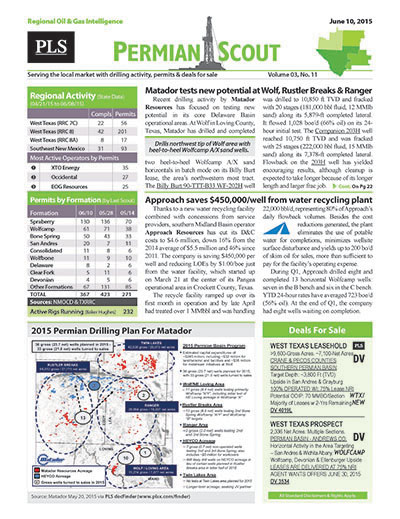 PLS publishes exploration news and drilling insights in West Texas and Southeast New Mexico through our Permian Scout.
Published every two (2) weeks, this regional report (RRC 7C, 8, & 8A) includes lead stories on drilling activity, successes and new projects while also reporting on drilling rigs, new permits, completions and P&A activity.
Stay in front of local prospects, plays & rigs!
West Texas, Southeast New Mexico
Hard Copy and Email For 1 Individual
Every 2 Weeks (22-25 issues per year)
Regional discoveries, drilling activity, permits,
completions and summary drilling statistics, layered
with regional listings and business opportunities.
Web access to the Permian Scout archive.
Does not include access to MLS
Search PLS' News Archive for complete oil & gas news for Permian Scout .
See what it is about before you buy. View a sample issue of Permian Scout.
Need more information? Click the button to recieve more details about the Permian Scout
Opportunity is a reflection of information.
Call 713-650-1212 For More Information
Search Permian Scout:

Headline
Publication
News Date
PS - Devon develops 2nd Bone Spring at prolific Cat Scratch Fever - May 15, 2019
Devon Energy's Q1 D&C program delivered more prolific wells in the Lea County, New Mexico, portion of its Todd area. Five wells targeting the Second Bone Spring in its Cat Scratch Fever Phase 1 project produced 24-hour IP rates of 10,000 boe/d (~80% oil) per well. A total of 10 wells with a mix of 1-mile, 1.5-mile and 2-mile laterals were completed in Phase 1, of which several are still in flowback. Of Phase 1, COO Tony Vaugh told investors on the Q1 earnings call that...
May 15, 2019
PS - EOG lowers Delaware Basin D&C costs 5% YOY - May 15, 2019
EOG Resources has seen efficiency gains in its Delaware Basin program over the last year. Despite running one less rig and one less completion crew, the company was able to bring online 78 wells in Q1 compared to 70 wells in the year-ago quarter. EOG ran 18 rigs and seven completion crews to D&C the wells across six different targets. The company completed 42% more lateral feet and reduced drilling days 29% YOY. Additionally, it transferred 99% of its water by pipe, which saves $2/bbl compared...
May 15, 2019
PS - Matador Resources Highlights - May 15, 2019
Matador Resources completed the David Edelstein State Com #223H well in Eddy County, New Mexico with a 10,000-ft lateral using 24.1 MMlb of sand. During a 24-hour test, the well flowed 20.3 MMcfe/d (29% oil) from the Wolfcamp on a 44/64-inch choke at 3,050 psi FCP. This is Matador's highest-performing gas well in the Permian to...
May 15, 2019
PS - Noble Energy Highlights - May 15, 2019
Noble Energy brought online nine wells (two Third Bone Spring, seven Wolfcamp) in Q1 with IP30s averaging 1,560 boe/d (68% oil). The wells were turned to sales ahead of schedule due to improved frac times. Also during the quarter, a Permian well with a 10,000-ft lateral went from spud to rig release in 16...
May 15, 2019
PS - Parsley Energy Highlights - May 15, 2019
Parsley Energy scored a number of quality well results and cost savings in the Delaware Basin during Q1. The company completed nine 2-mile laterals on four pads in Pecos and Reeves counties, Texas, with peak 24-hour oil rates exceeding 1,400 boe/d per...
May 15, 2019
PS - Halcon Resources highlights - May 15, 2019
Halcon Resources placed four Wolfcamp wells online at Monument Draw during Q1. Two of the wells have 5,000-ft laterals and averaged peak 30-day rates of 1,002 boe/d (84% oil). The other two wells, sporting 7,500-ft laterals, have not reached peak rates but are currently producing more than 900 boe/d (82%...
May 15, 2019
PS - Marathon Oil Highlights - May 15, 2019
Marathon Oil brought online 15 operated wells in the northern Delaware Basin during Q1. IP30s for these wells averaged 1,815 boe/d (65% oil), or 360 boe/d per 1,000 lateral ft. The wells were a mix of early development and delineation drilling across both the Malaga and Red Hills areas. In Malaga, a four-well pad targeting the Bone Spring, Upper Wolfcamp and Lower Wolfcamp achieved a 30-day IP rate of 2,830 boe/d (62% oil), or 400 boe/d per 1,000...
May 15, 2019
PS - Jagged Peak's first 3rd Bone Spring HZ at Cochise sets record - May 01, 2019
Jagged Peak Energy completed its first Third Bone Spring well in the Cochise area during Q1. The UTL L J Beldin 1211-17 #5HX horizontal was drilled with a 10,355-ft lateral in Winkler County, Texas, and fracked with 25.8 MMlb of proppant. During its initial 24-hour test, the well produced 3,354 boe/d (89% oil) on a 48/64-inch choke at 1,632 psi FCP. It went on to deliver a peak 30-day rate of 2,517 boe/d (81% oil), or 244 boe/d per 1,000 lateral ft. The IP24 was the company's best...
May 01, 2019
PS - Diamondback Wolfcamp HZ flows over 3,000 boe/d in Pecos Co - May 01, 2019
Diamondback Energy has flowed its highest 24-hour IP rate yet in Pecos County, Texas, with a recent Wolfcamp producer. The State Elbert 7-8 Unit #1WA tested an IP24 of 3,263 boe/d (96% oil) from its 11,111-ft lateral, or 293 boe/d per 1,000 ft, on a 45/64-inch choke at 1,650 psi FCP. The well was completed at the end of December, according to state data. Four other successful 4Q18 wells in Pecos County to the west of the State Elbert horizontal were reported by Diamondback in a February...
May 01, 2019
PS - Occidental Highlights - May 01, 2019
Following Chevron's offer of $50 billion to buy Anadarko Petroleum, Occidental Petroleum has come forward with a superior offer of $57 billion. Anadarko and Oxy are now in formal talks, and if a transaction can be arranged, Chevron will be owed a $1 billion break-up fee. Berkshire Hathaway has offered to make a $10 billion preferred stock investment in Oxy contingent on a successful takeover of...
May 01, 2019
Get more news for Permian Scout