Permian Scout
Serving the local market with drilling activities, permits & multiple listings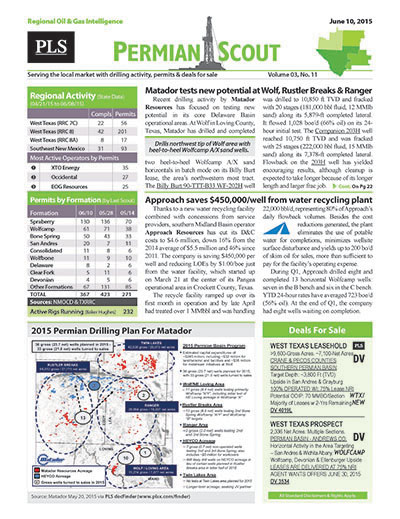 PLS publishes exploration news and drilling insights in West Texas and Southeast New Mexico through our Permian Scout.
Published every two (2) weeks, this regional report (RRC 7C, 8, & 8A) includes lead stories on drilling activity, successes and new projects while also reporting on drilling rigs, new permits, completions and P&A activity.
Stay in front of local prospects, plays & rigs!
West Texas, Southeast New Mexico
Hard Copy and Email For 1 Individual
Every 2 Weeks (22-25 issues per year)
Regional discoveries, drilling activity, permits,
completions and summary drilling statistics, layered
with regional listings and business opportunities.
Web access to the Permian Scout archive.
Does not include access to MLS
$ 795 /Yr
Search PLS' News Archive for complete oil & gas news for Permian Scout .
See what it is about before you buy. View a sample issue of Permian Scout.
Need more information? Click the button to recieve more details about the Permian Scout
Opportunity is a reflection of information.
Call 713-650-1212 For More Information
Search Permian Scout:

Headline
Publication
News Date
Centennial Resource drills its best well to date
Centennial Resource Development achieved its best well to date during Q3. The Matador 6-33H (4,300-ft lateral) flowed an IP30 of 2,154 boe/d (74% oil) from the Upper Wolfcamp A. On a per foot basis,...
Nov 15, 2017
Jagged Peak tests new zones with strong results
During Q3, Jagged Peak Energy targeted two new targets in the Wolfcamp C and deeper woodford. The first Wolfcamp C test, the State 5913A GG Houston 2H (6,662-ft lateral) achieved a peak 24-hr...
Nov 15, 2017
Callon Highlights - November 15, 2017
Callon's Q3 Permian volumes grew 36% YOY to 22,500 boe/d (77% oil). The company ran four rigs, drilling 13 wells in the Spur, WildHorse, Ranger and Monarch areas. A total of 11 wells were placed...
Nov 15, 2017
Cimarex Highlights - November 15, 2017
Cimarex spent 60% of its $335 million Q3 E&D expenditures in the Permian, completing 29 wells. Production in the play averaged 628 MMcfe/d (42% oil), up 21% YOY. At quarter's end, the company had...
Nov 15, 2017
Encana Highlights - November 15, 2017
EnCana's Permian production averaged 80,000 boe/d in October, up 25% vs. Q3 and surpassing the Q4 target of 75,000 boe/d. The Permian is on track to deliver 50% production growth between 4Q16 and...
Nov 15, 2017
Halcon Highlights - November 15, 2017
Halcon set 2018 production guidance at 15,000-19,000 boe/d and D&C capex at $280-320 million. "Our 2018 guidance assumes a three-rig program and results in year-over-year pro forma production growth...
Nov 15, 2017
Oxy Highlights - November 15, 2017
OXY will go from two rigs in 1Q17 to seven in 1Q18 in the Great Sand Dunes area of New Mexico. The company currently has five rigs in the...
Nov 15, 2017
Parlsey Highlights - November 15, 2017
Parlsey Energy's Q3 production averaged 71,500 boe/d, up 11% sequentially and 66% YOY. The company spud 38 and completed 36 wells, with laterals averaging 7,700-ft laterals. The company will increase...
Nov 15, 2017
Get more news for Permian Scout