Permian Scout
Serving the local market with drilling activities, permits & multiple listings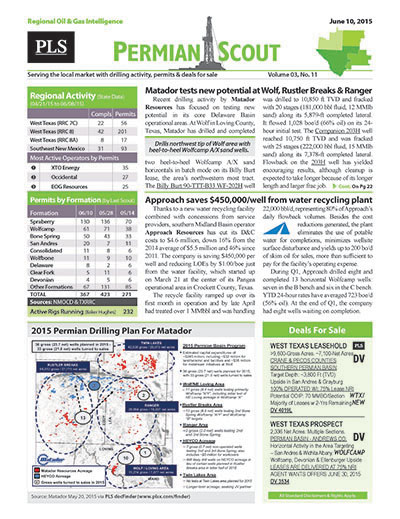 PLS publishes exploration news and drilling insights in West Texas and Southeast New Mexico through our Permian Scout.
Published every two (2) weeks, this regional report (RRC 7C, 8, & 8A) includes lead stories on drilling activity, successes and new projects while also reporting on drilling rigs, new permits, completions and P&A activity.
Stay in front of local prospects, plays & rigs!
West Texas, Southeast New Mexico
Hard Copy and Email For 1 Individual
Every 2 Weeks (22-25 issues per year)
Regional discoveries, drilling activity, permits,
completions and summary drilling statistics, layered
with regional listings and business opportunities.
Web access to the Permian Scout archive.
Does not include access to MLS
Search PLS' News Archive for complete oil & gas news for Permian Scout .
See what it is about before you buy. View a sample issue of Permian Scout.
Need more information? Click the button to recieve more details about the Permian Scout
Opportunity is a reflection of information.
Call 713-650-1212 For More Information
Search Permian Scout:

Headline
Publication
News Date
Oxy scores record Wolfcamp XY well in Eddy County
Occidental Petroleum revealed a record well in its Permian Division with the Cedar Canyon 27/28 Federal 44H (API 30-015-44438) in its Greater Sand Dunes area of Eddy County, NM coming in at IP24 of...
Feb 14, 2018
Abraxas Highlights - February 14, 2018
In Winkler County, abraxas entered into an agreement to acquire over 900 net acres on trend with the company's Caprito assets for $14.2MM. The assets are 100% HBP and consist of two operated units...
Feb 14, 2018
ExxonMobil Highlights - February 14, 2018
ExxonMobil plans to triple Permian production to more than 600,000 bo/d by 2025 and expand transportation infrastructure via a $2B investment. To help achieve this growth, the horizontal rig count...
Feb 14, 2018
Chevron Highlights - February 14, 2018
Chevron plans to add four rigs to its Permian operations during 2018, bringing the total to 20. The company's Q4 production in the play averaged 205,000 boe/d, up 41% YOY. FY17 output was...
Feb 14, 2018
Diamondback Highlights - February 14, 2018
Diamondback produced 92,900 boe/d (74% oil) during Q4, up 9% sequentially and 79% YOY. Guidance for 2018 has been set at 108,000- 116,000 boe/d, which would be a 40% increase at...
Feb 14, 2018
Laredo Petroleum Highlights - February 14, 2018
During Q4, Laredo Petroleum completed 18 wells, which was less than expected due to increase cycle times relating to testing new landing points and drilling in a new area of its western...
Feb 14, 2018
Get more news for Permian Scout