Permian Scout
Serving the local market with drilling activities, permits & multiple listings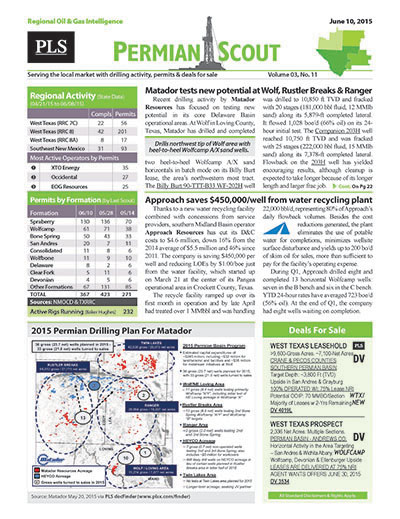 PLS publishes exploration news and drilling insights in West Texas and Southeast New Mexico through our Permian Scout.
Published every two (2) weeks, this regional report (RRC 7C, 8, & 8A) includes lead stories on drilling activity, successes and new projects while also reporting on drilling rigs, new permits, completions and P&A activity.
Stay in front of local prospects, plays & rigs!
West Texas, Southeast New Mexico
Hard Copy and Email For 1 Individual
Every 2 Weeks (22-25 issues per year)
Regional discoveries, drilling activity, permits,
completions and summary drilling statistics, layered
with regional listings and business opportunities.
Web access to the Permian Scout archive.
Does not include access to MLS
Search PLS' News Archive for complete oil & gas news for Permian Scout .
See what it is about before you buy. View a sample issue of Permian Scout.
Need more information? Click the button to recieve more details about the Permian Scout
Opportunity is a reflection of information.
Call 713-650-1212 For More Information
Search Permian Scout:

Headline
Publication
News Date
H1 Permian results highlight productivity gains
In the first half of 2018, new Permian completions averaged IP24s of 1,298 boe/d, or 186 boe/d per 1,000 ft of lateral. This compares to 1,040 boe/d, or 165 boe/d per 1,000 ft in 2016. This year's...
Aug 01, 2018
EOG Highlight - July 31, 2018
The top completion in this issue is operated by EOG in Lea County. The Antietam 9 Federal Com #709H (7,010-ft lateral) tested at a 24-hour IP of 4,042 bo/d and 8,042 Mcf/d, or 5,382 boe/d (75% oil);...
Aug 01, 2018
BHP Highlight - August 1, 2018
BHP sold its U.S. onshore portfolio to BP ($10.5 billion) and Merit Energy ($300 MM). BP picked 83,000 net acres (95% HBP) in the Delaware basin (Reeves, Culberson and Loving) and 40,000 boe/d (51%...
Aug 01, 2018
Anadarko Highlight - August 1, 2018
Anadarko's Permian sales volumes are closing in on the 100,000 boe/d market, averaging 99,000 boe/d (80% liquids) during Q2. Volumes are up 19% sequentially and 88% YOY due to "excellent" runtime...
Aug 01, 2018
Devon Highlight - August 1, 2018
Devon's Q2 Delaware basin production grew 23% sequentially and 44% YOY to 79,000 boe/d, driven by strong well productivity. Completions activity was highlighted by the company's top 10 Q2 wells...
Aug 01, 2018
Diamondback Highlights - August 1, 2018
Diamondback entered into a definitive agreement to drop down mineral acreage to Viper Energy Partners for $175MM. The assets are comprised of 1,696 net royalty acres (34,349 gross; 80% operated by...
Aug 01, 2018
EOG Highlights - July 18, 2018
The top completion in this issue is EOG's State Pathfinder 7 #28H (4,631-ft lateral; 11.8 MMlbs proppant) in Loving County. The well flowed an IP24 of 2,178 bo/d and 5,285 Mcf/d, or 3,059 boe/d (71%...
Jul 18, 2018
Get more news for Permian Scout