Southeastern Scout
Serving the local market with drilling activities, permits & multiple listings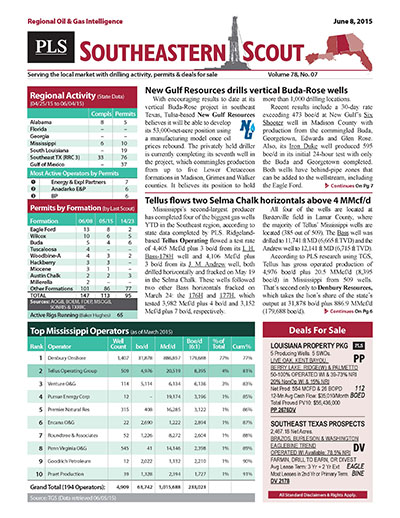 PLS publishes local exploration news and drilling insights on a regional basis through reports like the Southeastern Scout. Previously known as the Southeastern Oil Review and published since 1926, this unique report has a loyal following of explorationists, operators, drillers, landmen and landowners in South Louisiana, Mississippi, Alabama and Florida.
Stay in front of local prospects, plays & rigs!
South Louisiana, Mississippi, Alabama, Florida
Hard Copy and Email For 1 Individual
Every 3 Weeks (16-20 issues per year)
Regional discoveries, drilling activity, permits,
completions and summary drilling statistics, layered
with regional listings and business opportunities
Web access to the Southeastern Scout archive
Does not include access to MLS
Search PLS' News Archive for complete oil & gas news for Southeastern Scout .
See what it is about before you buy. View a sample issue of Southeastern Scout.
Need more information? Click the button to recieve more details about the Southeastern Scout
Opportunity is a reflection of information.
Call 713-650-1212 For More Information
Search Southeastern Scout:

Headline
Publication
News Date
SES - Shell starts first commercial Norphlet flows from Appomattox - June 06, 2019
In the deepwater Mississippi Canyon area of the Gulf of Mexico, Shell has brought the Appomattox floating production system online ahead of schedule and under budget. Through optimized development planning, better designs and fabrication, drilling execution and falling market prices, the project realized a cost reduction of 40% since the final investment decision in 2015. Initial production comes from Appomattox and Vicksburg fields, which lie 80 miles off Louisiana in 7,400 ft of water....
Jun 06, 2019
SES - W&T's Gladden Deep exploration well discovers oil - June 06, 2019
W&T Offshore made an oil discovery at the Gladden Deep well in Mississippi Canyon block 800, according to partner Kosmos Energy. W&T operates with 17.25% and Kosmos owns 20%. The well was drilled to 18,324 ft in 3,000 ft of water and encountered 201 ft of net oil pay. Based on early drilling and wireline logging data, the well's recoverable resources are in line with the 7 MMboe pre-drill estimate. Gladden will be brought online through the existing Gladden pipeline to the Medusa spar in...
Jun 06, 2019
SES - Armor Energy Highlights - June 06, 2019
In Lee County, Texas, Armor Energy LLC's Man O War Unit #1H was completed with a 6,405-ft effective lateral using 23.3 MMlb of sand. During a 24-hour test, the well flowed 846 boe/d (96% oil) from the Eagle Ford on a 36/64-inch choke at 375 psi FTP. This is a top-tier result in the company's Eagle Ford program in South Bay...
Jun 06, 2019
SES - Hawkwood Energy Highlights - June 06, 2019
At Giddings field in Brazos County, Texas, Hawkwood Energy's Brazos Farms B #3H was completed with an 8,473-ft effective lateral using 29.4 MMlb of proppant. The well flowed an initial 24- hour rate of 803 boe/d (93% oil) from the Eagle Ford on a 22/64-inch choke at 760 psi FTP. This is the company's best IP24 for Giddings field thus far. At the start of the year, Hawkwood commenced an Eagle Ford campaign in Giddings field after focusing its 2018 activity on the Eagle Ford in Aguila Vado field...
Jun 06, 2019
SES - Denbury Resources Highlights - June 06, 2019
Denbury Resources is testing the Cotton Valley potential on its Tinsley field properties in Mississippi. The first well reached TD in Q1 and will be flow tested in Q2. The well logged more than 100 ft of net pay, likely gas condensate, and also encountered more than 100 ft of net oil pay above the Cotton Valley. Should this well be successful, it could lead to a larger gas condensate development utilizing existing infrastructure. Production from Tinsley averaged 4,659 boe/d in Q1, down 7%...
Jun 06, 2019
SES - Chesapeake's Brazos Valley ops generate improved results - May 2019
The integration of WildHorse Resource Development's Brazos Valley project in southeast Texas has been a great success for Chesapeake, which says the assets will be cash flow positive this year. In just three months, Chesapeake has trimmed an average of $500,000 off well costs as a result of faster drilling times, more frac stages per day, and the use of locally sourced sand from a company-owned mine as well as supply chain and logistic synergies. Several Brazos Valley wells have even...
May 16, 2019
SES - Australis' initial TMS program outperforms the curve - May 2019
Australis Oil & Gas Ltd. completed an excellent Tuscaloosa Marine Shale well in Amite County, Mississippi, at the beginning of Q2. The Taylor 27H #1 was drilled with a 6,798-ft lateral, perforated over a short 1,888-ft interval and completed in 20 stages using 17.0 MMlb of proppant. Once online, the well tested at a 24-hour rate of 1,386 boe/d (93% oil) on a 19/64-inch choke at 1,113 psi FTP. It averaged 1,105 bo/d during the initial 19-day cleanup period and is outpoerforming the TMS...
May 16, 2019
SES - BP Highlights - May 16, 2019
In early May, BP sanctioned the Thunder Horse South Expansion Phase 2 project in the Mississippi Canyon area. The expansion will consist of the addition of two subsea production units and two new wells. Eventually eight wells will be drilled as part of the overall Thunder Horse South project. Phase 2 is expected to add 50,000 boe/d of production at its peak, with first oil planned for...
May 16, 2019
SES - Talos Energy Highlights - May 16, 2019
Talos Energy's Phoenix complex in the Gulf of Mexico recently reached a production milestone. Comprised of the Typhoon, Boris and Tornado developments in the Green Canyon area, the complex produced 47,000 boe/d (85% oil) in May, following the hookup of two new wells. The Tornado 3 well came online in April at a controlled rate of 9,300 boe/d (83% oil), which was slightly lower than expectations. The last week of April, Talos' wholly owned Boris 3 well came online at a higherthan-expected 8,500...
May 16, 2019
Get more news for Southeastern Scout