Southeastern Scout
Serving the local market with drilling activities, permits & multiple listings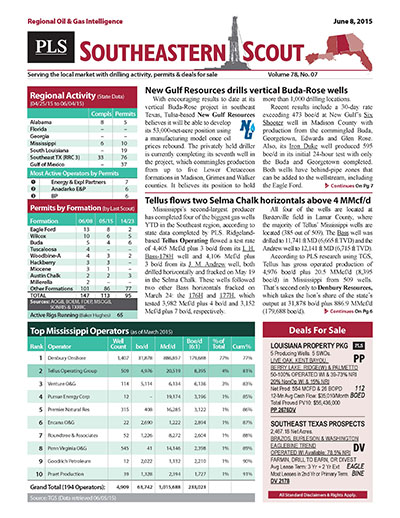 PLS publishes local exploration news and drilling insights on a regional basis through reports like the Southeastern Scout. Previously known as the Southeastern Oil Review and published since 1926, this unique report has a loyal following of explorationists, operators, drillers, landmen and landowners in South Louisiana, Mississippi, Alabama and Florida.
Stay in front of local prospects, plays & rigs!
South Louisiana, Mississippi, Alabama, Florida
Hard Copy and Email For 1 Individual
Every 3 Weeks (16-20 issues per year)
Regional discoveries, drilling activity, permits,
completions and summary drilling statistics, layered
with regional listings and business opportunities
Web access to the Southeastern Scout archive
Does not include access to MLS
Search PLS' News Archive for complete oil & gas news for Southeastern Scout .
See what it is about before you buy. View a sample issue of Southeastern Scout.
Need more information? Click the button to recieve more details about the Southeastern Scout
Opportunity is a reflection of information.
Call 713-650-1212 For More Information
Search Southeastern Scout:

Headline
Publication
News Date
SES - LLOG working on joint development plan for Leon & Moccasin - January 16, 2020
LLOG Exploration's Leon appraisal well on Keathley Canyon block 686 in the Gulf of Mexico confirmed the potential for a joint development of Leon and Moccasin, according to partner Repsol. The two discoveries are located less than 20 miles apart. LLOG is currently doing conceptual engineering to visualize what development would look like. In April, Repsol and LLOG signed asset exchange and joint participation agreements for Keathley Canyon blocks 642, 643, 686, 687 and 736, which...
Jan 17, 2020
SES - Austin Chalk gas fuels Ramtex Energy's drilling program - January 16, 2020
Ramtex Energy LLC has focused its D&C activity over the last two years on Fayette County, Texas, where it is drilling Austin Chalk gas wells at Giddings field. During 4Q19, the company flow tested two such wells. The Lincoln #1H was completed with a 5,459-ft effective lateral using 13.3 MMlb of sand or 2,436 lb/ft. During a 24-hour test, the well produced 17.5 MMcfe/d (78% gas) on a 7/64-inch choke at 3,979 psi FTP. The Hawk #1H features a 6,210-ft effective lateral fracked with 15.3 MMlb of...
Jan 16, 2020
SES - Chesapeake Energy Highlights - January 16, 2020
Chesapeake Energy delivered an Eagle Ford well with a strong oil cut in Burleson County, Texas, according to recent state data. The Raymond Unit #1H was completed with an 8,933-ft effective lateral fracked with 30.8 MMlb of proppant, or 3,444 lb/ft. It produced an initial 24- hour test rate of 1,102 boe/d (95% oil), or 123 boe/d per 1,000 lateral ft, on a 26/64-inch choke at 800 psi FTP. This was one of Chesapeake's top 10 Burleson County wells for...
Jan 16, 2020
SES - Cantium Highlights - January 16, 2020
Covington, Louisiana-based Cantium reported an oily recompletion in the 8600 Zone in LaFourche Parish. The SL 1482 #12 directional well tested at an initial 24-hour rate of 549 boe/d (91% oil) on a 14/64-inch choke at 1,310 psi FTP. Privately held Cantium holds acreage in the shallowwater Main Pass and Bay Marchand areas off...
Jan 16, 2020
SES - Hilcorp Highlights - January 16, 2020
The Hilcorp-operated Green #2ST well at Lightning field was drilled to 15,121-ft MD after being sidetracked at 11,676 ft to evaluation the Tex Miss 1 and Tex Miss 2/3 reservoirs producing from the Green #1, partner Otto Energy reported. Petrophysical analysis indicates 146 ft of net pay over seven sand intervals. Depending upon porosity and water saturation cutoffs applied, there is potential for up to 175 ft of additional net pay. The well onshore Matagorda County, Texas, is currently being...
Jan 16, 2020
SES - Occidental Petroleum Highlights - January 16, 2020
At the start of 2020, Occidental Petroleum was awarded Mississippi Canyon block 298 off Louisiana and six Walker Ridge blocks (459, 502, 503, 504, 547, and 548) off Texas. Through its Anadarko subsidiary, the company will operate and hold 100% WI in the blocks, which were offered during Lease Sale 253 on Aug....
Jan 15, 2020
SES - Chevron sanctions historic $5.7B Anchor project in the GOM - December 19, 2019
Chevron sanctioned its Anchor field project in the Gulf of Mexico, the highestpressure deepwater development to date. Discovered in 2014 in the Lower Tertiary Wilcox sands, the field is located in the Green Canyon area, 140 miles off Louisiana in 5,000 ft of water, and will be developed using new technology capable of handling operating pressures up to 20,000 psi. Stage 1 will consist of a seven-well subsea development tied back to a semisubmersible floating production unit capable of...
Dec 19, 2019
SES - Vess' four-well Woodbine pad delivers company record - December 19, 2019
Vess Oil completed a four-well pad at Kurten field in Brazos County, Texas, at the beginning of November, according to state data. The wells targeted the Woodbine with effective laterals ranging 8,460-11,074 ft. Initial 24-hour rates averaged 959 boe/d (86% oil), or 98 boe/d per 1,000 lateral ft. Three of the wells rank as the highest IP24s on record for the company and are top-quartile completions for the Woodbine in Brazos County, where Hawkwood Energy and MD America Energy have also been...
Dec 19, 2019
SES - Talos Energy Highlights - December 19, 2019
Talos Energy entered a series of agreements totaling $640 million to acquire a broad portfolio of US Gulf of Mexico producing assets, exploration prospects and acreage from affiliates of ILX Holdings LLC, Castex Energy and Venari Resources LLC. Key assets include stakes in Marmalard, Odd Job, Claiborne, Niedermeyer, Barataria, Nearly Headless Nick, Son of Bluto II, Blue Wing Olive and Coelacanth fields. There is also exploration upside from more than 40 identified prospects and possible...
Dec 19, 2019
SES - W&T Offshore Highlights - December 19, 2019
W&T Offshore acquired ConocoPhillips' operated 75% WI in Magnolia field in Garden Banks 783 and 784 for $20 million. It is gaining October net production of 2,300 boe/d (82% oil) and proved reserves of 4.1 MMboe (67% oil, 5% NGLs; 73% PDP). Besides the cash price, W&T will assume all abandonment obligations associated with the assets; as of November 2017, gross undiscounted liabilities were estimated at $35.8...
Dec 19, 2019
Get more news for Southeastern Scout