Southeastern Scout
Serving the local market with drilling activities, permits & multiple listings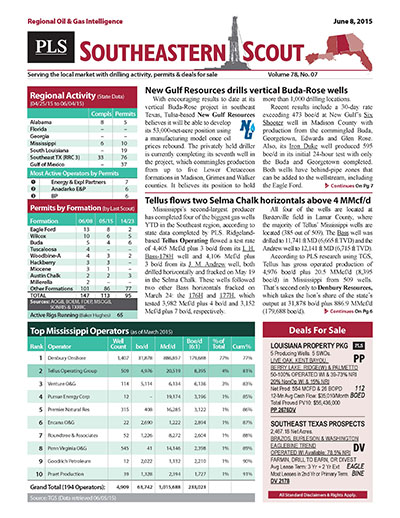 PLS publishes local exploration news and drilling insights on a regional basis through reports like the Southeastern Scout. Previously known as the Southeastern Oil Review and published since 1926, this unique report has a loyal following of explorationists, operators, drillers, landmen and landowners in South Louisiana, Mississippi, Alabama and Florida.
Stay in front of local prospects, plays & rigs!
South Louisiana, Mississippi, Alabama, Florida
Hard Copy and Email For 1 Individual
Every 3 Weeks (16-20 issues per year)
Regional discoveries, drilling activity, permits,
completions and summary drilling statistics, layered
with regional listings and business opportunities
Web access to the Southeastern Scout archive
Does not include access to MLS
Search PLS' News Archive for complete oil & gas news for Southeastern Scout .
See what it is about before you buy. View a sample issue of Southeastern Scout.
Need more information? Click the button to recieve more details about the Southeastern Scout
Opportunity is a reflection of information.
Call 713-650-1212 For More Information
Search Southeastern Scout:

Headline
Publication
News Date
SES - Byron Energy's Cutthroat well encounters more hydrocarbons - October 10, 2019
Byron Energy finished drilling its SM58 011 BP01 exploration well targeting the Cutthroat prospect in the South Marsh 58 block on the Gulf of Mexico shelf, 100 km offshore Louisiana. The well reached a final depth of 11,179 ft, but poor hole conditions required the company to stop drilling before it fully penetrated the Lower O Sands section it was seeking to test. The Lower O Sands are about twothirds the thickness of the Upper O Sands where Byron encountered 271 ft of net pay in early...
Oct 10, 2019
SES - Hurricane Barry dragged US crude oil output down in July - October 10, 2019
According to the EIA, Hurricane Barry caused oil production in the Gulf of Mexico to fall by 332,000 bo/d in July. The hurricane led to the evacuation of 283 offshore platforms, or 42% of the regional total, according to the Bureau of Safety and Environmental Enforcement. The BSEE estimated that about 70% of Gulf of Mexico crude oil production was shut in at the peak of the disruption as a result of the evacuation. Historically, the largest declines in monthly US oil production are the...
Oct 10, 2019
SES - Regional Highlights - October 10, 2019
The Bureau of Ocean Energy Management plans to offer 78 million acres for lease in March. The sale would include all available unleased areas in federal waters of the Gulf of Mexico that are not subject to congressional moratorium. Lease Sale 254 will include 14,585 unleased blocks located 3 to 231 miles offshore in 9 ft to more than 11,115 ft of...
Oct 10, 2019
SES - GulfSlope Energy Highlights - October 10, 2019
The BOEM granted GulfSlope Energy approval for a suspensionof-production designation for its Lease OCS-G 35193 on the Vermilion 375 block. The SOP provides GulfSlope with additional time to complete the necessary steps to develop a previous discovery of hydrocarbons on VR375. The SOP is subject to GulfSlope meeting certain milestones as mutually determined by the company and the BOEM. The company now plans to spud a well on the block by the end of the year and could have production online by...
Oct 10, 2019
SES - LLOG Exploration Highlights - October 10, 2019
LLOG Exploration finished drilling an appraisal well at the Leon discovery on Keathley Canyon Block 686 with the drillship Seadrill West Neptune. The company received its permit to drill the well on June 5. After coring and logging operations, LLOG has temporarily abandoned the Leon...
Oct 10, 2019
SES - Chevron Highlights - October 10, 2019
Chevron kicked off exploration well G20082 PS11 at the end of September in the Green Canyon area, which is believed to be a further appraisal of Tahiti field. By early October, the well had been drilled to a depth of 8,055 ft with Transocean's Discoverer Inspiration drillship. Chevron operates and holds 58% WI in the field with partners Equinor (25%) and Total (17%). Chevron also kicked off a second bypass from Jack appraisal well G20394 1 at the end of September in the Walker Ridge area. As of...
Oct 10, 2019
SES - Australis confirms Tier 1 productivity of TMS position - September 19, 2019
Australis Oil & Gas Ltd.'s initial Tuscaloosa Marine Shale development program has given the company confidence in the Tier 1 productivity of its TMS holdings, and results thus far are exceeding the Australia-listed E&P firm's benchmark type curve for the play. The goal of the pilot program, which commenced in 4Q18, is to demonstrate the value of over 200 MMbbl of undeveloped oil reserves and resources over 400 net well locations. All six planned wells have now been drilled, with four...
Sep 19, 2019
SES - Denbury flows Cotton Valley exploration well at Tinsley - September 19, 2019
Denbury Resources has drilled and completed its first Cotton Valley exploration well at Tinsley field in Yazoo County, Mississippi. The well reached TD in Q1 and logged more than 100 ft of net gas condensate pay and 100 ft of net oil pay above the target formation. On test, the well flowed a peak rate of 2.5 MMcf/d of high-quality gas with no contaminants and 100 bo/d. While the company is pleased with the results, at that flowrate and current commodity prices a standalone Cotton Valley...
Sep 19, 2019
SES - Byron Energy Ltd. Highlights - September 19, 2019
Byron Energy Ltd. encountered hydrocarbons with its SM58 011 well targeting the Cutthroat prospect (100% WI) in the South Marsh area. The well was drilled to a MD of 10,875 ft (9,832 ft TVD) and encountered hydrocarbons in the primary target O sand at 10,435 ft. Electronic logs indicate 271 ft of net pay (total vertical thickness), and mud gas isotope analysis shows liquidsrich gas with high-quality...
Sep 19, 2019
SES - Talos Energy Hightlights - September 19, 2019
Talos Energy struck agreements with BP and ExxonMobil for new exploration opportunities in the Gulf of Mexico. BP will get an operated 75% WI in Talos' Green Canyon block 821, where the companies plan in Q4 to drill the Puma West prospect, a sub-salt Miocene target similar to Mad Dog. Talos will retain 25% WI. Separately, Talos acquired 100% WI in the Hershey prospect on Green Canyon 326, 327, 370 and 371 from Exxon. Hershey is a large, sub-salt Miocene prospect with potential for several...
Sep 19, 2019
Get more news for Southeastern Scout