Southeastern Scout
Serving the local market with drilling activities, permits & multiple listings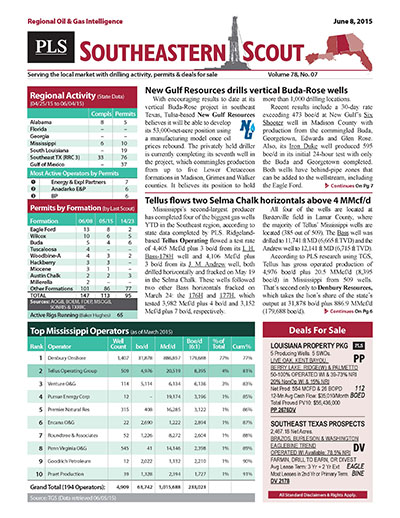 PLS publishes local exploration news and drilling insights on a regional basis through reports like the Southeastern Scout. Previously known as the Southeastern Oil Review and published since 1926, this unique report has a loyal following of explorationists, operators, drillers, landmen and landowners in South Louisiana, Mississippi, Alabama and Florida.
Stay in front of local prospects, plays & rigs!
South Louisiana, Mississippi, Alabama, Florida
Hard Copy and Email For 1 Individual
Every 3 Weeks (16-20 issues per year)
Regional discoveries, drilling activity, permits,
completions and summary drilling statistics, layered
with regional listings and business opportunities
Web access to the Southeastern Scout archive
Does not include access to MLS
Search PLS' News Archive for complete oil & gas news for Southeastern Scout .
See what it is about before you buy. View a sample issue of Southeastern Scout.
Need more information? Click the button to recieve more details about the Southeastern Scout
Opportunity is a reflection of information.
Call 713-650-1212 For More Information
Search Southeastern Scout:

Headline
Publication
News Date
SES - Tropical Storm Barry curtails 69% of US GOM oil production - July 18, 2019
Gulf of Mexico operators got their first taste of the 2019 hurricane season in early July. Hurricane Barry forced companies to shut in nearly 74% of US GOM oil production and evacuate personnel, although they have begun restoring production since Barry made landfall and was downgraded to a tropical storm. The Bureau of Safety and Environmental Enforcement estimated that 69.08% of oil production in the Gulf of Mexico remained shut in as of July 15 due to the storm. This equates to 1.3 MMbo/d....
Jul 18, 2019
SES - Shell Highlights - July 18, 2019
At the end of June, Shell spudded the NFW G35431 1 well targeting the Aransas prospect on Atwater Valley block 198, according to reports in mid-July. As of July 15, Transocean's Deepwater Thalassa drillship was still on location at the well site. Shell filed a multi-well exploration program with the Bureau of Ocean Energy Management in November on the two contiguous Atwater Valley blocks of AT 154 (G35019) and AT 198 (G35431). The plan encompasses eight drill...
Jul 18, 2019
SES - Gulfslope Highlights - July 18, 2019
GulfSlope Energy signed a letter of intent to form a JV with an undisclosed privately held company to generate and drill shallow-water depth prospects on the Gulf of Mexico shelf. Gulfslope will operate the JV, and the partner will have the right to acquire up to 50% WI in the wells in return for compensating Gulfslope for the management and administration of the JV and reimbursing the company for direct G&A costs incurred by the partnership. Gulfslope will retain and deploy a...
Jul 18, 2019
SES - TMS Interests Highlights- July 18, 2019
TMS Interests LLC has retained EnergyNet to assist in the sale of certain non-op assets in Amite and Wilkinson counties, Mississippi. The package covers 932 net acres (100% HBP) with 14 producing wells (0.009-19.5% WI) operated by Australis TMS or Griffin & Griffin Exploration. The acreage is prospective for the Austin...
Jul 18, 2019
SES - PetroQuest testing Austin Chalk, improving in Cotton Valley - July 18, 2019
PetroQuest Energy exited bankruptcy in February and is now focusing its operations on its East Texas Cotton Valley and Louisiana Austin Chalk positions. The company has 620 gross Cotton Valley locations suitable for 7,500-ft laterals remaining and potential for the Austin Chalk on 21,000 net acres. The company's current strategy is to test the Austin Chalk and unbooked Cotton Valley benches as well as drive costs down and improve recoveries. In the Austin Chalk, PetroQuest is drilling...
Jul 18, 2019
SES - LLOG reaches first production at Buckskin in Keathley Canyon - June 27, 2019
Gulf of Mexico-focused LLOG Exploration has brought online Phase 1 of the Buckskin project in the Gulf of Mexico. Buckskin is located in Keathley Canyon blocks 785, 828, 829, 830, 871 and 872 in 6,800 ft of water. Phase 1 production is expected to reach capacity of 30,000 bo/d. Operator LLOG and its affiliate companies own 33.8% WI in the project. Additional participants are Repsol (22.5%), Beacon Offshore Energy (18.7%), Navitas (7.5%), Ridgewood Energy (17.50%). Two production wells...
Jun 27, 2019
SES - Talos' Bulleit is commercial with first oil coming in 2020 - June 27, 2019
Houston-based Talos Energy confirmed that the Bulleit oil discovery in Green Canyon bock 21 is commercial following the evaluation of the upper DTR-10 target in the G35385 1 appraisal well. The company estimates that Bulleit has gross unrisked prospective resources of 10-30 MMboe and potential to deliver initial production of 8,000-15,000 boe/d. The current development plan, which would cost $80-100 million, is a subsea tieback to the Talosoperated Green Canyon block 18 platform, 10...
Jun 27, 2019
SES - Hilcorp Highlights- June 27, 2019
Commissioning of Hilcorp's Lightning field in Matagorda County, Texas, has been completed, according to partner Otto Energy. The Green #1 discovery well has been brought online at 11.7 MMcfe/d including 280 bbl/d of condensate on a 13/64-ich choke at 9,750 psi tubing pressure. Field evaluation will be ongoing with flowing material balance being used over the coming months to determine well deliverability and the overall reservoir size to optimize future development wells. The JV plans to drill...
Jun 27, 2019
SES - W&T Offshore Highlights- June 27, 2019
W&T Offshore entered an agreement to acquire Eastern Gulf of Mexico assets from ExxonMobil for $200 million. The purchase includes working interests in nine GOM offshore producing fields and an onshore treating facility that are immediately adjacent to existing properties owned and operated by W&T. The company is gaining Q1 production of 19,800 boe/d (21% liquids) and 74 MMboe of proved reserves (22% liquids, 99%...
Jun 27, 2019
Get more news for Southeastern Scout