Southeastern Scout
Serving the local market with drilling activities, permits & multiple listings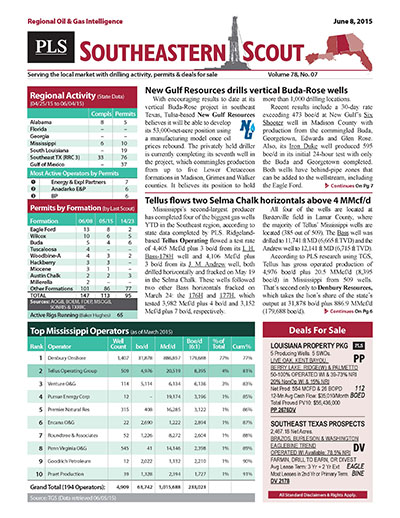 PLS publishes local exploration news and drilling insights on a regional basis through reports like the Southeastern Scout. Previously known as the Southeastern Oil Review and published since 1926, this unique report has a loyal following of explorationists, operators, drillers, landmen and landowners in South Louisiana, Mississippi, Alabama and Florida.
Stay in front of local prospects, plays & rigs!
South Louisiana, Mississippi, Alabama, Florida
Hard Copy and Email For 1 Individual
Every 3 Weeks (16-20 issues per year)
Regional discoveries, drilling activity, permits,
completions and summary drilling statistics, layered
with regional listings and business opportunities
Web access to the Southeastern Scout archive
Does not include access to MLS
Search PLS' News Archive for complete oil & gas news for Southeastern Scout .
See what it is about before you buy. View a sample issue of Southeastern Scout.
Need more information? Click the button to recieve more details about the Southeastern Scout
Opportunity is a reflection of information.
Call 713-650-1212 For More Information
Search Southeastern Scout:

Headline
Publication
News Date
Kosmos Energy enters Gulf of Mexico in $1.2B deal
Africa and South American offshore explorer Kosmos Energy is moving into the deepwater Gulf of Mexico through a $1.225 billion deal for First Reserve-backed Deep Gulf Energy. Kosmos is paying $925...
Aug 09, 2018
Hawkwood Energy Highlights - August 09, 2018
In Brazos County, Hawkwood Energy's Albert Payne Unit #2H (7,345-ft lateral; 29.5 MMlbs proppant) tested at an IP24 of 1,190 boe/d (94% oil; 162 boe/d per 1,000 ft) from the Eagle Ford on a 22/64-in....
Aug 09, 2018
WildHorse Resource Highlights - August 09, 2018
WildHorse Resource Development brought online 28 Eagle Ford wells during Q2. Production of 46,700 boe/d was up 107% YOY. The JRG C 1H, an Austin Chalk well in southern Burleson County brought online...
Aug 09, 2018
Marathon Oil Highlights - August 09, 2018
Marathon Oil disclosed that it has now acquired a 240,000 net acre position in the Austin Chalk in Avoyelles, Evangeline and Rapides parishes at a purchase price of less than $900 per acre. The...
Aug 09, 2018
American Patriot Highlights - August 09, 2018
American Patriot Oil & Gas has entered into an agreement to acquire Gulf Coast assets from Foothills Resources for $15MM. Located in Goose Greek, Cleveland and Saratoga fields in Harris, Liberty...
Aug 09, 2018
Otto Energy Highlights - August 09, 2018
Otto Energy entered into a farm-in agreement with hilcorp in Assumption, Cameron, Plaquemines and Saint Mary parishes, La. and Chambers and Matagorda counties, Texas. Otto will pay 50% cost for 37%...
Aug 09, 2018
Armor drills its best Eagle Ford wells to-date
Armor Energy completed three wells targeting the Eagle Ford on the same pad in Lee County. The IP24s were the best seen in Lee County as well as company-bests for Armor. The three wells on the...
Jul 19, 2018
LLOX completes strong U. Vicksburg directionals
In Brazoria County, LLOX completed two wells targeting the Upper Vicksburg in Algoa South field. The Edgar R. Maxey #2 (15,019 ft MD; 14,850 ft TVD) tested at a 24-hour IP of 14,324 Mcf/d on an...
Jul 19, 2018
Get more news for Southeastern Scout