Southeastern Scout
Serving the local market with drilling activities, permits & multiple listings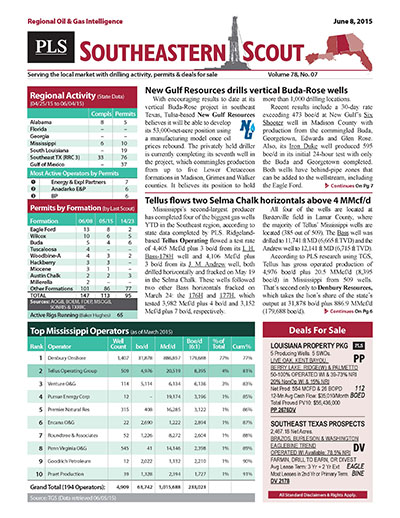 PLS publishes local exploration news and drilling insights on a regional basis through reports like the Southeastern Scout. Previously known as the Southeastern Oil Review and published since 1926, this unique report has a loyal following of explorationists, operators, drillers, landmen and landowners in South Louisiana, Mississippi, Alabama and Florida.
Stay in front of local prospects, plays & rigs!
South Louisiana, Mississippi, Alabama, Florida
Hard Copy and Email For 1 Individual
Every 3 Weeks (16-20 issues per year)
Regional discoveries, drilling activity, permits,
completions and summary drilling statistics, layered
with regional listings and business opportunities
Web access to the Southeastern Scout archive
Does not include access to MLS
Search PLS' News Archive for complete oil & gas news for Southeastern Scout .
See what it is about before you buy. View a sample issue of Southeastern Scout.
Need more information? Click the button to recieve more details about the Southeastern Scout
Opportunity is a reflection of information.
Call 713-650-1212 For More Information
Search Southeastern Scout:

Headline
Publication
News Date
Shell makes sixth Norphlet discovery at Dover
In the deepwater Gulf of Mexico Shell made a discovery in Mississippi Canyon Block 612. Located 170 miles southeast of New Orleans, the Dover exploration well was drilled by the Deepwater Poseidon...
Jun 07, 2018
Regional Highlights - June 07, 2018
Many Eastern GOM operators evacuated employees in the lead up to Tropical Storm Alberto. Operations have resumed following the passing of the...
Jun 07, 2018
Talos Energy Highlights - June 07, 2018
In Viosca Knoll Block 956, Talos Energy is planning to revamp the Ram Powell TLP that the company acquired through its merger with Stone Energy. Currently the facility has 60,000 bbl/d and 200...
Jun 07, 2018
Deep Down Highlights - June 07, 2018
Deep Down has received an order from Shell for design, engineering, manufacturing & installation of an isolation valve system on the Vito FPU. The isolation valve system will be installed onto...
Jun 07, 2018
Sembcorp Marine Highlights - June 07, 2018
Sembcorp Marine has been awarded a contract by Shell Offshore to construct and integrate the hull, topsides and living quarters for Vito. The contract includes installation of...
Jun 07, 2018
Anadarko Highlights - June 07, 2018
Anadarko appointed Mitchell W. Ingram EVP, International, Deepwater & Exploration. In his new role, Ingram will oversee Anadarko's international and deepwater operations, as well as its global...
Jun 07, 2018
Austin Chalk delivers top IPs during Q1
Southeastern region completions (state reported) during Q1 were dominated by Austin Chalk gas wells in Giddings field. GeoSouthern operates two of the three top IP24s for the quarter with the...
May 17, 2018
WildHorse grows Austin Chalk & Eagle Ford volumes
During Q1 WildHorse Resource Development continued to grow production with volumes coming in 198% higher YOY and 14% higher sequentially at 52,400 boe/d (60% oil, 9% NGLs). The company brought online...
May 17, 2018
Get more news for Southeastern Scout