CanadianCapital
Serving the Canadian finance market with news, analysis and business opportunities.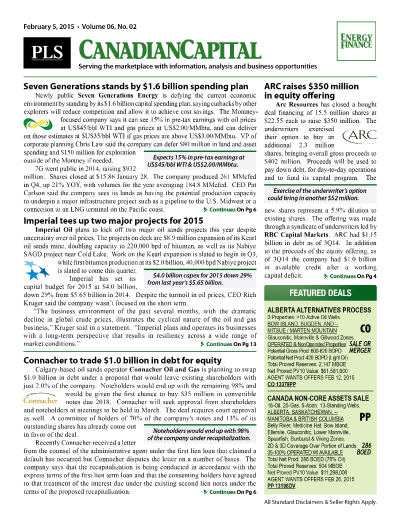 The CanadianCapital (green banner report) covers news and analysis on the energy finance sector, including company budgets, capital spending, financial performance and interviews with leading capital providers. The timely research report also contains analysis of public and private financings as well as tracks trends in capital availability from commercial banks, private equity, public markets and other providers.
Your access to Canadian energy finance
Single copy pricing; Includes hard copy & email version
Increase market insight & deal flow
Every 3 weeks
Covers Canadian financings, capex,
earnings, new companies
Includes market analysis & new trends
Access to CanadianCapital archives
Phone request for multiple listings for sale
Includes discounts for other PLS products & events
Search PLS' News Archive for complete oil & gas news for CanadianCapital .
See what it is about before you buy. View a sample issue of CanadianCapital.
Need more information? Click the button to recieve more details about the CanadianCapital
Opportunity is a reflection of information.
Call 713-650-1212 For More Information
Search CanadianCapital:

Headline
Publication
News Date
Spartan loss grows to $26MM after impairments
Spartan Energy Corp reported growing losses for 2017 after an increase in depletion and depreciation expenses and a $29.3 million impairment charge. The company reported a 2017 net loss of $26...
Apr 05, 2018
Altura Energy revenue rises 110% to $16.4MM
An increase in production and stronger oil and gas prices helped Altura Energy more than double its income and narrow its loss for 2017. The company reported a 2017 net loss of $103,000, up from a...
Apr 05, 2018
Journey impairments lead to 2017 loss of $133MM
Weak natural gas prices and non-cash impairments led to a sharp decline in 2017 earnings for Journey Energy Inc. The company reported a 2017 net loss of $133 million, down from 2016 earnings of $52.6...
Apr 05, 2018
MEG pays down $1.225B term loan, funds expansion
Upon realizing more than US$1.5 billion in cash from asset sales, oil sands producer MEG Energy said that it will repay about $1.225 billion of a senior secured term loan and fully fund its $275...
Apr 05, 2018
Get more news for CanadianCapital