CanadianCapital
Serving the Canadian finance market with news, analysis and business opportunities.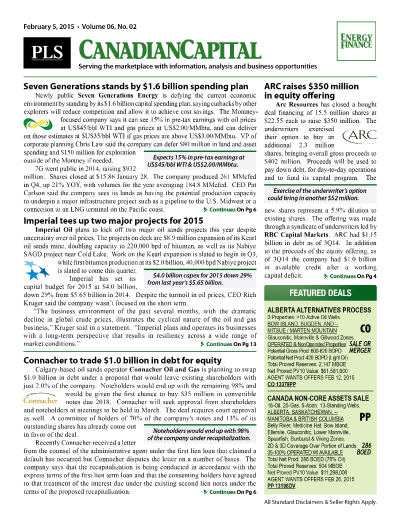 The CanadianCapital (green banner report) covers news and analysis on the energy finance sector, including company budgets, capital spending, financial performance and interviews with leading capital providers. The timely research report also contains analysis of public and private financings as well as tracks trends in capital availability from commercial banks, private equity, public markets and other providers.
Your access to Canadian energy finance
Single copy pricing; Includes hard copy & email version
Increase market insight & deal flow
Every 3 weeks
Covers Canadian financings, capex,
earnings, new companies
Includes market analysis & new trends
Access to CanadianCapital archives
Phone request for multiple listings for sale
Includes discounts for other PLS products & events
$ 595 /Yr
Search PLS' News Archive for complete oil & gas news for CanadianCapital .
See what it is about before you buy. View a sample issue of CanadianCapital.
Need more information? Click the button to recieve more details about the CanadianCapital
Opportunity is a reflection of information.
Call 713-650-1212 For More Information
Search CanadianCapital:

Headline
Publication
News Date
Analyst Takes - November 20, 2017
Suncor Energy beat analyst expectationsSuncor achieved record production in 3Q17, including its oil sands operations. The company's quarterly report shows it can make a profit even in a low...
Nov 20, 2017
Analyst urges oil companies to dismiss dividends
Oil and gas managers should stop making quarterly dividend payments and their investors should stop expecting them, an investment analyst said. Justin Anderson, an equity analyst at Mawer Investment...
Nov 20, 2017
Stronger prices boost earnings, cash flows
Oil prices were moderately stronger in Q3 than they were a year ago, boosting revenue, cash flows and, in most cases, earnings for most Canadian oil and gas companies. Companies with a high...
Nov 20, 2017
People & Companies - November 20, 2017
Birchcliff Energy shareholders named Debbie Gerlach to the board of directors. Gerlach is a chartered accountant and was a partner of Deloitte LLP for more than 21 years until September 2017. She...
Nov 20, 2017
Advantage Q3 earnings up 58%, cash flows increase
An ongoing focus on financial discipline, operational excellence and efficient capital allocation helped Advantage Oil & Gas boost Q3 earnings and cash flows from last year although revenue was...
Nov 20, 2017
Get more news for CanadianCapital