South Texas Scout
Serving the local market with drilling activities, permits & multiple listings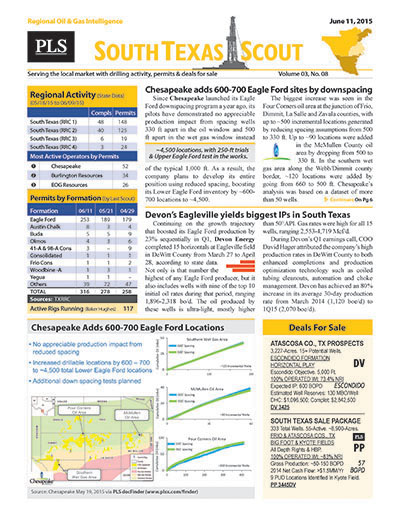 PLS publishes drilling activity in Railroad Districts 1,2,4 and select counties north of 3 through the South Texas Scout. Published every three (3) weeks, this local report covers lead stories on drilling activity, successes and new projects while also reporting on new permits, completions and P&A activity.
Stay in front of local prospects, plays & rigs!
South Texas RRC 1, 2, 4 and north of 3
Hard Copy and Email For 1 Individual
Every 3 Weeks (16-20 issues per year)
Regional discoveries, drilling activity, permits,
completions and summary drilling statistics, layered
with regional listings and business opportunities
Web access to the South Texas Scout archive
Does not include access to MLS
Search PLS' News Archive for complete oil & gas news for South Texas Scout .
See what it is about before you buy. View a sample issue of South Texas Scout.
Need more information? Click the button to recieve more details about the South Texas Scout
Opportunity is a reflection of information.
Call 713-650-1212 For More Information
Search South Texas Scout:

Headline
Publication
News Date
Eagle Ford production to rise in August
EIA projects that Eagle Ford production will rise in August by 35,000 bo/d and 137 MMcf/d to totals of 1,436 MMbo/d and 6.931 Bcf/d. If the estimates are correct, Eagle Ford output would be up...
Jul 26, 2018
EOG Highlights - July 26, 2018
The top completion in this issue was EOG's Lynch Unit #10H (6,077- ft lateral) in Karnes County. The well tested at an IP24 of 4,726 bo/d and 4,524 Mcf/d, or 5,480 boe/d (86% oil), from the Eagle...
Jul 26, 2018
SM Energy Highlights - July 26, 2018
In the Eagle Ford, SM Energy drilled six net and completed nine net wells during Q2. Production rose 5% sequentially to 59,555 boe/d (42% liquids). Realized prices were $58.20/bbl for oil,...
Jul 26, 2018
Summit Discovery Highlights - July 26, 2018
Sumitomo subsidiary Summit Discovery Resources II has entered into an agreement to acquire Eagle Ford assets from IOG Capital, Covington Equity and 1836 Resources. Located in Karnes County, the 624...
Jul 26, 2018
Cheniere Highlights - July 26, 2018
Cheniere filed a request with the FERC for authorization to introduce fuel gas to begin commissioning Train 1 at its Corpus Christi LNG facility. The company also filed an application for a...
Jul 26, 2018
Marathon scores IP24 record in Live Oak County
At the beginning of June Marathon Oil completed five wells on the Guajillo Unit 10 South in Live Oak County. The Eagle Ford wells averaged 4,444-ft laterals and IP24s of 2,616 boe/d (88% oil; 590...
Jul 05, 2018
Regional Highlights July 05, 2018
A June 2018 Eagle Ford assessment by the USGS pegs mean undiscovered, technically recoverable resources at 8.5 Bbbl of oil, 66 Tcf of natural gas and 1.9 Bbbl of NGLs. For oil, this compares to 7.4...
Jul 05, 2018
Get more news for South Texas Scout