South Texas Scout
Serving the local market with drilling activities, permits & multiple listings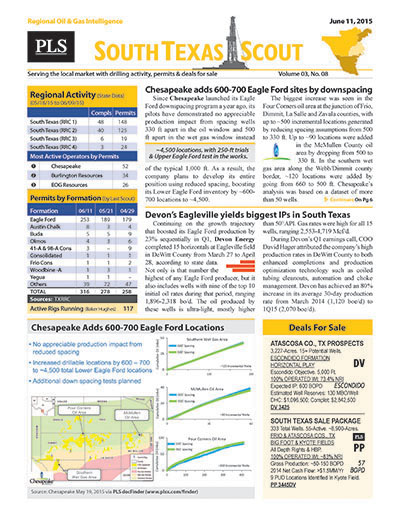 PLS publishes drilling activity in Railroad Districts 1,2,4 and select counties north of 3 through the South Texas Scout. Published every three (3) weeks, this local report covers lead stories on drilling activity, successes and new projects while also reporting on new permits, completions and P&A activity.
Stay in front of local prospects, plays & rigs!
South Texas RRC 1, 2, 4 and north of 3
Hard Copy and Email For 1 Individual
Every 3 Weeks (16-20 issues per year)
Regional discoveries, drilling activity, permits,
completions and summary drilling statistics, layered
with regional listings and business opportunities
Web access to the South Texas Scout archive
Does not include access to MLS
$ 795 /Yr
Search PLS' News Archive for complete oil & gas news for South Texas Scout .
See what it is about before you buy. View a sample issue of South Texas Scout.
Need more information? Click the button to recieve more details about the South Texas Scout
Opportunity is a reflection of information.
Call 713-650-1212 For More Information
Search South Texas Scout:

Headline
Publication
News Date
Sanchez record well at Comanche flows 3,800 boe/d
Sanchez Energy closed its $2.3 billion acquisition of the Comanche area from Anadarko Petroleum in March and since then has brought 57 wells online—42 during Q2 alone. Also during the 2Q17, Sanchez...
Aug 10, 2017
EOG drills top wells of the issue
The top three wells in this issue were drilled by EOG Resources in DeWitt County. The Dio Unit #11H, #13H and #15H averaged 5,853 ft laterals and tested at a 24-hr rate of 4,723 boe/d (83% oil) from...
Aug 10, 2017
Regional Highlights - August 10, 2017
• There are 106 rigs- 88 oil and 18 gas- running in the South Texas region this issue, up 147% from 43 YOY. • La Salle County has 17 rigs running, up from four YOY. • Starr County has...
Aug 10, 2017
Cabot Oil & Gas Highlight - August 10, 2017
In the Eagle Ford, Cabot's production rose 9% sequentially to 13,146 boe/d (84% oil). A total of 7.4 net wells were drilled and 16 net were completed and turned to sales. Production came in lower...
Aug 10, 2017
ConocoPhillips Highlight - August 10, 2017
ConocoPhillips recently added another rig to its Eagle Ford drilling program. The company took advantage of attractive contracting terms to bring its number running in the play to...
Aug 10, 2017
Encana Corp Highlight - August 10, 2017
In the Eagle Ford, Encana delivered a 45% increase in average IP180 type curves and grew oil and condensate production by 30% sequentially in Q2. Austin Chalk wells in the play are producing 15%...
Aug 10, 2017
Noble Energy Highlight - August 10, 2017
Noble Energy achieved record quarterly sales volumes in the Eagle Ford of 69,000 boe/d, up 60% from the prior quarter, driven by the development of the highly prolific South Gates Ranch area it...
Aug 10, 2017
Get more news for South Texas Scout