Bakken Scout
Serving the local market with drilling activities, permits & multiple listings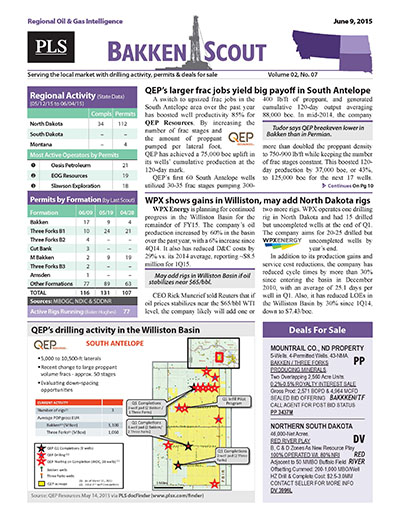 PLS's Bakken Scout covers oil and gas permitting, rig activity and completions in the Dakotas and Montana. The report is available by subscription and is delivered by hard copy and email every 3 weeks. Like other Regionals, the Bakken is packed full of local statistical analysis covering permits, rigs and completions while also covering top stories, fun facts, quick stats and production anomalies.
Stay in front of local prospects, plays & rigs!
North Dakota, South Dakota and Montana
Hard Copy and Email For 1 Individual
Every 3 Weeks (16-20 issues per year)
Regional discoveries, drilling activity, permits,
completions and summary drilling statistics, layered
with regional listings and business opportunities.
Web access to the Bakken Scout archive.
Does not include access to MLS
Search PLS' News Archive for complete oil & gas news for Bakken Scout .
See what it is about before you buy. View a sample issue of Bakken Scout.
Need more information? Click the button to recieve more details about the Bakken Scout
Opportunity is a reflection of information.
Call 713-650-1212 For More Information
Search Bakken Scout:

Headline
Publication
News Date
BS - Bruin ends 2019 with its best initial well productivity yet - December 30, 2019
ArcLight Capital-backed Bruin E&P brought online eight outstanding wells recently on its FB James lease in McKenzie County, North Dakota. The Dec. 3 issue highlighted how the company was delivering consistently strong results in Williams County. This time around, Bruin is achieving its most impressive IP24s in McKenzie County to date, including one monster well that ranks as the company's best. The eight wells, all targeting the Middle Bakken or Three Forks, were drilled in H1 and...
Dec 30, 2019
BS - Charlie Loomer and the A-Ls prove to be good luck for Hess - December 30, 2019
Hess' Q4 completion program is delivering top-tier results as the company targets a quarterly total of 55-60 new wells online. In McKenzie County, North Dakota, seven wells on the BB-Charlie Loomer-#150-95-0718 pad at Blue Buttes field averaged initial 24-hour rates of 5,340 boe/d (72% oil) apiece from laterals averaging 9,602 ft, or 556 boe/d per 1,000 lateral ft. Six of the wells rank among the top 10 Hess IP24s. Delivering the highest rate was the BB-Charlie Loomer- #150-95-0718-H9, which...
Dec 30, 2019
BS - Regional Highlights - December 30, 2019
North Dakota's oil production averaged a record 1.52 MMbo/d in October, up from 1.44 MMbo/d in September. Natural gas volumes were 3.1 Bcf/d, up from 2.95 Bcf/d the prior month. Gas capture rates were at 82%, which was below the 88% target set by the...
Dec 30, 2019
BS - Sedoro Energy Group Highlights - December 30, 2019
Sedoro Energy Group-backed Windsor Energy and Gulfport Energy sold ORRI assets in North Dakota and Montana. Located primarily in Mountrail, Dunn, McKenzie, Williams, Burke and Roosevelt counties, ND, the assets cover 15,420 net acres across 104 DSUs (100% HBP) containing 1,014 gross wells, 500 drilling locations and 5.4 MMboe (77% oil) of proved reserves. As of July 1, net production was 357 boe/d (85% oil). Operators include Continental, ConocoPhillips, EOG Resources, Hess, Marathon Oil,...
Dec 30, 2019
BS - Enerplus Highlights - December 30, 2019
Enerplus' Williston Basin production averaged 54,800 boe/d (83% oil) during Q3, including 51,646 boe/d in North Dakota (84% oil), up 18% from the prior quarter. The company drilled 17 operated wells (88% WI) and brought 11 (72% WI) online. The 11 completions were located on two pads, one of which had four wells that hit peak initial 30-day three-stream rates averaging 1,660 boe/d (71% oil). The other pad had seven wells flowing peak IP30s of 2,590 boe/d (65% oil) apiece. Enerplus effectively...
Dec 30, 2019
BS - Continental Resources Highlights - December 30, 2019
Continental Resources founder Harold Hamm will step down from his CEO position in January but will remain executive chairman. Current board member William Barry will become CEO. Barry has been on the board since 2014 and was previously an executive at...
Dec 30, 2019
BS - Whiting Petroleum tallies success with Sanish infill pilot - December 3, 2019
Despite heavy rain and flooding in North Dakota, Whiting Petroleum didn't let its Q3 get bogged down. The company's field teams took preemptive steps to prepare well sites, allowing uninterrupted operations at some locations and expedited recovery at others. As a result, the company achieved its quarterly production goal with volumes averaging 124,846 boe/d, including 80,880 bo/d. Q3 production was down 2% YOY. Whiting turned 39 wells to sales during Q3, with highlights in Sanish field...
Dec 03, 2019
BS - Bruin's Williams County program delivers consistent strength - December 3, 2019
Bruin E&P continues to achieve strong results from its horizontal wells in Williams County, North Dakota. Around the beginning of Q3, the four-well WM Johnson #157- 993B-10 pad was completed with effective laterals averaging 10,084 ft, all targeting the Middle Bakken. Initial 24-hour rates came in at 2,898 boe/d (88% oil) per well, or 287 boe/d per 1,000 lateral ft. The top performer was the WM Johnson #157-99-3B-10-2B, which was completed with a 10,087-ft lateral in 57 stages using 15 MMlb of...
Dec 03, 2019
BS - Regional Highlights - December 3, 2019
The EIA projects that Bakken production will rise by 9,000 bo/d and 15 MMcf/d sequentially in December to 1.506 MMbo/d and 3.101 Bcf/d. There are 739 DUCs in the Bakken as of October, down by 20 compared to August.Enverus projects that Bakken production will be flat in 2020 due to the weak price...
Dec 03, 2019
BS - Marathon Oil Highlights - December 3, 2019
In the Bakken, Marathon Oil is delivering impressive capital efficiency. Well costs have declined ~20% compared to the 2018 average to $4.9 million, and strong productivity continues as the company expands outside of its core. On the Hector extension in Dunn County, North Dakota, the four-well Herbert pad averaged initial 30-day rates of 1,720 boe/d (86% oil) per well in Q3. Located in the southern portion of the extension area, these wells cost ~$4.5 million...
Dec 03, 2019
Get more news for Bakken Scout