Western Scout
Serving the local market with drilling activities, permits & multiple listings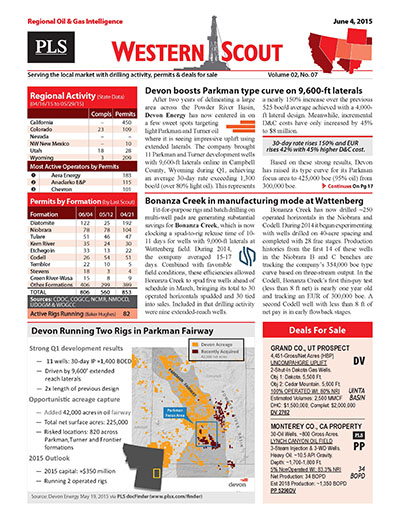 PLS's Western Scout covers local drilling activity, permit data, rig activity and completions in the Southern Rockies, (Colorado, Wyoming, NW Nebraska, Utah, Four Corners) and Western US, (California, Nevada, Oregon, Washington). Like all of PLS's Regionals this report includes a wealth of statistical analysis on activities and corporate performance. The reports also layer select advertising, business opportunities and multiple listings for sale.
Stay in front of local prospects, plays & rigs!
Southern Rockies, Colorado, NW Nebraska, Wyoming, Utah, Four Corners and the Western U.S., California, Nevada, Oregon and Washington
Hard Copy and Email For 1 Individual
Every 3 Weeks (16-20 issues per year)
Regional drilling activity, permits, completions and statistics layered with regional listings and business opportunities
Does not include access to MLS
Search PLS' News Archive for complete oil & gas news for Western Scout .
See what it is about before you buy. View a sample issue of Western Scout.
Need more information? Click the button to recieve more details about the Western Scout
Opportunity is a reflection of information.
Call 713-650-1212 For More Information
Search Western Scout:

Headline
Publication
News Date
WS - Bonanza Creek to venture north & east for 2021 delineation - June 30, 2020
With 2020 drilling and completion activity put on ice in Q1, Bonanza Creek Energy is looking to 2021. The Weld County, Colorado-focused company and offset operators have expanded the Wattenberg field core to the north and east using modern completions. For 2021, Bonanza Creek plans delineation activity on its northern acreage near its successful Whitetail A-4 Niobrara well, which it says is trending above the type curve, and on its eastern acreage. The company will also start development work...
Jun 30, 2020
WS - PDC adding Wattenberg DUCs, suspending completions until Q4 - June 30, 2020
PDC Energy significantly scaled back its Wattenberg field plans for 2020. Capex guidance was lowered by $300 million to $450 million, a 40% cut. The number of wells to be spudded was reduced by 40% to 100 from a previously planned 165. Lateral lengths will average 8,900 ft. After dropping from three active rigs, the company will run one through year's end. The number of planned completions was slashed 45% to 120 from 220. Well costs are expected to average $2.5 million for 1-mile laterals and...
Jun 30, 2020
WS - Regional Highlights - June 30, 2020
The EIA projects that Niobrara production from the DJ Basin will fall by 25,000 bo/d and 79 MMcf/d sequentially in July to 613,000 bo/d and 5.314 Bcf/d. There were 478 Niobrara DUCs in the DJ Basin as of May, down by five from...
Jun 30, 2020
WS - Chesapeake Energy Highlights - June 30, 2020
During Q1, the most active formation in the Powder River Basin was the Turner, with 30 wells completed. The number of completions was up both sequentially and YOY compared to 14 Turner completions in 4Q19 and 23 in 1Q19. The most active operators were Chesapeake Energy (nine Turner completions), Anschutz Exploration (seven) and Devon Energy (seven).On June 28, Chesapeake Energy filed voluntary petitions for reorganization under the Chapter 11 bankruptcy code. Concurrently, the company...
Jun 30, 2020
WS - Vermilion Energy Highlights - June 30, 2020
Vermilion Energy's Q1 production from the US fell 18% sequentially to 4,685 boe/d as a result of increased downtime and natural declines. The company drilled nine wells (99% WI) and brought online three wells (97% WI) in the Powder River Basin during the quarter. The other six wells drilled during Q1 were completed in April and were in the process of being turned to sales as of a late April update. This completes the company's D&C plans in the basin for...
Jun 30, 2020
WS - Berry Petroleum Highlights - June 30, 2020
During Q1, Berry Petroleum's production declined 2% sequentially to 30,800 boe/d (89% oil), driven by natural declines but offset by the company's development program in late December and early Q1. California volumes averaged 24,900 boe/d, down 2% versus...
Jun 30, 2020
WS - Ballard Petroleum Highlights - June 9, 2020
In Campbell County, Wyoming, Ballard Petroleum completed the Dilts Fed #14-30-19 PH targeting the Parkman formation. The well was completed with a 9,778-ft effective lateral fracked in 42 stages. During a 24-hour test, it flowed 896 boe/d (94% oil), or 92 boe/d per 1,000 lateral ft, at 100 psi FTP. The company has not completed a Parkman well on the lease since 2018, according to state...
Jun 10, 2020
WS - Bright Rock Energy Highlights - June 9, 2020
Bright Rock Energy entered into an agreement to acquire 28,000 net acres (40% HBP) in Wyoming. The package includes five wells and 300 bbl/d of net production as of April. Bright Rock CEO Chris Sutton said, "We are delighted to announce the acquisition of this very large land package. It gives us the opportunity to develop significant new production when oil prices return to normal above 50 USD/barrel. The position is nearby several emerging oil fields, where strong drilling results are being...
Jun 09, 2020
WS - California Resources Corp. Highlights - June 9, 2020
After skipping a $30 million interest payment on May 29, California Resources Corp. entered into forbearance agreements with a majority of its lenders to delay a default filing until June 14. The company is reportedly putting together a bankruptcy...
Jun 09, 2020
WS - Taproot Energy Partners Highlights - June 9, 2020
In the DJ Basin, Taproot Energy Partners secured a long-term dedication on 60,000 acres from Mallard Exploration. Mallard will be served by Taproot's existing Baja system and soon-to-be-completed Rattlesnake expansion, which together include over 110 miles of crude oil, produced water and freshwater...
Jun 09, 2020
Get more news for Western Scout