Western Scout
Serving the local market with drilling activities, permits & multiple listings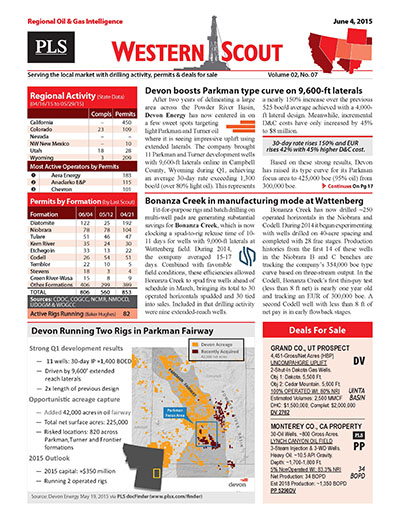 PLS's new Western Scout covers local drilling activity, permit data, rig activity and completions in the Southern Rockies, (Colorado, Wyoming, NW Nebraska, Utah, Four Corners) and Western U.S., (California, Nevada, Oregon, Washington).
Stay in front of local prospects, plays & rigs!
Southern Rockies, Colorado, NW Nebraska, Wyoming, Utah, Four Corners and the Western U.S., California, Nevada, Oregon and Washington
Hard Copy and Email For 1 Individual
Every 3 Weeks (16-20 issues per year)
Regional drilling activity, permits, completions and statistics layered with regional listings and business opportunities
Does not include access to MLS
$ 595 /Yr
Search PLS' News Archive for complete oil & gas news for Western Scout .
See what it is about before you buy. View a sample issue of Western Scout.
Need more information? Click the button to recieve more details about the Western Scout
Opportunity is a reflection of information.
Call 713-650-1212 For More Information
Search Western Scout:

Headline
Publication
News Date
EOG Resources brings online top Turner producers
In the Powder River Basin, EOG is running an expanded drilling program in 2017 with plans to complete 30 net Turner wells compared to 20 in 2016. The company recently brought online five such wells,...
Nov 01, 2017
Anadarko Highlights - November 1, 2017
Anadarko's DJ Basin volumes are down 6% YOY but up 10% sequentially as of Q3 at 232,000 boe/d (36% oil). The company ran six operated rigs and four frac crews during the quarter in order to spud 107...
Nov 01, 2017
Bill Barrett Highlights - November 1, 2017
Bill Barrett grew production 26% sequentially in Q3 to 20,900 boe/d, with oil volumes up 33% at 13,050 bo/d. The company's DJ Basin LOEs fell 18% vs. Q2 to $2.52/bbl. Drilling and completion cycle...
Nov 01, 2017
Chesapeake Highlights - November 1, 2017
Chesapeake brought seven wells online in the PRB during Q3, including its third Turner well, the Graham 23-35-71 15H (4,500-ft lateral), which flowed a peak rate of 1,737 boe/d (82% oil). It added a...
Nov 01, 2017
Devon Highlights - November 1, 2017
In the PRB, Devon's nine Parkman and Teapot wells completed this year have achieved IP30s of more than 1,800 boe/d, normalizing for 10,000-ft laterals. Three Teapot producers brought online in...
Nov 01, 2017
Noble Highlights - November 1, 2017
Noble's DJ Basin production averaged 112,000 boe/d in Q3, up 17% sequentially and flat YOY. A total of 32 wells were completed with 19 at Wells Ranch and 13 at East...
Nov 01, 2017
SRC Energy Highlights - November 1, 2017
SRC Energy drilled 24 and turned to sale 38 gross wells in Q3. Production averaged 40,378 boe/d, up 24% sequentially and up almost 4x YOY. The nine-well Evans pad with extended laterals flowed an...
Nov 01, 2017
Whiting Highlights - November 1, 2017
Whiting appointed Bradley J. Holly CEO and President, replacing James Volker, who is retiring. Holly was previously VP US Onshore E&P for Anadarko. During Q3, the company grew its Redtail...
Nov 01, 2017
Whiting's Redtail completions outperforming
Around beginning of Q3, Whiting began flowing back the seven-well Razor 12-H pad and the eight-well Razor 12-G pad at its Redtail play in Weld County. The pads target the Niobrara A, B and C zones...
Oct 10, 2017
Get more news for Western Scout