Western Scout
Serving the local market with drilling activities, permits & multiple listings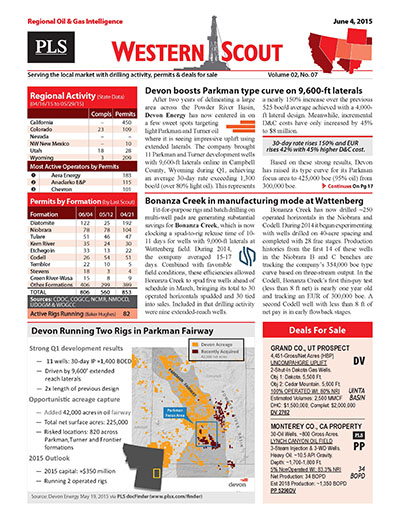 PLS's Western Scout covers local drilling activity, permit data, rig activity and completions in the Southern Rockies, (Colorado, Wyoming, NW Nebraska, Utah, Four Corners) and Western US, (California, Nevada, Oregon, Washington). Like all of PLS's Regionals this report includes a wealth of statistical analysis on activities and corporate performance. The reports also layer select advertising, business opportunities and multiple listings for sale.
Stay in front of local prospects, plays & rigs!
Southern Rockies, Colorado, NW Nebraska, Wyoming, Utah, Four Corners and the Western U.S., California, Nevada, Oregon and Washington
Hard Copy and Email For 1 Individual
Every 3 Weeks (16-20 issues per year)
Regional drilling activity, permits, completions and statistics layered with regional listings and business opportunities
Does not include access to MLS
Search PLS' News Archive for complete oil & gas news for Western Scout .
See what it is about before you buy. View a sample issue of Western Scout.
Need more information? Click the button to recieve more details about the Western Scout
Opportunity is a reflection of information.
Call 713-650-1212 For More Information
Search Western Scout:

Headline
Publication
News Date
Chesapeake's PRB providing oil growth engine
The Powder River Basin is turning into a major growth engine for Chesapeake Energy with current production up 78% vs. 4Q17. On July 22, the company hit new record volumes, flowing a net 32,000 boe/d...
Aug 07, 2018
EOG tests Mowry shale horizontal over 2,000 boe/d
In Campbell County, EOG completed the Ballista #204-1102H (9,100-ft lateral; 55 stages; 26.4 MMlb proppant) in the Mowry shale source rock formation. According to state data, the well flowed an IP24...
Aug 07, 2018
Devon Highlights - August 07, 2018
Devon plans to double its Powder River Basin activity in 2019, with potential to run four rigs. The company brought online two Turner wells (8,000-ft laterals), with average IP30s of 1,450 boe/d (75%...
Aug 07, 2018
Anadarko Highlights - August 07, 2018
During Q2 Anadarko ran four rigs in the DJ Basin. A total of 63 wells were spud and 63 turned to sales. Sales volumes averaged a companyrecord 261,000 boe/d (+15% YOY), generating $280MM in free cash...
Aug 07, 2018
California Resources Highlights - August 07, 2018
In Q2, California Resources ran 10 rigs and drilled 83 development wells. In the San Joaquin Basin, CRC operated seven rigs and produced 98,000 boe/d while in the Los Angeles Basin, it ran three rigs...
Aug 07, 2018
Noble Energy Highlights - August 07, 2018
Noble Energy's Q2 DJ Basin production averaged 121,000 boe/d (+13% YOY). In Wells Ranch, after 150 days online, gross production from the Kona pads is over 10,000 boe/d (60% oil) from seven wells...
Aug 07, 2018
Mustang Resources Highlights - August 07, 2018
Mustang Resources acquired 12,733 net acres (85% HBP) in San Juan County, N.M. from Koch Exploration. The assets have 80 net horizontal locations prospective for two Mancos zones and EURs are 13-19...
Aug 07, 2018
Southland's Lewis program continues to deliver
Southland Royalty Co. has racked up a number of successful wells in its Lewis program in Sweetwater County, Wyo. Five of the wells account for the company's top IP24s to-date. Back in May, PLS...
Jul 17, 2018
Get more news for Western Scout