Western Scout
Serving the local market with drilling activities, permits & multiple listings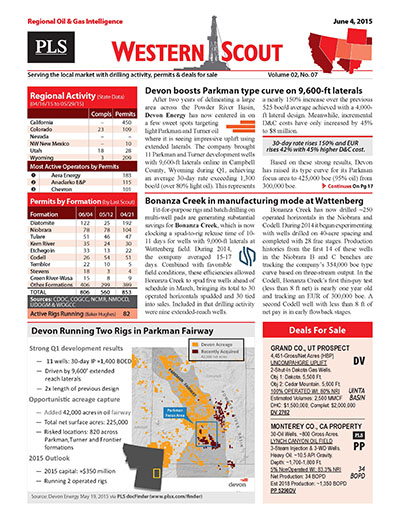 PLS's Western Scout covers local drilling activity, permit data, rig activity and completions in the Southern Rockies, (Colorado, Wyoming, NW Nebraska, Utah, Four Corners) and Western US, (California, Nevada, Oregon, Washington). Like all of PLS's Regionals this report includes a wealth of statistical analysis on activities and corporate performance. The reports also layer select advertising, business opportunities and multiple listings for sale.
Stay in front of local prospects, plays & rigs!
Southern Rockies, Colorado, NW Nebraska, Wyoming, Utah, Four Corners and the Western U.S., California, Nevada, Oregon and Washington
Hard Copy and Email For 1 Individual
Every 3 Weeks (16-20 issues per year)
Regional drilling activity, permits, completions and statistics layered with regional listings and business opportunities
Does not include access to MLS
Search PLS' News Archive for complete oil & gas news for Western Scout .
See what it is about before you buy. View a sample issue of Western Scout.
Need more information? Click the button to recieve more details about the Western Scout
Opportunity is a reflection of information.
Call 713-650-1212 For More Information
Search Western Scout:

Headline
Publication
News Date
Anadarko sees 20% uplifts in EURs in DJ core
Based on results from a completion design change in 2017, Anadarko Petroleum is increasing its contiguous core type curve EUR 20% to 690,000 boe. The contiguous core is a blend of Niobrara and Codell...
Feb 20, 2018
Noble hikes EURs at Wells Ranch & Mustang
During 2017 Noble Energy saw increased well productivity due to enhanced completions. On average, the company increased its DJ Basin type curves 25% within its focus area. Specifically, Wells Ranch...
Feb 20, 2018
Development Capital Highlights - February 20, 2018
Development Capital Resources formed a JV to operate California Resources' midstream infrastructure. The JV will operate the assets in support of CRC's Elk Hills area. CRC will retain a significant...
Feb 20, 2018
Devon Highlights - February 20, 2018
Devon's RU Dilts Fed #04-093972- 4XTH (6,839-ft lateral; 13.5 MMlbs proppant) tested at a 24-hour rate of 1,212 bo/d and 2,656 Mcf/d, or 1,655 boe/d (73% oil), from the Turner on a 30/64-in. choke at...
Feb 20, 2018
Southland Royalty Highlights - February 20, 2018
In Sweetwater County, WY, Southland Royalty Co.'s Chain Lakes 15 #31-1H (4,188-ft lateral, 389,000 lbs proppant) flowed an IP24 of 125 bo/d and 5,402 Mcf/d, or 6.2 MMcfe/d (87% gas) from the...
Feb 20, 2018
Ultra Petroleum Highlights - February 20, 2018
Ultra Petroleum announced the retirement of Chairman and CEO Michael Watford, effective Feb. 28. Watford led the company for 19 years and will be replaced by SVP, Operations Brad Johnson on...
Feb 20, 2018
WPX Highlights - February 20, 2018
WPX is selling its San Juan Gallop oil position to Enduring Resources IV for $700MM. The assets cover 105,000 net acres and are expected to produce 15,750 boe/d in...
Feb 20, 2018
Get more news for Western Scout