MidstreamIntelligence
Serving the downstream sector with news, analysis and business opportunities.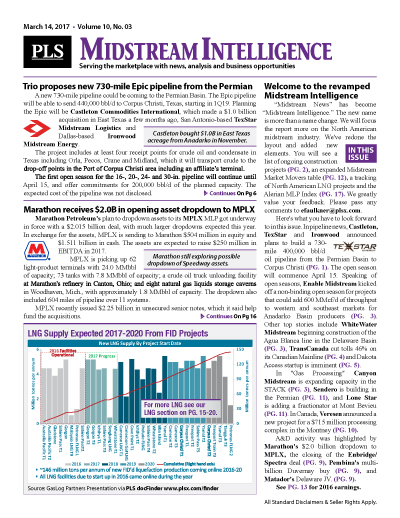 The PLS MidstreamIntelligence Module covers news and analysis on the midstream sector. The purple banner report includes market information, news and analysis on gas gathering, marketing, pipelines, storage, midstream mergers, acquisitions, capital and corporate performance.
Your access to midstream & downstream markets
Single copy pricing; Incl hard copy & email version
Increase market insight & deal flow
Published every 3 weeks; 17+ issues per year
Covers gathering, rail, processing, pipelines, refining and LNG
Phone request for multiple listings for sale
Includes discounts for other PLS products & events
Search PLS' News Archive for complete oil & gas news for MidstreamIntelligence .
See what it is about before you buy. View a sample issue of MidstreamIntelligence.
Need more information? Click the button to recieve more details about the MidstreamIntelligence
Opportunity is a reflection of information.
Call 713-650-1212 For More Information
Search MidstreamIntelligence:

Headline
Publication
News Date
MI - Oneok starts up $1.4B Bakken & Rockies NGL takeaway pipeline - January 2020
ONEOK put into service its $1.4 billion Elk Creek pipeline, providing much-needed NGL takeaway capacity from the Williston, Powder River and DJ basins. The project is also key to the Tulsa-based company, which is spending billions into turning the 550 MMcf/d currently being flared in North Dakota into NGL opportunities. NGLs are now flowing on the 900-mile pipeline, which extends from the Williston to Oneok's existing Midcontinent NGL facilities in Bushton, Kansas. Elk Creek can...
Jan 03, 2020
MI - TC sells 65% of $5B Coastal GasLink pipeline to KKR and AIMCo - January 2020
TC Energy is selling a 65% stake in its under-construction Coastal GasLink pipeline in British Columbia to KKR and Alberta Investment Management Corp. The sale allows TC to ease its capex load as Coastal GasLink is part of C$32 billion ($24 billion) in growth projects it expects to enter service by 2023. While the sale price was not announced, TC said it expects to record an after-tax gain of C$600 million for its divested stake in the C$6.6 billion construction project once the...
Jan 03, 2020
MI - Williams capex in 2020 to be down $1B as Northeast cuts back - January 2020
Williams expects to spend about $1.2 billion on capex in 2020, $1 billion less than in 2019, officials said at its annual analyst day. The 2019 figure of $2.2 billion also came in $200 million below the midpoint of its 2019 forecast range as Williams responded to reduced drilling activity. Transmission projects will take up a bigger slice of the company's growth capex pie this year versus gathering and processing spending. Transmission will make up 61% of Williams' 2020 capex compared...
Jan 03, 2020
MI - Enbridge puts COLT in stable to join Enterprise offshore - January 2020
Enterprise Products Partners looks like it will have a familiar partner in its effort to build a deepwater oil terminal off Texas. Enbridge, a 50:50 partner with Enterprise on the Seaway crude export terminal and pipeline, signed an LOI to jointly develop the Sea Port Oil Terminal, which would be able to fully load very large crude carriers. The Calgary-based pipeline giant also put on the back burner the Texas Crude Offshore Loading Terminal, its rival project to Enterprise's SPOT....
Jan 03, 2020
MI - Trans Mountain starts laying pipe in Alberta for expansion - January 2020
Trans Mountain has pipe on the ground as its expansion gets back to work after months of court and regulatory delays and an ownership change. Once completed, the capacity of the 1,021-mile pipeline from Edmonton, Alberta, to the British Columbia coast will reach 890,000 bo/d from its current 300,000 bo/d. Pipeline construction began in Alberta on Spread 1, a stretch that includes about 50 km of pipeline running from Trans Mountain's Edmonton terminal in Sherwood Park to Acheson,...
Jan 03, 2020
MI - TC looking to deliver 495 MMcf/d more to Baja California - January 2020
TC Energy plans to increase capacity to the Mexican border by 495 MMcf/d by adding compression to its North Baja pipeline. The $127 million North Baja XPress project will feature a new 31,900-hp compressor unit in Ehrenberg, Arizona, and modifications to meter stations in La Paz County, Arizona, and Imperial County, California. In a Dec. 16 filing, TC asked the Federal Energy Regulatory Commission to grant a certificate of public necessity by YE20 to begin service on Nov. 1, 2022. An...
Jan 03, 2020
MI - Cheniere sees Midship gas pipeline delayed until at least April - January 2020
Cheniere Energy expects its Midship gas pipeline in Oklahoma to commence service no earlier than April—six months behind schedule—and for $1.49 billion, roughly $500 million more than expected last January. The company attributed the delay and higher costs to heavy rains in 2Q19 and the discovery of numerous unknown pipelines during construction. Using available surveys and 811 call data, Cheniere expected the 199-mile Midship project to cross about 240 third-party pipelines. Instead,...
Jan 03, 2020
MI - Out with the old projects, in with the new capex limits - January 2020
As the old year wound down, it seemed as if companies used December to check off their 2019 to-do list. Start up a $1.4 billion NGL pipeline? Check for Oneok. Export first LNG cargo? Check for Kinder Morgan Inc. Sell a majority stake in a $5 billion gas pipeline? Check for TC Energy. Agree to terms for going private? Check for Tallgrass Energy (PG.9). Oneok put into service its $1.4 billion Elk Creek pipeline, part of its $5.1 billion effort to turn gas currently being flared into...
Jan 03, 2020
MI - EPIC ships first crude from repurposed terminal in Corpus Christi - January 2020
An EPIC Crude Holdings subsidiary loaded and launched the first shipment of crude from the IGC marine terminal located on the Inner Harbor of the Corpus Christi Ship Channel in Texas. The IGC terminal, formerly the International Grain Port Terminal, was repurposed by EPIC beginning in June to enable it to export crude while the company's larger export terminal is still under construction. EPIC's marine terminal will consist of two separate dock facilities, with the IGC becoming the West...
Jan 03, 2020
MI - Pipelines Briefs - January 3, 2020
Magellan Midstream Partners extended a supplemental open season to solicit additional commitments for transportation volume on its West Texas products pipeline system to Jan. 3. The partnership is in the process of expanding the system, which primarily delivers gasoline and diesel to West Texas demand centers, to 175,000 bbl/d from its current capacity of 100,000 bbl/d and adding a products terminal in Midland. Operations are to start in mid-2020. If the open season is promising, Magellan might...
Jan 03, 2020
Get more news for MidstreamIntelligence