MidstreamIntelligence
Serving the downstream sector with news, analysis and business opportunities.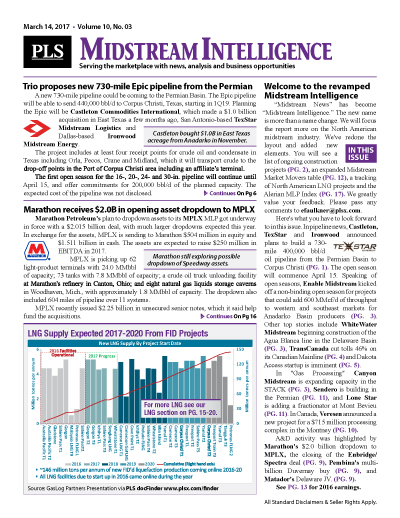 The PLS MidstreamIntelligence Module covers news and analysis on the midstream sector. The purple banner report includes market information, news and analysis on gas gathering, marketing, pipelines, storage, midstream mergers, acquisitions, capital and corporate performance.
Your access to midstream & downstream markets
Single copy pricing; Incl hard copy & email version
Increase market insight & deal flow
Published every 3 weeks; 17+ issues per year
Covers gathering, rail, processing, pipelines, refining and LNG
Phone request for multiple listings for sale
Includes discounts for other PLS products & events
Search PLS' News Archive for complete oil & gas news for MidstreamIntelligence .
See what it is about before you buy. View a sample issue of MidstreamIntelligence.
Need more information? Click the button to recieve more details about the MidstreamIntelligence
Opportunity is a reflection of information.
Call 713-650-1212 For More Information
Search MidstreamIntelligence:

Headline
Publication
News Date
MI - Targa starts up Grand Prix NGL pipeline out of Permian - August 2019
Targa Resources started deliveries in August on its largest project, the Grand Prix NGL pipeline, bringing NGLs from the Permian to its fractionation complex in Mont Belvieu. The company owns just over 55% of the pipeline. The startup was the highlight of Targa's Q2 earnings, which included its fourth straight net loss and lowest revenue in two years. Grand Prix is consistently flowing 150,000-170,000 bbl/d to Mont Belvieu. Targa expects volumes to increase to 200,000 bbl/d in...
Aug 15, 2019
MI - Qatar wealth fund buys stake in Permian crude gatherer Oryx - August 2019
The Qatar Investment Authority said it bought a "significant stake" in Oryx Midstream Services from the Permian crude system's new owner, Stonepeak Infrastructure Partners, and committed to invest in the system alongside Stonepeak. Although financial terms were not disclosed, the sovereign wealth fund said it will invest a total of about $550 million in Oryx, the largest privately held crude pipeline operator in the Permian. White & Case and Sidley Austin LLP served as legal advisors to QIA...
Aug 15, 2019
MI - EnLink replaces CEO after shifting YE19 forecast to net loss - August 2019
EnLink Midstream announced the exit of its CEO after reporting its third straight quarterly net loss and fourth straight quarter of declining revenue. The company also revised its 2019 guidance from a positive net income to a net loss. The $16.1 million net loss for Q2 was affected by declining producer activity in Oklahoma, deferred activity in the Permian and the bankruptcy of White Star Petroleum. Michael Garberding left after 19 months as CEO to "pursue other opportunities," EnLink...
Aug 15, 2019
MI - Permian growth depending on Corpus crude export projects - August 2019
Permian crude output will grow by 1.0 MMbo/d each year until reaching 6.8 MMbo/d in 2022, and domestic refining will be unable to keep up, according to a study from the University of Houston. Planned crude export projects will be just sufficient to keep up, but any delays would lead to congestion at Texas Gulf Coast ports or a production slowdown in the Permian. Most of the capex in US refineries since 1985 has been on equipment designed for heavy crude, historically the cheaper...
Aug 15, 2019
MI - Enbridge starts long-term open season for Canadian Mainline - August 2019
Enbridge launched an open season on the Canadian Mainline as it switches to long-term shipper commitments. The system has been organized around monthly commitments, a practice some crude producers criticized as inefficient. The open season will cover shipments after the standing Competitive Tolling Settlement on the Mainline expires June 30, 2021, and will allow shippers an opportunity to enter into eight- to 20-year contracts for priority transportation service. Enbridge will reserve at least...
Aug 15, 2019
MI - Changes at the CEO level add variety to earnings season - August 2019
Q2 earnings season seemed more like a job fair with several companies announcing changes at the top. Some companies used their conference calls to unveil a new CEO, but each situation had a different background story. The only change that seemed clearly connected to disappointing Q2 results was at EnLink Midstream, which revised its 2019 guidance from a $18-28 million net income to a $24-31 million net loss. Michael Garberding left after 19 months as CEO with founder Barry Davis coming...
Aug 15, 2019
MI - Williams looks to move 582 MMcf/d on Transco by YE21 - August 2019
Williams' Transco interstate pipeline has applied with the Federal Energy Regulatory Commission seeking authorization for its $531 million Leidy South project in Pennsylvania, which proposes to connect Marcellus and Utica gas with markets along the Atlantic Seaboard by the 2021-2022 winter heating season. The certificate application reflects an in-service target of Dec. 1, 2021. Leidy South will add 582 MMcf/d of capacity from the Leidy Hub in New York and Zick interconnect to points...
Aug 15, 2019
MI - Eagle Ford's largest SWD system to use advanced pipe - August 2019
EVX Midstream Partners will use special high-density polyethylene pipe from Performance Pipe, a division of Chevron Phillips Chemical, to build the largest saltwater disposal pipeline network in the Eagle Ford. The PlatinumStripe 1800 Series PE-RT Piping is designed for high temperature, unlike standard HDPE pipes for water disposal, which need diesel motors for cooling. Oilfield wastewater is often 160- 180°F and corrodes standard steel piping. The first phase of the EVX project...
Aug 15, 2019
MI - Energy Transfer in discussions for crude export facility off Texas - August 2019
Energy Transfer is considering developing its own export facility off Texas capable of loading very large crude carriers. The company also announced during its Q2 earnings release that it will build its eighth NGL fractionator at its Mont Belvieu, Texas, complex. CFO Tom Long said ET is "advancing discussions" on the VLCC project, which would be connected to its Nederland terminal, and promised to provide more specifics as the project gets closer to a final investment decision. While a...
Aug 15, 2019
MI - DCP deal with Western lets it cancel DJ processing facility - August 2019
DCP Midstream signed a long-term agreement with Western Midstream Partners that will provide DCP with up to 225 MMcf/d of incremental processing capacity at Western's DJ Basin gas processing complex, which includes the Latham II plant that is presently under construction. The deal means DCP will call off its 200-300 MMcf/d Bighorn processing facility in Colorado scheduled for mid-2020. DCP, which intended to spend about $325 million in 2020 to build the Bighorn facility, instead will...
Aug 15, 2019
Get more news for MidstreamIntelligence