MidstreamIntelligence
Serving the downstream sector with news, analysis and business opportunities.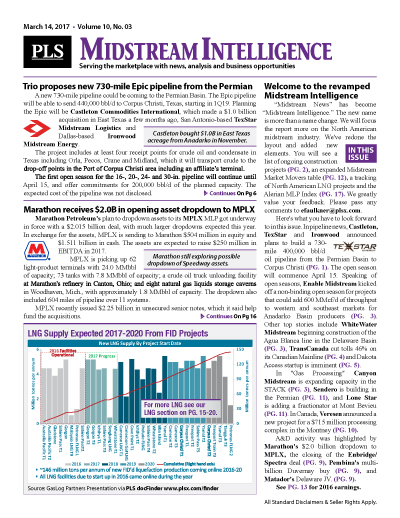 The PLS MidstreamIntelligence Module covers news and analysis on the midstream sector. The purple banner report includes market information, news and analysis on gas gathering, marketing, pipelines, storage, midstream mergers, acquisitions, capital and corporate performance.
Your access to midstream & downstream markets
Single copy pricing; Incl hard copy & email version
Increase market insight & deal flow
Published every 3 weeks; 17+ issues per year
Covers gathering, rail, processing, pipelines, refining and LNG
Phone request for multiple listings for sale
Includes discounts for other PLS products & events
Search PLS' News Archive for complete oil & gas news for MidstreamIntelligence .
See what it is about before you buy. View a sample issue of MidstreamIntelligence.
Need more information? Click the button to recieve more details about the MidstreamIntelligence
Opportunity is a reflection of information.
Call 713-650-1212 For More Information
Search MidstreamIntelligence:

Headline
Publication
News Date
MI - Hess Midstream buys out HIP in $6 billion simplification deal - October 2019
Hess Midstream Partners LP will acquire all of Hess Corp.'s and Global Infrastructure Partners' ownership interests in Hess Infrastructure Partners LP, a $6.19 billion consolidation. The transaction will create a $7.25 billion enterprise value midstream company primarily focused on Hess' Bakken operations. The deal will bring over HIP's water services business, its 80% interest in Hess Midstream's oil and gas midstream assets, its outstanding economic general partner interest and its...
Oct 17, 2019
MI - Enterprise plans new Permian-to-Houston crude pipeline - October 2019
Enterprise Products Partners will build a pipeline that connects the partnership's 6 MMbbl storage facility in Midland to its ECHO terminal in Houston with a swing into the Eagle Ford. The partnership also announced an effort to save $60 million a year by optimizing its entire Midland-to-ECHO system. The new pipeline will have an initial capacity of 450,000 bo/d and can be expanded up to 540,000 bo/d, with service beginning in 1H21. In addition to providing another outlet for Permian...
Oct 17, 2019
MI - Kinder Morgan finally puts Elba Island LNG unit into service - October 2019
Kinder Morgan Inc. marked the startup of the first liquefaction unit at its Elba Island facility in Georgia. The LNG Project, which is the US's second LNG export facility outside of the Gulf Coast, came after years of delays. Elba Liquefaction Co., a JV of KMI and private equity firm EIG Global Energy Partners, announced Oct. 4 the start of commercial service of the first of 10 modular liquefaction units of the $2 billion Elba project. With the first unit in service, the company is now...
Oct 17, 2019
MI - NextEra partnership adds stake in Central Penn for $1.37 billion - October 2019
NextEra Energy Partners agreed to acquire Meade Pipeline Co. in a $1.37 billion transaction with Altagas, Cabot Oil & Gas, Energy Investors Fund and Vega Energy. Meade owns a 39.2% interest in the Central Penn Line, a 185-mile intrastate pipeline that can carry 1.7 Bcf/d of Marcellus gas into Williams' Transco system, with contracts that limit the risk facing the master limited partnership of renewables company NextEra Energy. Included in the transaction is a $90 million future...
Oct 17, 2019
MI - Holly & PAA team up to build Oklahoma pipeline & terminal - October 2019
Holly Energy Partners LP and Plains All American Pipeline have formed a 50:50 JV, Cushing Connect Pipeline & Terminal LLC, for the development and construction of a new 160,000 bo/d common carrier pipeline and the ownership and operation of a 1.5 MMbo crude oil storage terminal. The pipeline will connect the Cushing crude oil hub to the Tulsa refining complex owned by a HollyFrontier Corp. subsidiary, and the terminal will also be located in Cushing. The partners expect the terminal to...
Oct 17, 2019
MI - Algonquin closes $251MM buy of Enbridge Gas New Brunswick - October 2019
Ontario-based Algonquin Power & Utilities Corp. completed the C$331 million ($251 million) acquisition of Enbridge subsidiary Enbridge Gas New Brunswick Ltd. on Oct. 1. The deal gave Algonquin its first utility operation in Canada, while Enbridge said it aligned with its focus on expanding and growing its midstream business in core markets in Canada and the US. Enbridge Gas New Brunswick operates 1,200 km of natural gas distribution pipeline in 12 communities in southern New...
Oct 17, 2019
MI - Tidewater Midstream to pay $208MM for Husky oil refinery - October 2019
Tidewater Midstream and Infrastructure agreed to acquire Husky Energy's Prince George light oil refinery in British Columbia for C$215 million ($163 million) in cash plus a closing adjustment for inventory, and a contingent payment of up to C$60 million over two years. The transaction is valued at $207.9 million, the highest of Tidewater's 14 acquisitions in the past four years, according to Enverus' M&A Database. The Prince George Refinery also extends Tidewater's liquids value chain with its...
Oct 17, 2019
MI - M&A starts Q4 off with a bang on Hess Midstream's $6B deal - October 2019
Midstream M&A finished Q3 strong with a last-minute billion-dollar deal and roared into Q4 with the sector's secondlargest transaction of the year in the first days of October.The deals marked a transition from a Q3 that was otherwise unremarkable, according to the numbers from Enverus' M&A Database (PG.7). On Sept. 30, NextEra Energy Partners, the master limited partnership of renewables company NextEra Energy, dipped into fossil fuels and agreed to buy Meade Pipeline Co., which owns...
Oct 17, 2019
MI - Rattler and Oryx buy Midland Basin crude gatherer for $355MM - October 2019
Diamondback Energy subsidiary Rattler Midstream and Oryx Midstream will partner to acquire Reliance Gathering for $355 million. The JV will get an existing crude system that includes more than 230 miles of crude gathering and regional transportation pipelines in the northern Midland Basin. The current Reliance system covers 160,000 gross acres in Midland, Martin, Andrews and Ector counties, Texas, that are dedicated under long-term, fixed-fee agreements, some of which benefit from minimum...
Oct 17, 2019
MI - A&D Briefs - October 17, 2019
Vermont-based Mount Tam Biotechnologies will merge with Banner Midstream Corp., based in Frisco, Texas. Financial terms were not disclosed, but Banner's stockholders will own a majority controlling interest at closing, expected in mid-Q4. Mount Tam secured debt holders will take possession of the biotechnology assets in lieu of the amounts due in the secured debt instruments. Despite its name, Banner Midstream is largely an oilfield services company, as its main operating segments are Pinnacle...
Oct 17, 2019
Get more news for MidstreamIntelligence