MidstreamIntelligence
Serving the downstream sector with news, analysis and business opportunities.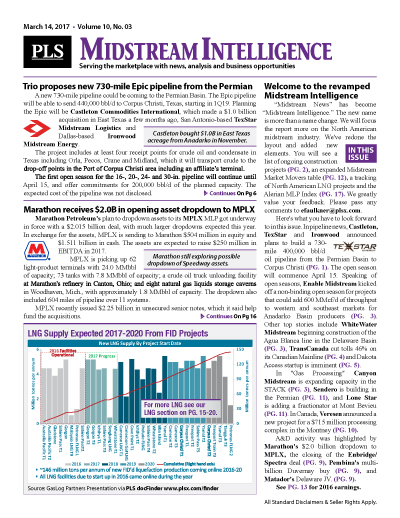 The PLS MidstreamIntelligence Module covers news and analysis on the midstream sector. The purple banner report includes market information, news and analysis on gas gathering, marketing, pipelines, storage, midstream mergers, acquisitions, capital and corporate performance.
Your access to midstream & downstream markets
Single copy pricing; Incl hard copy & email version
Increase market insight & deal flow
Published every 3 weeks; 17+ issues per year
Covers gathering, rail, processing, pipelines, refining and LNG
Phone request for multiple listings for sale
Includes discounts for other PLS products & events
Search PLS' News Archive for complete oil & gas news for MidstreamIntelligence .
See what it is about before you buy. View a sample issue of MidstreamIntelligence.
Need more information? Click the button to recieve more details about the MidstreamIntelligence
Opportunity is a reflection of information.
Call 713-650-1212 For More Information
Search MidstreamIntelligence:

Headline
Publication
News Date
MI - Phillips 66 starts building pair of billion-dollar pipelines - June 2019
Phillips 66 announced June 10 it is proceeding with construction of a crude pipeline from Cushing and the Permian to the Texas Gulf Coast and a crude pipeline from the Rockies to Cushing. The $4 billion in new projects will be executed through a pair of 50:50 JVs. The Red Oak and the Liberty pipelines have inservice targets of 1Q21. Plains All American Pipeline will be Phillips 66's partner on the Red Oak pipeline. The Red Oak JV will lease capacity in PAA's Sunrise pipeline system, which...
Jun 11, 2019
MI - Whistler gas pipeline out of Permian receives green light - June 2019
A JV led by MPLX and WhiteWater Midstream made a positive final investment decision on the Whistler pipeline, which will carry up to 2 Bcf/d of Permian gas to the Agua Dulce hub near Corpus Christi, Texas. The FID gives the Permian its first confirmed gas long-haul to go into service in 2021. In addition to Marathon Petroleum master limited partnership MPLX and First Infrastructure Capital-backed WhiteWater, the Whistler JV includes private equity firm Stonepeak Infrastructure Partners and West...
Jun 11, 2019
MI - Sentinel latest to plan crude export facility off Texas - June 2019
Dallas-based Sentinel Midstream is seeking a license to run a crude export facility to load very large crude carriers off Freeport, Texas. Called Texas GulfLink, the project is the fourth proposed facility to fully load crude supertankers that has applied with the US Maritime Administration (MARAD) in the past 12 months. Texas GulfLink will include an onshore crude storage terminal connected by a 42-inch pipeline to a manned offshore platform 30 miles off Freeport. From the platform,...
Jun 11, 2019
MI - Cheniere Energy maxes out Sabine Pass with Train 6 FID - June 2019
Cheniere Energy issued a final investment decision with its last planned train at the Sabine Pass liquefaction project in Cameron Parish, Louisiana, giving Bechtel a full notice to proceed with construction on Train 6. The FID means Cheniere and its partnership have about 45 mtpa in capacity either in commercial service, commissioning or under construction. Train 6 would complete Cheniere's build-out at Sabine Pass from a regasification import facility to one of the largest export...
Jun 11, 2019
MI - Oryx extends open seasons to Crane and Midland stations - June 2019
Oryx Midstream extended its binding open seasons to secure volume commitments on two new Permian Basin crude transportation options on its Oryx Delaware Oil Transport system. The binding open season will now continue into June 21. One option originates from ODOT's terminal near Crane, Texas, to the Gray Oak pipeline's proposed Crane station. Scheduled to go into service in Q4, Gray Oak is a Phillips 66 Partners-led project that will deliver to multiple terminals in Corpus Christi, Texas, and...
Jun 11, 2019
MI - Magellan & Navigator extend Voyager open season again - June 2019
Magellan Midstream Partners and Navigator Energy Services extended the open season for a third time for the proposed Voyager pipeline to transport crude from Cushing and Midland to Houston. The extension to Aug. 30 also pushed Voyager's scheduled completion to early 2021 from mid-2020. When first proposed in November, Voyager was to be 500 miles of 20-inch pipeline from Magellan's terminal in Cushing to Magellan's East Houston terminal, targeting crude coming to Cushing from the Rockies on...
Jun 11, 2019
MI - KMI running open season for SFPP expansion of 7,500 bbl/d - June 2019
Kinder Morgan Inc. is running a binding open season into June 24 to solicit commitments for an expansion of a portion of its SFPP system from Texas to Arizona. The expansion will add 7,500 bbl/d of capacity for the transportation of Mexican-grade gasoline and diesel from El Paso, Texas, to SFPP's Annex terminal in Tucson, Arizona. The additional capacity will be provided through expanded pump capability at SFPP's El Paso Station. Pending a successful open season, the full expansion...
Jun 11, 2019
MI - Enterprise to add 90-mile pipeline to Texas ethylene plans - June 2019
Enterprise Products Partners is extending its ethylene pipeline and logistics system further into South Texas, in anticipation of new crackers and ethylene derivative plants. The Baymark ethylene pipeline will originate in the Bayport area of southeast Harris County and extend 90 miles to Markham, Texas, in Matagorda County. Baymark is a JV of Enterprise and Lavaca Pipe Line Co., a subsidiary of Formosa Plastics Corp. The US affiliate of Taiwan-based Formosa Plastics Group operates a...
Jun 11, 2019
MI - GOM pipelines get boost as Shell's Appomattox starts up - June 2019
The Proteus and Endymion crude pipelines in the Gulf of Mexico started flowing volumes from the startup of the Shell-operated Appomattox floating production system via Shell Pipeline Co.'s newly commissioned Mattox pipeline. Appomattox, which has an expected production of 175,000 boe/d, achieved first oil May 23. In addition to Shell Midstream Partners' stake, BP Midstream Partners (42.25%) and BP (22.75%) also own Proteus and Endymion through their joint ownership of Mardi Gras Transportation...
Jun 11, 2019
MI - Canadian crude-by-rail shipments jump in May - June 2019
Crude-by-rail shipments from Western Canada continued to climb in May after hitting a nine-month low in February, according to data from Genscape. The data company reported rail loadings in May were 231,000 bo/d, up 17% from April and 60% from February, when it reported 144,000 bo/d moved by rail. The decline in February stems mostly from the increase in prices of heavy crude, which rose at the start of the year following government-mandated production cuts. Those cuts limit oil...
Jun 11, 2019
Get more news for MidstreamIntelligence