CapitalMarkets
Serving the finance market with news, analysis and investment opportunities.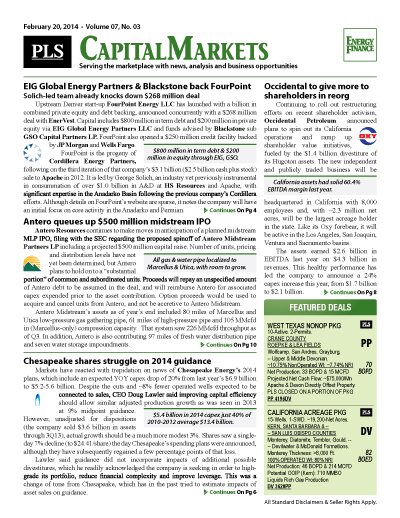 PLS publishes news and analysis in the energy finance sector through its capital markets module. The green banner report includes news and analysis on company budgets, capital spending, financial performance and interviews with leading capital providers.
Your access to energy finance
Single copy pricing; Incl hard copy & email version
Increase market insight & deal flow
Every 3 weeks; 17+ issues per year
Covers financings, capex, earnings, new companies
Includes market analysis and new trends
Access to capital market archives
Phone request for multiple listings published in reports
Includes discounts for other PLS products & events
Are you looking to subscribe to Capitalize? Click here for the latest Capital Markets Report
Search PLS' News Archive for complete oil & gas news for CapitalMarkets .
See what it is about before you buy. View a sample issue of CapitalMarkets.
Need more information? Click the button to recieve more details about the CapitalMarkets
Opportunity is a reflection of information.
Call 713-650-1212 For More Information
Search CapitalMarkets:

Headline
Publication
News Date
Heard around the industry:
The historic tax reform bill passed Dec. 20 represents a $1.5 trillion tax cut which permanently slashes corporate tax rates and lowers taxes for individuals. ExxonMobil CEO Darren...
Feb 09, 2018
Conservative on capex despite rise in oil prices
Oil companies expect to spend more this year on drilling in the US according to a survey of over 300 companies that shows a 15% increase in 2018 to more than $100 billion in aggregate spending....
Feb 09, 2018
Abraxas bumps 2018 capex up 5% to $140 million
Abraxas Petroleum said it plans to spend $140 million in capital expenditures, up 5% from the $133 million in 2017. The capex budget includes $71.2 million for the Delaware basin, $33.8 million for...
Feb 09, 2018
SilverBow capex at $255MM
In SilverBow Resources' 2018 capex plan, the company will spend 70% of its $245-$265 million budget on drilling and completions, plans to add a second rig in Q2, plans to deliver average net...
Feb 09, 2018
Get more news for CapitalMarkets