CapitalMarkets
Serving the finance market with news, analysis and investment opportunities.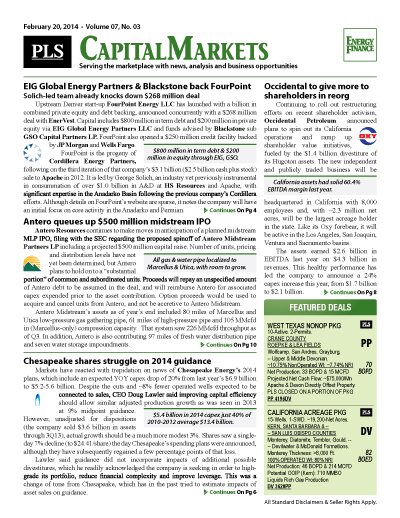 PLS publishes news and analysis in the energy finance sector through its capital markets module. The green banner report includes news and analysis on company budgets, capital spending, financial performance and interviews with leading capital providers.
Your access to energy finance
Single copy pricing; Incl hard copy & email version
Increase market insight & deal flow
Every 3 weeks; 17+ issues per year
Covers financings, capex, earnings, new companies
Includes market analysis and new trends
Access to capital market archives
Phone request for multiple listings published in reports
Includes discounts for other PLS products & events
Are you looking to subscribe to Capitalize? Click here for the latest Capital Markets Report
Search PLS' News Archive for complete oil & gas news for CapitalMarkets .
See what it is about before you buy. View a sample issue of CapitalMarkets.
Need more information? Click the button to recieve more details about the CapitalMarkets
Opportunity is a reflection of information.
Call 713-650-1212 For More Information
Search CapitalMarkets:

Headline
Publication
News Date
Enable sells $800 million in 10-year notes
Enable Midstream Partners, LP priced $800 million in 4.95% senior notes due 2028 at 99.197 in an offering that closed mid-May. Proceeds will be used for general partnership purposes, including...
Jun 04, 2018
Offerings picks up to fund deals and projects.
Post Q1 earnings, some companies are coming back up to the financing stage, and we saw a good mix of equity and debt. Equity raises were typically mid-sized, a space once again occupied...
Jun 01, 2018
Analysts - June 01, 2018
Jagged Peak Energy (NYSE: JAG; $11.83 – May 29; Overweight; PT: $15.00) Jagged Peak has assembled ~75,200 net acres in the Delaware basin with +2,000 gross locations providing 10+ years of...
Jun 01, 2018
American Helium rises up to mile-high city
American Helium Inc. is opening an office in Denver to manage regional operations in Carbon, County, Utah and expand further into the U.S. from its home office in Vancouver. The company...
Jun 01, 2018
Earthstone boosts borrowing base to $225 million
Earthstone Energy announced that the lenders of its senior revolving facility increased its reserves-based borrowing base to $225 million from $185 million, reduced its interest rate on the...
Jun 01, 2018
Get more news for CapitalMarkets