CapitalMarkets
Serving the finance market with news, analysis and investment opportunities.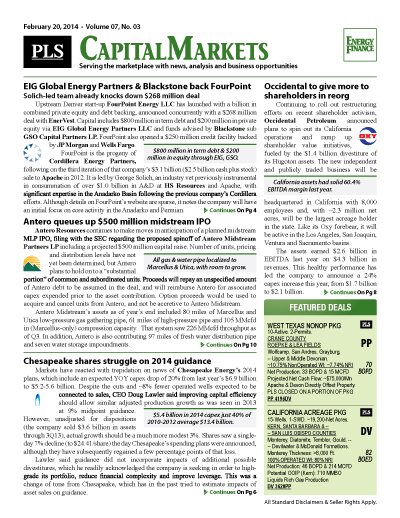 PLS publishes news and analysis in the energy finance sector through its capital markets module. The green banner report includes news and analysis on company budgets, capital spending, financial performance and interviews with leading capital providers.
Your access to energy finance
Single copy pricing; Incl hard copy & email version
Increase market insight & deal flow
Every 3 weeks; 17+ issues per year
Covers financings, capex, earnings, new companies
Includes market analysis and new trends
Access to capital market archives
Phone request for multiple listings published in reports
Includes discounts for other PLS products & events
$ 695 /Yr
Are you looking to subscribe to Capitalize? Click here for the latest Capital Markets Report
Search PLS' News Archive for complete oil & gas news for CapitalMarkets .
See what it is about before you buy. View a sample issue of CapitalMarkets.
Need more information? Click the button to recieve more details about the CapitalMarkets
Opportunity is a reflection of information.
Call 713-650-1212 For More Information
Search CapitalMarkets:

Headline
Publication
News Date
Analysts Takes - November 06, 2017
Cabot Oil & Gas (NYSE: COG- $24.65- Oct. 26; Neutral, average risk, PT- $28) 2018 plan calls for 15-20% production growth on $1.025B-$1.150B in capex, which management anticipates...
Nov 06, 2017
People & Companies - November 06, 2017
John B. Frank was elected to Chevron's board of directors effective Nov. 2 and will serve on the audit committee. Frank, who fills the vacancy left by the resignation of Jon Huntsman on Sept. 28, is...
Nov 06, 2017
RSP Permian gets a $400MM raise to $1.5 billion
RSP Permian, Inc.'s 21-bank lending syndicate increased the Midland Basin-focused E&P's borrowing base to $1.5 billion from the previous $1.1 billion on Oct. 19. Since first entering a revolving...
Nov 06, 2017
Get more news for CapitalMarkets