CapitalMarkets
Serving the finance market with news, analysis and investment opportunities.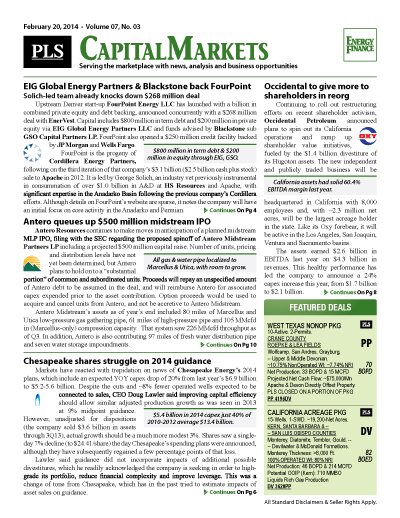 PLS publishes news and analysis in the energy finance sector through its capital markets module. The green banner report includes news and analysis on company budgets, capital spending, financial performance and interviews with leading capital providers.
Your access to energy finance
Single copy pricing; Incl hard copy & email version
Increase market insight & deal flow
Every 3 weeks; 17+ issues per year
Covers financings, capex, earnings, new companies
Includes market analysis and new trends
Access to capital market archives
Phone request for multiple listings published in reports
Includes discounts for other PLS products & events
$ 695 /Yr
Are you looking to subscribe to Capitalize? Click here for the latest Capital Markets Report
Search PLS' News Archive for complete oil & gas news for CapitalMarkets .
See what it is about before you buy. View a sample issue of CapitalMarkets.
Need more information? Click the button to recieve more details about the CapitalMarkets
Opportunity is a reflection of information.
Call 713-650-1212 For More Information
Search CapitalMarkets:

Headline
Publication
News Date
Energy Transfer, Korea Gas moving toward LNG JV
Energy Transfer Partners registered 30 million common units in anticipating of distributing them via the company's distribution reinvestment plan wherein it offers unitholders entitled to receive...
Jul 13, 2017
Russell adds Gastar & SilverBow
Both Gastar Exploration and SilverBow Resources announced they had been added to Russell indices as a result of the global index provider's annual reconstitutions, which became effective June 23....
Jul 13, 2017
National Oilwell Varco has reached a $3.0 billion
National Oilwell Varco has reached a $3.0 billion revolving credit maturing in June 27, 2022. The revolver will be used for working capital and other expenses. In addition, the credit facility could...
Jul 13, 2017
Trafigura has agreed to a long-term commitment
Trafigura has agreed to a long-term commitment with Plains All American Pipeline to take up to 100,000 bbl/d oil and condensate from Midland to Corpus Christi, Texas. The commitment will enable...
Jul 13, 2017
Get more news for CapitalMarkets