CapitalMarkets
Serving the finance market with news, analysis and investment opportunities.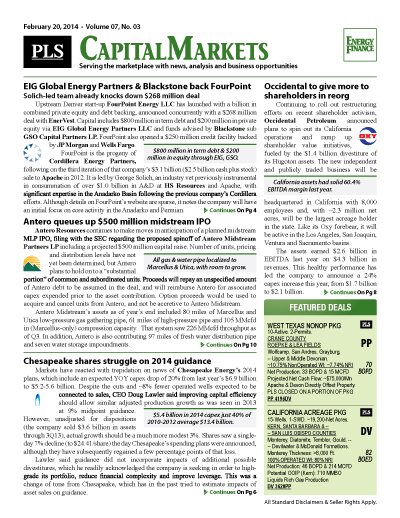 PLS publishes news and analysis in the energy finance sector through its capital markets module. The green banner report includes news and analysis on company budgets, capital spending, financial performance and interviews with leading capital providers.
Your access to energy finance
Single copy pricing; Incl hard copy & email version
Increase market insight & deal flow
Every 3 weeks; 17+ issues per year
Covers financings, capex, earnings, new companies
Includes market analysis and new trends
Access to capital market archives
Phone request for multiple listings published in reports
Includes discounts for other PLS products & events
Are you looking to subscribe to Capitalize? Click here for the latest Capital Markets Report
Search PLS' News Archive for complete oil & gas news for CapitalMarkets .
See what it is about before you buy. View a sample issue of CapitalMarkets.
Need more information? Click the button to recieve more details about the CapitalMarkets
Opportunity is a reflection of information.
Call 713-650-1212 For More Information
Search CapitalMarkets:

Headline
Publication
News Date
Bayou City & Mach Resources team up
Bayou City Energy Management, a Houston-based private equity group formed three years ago, and Mach Resources LLC have formed a new partnership to acquire, explore and develop producing properties...
Mar 28, 2018
EVEP will file Ch. 11 with prepack RSA on $343MM
EV Energy Partners, LP announced March 13 that it entered into a restructuring support agreement with holders of about 70% of its 8% senior notes due 2019 and lenders holding nearly 94% of the...
Mar 28, 2018
Madava is industry's newest direct lender
New Houston-based energy finance group Madava Financial said it had officially launched on March 5, and that its first deal was the provision of a $100 million debt facility to XRO Energy, LLC. XRO...
Mar 28, 2018
Get more news for CapitalMarkets