CapitalMarkets
Serving the finance market with news, analysis and investment opportunities.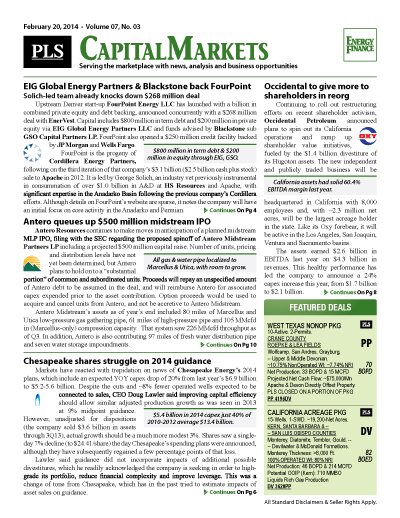 PLS publishes news and analysis in the energy finance sector through its capital markets module. The green banner report includes news and analysis on company budgets, capital spending, financial performance and interviews with leading capital providers.
Your access to energy finance
Single copy pricing; Incl hard copy & email version
Increase market insight & deal flow
Every 3 weeks; 17+ issues per year
Covers financings, capex, earnings, new companies
Includes market analysis and new trends
Access to capital market archives
Phone request for multiple listings published in reports
Includes discounts for other PLS products & events
Are you looking to subscribe to Capitalize? Click here for the latest Capital Markets Report
Search PLS' News Archive for complete oil & gas news for CapitalMarkets .
See what it is about before you buy. View a sample issue of CapitalMarkets.
Need more information? Click the button to recieve more details about the CapitalMarkets
Opportunity is a reflection of information.
Call 713-650-1212 For More Information
Search CapitalMarkets:

Headline
Publication
News Date
CM - EQT developing less of Ohio Utica as it trims capex by $75MM - April 2020
The biggest US gas producer, EQT Corp., cut back slightly on planned capital expenditures for 2020, decreasing its budget by about $75 million to the $1.075-1.175 billion range. It said it will reduce development activity in its Ohio Utica operations. The reduction is not expected to affect the company's annual production of 3.97-4.11 Bcfe/d because of steps EQT has taken through schedule and well design optimization. The most recent reduction brings total spending cuts to $200 million lower...
Apr 03, 2020
CM - Laredo cuts capex to $290MM; production to fall 8% YOY - April 2020
Laredo Petroleum cut its 2020 capex budget by 36% to $290 million, with a 55% reduction in Q2-Q4. Completion operations will be suspended for the year beginning the first week of May. The company's operated rig count will also fall to one from four by June for the rest of the year. Laredo will not complete any wells on its new acreage in Howard County, Texas, this year and will build a DUC inventory to protect new Tier 1 locations. Oil production in 2020 is anticipated to fall 8% YOY...
Apr 03, 2020
CM - Earthstone plans two-thirds less capex, 6% output growth - April 2020
Earthstone Energy, Inc. will begin to generate free cash flow in Q2, based on an adjusted operating plan for 2020 that assumes $30/bbl WTI. The company dialed back its spending plans for the year by 67% to the $50-60 million range and expects a 6% YOY increase in estimated production to 13,750-14,750 boe/d (60- 64% oil) from its Midland Basin and Eagle Ford assets. The company will spend to bring three net operated wells and 3.1 net non-operated wells online in 2020. It will also have...
Apr 03, 2020
CM - Goodrich depending on Haynesville to be economical & productive - April 2020
Goodrich Petroleum Corp. reduced its preliminary 2020 capex budget by $15 million to the $40-50 million range, allocating most of the budget to drilling and completing core Haynesville shale wells in the Bethany-Longstreet area of Caddo and DeSoto parishes, Louisiana. It expects to produce 5-7% more output YOY for an average 137-142 MMcfe/d (99% gas). At midpoint of its new guidance, Goodrich estimates free cash flow yield of about 13% of its current enterprise value and 40% of current market...
Apr 03, 2020
CM - Now Battalion, former Halcón budgets up to $76MM for year - April 2020
Battalion Oil Corp., formerly known as Halcón Resources Corp., announced it was considering revisions to its 2020 budget to lower anticipated capital expenditures to the $60-76 million range. This budget would include drilling four to six gross operated wells and putting online six to seven gross operated wells during the year. The company initially planned to spend $123-138 million, which would have kept one rig active throughout 2020 in order to spud about 10 wells and place online 12-14...
Apr 03, 2020
CM - Berry changes capital plans & temporarily suspends dividend - April 2020
Berry Corp. will spend 70% less YOY in 2020, bringing capex down to $65 million. Nearly two-thirds of its capital spend is weighted toward H1 as the company focuses on sustaining annual production levels for its California operations. The new spending figure assumes running one drilling rig—primarily for sandstone development—starting in September at the earliest. The company said the timing and planning of drilling a targeted 45-55 wells is contingent on multiple factors, including price....
Apr 03, 2020
CM - Denbury eyes 44% less spend, defers project and wants to split - April 2020
Denbury Resources, Inc. is deferring work on the company's Cedar Creek Anticline CO2 tertiary flood development project in the Williston Basin beyond 2020 while it watches its spending. Planned 2020 capex, excluding acquisitions and capitalized interest, was slashed 44%, or $80 million, to $95-105 million. In turn, the company expects this year's oil and gas output to fall by 3,000 boe/d from earlier guidance of 54,500 boe/d at midpoint. The company said it restructured about 40% of its...
Apr 03, 2020
CM - Magnolia curtailing activity to remain within spending model - April 2020
Magnolia Oil & Gas reaffirmed its guidance of spending about 60% of its adjusted EBITDAX on drilling and completions in order to provide consistent free cash flow, maintain low leverage and deliver moderate production growth. It expects capital spending to be about half of 2019 levels, when it spent $416 million on D&C. To maintain pace with its business model, Magnolia is dropping its one operated rig in Karnes County, Texas. Both of its operated drilling rigs are on short-term...
Apr 03, 2020
CM - Concho protecting balance sheet, reduces spending by 25% - April 2020
Concho Resources, Inc. said it will bring spending down this year to $2.0 billion from earlier guidance of $2.6-2.8 billion, which in turn was a 10% reduction from 2019 spending. The company will focus on cost structure improvement. Chairman and CEO Tim Leach said the company's priorities are "protecting our balance sheet and the dividend, generating free cash flow and preserving our flexibility and opportunity set." Though Concho has $4.0 billion of long-term debt outstanding, there are no...
Apr 03, 2020
CM - Callon brings capex down 27%, saves Delaware Basin for later - April 2020
Focusing on high-graded shorter-cycle projects in the Midland Basin and Eagle Ford, Callon Petroleum Co. is cutting 2020 capital spending to $700-725 million from $975 million. Its active rig count will be cut to five from the current nine by the end of Q2, and it will go from five frac crews to two in the same time frame. The outlook calls for three or four drilling rigs, with two or three in the Permian and one in the Eagle Ford, and one or two frac crews in 2H20 and in 2021. The company...
Apr 03, 2020
Get more news for CapitalMarkets