CapitalMarkets
Serving the finance market with news, analysis and investment opportunities.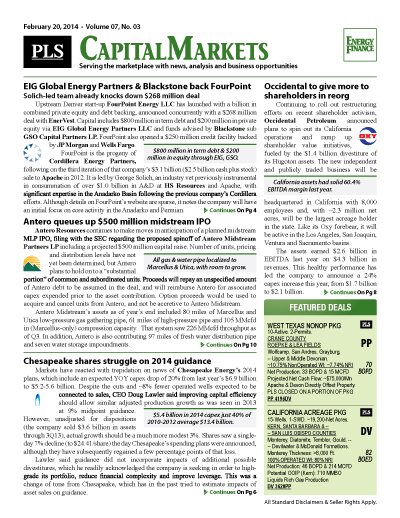 PLS publishes news and analysis in the energy finance sector through its capital markets module. The green banner report includes news and analysis on company budgets, capital spending, financial performance and interviews with leading capital providers.
Your access to energy finance
Single copy pricing; Incl hard copy & email version
Increase market insight & deal flow
Every 3 weeks; 17+ issues per year
Covers financings, capex, earnings, new companies
Includes market analysis and new trends
Access to capital market archives
Phone request for multiple listings published in reports
Includes discounts for other PLS products & events
$ 695 /Yr
Are you looking to subscribe to Capitalize? Click here for the latest Capital Markets Report
Search PLS' News Archive for complete oil & gas news for CapitalMarkets .
See what it is about before you buy. View a sample issue of CapitalMarkets.
Need more information? Click the button to recieve more details about the CapitalMarkets
Opportunity is a reflection of information.
Call 713-650-1212 For More Information
Search CapitalMarkets:

Headline
Publication
News Date
Abraxas Petroleum signs $115 million facility
Abraxas Petroleum's lenders reduced the company's revolving credit facility by $15 million to an amended $115 million maturing in May 2021. The latest agreement is the third time in the last three...
Jun 01, 2017
LINN's new asset sale will pay down remaining debt
LINN Energy, Inc. said that a deal to sell assets in Wyoming for $71.5 million, together with its earlier announced sales of its Jonah and South Belridge assets, for a combined $844.5 million, will...
Jun 01, 2017
People Briefs - June 01, 2017
Anadarko Petroleum named Daniel E. Brown EVP, International and Deepwater Operations and Bradley J. Holly EVP, US Onshore Exploration and Production. Darrel E. Hollek, former EVP, Operations, will...
Jun 01, 2017
Get more news for CapitalMarkets