International Scout
Serving the global E&P market with news, analysis and business opportunities.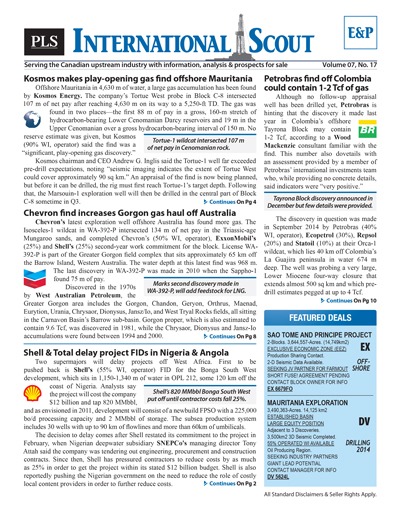 PLS publishes news and analysis on the international exploration and production (E&P) sector through its International Scout. Published every 3 weeks, the blue banner report covers new well discoveries, drilling activities, acreage sales, industry statistics (drilling results, activity permits & intents to drill) and technological updates.
Covering exploration & production
Single copy pricing; Incl hard copy & email version
Increase market insight & deal flow
Every 3 weeks
Latest in exploration, discoveries, resource plans, land grabs, volumes, development projects & trends
Access to International Scout archives
Phone request for prospects and lands listed for sale
Includes discounts for other PLS products & events
$ 745 /Yr
Search PLS' News Archive for complete oil & gas news for International Scout .
See what it is about before you buy. View a sample issue of International Scout.
Need more information? Click the button to recieve more details about the International Scout
Opportunity is a reflection of information.
Call 713-650-1212 For More Information
Search International Scout:

Headline
Publication
News Date
SK Innovation gains South China Sea block
SK Innovation signed a production sharing contract with CNOOC for Block 17/08 in the South China Sea. Block 17/08 is in the Pearl River Mouth Basin and covers 466 sq km with water depths ranging...
Sep 22, 2017
Statoil enters Argentina in Neuquen shale deal
Statoil signed an agreement with YPF to take a 50%, non-operated stake in Bajo del Toro Block in Argentina's Neuquen province. This is Statoil's first project in Argentina and is one of...
Sep 19, 2017
Senex gains lands in Queensland pilot tender
Senex won rights to 58 sq km of coal seam gas acreage near the town of Miles, in Queensland, Australia. The company estimates the new lands contain a recoverable 190 Bcf and has about 100 possible...
Sep 19, 2017
People & Companies - September 19, 2017
Dea appointed Maria Hanssen as CEO and chairman, to take effect in January 2018. She will replace Thomas Rappuhn, who is passing the reigns after 30 years with the company. Hanssen is currently CEO...
Sep 19, 2017
Isramco gives up Daniel license off Israel
Isramco is returning the Daniel permit offshore Israel to the government due to a lack of investor interest. In 2016, the company reported that Netherland, Sewell & Associates estimated...
Sep 19, 2017
Shell may pull Penguins FID trigger in 1Q18
The head of Shell's North Sea unit believes that early 2018 might see a FID for redevelopment of the Penguins field complex off the UK. Penguins produces about 11,000 boe/d (53% oil) to the Brent...
Sep 19, 2017
Chevron still has big plans for UK North Sea
Chevron is putting the UK's biggest undeveloped discovery back on track by restarting the bidding process for Rosebank field. Invitations to bid on the project's FPSO will be distributed to Asian...
Sep 19, 2017
AWE's big Waitisia gas discovery will get bigger
AWE's Waitsia-4 appraisal confirmed an eastern extension of Waitsia field, the biggest conventional onshore find in Australia in 30 years. The well reached 3,744 m TD and hit the target Kingia...
Sep 19, 2017
Get more news for International Scout