International Scout
Serving the global E&P market with news, analysis and business opportunities.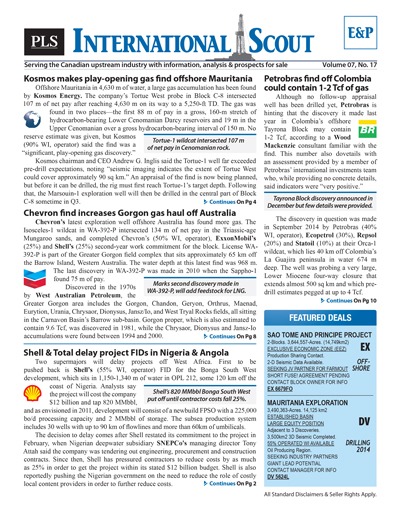 PLS publishes news and analysis on the international exploration and production (E&P) sector through its International Scout. Published every 3 weeks, the blue banner report covers new well discoveries, drilling activities, acreage sales, industry statistics (drilling results, activity permits & intents to drill) and technological updates.
Covering exploration & production
Single copy pricing; Incl hard copy & email version
Increase market insight & deal flow
Every 3 weeks
Latest in exploration, discoveries, resource plans, land grabs, volumes, development projects & trends
Access to International Scout archives
Phone request for prospects and lands listed for sale
Includes discounts for other PLS products & events
$ 745 /Yr
Search PLS' News Archive for complete oil & gas news for International Scout .
See what it is about before you buy. View a sample issue of International Scout.
Need more information? Click the button to recieve more details about the International Scout
Opportunity is a reflection of information.
Call 713-650-1212 For More Information
Search International Scout:

Headline
Publication
News Date
Banpu will spend $293MM in US shale
Thailand's Banpu plans to invest about $293 million in its US shale gas business through 2020, CEO Somrudee Chaimongkol said. The company will use the money for capital expenditures to boost gas...
Jul 21, 2017
First E&P to greenlight two Nigerian fields
First Exploration & Production, Nigerian National Petroleum Corp and Schlumberger agreed to jointly develop Anyala and Madu fields offshore Nigeria. Under the arrangement, Schlumberger will...
Jul 06, 2017
South Sudan aims to boost output to 350,000 bo/d
South Sudan wants to see 30 wells drilled by explorers in 2017 to boost production to 350,000 bo/d by mid-2018. The country has proven reserves of 3.5 Bbo and produces 130,000 bo/d from fields...
Jul 06, 2017
Victoria wells find gas in Cameroon
Victoria O&G confirmed pay at a pair of follow-up wells drilled near a 1957 gas discovery in Cameroon. La-107 reached 2,445 m TVD and intersected 35 m of high-permeability, high-porosity gas-bearing...
Jul 06, 2017
Conrad appraises 705 Bcf Mako find off Indonesia
Conrad Petroleum's Mako South-1 appraisal well reached 520 m TD offshore Indonesia. The well was drilled and cored in the Natuna Sea's Duyung permit, where it intersected 7.0 m of net gas pay in...
Jul 06, 2017
JX puts gas field on stream offshore Malaysia
JX Nippon started producing 66 MMcfe/d from Layang field offshore Sarawak in Block SK 310. The Malaysian find is tied back to the producing Helang development, which lies 7.0 km east in the same...
Jul 06, 2017
Daewoo lays out phased Shwe development
Posco Daewoo envisions the Greater Shwe project area offshore Myanmar being developed in four phases. Phase 1 is producing 500 MMcf/d from Shwe field proper and the associated Mya North accumulation...
Jul 06, 2017
Get more news for International Scout