International Scout
Serving the global E&P market with news, analysis and business opportunities.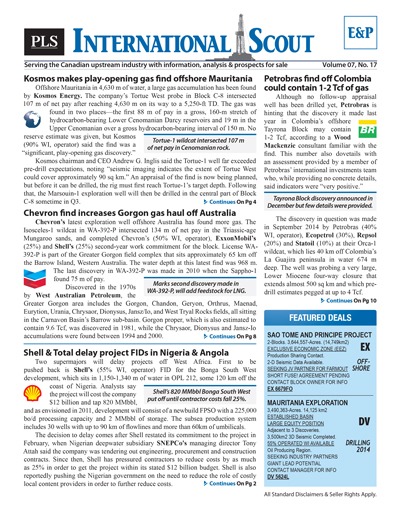 PLS publishes news and analysis on the international exploration and production (E&P) sector through its International Scout. Published every 3 weeks, the blue banner report covers new well discoveries, drilling activities, acreage sales, industry statistics (drilling results, activity permits & intents to drill) and technological updates.
Covering exploration & production
Single copy pricing; Incl hard copy & email version
Increase market insight & deal flow
Every 3 weeks
Latest in exploration, discoveries, resource plans, land grabs, volumes, development projects & trends
Access to International Scout archives
Phone request for prospects and lands listed for sale
Includes discounts for other PLS products & events
$ 745 /Yr
Search PLS' News Archive for complete oil & gas news for International Scout .
See what it is about before you buy. View a sample issue of International Scout.
Need more information? Click the button to recieve more details about the International Scout
Opportunity is a reflection of information.
Call 713-650-1212 For More Information
Search International Scout:

Headline
Publication
News Date
Cairn establishes SNE upper reservoir connectivity
Cairn Energy tested its SNE-6 well offshore Senegal, which reached 2,830 m TD in April. The first DST produced at a maximum rate of 4,600 bo/d from an 11-m interval in the upper reservoir while on a...
May 25, 2017
Eni starts up Ghana project ahead of schedule
Eni started up its Sankofa-Gye Nyame Offshore Cape Three Points project off Ghana. The $7.0 billion development in the Tano Basin came on stream earlier than expected and consisted of tying back 18...
May 25, 2017
Ophir inks Fortuna agreement to move closer to FID
Ophir Energy and its partners signed an umbrella agreement covering the 2.5 mtpa Fortuna FLNG project offshore Equatorial Guinea. The deal allows Ophir to move closer to making an FID to develop the...
May 25, 2017
CNOOC HT-HP well in South China Sea a breakthrough
A CNOOC exploration well in the west South China Sea found pay in a high-pressure, high-temperature formation. Few details are known, but the Yuedong 30-1-1 well tested at "fairly good flows" after...
May 25, 2017
Eni starts up Jangkrik off Indonesia
Gas is flowing from Eni's Jangkrik field off Indonesia two months ahead of schedule. Jangkrik started producing from 10 wells and will ramp to 450 MMcf/d. The project developed Jangkrik and the...
May 25, 2017
Indonesia pushes Inpex on Abadi LNG
After Indonesia warned Inpex that its rights to the 9.7 Tcf Abadi discovery could be in jeopardy if there were no movement on Jakarta's preferred development plan Inpex moved to push the project into...
May 25, 2017
Mubadala's Pegaga gas find on stream in 2020
Mubadala Petroleum's Pegaga gas project off eastern Malaysia is headed for a 2018 FID. The discovery in Block SK 310 entered FEED in 3Q16 with a development concept centered on a fixed, 19,500-tonne...
May 25, 2017
Get more news for International Scout