International Scout
Serving the global E&P market with news, analysis and business opportunities.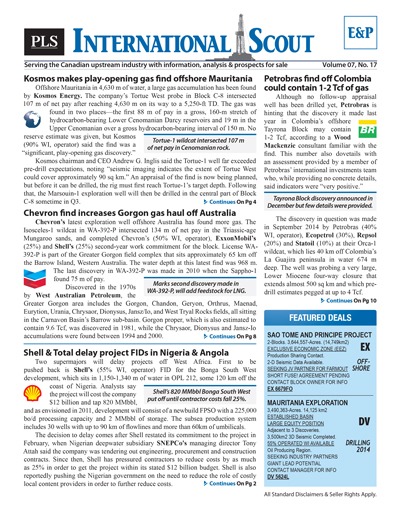 PLS publishes news and analysis on the international exploration and production (E&P) sector through its International Scout. Published every 3 weeks, the blue banner report covers new well discoveries, drilling activities, acreage sales, industry statistics (drilling results, activity permits & intents to drill) and technological updates.
Covering exploration & production
Single copy pricing; Incl hard copy & email version
Increase market insight & deal flow
Every 3 weeks
Latest in exploration, discoveries, resource plans, land grabs, volumes, development projects & trends
Access to International Scout archives
Phone request for prospects and lands listed for sale
Includes discounts for other PLS products & events
$ 745 /Yr
Search PLS' News Archive for complete oil & gas news for International Scout .
See what it is about before you buy. View a sample issue of International Scout.
Need more information? Click the button to recieve more details about the International Scout
Opportunity is a reflection of information.
Call 713-650-1212 For More Information
Search International Scout:

Headline
Publication
News Date
Hit & a miss for Aker BP in North Alvheim area
An Aker BP appraisal well on its Frigg Gamma Delta discovery off Norway yielded more oil, but likely not enough to boost resource estimates much. Well 25/2-19S was drilled in PL 442 to 2,325 m TD,...
Oct 17, 2017
Aker BP headed for Valhall Flank FID by YE17
FEED work for Aker BP's $1.0-billion Valhall Flank West development will be finished in November, leading to a likely FID and field development plan submission in December. The scheme consists of an...
Oct 17, 2017
Hurricane goes alone on risky Lancaster EPS
Hurricane Energy approved a two-well early production system for its Lancaster discovery offshore UK and received permission from authorities to proceed with the work. Under the plan, Hurricane will...
Oct 16, 2017
i3 aiming for Liberator first oil in 2018
In the UK, i3 Energy submitted its environmental statement for the development of Liberator field in the North Sea. The company will develop Liberator as a two-well tieback to Repsol Sinopec's Blake...
Oct 16, 2017
Statoil makes modest find off Scotland
Statoil's sidetrack of the Verbier prospect offshore UK has yielded a Jurassic age hydrocarbon discovery after the main well turned up dry. Verbier well 20/05b-13Z was drilled to 3,811 m TD,...
Oct 16, 2017
Kuwait aims for big boost to Jurassic gas project
Kuwait authorized Phase 2 development of its North Kuwait Jurassic sour gas project, paving the way for the tendering of $4.0-billion in facilities projects in early 2018. Known as the Jurassic gas...
Oct 16, 2017
Gazprom Neft finds 1.8 Bboe off eastern Russia
Gazprom's oil producing arm, Gazprom Neft, made a large oil find northeast of Sakhalin Island off far eastern Russia. The discovery well was drilled to 2,700 m and sits in the Ayashsky concession....
Oct 16, 2017
Get more news for International Scout