International Scout
Serving the global E&P market with news, analysis and business opportunities.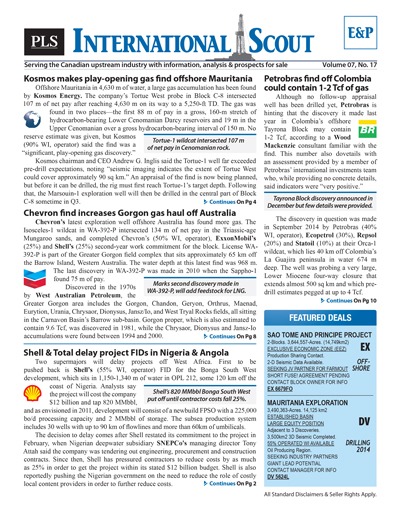 PLS publishes news and analysis on the international exploration and production (E&P) sector through its International Scout. Published every 3 weeks, the blue banner report covers new well discoveries, drilling activities, acreage sales, industry statistics (drilling results, activity permits & intents to drill) and technological updates.
Covering exploration & production
Single copy pricing; Incl hard copy & email version
Increase market insight & deal flow
Every 3 weeks
Latest in exploration, discoveries, resource plans, land grabs, volumes, development projects & trends
Access to International Scout archives
Phone request for prospects and lands listed for sale
Includes discounts for other PLS products & events
$ 745 /Yr
Search PLS' News Archive for complete oil & gas news for International Scout .
See what it is about before you buy. View a sample issue of International Scout.
Need more information? Click the button to recieve more details about the International Scout
Opportunity is a reflection of information.
Call 713-650-1212 For More Information
Search International Scout:

Headline
Publication
News Date
Statoil remains committed to Norway's far north
Statoil submitted a development plan for Johan Castberg Field, offshore Norway in the Barents Sea. Johan Castberg lies in PL 532 and contains a recoverable 450-650 MMboe. Full field development...
Dec 14, 2017
ADNOC aims for 380,000 bo/d production boost
Abu Dhabi National Oil Co. started two big projects that will increase production by 380,000 bo/d. The bigger of the two is expansion of Upper Zakum Field to 1.0 MMbo/d by 2024, a...
Dec 14, 2017
People & Companies - November 12, 2017
Anadarko named Danny Brown US onshore operations EVP after he served as international and deepwater EVP. Mitch Ingram has been appointed international and deepwater operations EVP after serving...
Nov 12, 2017
Kosmos drills dry hole off Mauritania
Kosmos Energy's well on the Hippocampe prospect in Block C8 off Mauritania is a dry hole, the first the company has drilled since entering the MSGBC Basin. Hippocampe-1 tested Lower Cenomanian and...
Nov 12, 2017
Aminex Tanzanian reserve assessment due in 1Q18
Aminex's Kiliwani Field in Tanzania has dwindled to less than 1.0 MMcf/d. Aminex believes this is due to low pressure and inlet restrictions, which is leading to the compartment the KN-1 well is...
Nov 12, 2017
CNOOC work boosts Beibu Gulf asset, offshore China
CNOOC wrapped up a workover campaign at Weizhou 6-12 in the Beibu Gulf, offshore China. The work increased output by 1,500 boe/d, or 19%, to 9,300 boe/d total. However, production is expected to go...
Nov 12, 2017
India casts doubt on ONGC deepwater gas plans
India will not review ONGC's commerciality application for the 2.6-Tcf UD-1 find in Bay of Bengal tract KG-DWN-98/2, arguing that UD-1 can't be developed with existing technology. ONGC disputes this...
Nov 12, 2017
Mubadala adds 2,400 bo/d to Thai field
Mubadala Petroleum drilled two wells at Manora Field, offshore Thailand. The MNA-18 intersected 26-27 m of oil pay in the 500 series sands in the eastern fault block, and 21 m in the 600 series...
Nov 12, 2017
Get more news for International Scout