MidContinent Scout
Serving the local market with drilling activities, permits & multiple listings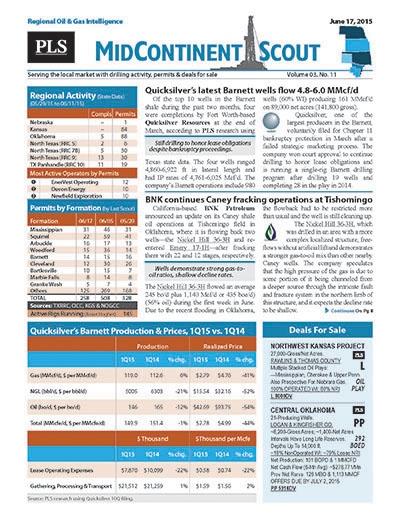 PLS's MidContinent Scout covers regional drilling, discoveries and developments in Oklahoma, Texas Panhandle, (RRC 10), North Texas (RRC 7B & 9), Kansas and Nebraska. The report also covers permit stats, completions and P&A activity, as well as describing business opportunities listed for sale in the Woodford, Mississippi Lime, Barnett, Granite Wash, Eastern Niobrara and the region's historically productive conventional plays
Stay in front of local prospects, plays & rigs!
Oklahoma, Kansas, Nebraska, TX Panhandle, North Texas
Hard Copy and Email For 1 Individual
Every 2 Weeks (22-25 issues per year)
Regional discoveries, drilling activity, permits, completions and summary drilling statistics, layered with regional listings and business opportunities
Web access to the MidContinent Scout archive
Does not include access to MLS
$ 795 /Yr
Search PLS' News Archive for complete oil & gas news for MidContinent Scout .
See what it is about before you buy. View a sample issue of MidContinent Scout.
Need more information? Click the button to recieve more details about the MidContinent Scout
Opportunity is a reflection of information.
Call 713-650-1212 For More Information
Search MidContinent Scout:

Headline
Publication
News Date
Continental drills record STACK well
Continental Resources tested a record setting STACK well in early August. The Tres C FIU 1-35-2XH flowed a 24-hr IP of 5,953 boe/d (17% oil) with 6,500 psi flowing casing pressure from the Meramec....
Aug 09, 2017
Newfield Gen17 outperforming 1.1 MMboe type curve
In the STACK, Newfield Exploration has now completed its fourth operated increased density pilot. The Stark pilot initiated production from nine infill SXL wells in the Meramec with each well testing...
Aug 09, 2017
Regional Highlights - August 9, 2017
• The MidCon region has 149 rigs- 139 oil and ten gas- running this issue, up 104% from 73 YOY. • Roger Mills and Stephens counties, OK, each have three rigs running, both up from zero YOY....
Aug 09, 2017
Continental Resources Highlights - August 9, 2017
Continental Resources drilled the top two gas completions of this issue. In Blaine County, the Marc FIU #1-8-5XH (9,780-ft lateral), tested at 12.1 MMcfe/d (100% gas) from the Woodford on a 36/64-in....
Aug 09, 2017
Gastar Exploration Highlights - August 9, 2017
Gastar Exploration commenced flowback on seven gross operated Meramec and three gross operated Osage wells during Q2. Since May 10, nine Meramec wells flowed a peak 24-hr rate of 614 boe/d (79% oil)...
Aug 09, 2017
Marathon Oil Highlights - August 9, 2017
The biggest oil completion this issue was completed by Marathon Oil. Located in Blaine County, the Strack #11-2-11XH (9,800-ft lateral) flowed 1,714 boe/d (77% oil) from the Mississippian on a...
Aug 09, 2017
Get more news for MidContinent Scout