MidContinent Scout
Serving the local market with drilling activities, permits & multiple listings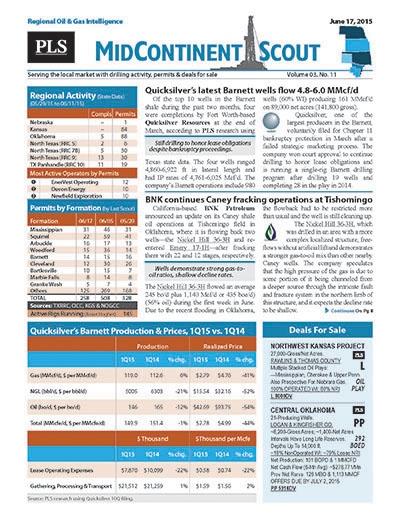 PLS's MidContinent Scout covers regional drilling, discoveries and developments in Oklahoma, Texas Panhandle, (RRC 10), North Texas (RRC 7B & 9), Kansas and Nebraska. The report also covers permit stats, completions and P&A activity, as well as describing business opportunities listed for sale in the Woodford, Mississippi Lime, Barnett, Granite Wash, Eastern Niobrara and the region's historically productive conventional plays
Stay in front of local prospects, plays & rigs!
Oklahoma, Kansas, Nebraska, TX Panhandle, North Texas
Hard Copy and Email For 1 Individual
Every 2 Weeks (22-25 issues per year)
Regional discoveries, drilling activity, permits, completions and summary drilling statistics, layered with regional listings and business opportunities
Web access to the MidContinent Scout archive
Does not include access to MLS
Search PLS' News Archive for complete oil & gas news for MidContinent Scout .
See what it is about before you buy. View a sample issue of MidContinent Scout.
Need more information? Click the button to recieve more details about the MidContinent Scout
Opportunity is a reflection of information.
Call 713-650-1212 For More Information
Search MidContinent Scout:

Headline
Publication
News Date
XTO spins the bit with focus on the Woodford
While ExxonMobil subsidiary XTO Energy focuses most discussion of its US operations on the Permian and Bakken, the company is also active in a number of other regions including the Midcontinent....
Oct 17, 2018
MS - Continental Highlights - October 17, 2018
The top completion in this issue was Continental's Heckenberg #2-30-19XH (9,946-ft lateral; 19.1 MMbl proppant). Located in Blaine County, the well tested at an initial 24-hour rate of 32,817 Mcf/d...
Oct 17, 2018
MS - Devon Highlights - October 17, 2018
Devon expects its Q3 production volumes across the US to average 418,000 boe/d. During the quarter, the company monetized minor, non-core assets with an associated production impact of approximately...
Oct 17, 2018
Cimarex says its Midcon RORs on par with Delaware
While Cimarex only allocated 30% of its budget to the Midcontinent this year, versus 70% going to the Delaware basin, the company says its Woodford and Meramec assets in the region deliver rates of...
Oct 03, 2018
Jones enhancing results in the Merge
During Q2, Jones Energy worked to refine its operations on its 22,500 net acres in the Merge play. CEO Carl Giesler said the company has been "enhancing casing and completion designs, refining...
Oct 03, 2018
Get more news for MidContinent Scout