MidContinent Scout
Serving the local market with drilling activities, permits & multiple listings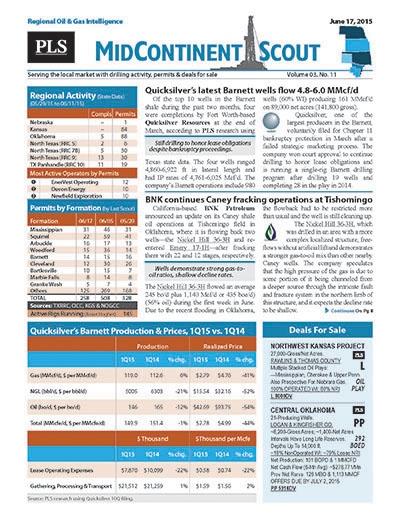 PLS's MidContinent Scout covers regional drilling, discoveries and developments in Oklahoma, Texas Panhandle, (RRC 10), North Texas (RRC 7B & 9), Kansas and Nebraska. The report also covers permit stats, completions and P&A activity, as well as describing business opportunities listed for sale in the Woodford, Mississippi Lime, Barnett, Granite Wash, Eastern Niobrara and the region's historically productive conventional plays
Stay in front of local prospects, plays & rigs!
Oklahoma, Kansas, Nebraska, TX Panhandle, North Texas
Hard Copy and Email For 1 Individual
Every 2 Weeks (22-25 issues per year)
Regional discoveries, drilling activity, permits, completions and summary drilling statistics, layered with regional listings and business opportunities
Web access to the MidContinent Scout archive
Does not include access to MLS
Search PLS' News Archive for complete oil & gas news for MidContinent Scout .
See what it is about before you buy. View a sample issue of MidContinent Scout.
Need more information? Click the button to recieve more details about the MidContinent Scout
Opportunity is a reflection of information.
Call 713-650-1212 For More Information
Search MidContinent Scout:

Headline
Publication
News Date
Devon says 12 wells per DSU might be too tight
Devon's STACK completions continue to perform well, with its top ten new completions in Q2 averaging initial 30-day rate of 2,400 boe/d. Two of the wells exceeded 3,000 boe/d. Located in Blaine...
Aug 08, 2018
Continental Resources Highlights - August 8, 2018
• The top gas completion in this issue was drilled by Continental Resources in Blaine County. The Cooksey #1-3-34XH (9,600-ft lateral; 18.9 MMlbs sand) tested at an IP24 of 25,755 Mcf/d (2,683 Mcf/d...
Aug 08, 2018
Chesapeake Highlights - August 8, 2018
In Kingfisher County, Chesapeake's Bullis 1-17-7 #1HC (9,920-ft lateral) flowed an IP24 of 1,395 bo/d and 1,197 Mcf/d, or 1,595 boe/d (87% oil; 161 boe/d per 1,000 ft), from the Oswego. This is the...
Aug 08, 2018
Jones Energy Highlights - August 8, 2018
Jones Energy's 2018 Merge wells have averaged peak IP30s of 183 boe/d per 1,000 ft of lateral in the Meramec and 120 boe/d per 1,000 ft in the woodford (3-stream). During Q2, the company spudded...
Aug 08, 2018
ConocoPhillips Highlights - August 8, 2018
ConocoPhillips entered into an agreement to sell Barnett assets in Montague, Wise, Denton and Cooke counties, Texas, to Lime Rock Resources for $230MM. The assets cover 114,104 net acres (92% WI; 96%...
Aug 08, 2018
Anadarko Basin production to rise in August
The EIA projects that Anadarko Basin production will rise in August by 10,000 bo/d and 98 MMcf/d to totals of 559,900 bo/d and 7.119 Bcf/d. If the estimates are correct, Anadarko Basin output would...
Jul 25, 2018
Regional Highlights - MidCon - July 25, 2018
PLS will host its Fall Dealmakers Prospect & Property Expo in Houston, Texas on October 23rd at the Hyatt Regency Downtown. The Houston show is the perfect oil and gas event to catch up on...
Jul 25, 2018
Get more news for MidContinent Scout