Eastern Scout
Serving the local market with drilling activities, permits & multiple listings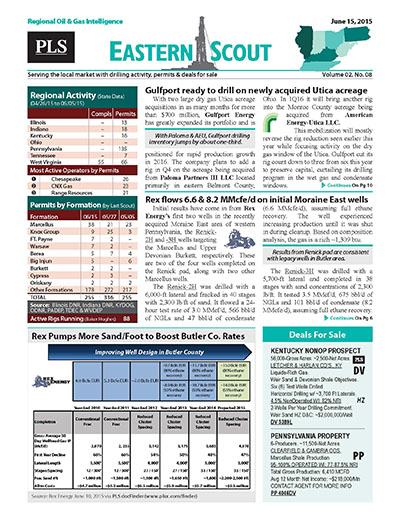 PLS's new Eastern Scout covers local drilling activity, permit data, rig activity and completions in the Eastern region (Pennsylvania, Ohio & West Virginia). Like all of PLS's Regionals this report includes a wealth of statistical analysis on activities and corporate performance. The reports also layer select advertising, business opportunities and multiple listings for sale.
Stay in front of local prospects, plays & rigs!
Pennsylvania, Ohio & West Virginia
Hard Copy and Email For 1 Individual
Every 3 to 4 Weeks (15 issues per year)
Regional discoveries, drilling activity, permits,
completions and summary drilling statistics, layered
with regional listings and business opportunities
Web access to the Eastern Scout archive
Does not include access to MLS
Search PLS' News Archive for complete oil & gas news for Eastern Scout .
See what it is about before you buy. View a sample issue of Eastern Scout.
Need more information? Click the button to recieve more details about the Eastern Scout
Opportunity is a reflection of information.
Call 713-650-1212 For More Information
Search Eastern Scout:

Headline
Publication
News Date
ES - Marcellus maintenance capital will keep Range in the black - January 7, 2020
Range Resources laid out plans to live within cash flow and pay down debt this year at the expense of production growth. The company anticipates a 29% YOY reduction in spending to $520 million for 2020. In 4Q19, the company's production was at the high end of its 2.33-2.35 Bcfe/d guidance, and 2020's budget aims to maintain volumes at the 2.3 Bcfe/d level throughout the year. All activity will occur in the Marcellus, where Range's industry-leading well costs are expected to average $625 per...
Jan 07, 2020
ES - Repsol prioritizing value over volume in the Marcellus - January 7, 2020
Given its bearish view on the natural gas outlook, Repsol says it is reducing its capex in Canada and the Marcellus. CEO Josu Jon Imaz San Miguel said in late October that the strategy in the Marcellus will prioritize "value over volume." The company is maintaining flexibility in light of prices and has the option to dynamically shift capex. Currently, Eagle Ford liquids assets are seeing capex while the Marcellus is on the back burner because of gas prices. During 2019, the Marcellus was a...
Jan 07, 2020
ES - Regional Highlights - January 7, 2020
The Energy Information Administration projects that Appalachian production will rise by 2,000 bo/d and fall by 74 MMcf/d sequentially in January to 171,000 bo/d and 33.432 Bcf/d. As of December, production from the play was up 6% YOY. For the same period in 2018 and 2017, volumes had risen 18% YOY in both cases. There are 472 DUCs in Appalachia as of November, down by 25 versus October. A total of 106 wells were completed and 81 were drilled during the month. According to the...
Jan 07, 2020
ES - Antero Resources Highlights - January 7, 2020
Antero Resources launched an asset sale program in December targeting $750 million to $1 billion in divestments to cut debt. The company said some or all of its lease acreage, minerals and producing properties could be on the chopping block. It currently holds 584,000 net acres with an 84% NRI across Ohio and West Virginia, as well as 5,000 net mineral acres with an average 16%...
Jan 07, 2020
ES - Chevron Highlights - January 7, 2020
Chevron announced it is evaluating strategic alternatives, including divesting its Appalachian Basin shale position. The company holds 428,000 net acres targeting the Marcellus and 462,000 net acres targeting the Utica in western Pennsylvania, eastern Ohio and the West Virginia Panhandle. It has identified 1,300 drilling locations on this position representing net risked resources of 2.4 Bboe. Activity to date has focused on the Marcellus, which generated net production of 270 MMcfe/d (89% gas)...
Jan 07, 2020
ES - Austerity coming to Appalachia in 2020 as price outlook worsens - December 10, 2019
The price outlook for natural gas is currently worse than it was a year ago, thanks to rapidly growing US output driven by associated gas from oil production. As of Dec. 9, the 12-month strip price for Henry Hub is $2.27/MMbtu compared to $3.29/MMbtu a year ago. The Energy Information Administration estimates that US production grew 10% in 2019 to 92.1 Bcf/d and will grow 3% in 2020 to 95.1 Bcf/d. Storage numbers are bearish, with the EIA estimating October through March withdrawals of 1.9 Tcf....
Dec 10, 2019
ES - Regional Highlights - December 10, 2019
The Energy Information Administration projects that Appalachian production will rise by 3,000 bo/d and 46 MMcf/d sequentially in December to 170,000 bo/d and 33.72 Bcf/d. There are 492 DUCs in Appalachia as of October, down by 30 versus...
Dec 10, 2019
ES - Harvest Oil & Gas Highlights - December 10, 2019
As part of its strategic review launched in September, Harvest Oil & Gas has retained Intrepid Partners to market its Appalachian basin position, which represents 70% of its estimated Q4 production, or alternatively seek a sale of the entire company to return capital to shareholders. The Appalachian assets cover 900,000 net acres (1.2 million gross) in Ohio, northeastern Pennsylvania and West Virginia. The acreage has an average operated 94% WI (81% NRI) and is 98% HBP. Proved reserves are...
Dec 10, 2019
ES - Diversified Gas & Oil Highlight - December 10, 2019
Consistent with its strategy of allocating value only to producing assets, Diversified Gas & Oil struck a $10 million deal to sell non-producing Utica assets recently acquired from EdgeMarc Energy Holdings to an undisclosed buyer. The assets consist of three drilled and uncompleted wells in Monroe County, Ohio, and undeveloped acreage containing additional Utica drilling...
Dec 10, 2019
Get more news for Eastern Scout