Eastern Scout
Serving the local market with drilling activities, permits & multiple listings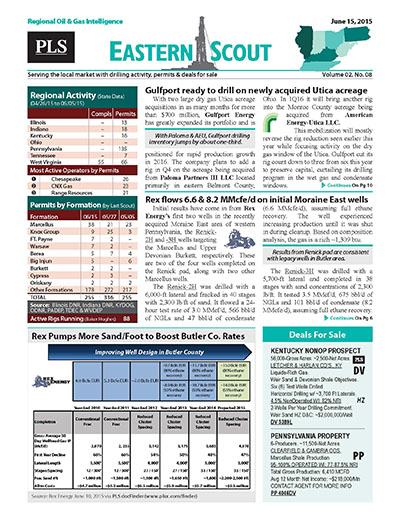 PLS's new Eastern Scout covers local drilling activity, permit data, rig activity and completions in the Eastern region (Pennsylvania, Ohio & West Virginia). Like all of PLS's Regionals this report includes a wealth of statistical analysis on activities and corporate performance. The reports also layer select advertising, business opportunities and multiple listings for sale.
Stay in front of local prospects, plays & rigs!
Pennsylvania, Ohio & West Virginia
Hard Copy and Email For 1 Individual
Every 3 to 4 Weeks (15 issues per year)
Regional discoveries, drilling activity, permits,
completions and summary drilling statistics, layered
with regional listings and business opportunities
Web access to the Eastern Scout archive
Does not include access to MLS
Search PLS' News Archive for complete oil & gas news for Eastern Scout .
See what it is about before you buy. View a sample issue of Eastern Scout.
Need more information? Click the button to recieve more details about the Eastern Scout
Opportunity is a reflection of information.
Call 713-650-1212 For More Information
Search Eastern Scout:

Headline
Publication
News Date
ES - Cabot plans lower 2020 capex & production growth - October 1, 2019
Cabot Oil & Gas unveiled its preliminary 2020 capex and operating plan in a recent presentation. The company plans to spend $700-725 million compared to an expected $800-820 million in 2019. Of the total, $575 million is for maintenance and $125-150 million is growth capital, which ensures continued generation of free cash flow. At $2.50/MMbtu NYMEX pricing, Cabot expects to generate $375-500 million in free cash flow in 2020, which is a 5.4% free cash flow yield; at $2.75/ MMbtu pricing,...
Oct 01, 2019
ES - While Appalachia rig activity slides, W. Va. sees new well boom - October 1, 2019
The number of active rigs has been falling in the Marcellus and Utica in each quarter this year, according to Enverus Rig Analytics. In West Virginia, 20 rigs ran in Q3 compared to 24 in Q1; in Ohio, 13 ran in the most recent quarter compared to 17 in Q1; and in Pennsylvania, 35 were active in Q3 compared to 42 in Q1. The dynamics are varying across the three states, however. New well start data shows West Virginia is in a YOY drilling boom, Ohio appears to be maintaining its pace and...
Oct 01, 2019
ES - Regional Highlights - October 1, 2019
The EIA projects that Appalachia production will rise by 4,000 bo/d and 196 MMcf/d sequentially in October to 155,000 bo/d and 32.811 Bcf/d. There are 517 DUCs in Appalachia as of August, down by 12 versus...
Oct 01, 2019
ES - Chesapeake Energy Highlights - October 1, 2019
Earlier this year, Chesapeake Energy brought the Angie #6 HC online in Susquehanna County, Pennsylvania. The well was completed with a 15,446-ft effective lateral in 62 stages. During a 24- hour test, it delivered an IP rate of 65.5 MMcf/d from the Marcellus. This is a top rate for the formation. The company is currently running two rigs in the northeast, with one each in Bradford and Wyoming counties,...
Oct 01, 2019
ES - Marksmen Energy Highlights - October 1, 2019
Marksmen Energy entered into an agreement with a private oil and gas company in Ohio to plug back and recomplete up to 40 Rose Run formation wells in the bypassed Clinton sandstone formation. Marksmen will also have first right of refusal at the end of December 2020 to participate in the drilling of new horizontal Clinton sandstone wells and vertical Rose Run wells. All of the wells are located in East Canton field in Portage County,...
Oct 01, 2019
ES - Antero Midstream Highlights - October 1, 2019
Antero Midstream is idling its 40,000 bbl/d Clearwater wastewater treatment facility and landfill in Doddridge County, West Virginia, while it conducts a strategic evaluation. The $275 million facility opened in 2017. The company blamed low crude prices for the need to re-examine the facility's cost effectiveness. While AM said the closure is permanent, it expects to take an impairment...
Oct 01, 2019
ES - NextEra Energy Partners Highlights - October 1, 2019
NextEra Energy Partners entered into a definitive agreement to buy Meade Pipeline Co. for $1.37 billion. Meade owns approximately 39% of the 185-mile Central Penn Line, the greenfield pipeline segment of the Atlantic Sunrise project. This transaction is expected to close during...
Oct 01, 2019
ES - Ascent boosts production 53% on D&C and acquisitions - September 10, 2019
Ascent Resources Utica Holdings, LLC grew its Q2 production 53% YOY to an average of 1.75 Bcfe/d (89% gas, 5% oil, 6% NGLs), driven by drilling and completion activity and its acquisition from CNX Resources, Hess, Utica Minerals Development and Salt Fork Resources completed in August 2018. Activity during the quarter included spudding 23 wells, fracking 37 and turning to sales 38, bringing H1 totals to 48 spudded, 60 fracked and 65 brought online. H1 output averaged 1.76 Bcfe/d (90% gas, 4%...
Sep 10, 2019
ES - Chesapeake's Marcellus integral to FCF despite gas pullback - September 10, 2019
As Chesapeake Energy moves into 2020, it plans to allocate more capital to oil growth areas and less to its gas assets. This will lead to double-digit percentage oil growth but doubledigit percentage declines for gas volumes in 2020. For the Haynesville this means dropping the last rig in the play shortly. The Marcellus, however, is a significant free cash flow generator—the play is projected to generate $320 million this year—with low breakevens of $1.50-$1.75/Mcf. Chesapeake will continue to...
Sep 10, 2019
ES - Regional Highlights - September 10, 2019
The EIA projects that Appalachia production will rise by 4,000 bo/d and 367 MMcf/d sequentially in September to 146,000 bo/d and 32.605 Bcf/d. There are 422 DUCs in Appalachia as of July, down by 16 versus...
Sep 10, 2019
Get more news for Eastern Scout