A&D Transactions
Serving the asset marketplace with deals, analysis and business opportunities.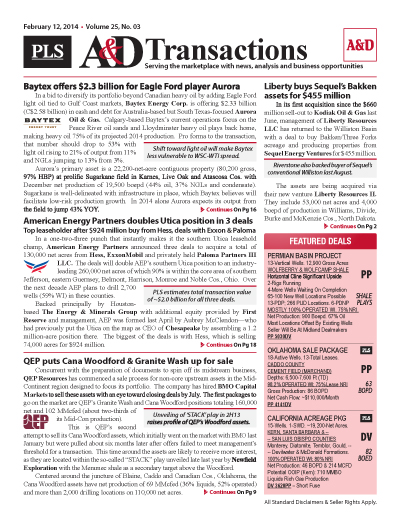 PLS publishes news and analysis on the acquisitions and divestitures (A&D) sector through its A&D module. The red banner report, published every 3 weeks, covers the active US asset marketplace and includes analysis of corporate mergers, property divestitures, completed transactions and deal metrics.
PLS' most popular report
Single copy pricing; Incl hard copy & email version
Guaranteed to increase deal flow & market insight
Every 2-3 weeks; 17+ issues per year
Latest in asset acquisitions, corporate M&A activity, deals in play & industry buying trends
Access to archives editions of A&D
Phone request to multiple listing
Search PLS' News Archive for complete oil & gas news for A&D Transactions .
See what it is about before you buy. View a sample issue of A&D Transactions.
Need more information? Click the button to recieve more details about the A&D Transactions
Opportunity is a reflection of information.
Call 713-650-1212 For More Information
Search A&D Transactions:

Headline
Publication
News Date
A&D - Colombia's Ecopetrol joins Occidental in $1.5B Midland JV - August 2019
Occidental Petroleum is forming a $1.5 billion JV with Colombian national oil company Ecopetrol to develop 97,000 net acres of its Midland Basin leasehold. Ecopetrol will pay $750 million cash and $750 million of carried capital in exchange for a 49% stake in the acreage. Oxy will hold the remaining 51% and serve as operator. During the carry period, Ecopetrol will pay 75% of Oxy's share of capex. Closing is expected in Q4. "Why do we actually go to the Permian? There's a few things...
Aug 08, 2019
A&D - Japan's Osaka to buy E. Texas driller Sabine for $610MM - August 2019
One of Japan's largest LNG importers, Osaka Gas, is buying privately held Sabine Oil & Gas for $610 million, marking the first Japanese purchase of a US shale gas developer. The acquisition is part of Osaka's long-term strategy to boost overseas earnings to make up one-third of its total profit by 2030, up from the current 9%. Sabine emerged from bankruptcy in August 2016 with a focus on East Texas horizontal development. Sabine owns 175,000 net acres, of which it operates 90% with 76% WI,...
Aug 08, 2019
A&D - Range sells ORRI to Franco-Nevada and Lime Rock - August 2019
Range Resources sold a 2% overriding royalty interest in 350,000 net acres with 1.9 Bcfe/d of Q1 production in southwest Pennsylvania, or 7,000 net royalty acres with 38 MMcfe/d of royalty production, for $600 million. The ORRI covers the vast majority of Range's producing properties in Appalachia, representing 94% of its 2.03 Bcfe/d Q1 output from the basin. Canadian gold royalty owner Franco-Nevada Corp. paid $300 million for a 1% ORRI. A pair of Lime Rock Partners portfolio companies...
Aug 08, 2019
A&D - CRC secures a $320MM Drillco partner for Elk Hills - August 2019
Colony Capital, an investment management firm, is buying into California Resources Corp.'s flagship Elk Hills gas field in California's San Joaquin Basin via a Drillco agreement. Through its new energy investment arm Colony HB2 Energy, Los Angeles-based Colony has committed to fully fund a $320 million development program consisting of ~275 wells over three years to earn an initial 90% WI in the resulting wells. That interest will be reduced to 17.5% as certain agreed-upon return...
Aug 08, 2019
A&D - Colorado's PDC and SRC reportedly mull potential merger - August 2019
While most of the industry buzz around shale consolidation has recently centered on the Permian, Colorado could soon see its own large-scale unconventional business combination. Unnamed sources told Bloomberg that PDC Energy is in talks with DJ Basin-focused SRC Energy about potential merger. PDC's shares rose less that 1% to close at $26.16/share on the Aug. 6 date of the Bloomberg report, giving it a $1.7 billion market capitalization, while SRC's shares dropped 1.7% to $3.97, valuing the...
Aug 08, 2019
A&D - Harvest O&G pulls trigger on $72MM Barnett shale exit - August 2019
A little over a year after emerging from bankruptcy, Harvest Oil & Gas announced the sale of all its interests in the Barnett shale for $72 million. According to Drillinginfo intelligence, the buyer is Bedrock Energy Partners, which already owns and operates properties in the Barnett. Net production in Q1 was 55.6 MMcfe/d and estimated proved reserves at YE18 were 276.6 Bcfe (62% gas), making up the largest proportion of the Harvest's proved reserves. UBS Investment Bank...
Aug 08, 2019
A&D - Whiting divests non-op Bakken production for $53MM - August 2019
In its Q2 earnings filing, Whiting Petroleum announced two agreements to sell6,800 non-operated net acres with April net production of 703 boe/d for $53 million. OnJuly 2 it struck a $26 million deal to sell its interests in 58 non-operated producing wellsin Richland County, Montana, and Mountrail and Williams counties, NorthDakota, with closing expected later in Q3. Then on July 29 it completed a $27million sale of its interests in 137 non-operated producing wells...
Aug 08, 2019
A&D - Cabot acreage buy to extend laterals on pad, hike '19 output - August 2019
Appalachian pure-play Cabot Oil & Gas upwardly revised its 2019 production guidance by 16-18% to 2.36-2.41 MMcfe/d based on a $800-820 million capital budget. Driving the increase in part was the company's acquisition of acreage offsetting an existing eight-well pad in northeast Pennsylvania that it began drilling in Q2. The new acreage increased the total lateral footage on the pad by 28,000 ft, thereby increasing the average lateral length per well from 8,950 ft to 12,450 ft and resulting...
Aug 08, 2019
A&D - Diversified in $50MM bid for EdgeMarc's Ohio acreage - August 2019
London-listed and US-focused Diversified Gas & Oil entered a $50 million stalking horse agreement to acquire the Ohio assets of Appalachian pure-play EdgeMarc Holdings, which filed for bankruptcy in May. The proposed purchase will be conducted through a bankruptcy court-supervised process, with a final deal contingent on court approval and whether EdgeMarc receives higher offers from other bidders at a potential auction in August. A qualified bid looking to outbid Diversified must be at...
Aug 08, 2019
A&D - Matador sells non-core Eagle Ford and Haynesville - August 2019
Matador Resources' efforts to divest portions of its non-core South Texas and Haynesville assets progressed in Q2 and early Q3. The company announced the sale of Eagle Ford and Haynesville assets, as well as a small portion of its leasehold in a non-operated area of the Delaware Basin, in several transactions totaling $22 million. The company said it continues to receive offers from other operators on its various properties in South Texas, northwest Louisiana and East Texas and is actively...
Aug 08, 2019
Get more news for A&D Transactions