A&D Transactions
Serving the asset marketplace with deals, analysis and business opportunities.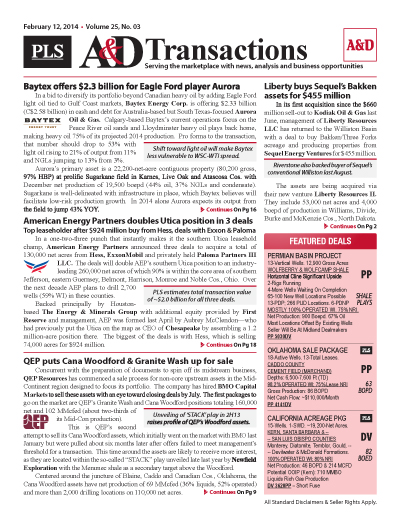 PLS publishes news and analysis on the acquisitions and divestitures (A&D) sector through its A&D module. The red banner report, published every 3 weeks, covers the active US asset marketplace and includes analysis of corporate mergers, property divestitures, completed transactions and deal metrics.
PLS' most popular report
Single copy pricing; Incl hard copy & email version
Guaranteed to increase deal flow & market insight
Every 2-3 weeks; 17+ issues per year
Latest in asset acquisitions, corporate M&A activity, deals in play & industry buying trends
Access to archives editions of A&D
Phone request to multiple listing
Search PLS' News Archive for complete oil & gas news for A&D Transactions .
See what it is about before you buy. View a sample issue of A&D Transactions.
Need more information? Click the button to recieve more details about the A&D Transactions
Opportunity is a reflection of information.
Call 713-650-1212 For More Information
Search A&D Transactions:

Headline
Publication
News Date
A&D - Red Wolf sinks teeth into Okla. in $245MM Apache buy - June 2019
A recent drought of private equity-backed acquisitions was broken by newly formed Red Wolf Natural Resources' $245 million inaugural purchase in Oklahoma's Anadarko Basin. The Oklahoma City-based company, which was formed in February with an equity commitment from Dallas-based Pearl Energy Investments, announced May 20 that it had acquired 56,000 net acres focused on the STACK, SCOOP and Merge plays. Seller Apache had revealed the deal's $245 million price tag, but not the buyer, in a...
Jun 05, 2019
A&D - Devon exits Canada for $2.8B, targets Barnett sale next - June 2019
Devon Energy has accelerated its strategic transformation to a US oil growth company, announcing May 29 that it had reached an agreement to sell its Canadian business to Canadian Natural Resources Ltd. for $2.8 billion in cash. The divestment reduces expenses and debt and continues the company's makeover as the "New Devon," which will focus its operations on the Delaware Basin, STACK, Eagle Ford and Powder River Basin. The transaction is expected to close in Q2. "This transaction...
Jun 05, 2019
A&D - Chevron sells bulk of UK North Sea portfolio for $2B - June 2019
After a sales process that lasted for over a year and discussions with several suitors, Chevron pulled the trigger on the sale of its central UK North Sea assets. Delek Group subsidiary Ithaca Energy was the successful bidder, paying $2 billion in a deal that will make it the second-largest independent producer in the UK North Sea. For Chevron, the disposal combined with ~$2 billion in asset sales last year nearly accomplishes its $5-10 billion divestment target for 2018-2020 and enables it to...
Jun 05, 2019
A&D - Oxy's Anadarko acquisition challenged by Icahn & Algeria - June 2019
Activist investor Carl Icahn is suing Occidental Petroleum over its $57 billion acquisition of Anadarko. Oxy's proposal of $59 cash and 0.29 shares per Anadarko share, resulting in a 78/22 split favoring cash, means that the company can bypass its shareholders' approval of the deal. It is the lack of a shareholder vote, plus the $10 billion in financing lined up from Warren Buffett's Berkshire Hathaway, with which Icahn particularly took aim. "The Anadarko deal is very much a bet-the-company...
Jun 05, 2019
A&D - Brigham boosts acreage in Delaware Basin & SCOOP in Q1 - June 2019
Austin-based Brigham Minerals acquired 2,700 net royalty acres, when normalized to 1/8th rayalty interest, in the Delaware Basin and SCOOP for $41.3 million during Q1, according to its first earnings release as a public company. With the acquisition, the company now owns oil and gas mineral royalty interests underlying 71,500 acres across the US, when normalized to 1/8th. That represents a 48% compound annual growth rate from the 10,200 net acres it held at year-end 2013, a year after...
Jun 05, 2019
A&D - Riviera sells Michigan assets and markets Hugoton - June 2019
Linn Energy spinoff Riviera Resources struck a $44.5 million deal to divest its assets in Michigan to an undisclosed seller, with the proceeds to be allocated to shore up its balance sheet, execute share repurchases under its $206 million buyback program and to reinvest in higher return projects. The company also retained CIBC Griffis & Small for the divestment of its remaining upstream assets and two gas processing plants in Oklahoma's Hugoton Basin, the largest conventional gas...
Jun 05, 2019
A&D - Whiting, Callon & Blackstone reportedly circle QEP - June 2019
Activist investor Elliott Management Corp. isn't the only suitor for Denver-based QEP Resources. Unnamed sources told Bloomberg that Whiting Petroleum Corp. and Callon Petroleum, as well as private equity behemoth Blackstone Group, have expressed interest in the company. QEP could wrap up the sales process by June. Denver-based peer Whiting would add QEP's Permian Basin-centered assets to its 470,443-net-acre position in the core of the Williston Basin, while Callon, already a Permian...
Jun 05, 2019
A&D - New E&P firm Western gets KKR backing for Bakken buys - June 2019
Global investment firm KKR has teamed up with newly formed Oklahoma Citybased Western Natural Resources to acquire producing and undeveloped assets in the Williston Basin. Western is KKR's second recently formed portfolio company after Houston-based Spur Energy Partners, whose launch and initial acquisition on the Permian's Northwest Shelf were both announced May 14. KKR said the Williston Basin includes meaningful existing production and high quality, well-defined remaining drilling...
Jun 05, 2019
A&D - Blank-check firm Switchback has public debut in its sights - June 2019
Former executives of RSP Permian have launched a blank-check company called Switchback Energy Acquisition Corp., with backing from NGP Natural Resources XII. The private equity firm also backed RSP before its $9.5 billion acquisition by Concho Resources last year. Switchback's team, comprised of Scott McNeill, Jim Mutrie and Josh Rosinski, will start by raising capital for an initial public offering, with respect to which they have already submitted a draft registration statement with the...
Jun 05, 2019
A&D - Eagle Ford pure-play 1776 Energy reportedly up for sale - June 2019
Privately held Eagle Ford operator 1776 Energy Operators, LLC is putting itself up for sale, with a deal expected to fetch around $1.5 billion, including debt, unnamed sources told Reuters. A company official told the news agency that 1776 has hired two investment banks to run a sales process. With production primarily from Karnes, Gonzales and La Salle counties, Texas, the company is active in areas where Marathon Oil, Magnolia Oil & Gas, Devon Energy and EOG Resources also have substantial...
Jun 05, 2019
Get more news for A&D Transactions