A&D Transactions
Serving the asset marketplace with deals, analysis and business opportunities.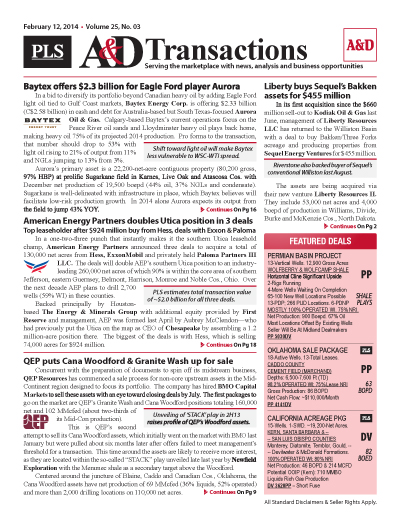 PLS publishes news and analysis on the acquisitions and divestitures (A&D) sector through its A&D module. The red banner report, published every 3 weeks, covers the active US asset marketplace and includes analysis of corporate mergers, property divestitures, completed transactions and deal metrics.
PLS' most popular report
Single copy pricing; Incl hard copy & email version
Guaranteed to increase deal flow & market insight
Every 2-3 weeks; 17+ issues per year
Latest in asset acquisitions, corporate M&A activity, deals in play & industry buying trends
Access to archives editions of A&D
Phone request to multiple listing
Search PLS' News Archive for complete oil & gas news for A&D Transactions .
See what it is about before you buy. View a sample issue of A&D Transactions.
Need more information? Click the button to recieve more details about the A&D Transactions
Opportunity is a reflection of information.
Call 713-650-1212 For More Information
Search A&D Transactions:

Headline
Publication
News Date
A&D - Warburg's Citizen Energy takes Roan Resources private for $1B - October 2019
Midcontinent pure-play Roan Resources is being taken private by Warburg Pincus affiliate Citizen Energy Operating under a definitive agreement announced Oct. 1 and valued at $1.01 billion. Roan shareholders will receive $1.52 per share, a 24% premium to the prior-day closing price of $1.22, bringing the cash portion of the deal to $234.2 million. The remainder of the deal value consists of Roan's $780 million net debt. With an all-cash offer and a major capital provider backing the bid, Roan's...
Oct 10, 2019
A&D - Contango dives into Midcon, quadruples output in $133MM deal - October 2019
After dipping its toe in the Midcontinent with a small acquisition announced Sept. 12, Contango Oil & Gas is diving into the region with a $132.5 million purchase from bankrupt White Star Petroleum. The asset purchase agreement, which Contango announced Sept. 27, was conducted under White Star's Section 363 auction process. It will nearly quadruple Contango's production while significantly increasing its liquids weighting, as White Star's production is 63% oil and NGLs versus 45% for...
Oct 10, 2019
A&D - Occidental completes $4.5B of $10-15B in planned asset sales - October 2019
Eager to show progress on its deleveraging initiatives since the closing of its $57 billion Anadarko Petroleum acquisition Aug. 8, Occidental Petroleum announced the completion of two divestments worth more than $4.5 billion. Oxy closed a public offering for the sale of its equity stake in Plains All American Pipeline and in the midstream company's general partner while also wrapping up a divestiture of Anadarko's assets in Mozambique toTotal. The Sept. 30 announcement, which also...
Oct 10, 2019
A&D - Q3's $17.2B M&A value shows return to historic norms - October 2019
Despite a difficult market, US upstream M&A activity maintained the momentum established during Q2 and reached $17.2 billion in announced deal value during Q3, according to Enverus' M&A Database. That approaches the 2016- 2018 quarterly average of $18.8 billion and marks a big rebound from the 10-year low of $2.4 billion seen in Q1. The Q3 activity puts YTD US upstream deal value above $85 billion, although that total is still dominated by Occidental Petroleum's $57.0 billion acquisition...
Oct 10, 2019
A&D - Caerus markets Piceance Basin mineral and ORRI interests - October 2019
Denver-based Caerus Operating has retained BMO Capital Markets to market producing mineral and overriding royalty interests in the Piceance Basin. Covering 4,150 developed mineral acres in Garfield County, Colorado, the offering includes mineral and overriding royalty interests in the East Fork, Battlement Mesa and Mamm Creek areas of interest. The properties include an ORRI in 1,650 wells. Expected Q4 production from 2,200 wells is ~4 MMcfe/d (95%), mostly sourced from East Fork, which...
Oct 10, 2019
A&D - Talos buys one GOM prospect from Exxon, farms out another to BP - October 2019
Talos Energy struck a pair of deals with two supermajors to advance its deepwater exploration program in the Gulf of Mexico. The Houston-based company acquired 100% WI in the Hershey prospect on Green Canyon blocks 326, 327, 370 and 371 from ExxonMobil and agreed to farm out an operated 75% WI in Green Canyon Block 821 to BP, which it will work with to drill the Puma West prospect. "As these transactions prove, Talos is well-positioned to continue unlocking material resource...
Oct 10, 2019
A&D - Samson II exits Green River Basin, trims non-core Powder River - October 2019
Tulsa-based Samson Resources II divested its entire 43,000-net-acre position in Wyoming's Greater Green River Basin to become a Powder River Basin pure-play. In a separate deal, it high-graded its Powder River position with the sale of 8,500 non-core acres in Johnson County, Wyoming. Proceeds from both sales with be used for general corporate purposes and a distribution totaling $46 million to be paid Nov. 20 to noteholders. Samson also launched a strategic alternatives process for its...
Oct 10, 2019
A&D - O'Brien divests assets of East Texas-focused fourth partnership - October 2019
O'Brien Resources sold the assets of its fourth partnership, O'Benco IV LP, located primarily on 87,414 net acres in East Texas, to an undisclosed buyer, according to Enverus field intelligence. Houlihan Lokey advised O'Brien on the sale, which included dry gas properties producing more than 18 MMcf/d gross from the Bossier and Cotton Valley and additional liquids-rich gas and oil properties across several counties. The properties hold 78.4 net locations (140 gross) and PDP reserves of 8.5...
Oct 10, 2019
A&D - Q4 off to quick Midcon start after Q3 deals top $17 billion - October 2019
Despite a challenging market, M&A activity maintained the momentum established in Q2 surpassing $17 billion in deals with disclosed values in Q3 (PG.1). That approaches the 2016-2018 historical quarterly average of $19 billion and puts YTD M&A at more than $85 billion, ahead of $66 billion by this point last year. However, whereas Permian asset deals have dominated in recent years, a greater geographic diversity in dealmaking has emerged in 2019. The Midcontinent is a case in...
Oct 10, 2019
A&D - Abraxas exits S. Texas & sheds non-core Delaware for $8MM - October 2019
In apparent response to investor pressure, Permian and Bakken driller Abraxas Petroleum Corp. is shedding all its remaining non-core South Texas acreage, as well as non-operated assets in Reeves County, Texas, within the Delaware basin, to undisclosed buyers in deals totaling $7.9 million. Current production from the combined assets is 310 boe/d (49% oil), representing only ~3% of its Q2 total of 9,572 boe/d (71% oil). In July, 1.45% shareholder Saltstone Capital Management penned a...
Oct 10, 2019
Get more news for A&D Transactions