A&D Transactions
Serving the asset marketplace with deals, analysis and business opportunities.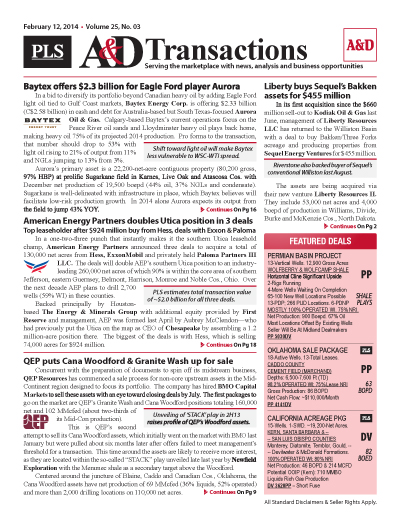 PLS publishes news and analysis on the acquisitions and divestitures (A&D) sector through its A&D module. The red banner report, published every 3 weeks, covers the active US asset marketplace and includes analysis of corporate mergers, property divestitures, completed transactions and deal metrics.
PLS' most popular report
Single copy pricing; Incl hard copy & email version
Guaranteed to increase deal flow & market insight
Every 2-3 weeks; 17+ issues per year
Latest in asset acquisitions, corporate M&A activity, deals in play & industry buying trends
Access to archives editions of A&D
Phone request to multiple listing
$ 795 /Yr
Search PLS' News Archive for complete oil & gas news for A&D Transactions .
See what it is about before you buy. View a sample issue of A&D Transactions.
Need more information? Click the button to recieve more details about the A&D Transactions
Opportunity is a reflection of information.
Call 713-650-1212 For More Information
Search A&D Transactions:

Headline
Publication
News Date
Antero Resources Highlights - August 17, 2017
Antero Resources' mid-year proved reserves increased 7% to 16.5 Tcfe (41% liquids) compared to YE16. The company increased its Marcellus wellhead type curve for 199 proved undeveloped and 398...
Aug 17, 2017
Cabot Oil & Gas Highlights - August 17, 2017
Cabot Oil & Gas drilled 13.7 net, completed eight net and turned six net wells to sales during Q2. The company's 26 Gen. 4 wells placed online in H1 continue to outperform the company's 4.4 Bcf...
Aug 17, 2017
Consol Energy Highlights - August 17, 2017
Consol Enegy's Q2 output averaged 1.02 Bcfe/d, down 7% sequentially and below expectations due to timing delays in the Utica. The company had planned to turn to sales three pads in Q2 but only one...
Aug 17, 2017
Scotiabank shops Amistad's Midland Basin assets
Amistad Energy Partners has hired Scotiabank to market its Midland Basin assets, which target the multi-bench Wolfcamp and Ellenburger plays in Crockett County, TX. The blocky, oil-weighted...
Aug 15, 2017
Dealmaking heats up in advance of Summer Nape   
M&A activity heated up with $3.1 billion in U.S. deals reported over the past 2+ weeks. The biggest deal was our previously reported QEP Resources' $732 million acquisition of core Midland...
Aug 15, 2017
Get more news for A&D Transactions