A&D Transactions
Serving the asset marketplace with deals, analysis and business opportunities.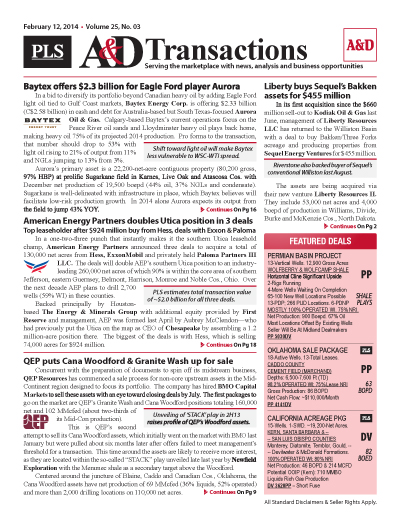 PLS publishes news and analysis on the acquisitions and divestitures (A&D) sector through its A&D module. The red banner report, published every 3 weeks, covers the active US asset marketplace and includes analysis of corporate mergers, property divestitures, completed transactions and deal metrics.
PLS' most popular report
Single copy pricing; Incl hard copy & email version
Guaranteed to increase deal flow & market insight
Every 2-3 weeks; 17+ issues per year
Latest in asset acquisitions, corporate M&A activity, deals in play & industry buying trends
Access to archives editions of A&D
Phone request to multiple listing
Search PLS' News Archive for complete oil & gas news for A&D Transactions .
See what it is about before you buy. View a sample issue of A&D Transactions.
Need more information? Click the button to recieve more details about the A&D Transactions
Opportunity is a reflection of information.
Call 713-650-1212 For More Information
Search A&D Transactions:

Headline
Publication
News Date
Arrow is selling Alamosa Ranch asset
Arrow Oil and Gas has placed 56,000 net acres in Oldham County, TX, on the market covering lands known as the Alamosa Ranch. The position includes 13 wells (3 injection, one well currently drilling)...
Feb 15, 2018
Lime Rock markets Permian and Bakken packages
Lime Rock Resources is selling a package of operated stacked-pay oil assets within the Yeso and San Andres trend of the Permian Basin in Eddy County, NM. Net production is 7,025 boe/d from 426 wells...
Feb 14, 2018
PLS retained to sell Permian & STACK packages
PLS Energy Advisors is assisting sellers in marketing assets in the most attractive oil plays in the Lower 48. Three of thesepackages consist of assets in the core of the Permian Basin and Oklahoma's...
Feb 14, 2018
Abraxas inks $14.2MM Delaware Basin bolt-on
Abraxas Petroleum struck a $14.2 million bolt-on deal that will see it acquire 900 additional net acres in the Delaware basin in Winkler County, TX. The position is on trend with the...
Feb 14, 2018
Southwestern markets Fayetteville shale position
Southwestern Energy is marketing its entire position in the Fayetteville shale located on the Arkansas side of the Arkoma Basin. The move comes as Southwestern continues to sharpen focus on...
Feb 14, 2018
Eagle Energy sells Salt Flat field assets
Eagle Energy sold its Salt Flat field assets located in Caldwell County, Texas, for $26.5 million to an undisclosed buyer. Current production from the field is 1,024 boe/d with 1.27 MMboe PDP...
Feb 14, 2018
Get more news for A&D Transactions