A&D Transactions
Serving the asset marketplace with deals, analysis and business opportunities.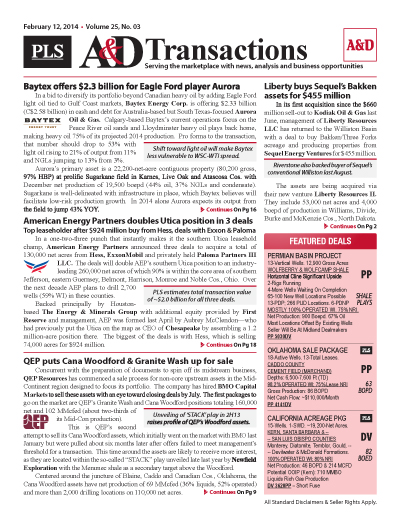 PLS publishes news and analysis on the acquisitions and divestitures (A&D) sector through its A&D module. The red banner report, published every 3 weeks, covers the active US asset marketplace and includes analysis of corporate mergers, property divestitures, completed transactions and deal metrics.
PLS' most popular report
Single copy pricing; Incl hard copy & email version
Guaranteed to increase deal flow & market insight
Every 2-3 weeks; 17+ issues per year
Latest in asset acquisitions, corporate M&A activity, deals in play & industry buying trends
Access to archives editions of A&D
Phone request to multiple listing
Search PLS' News Archive for complete oil & gas news for A&D Transactions .
See what it is about before you buy. View a sample issue of A&D Transactions.
Need more information? Click the button to recieve more details about the A&D Transactions
Opportunity is a reflection of information.
Call 713-650-1212 For More Information
Search A&D Transactions:

Headline
Publication
News Date
A&D - WPX builds Delaware scale in $2.5B Felix Energy acquisition - December 2019
Permian and Bakken producer WPX Energy is the latest consolidator in the world's most active oil basin, announcing a $2.5 billion cash-and-stock deal on Dec. 16 to acquire EnCap-backed Permian producer Felix Energy. WPX will add 58,500 net acres with 1,500 undeveloped locations in the eastern Delaware basin with anticipated 2Q20 net production of 60,000 boe/d (70% oil). The assets are expected to provide $70 million of free cash flow in 2020 at $50/bbl WTI, bringing WPX's 2020 total to $200...
Dec 19, 2019
A&D - Pure Acquisition makes its move in Midland Basin for $1.6B - December 2019
More than 19 months after industry veteran Jack Hightower launchedPure Acquisition Corp. with a $414 million initial public offering, the special-purpose acquisition company has found a takeout target very close to home. As part of an initial acquisition valued at $1.575 billion, Pure will acquire the assets of Hightower-led HighPeak Energy Partners, a private E&P company active in the northern Midland Basin with which it shares headquarters in Fort Worth. The blank-check company, which will be...
Dec 19, 2019
A&D - Talos emerges as largest public GOM pure-play in $640MM deal - December 2019
Gulf of Mexico producer Talos Energy struck a series of deals totaling $640 million to acquire interests in producing fields and exploration prospects from affiliates of ILX Holdings, Castex Energy and Venari Resources. The acquired Q3 net production of 19,000 boe/d (65% oil, 72% liquids) will boost Talos' total by 35% to 72,000 boe/d. Following completion of the deals, expected in 1Q20, the company says it will be the largest publicly traded GOM pure-play. "Our team's never been afraid...
Dec 19, 2019
A&D - Chevron weighs Appalachian Basin shale divestment - December 2019
Pressured by a lower gas price outlook, Chevron announced it is evaluating strategic alternatives including divestment for its Appalachian Basin shale position, the Kitimat LNG project in British Columbia, and other natural gas assets overseas. It is reducing funding to these assets next year while keeping overall capex flat at $20 billion for the third straight year. The supermajor said it expects its Q4 results to reflect after-tax impairments totaling $10-11 billion, more than half of which...
Dec 19, 2019
A&D - BP sells San Juan Basin gas to European renewables firm IKAV - December 2019
BP agreed to sell its San Juan Basin assets in New Mexico and Colorado to European infrastructure fund IKAV. New York investment bank PJ Solomon announced Dec. 4 that it is advising IKAV on the acquisition, which includes gas-weighted production, undeveloped acreage and associated midstream assets. It said the acquisition marked IKAV's strategic entry to the US with a stable production base and dependable cash flow. Founded in 2010, the German company specializes in wind and solar development....
Dec 19, 2019
A&D - Laredo expands Glasscock position westward in $65MM bolt-on - December 2019
Despite having announced what it called a transformational $130 million move into a Howard County, Texas, in November, Laredo Petroleum is not done growing its legacy Midland Basin position. The company has announced a bolt-on acquisition of 4,475 contiguous net acres (80% HBP) with net production of 1,400 boe/d (55% oil) west of its existing assets in Glasscock County. The $65 million deal, which closed Dec. 6, adds an anticipated 45 locations (35 net) across the Lower Spraberry, Upper...
Dec 19, 2019
A&D - Revolution buys out recently bankrupt Jones for $202MM - December 2019
After exiting bankruptcy earlier this year, Oklahoma driller Jones Energy is being acquired by Mountain Capital Partners portfolio company Revolution Resources for $201.5 million. Jones shareholders will receive $14.11 cash for each share of Jones Energy Class A common stock or each unit of Jones Energy Holdings II. The transaction "marks the completion and successful outcome of the board's extensive strategic alternatives process, which has been underway since earlier this year," Jones...
Dec 19, 2019
A&D - Upstream M&A sees uptick as 2019 finish line approaches - December 2019
After Permian consolidation went silent following Parsley Energy's $2.3 billion acquisition of Jagged Peak Energy in October, WPX Energy topped that Dec. 16 with a $2.5 billion deal to acquire EnCapbacked Felix Energy (PG.1). The deal further shifts WPX's portfolio from the Bakken to the Permian, adding 58,500 net acres with 1,500 in the eastern Delaware basin with anticipated 2Q20 net production of 60,000 boe/d (70% oil). Another recent Permian deal made headlines in the Midland Basin....
Dec 19, 2019
A&D - Devon divests Barnett for $770MM to Thai miner Banpu - December 2019
Devon Energy announced the final stage of its transformation into what it calls "New Devon" Dec. 18 with the $770 million sale of its remaining Barnett shale assets in North Texas. The buyer is BKV Oil and Gas Capital Partners LP, an investment vehicle of Thailand-based coal mining and power generating company Banpu Pcl set up through its Denver-based affiliate Kalnin Ventures to acquire US natural gas assets. This is BKV's seventh transaction since 2016 and marks its debut in the Barnett,...
Dec 19, 2019
A&D - News Briefs - December 19, 2019
Amazing Energy acquired assets in Walthall County, Mississippi, known as the Denver Mint project for $3.05 million on Nov. 25. The company picked up 900 acres of leasehold with 302,500 boe of net proved reserves located in Dinan field. The initial work program includes reworking and recompleting nine oil wells along with waterflooding in the Lower Tuscaloosa D sand and testing the Yegua, Cook Mountain and Sparta formations, with the goal of achieving 150-300 bo/d. The acquisition is being...
Dec 19, 2019
Get more news for A&D Transactions