A&D Transactions
Serving the asset marketplace with deals, analysis and business opportunities.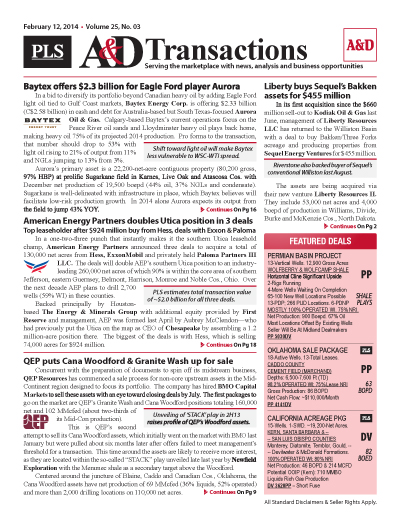 PLS publishes news and analysis on the acquisitions and divestitures (A&D) sector through its A&D module. The red banner report, published every 3 weeks, covers the active US asset marketplace and includes analysis of corporate mergers, property divestitures, completed transactions and deal metrics.
PLS' most popular report
Single copy pricing; Incl hard copy & email version
Guaranteed to increase deal flow & market insight
Every 2-3 weeks; 17+ issues per year
Latest in asset acquisitions, corporate M&A activity, deals in play & industry buying trends
Access to archives editions of A&D
Phone request to multiple listing
Search PLS' News Archive for complete oil & gas news for A&D Transactions .
See what it is about before you buy. View a sample issue of A&D Transactions.
Need more information? Click the button to recieve more details about the A&D Transactions
Opportunity is a reflection of information.
Call 713-650-1212 For More Information
Search A&D Transactions:

Headline
Publication
News Date
A&D - Hilcorp to replace BP as Alaska's No. 3 producer for $5.6B - August 2019
After a 60-year presence in Alaska, BP struck a $5.6 billion cash deal to sell all its assets in the state to privately held E&P company hilcorp. The deal brings BP more than halfway to its target of $10 billion in divestments by 2020 to offset its acquisition of most of BHP's US onshore portfolio last year. The supermajor said it will receive a near-term payment of $4.0 billion and the remaining $1.6 billion through a subsequent earnout. Hilcorp, already Alaska's largest private...
Aug 30, 2019
A&D - PDC doubles down on DJ with $1.7B SRC Energy acquisition - August 2019
Casting a vote of confidence for the future of oil and gas production in Colorado, PDC Energy announced an all-stock deal to acquire fellow mid-cap DJ Basin producer SRC Energy. Including the assumption of SRC's $685 million net debt, the purchase is valued at $1.7 billion. The deal will increase PDC's Wattenberg field footprint 90% to 182,000 net acres, all in Weld County and boost its net production from the field 58% to 166,000 boe/d, allowing the company to surpass Noble Energy as the...
Aug 30, 2019
A&D - Abraxas Permian & Bakken sales urged by activist Saltstone - August 2019
Permian and Bakken driller Abraxas Petroleum Corp. is being urged by 1.45% shareholder Saltstone Capital Management to sell off its assets. In a July 18 letter to the Abraxas board, the Dallas-based institutional investor's founder Billy Bailey laid out a four-point plan to enact a "well-defined strategic shift" to its business model. He urged the company to immediately limit capex to the drilling of Permian lease commitment wells while launching a marketing effort for its Permian assets. He...
Aug 30, 2019
A&D - Oxy's $57B Anadarko buy still mired in controversy - August 2019
Occidental Petroleum completed its $57 billion acquisition of Anadarko Petroleum on Aug. 8 after Anadarko shareholders approved the deal earlier that day. During Oxy's Q2 earnings call, CEO Vicki Hollub said the expedited closing would afford the company more time to assess which of its assets it plans to shed to pay off the debt accrued because of the Anadarko buy. Anadarko shareholders received $59 in cash and 0.2934 Oxy common for each Anadarko common share. Oxy avoided its own...
Aug 30, 2019
A&D - Riviera makes Hugoton Basin exit in $295MM sale to Scout - August 2019
Linn Energy spinoff Riviera Resources announce its final sale of Hugoton Basin assets for $295 million. According to Enverus field intelligence, the buyer is private investment manager Scout Energy Partners. The assets include ~4,000 wells with Q2 net production of 104 MMcfe/d. According to marketing materials, the position covers 1 million net acres in southwest Kansas and Oklahoma with an operated 97% WI (85% NRI) and 771 Bcfe of PDP reserves. The deal is expected to close in Q4. This is...
Aug 30, 2019
A&D - Pioneer sells non-core Midland Basin acreage for $65MM - August 2019
Permian pure-play Pioneer Natural Resources recently sold 3,300 net acres in northern Martin County, Texas, for $65 million cash, amounting to nearly $20,000/acre. Pioneer considered the acreage non-core and had no near-term development plans there. In its Q2 earnings call, CEO Scott Sheffield contextualized the $20,000/ acre transaction cost with other recent deals in the area, mainly Occidental Petroleum's $57 billion acquisition of Anadarko and EcoPetrol's new JV with OXY: "For the...
Aug 30, 2019
A&D - Lilis sells Delaware minerals & acreage to Sweden's Värde - August 2019
Delaware Basin pure-play Lilis Energy struck two deals totaling $22 million to sell assets in the Delaware basin to portfolio companies of Sweden-based private equity firm Varde Partners. In a $14.5 million transaction, Lilis is selling of overriding royalty interests amounting to 1,446 net royalty acres in Winkler and Loving counties, Texas, and Lea County, New Mexico, to Winkler Lea Royalty LP. The ORRI is equal to the difference between 25% and existing royalties and other burdens....
Aug 30, 2019
A&D - Viking Energy Group to acquire Texas & Louisiana assets - August 2019
Gulf Coast-focused Viking Energy Group entered into a non-binding letter of intent for the acquisition of working interests and overriding royalty interests in oil and gas properties in Texas and Louisiana. The acquired assets include 71 wells in Texas and 52 in Louisiana with combined production of 23.3 MMcfe/d (72% gas), as well as associated wells and equipment. On Aug. 27, Viking and the seller agreed to modify the LOI, extending their deadline to execute a purchase and sale...
Aug 30, 2019
A&D - Alaska and Colorado awaken August from M&A slumber - August 2019
After starting Q3 off strong with $7.8 billion in M&A in July, US upstream dealmaking took a hiatus for most of August. That changed on Aug. 26 and 27, when PDC Energy struck a $1.7 billion deal to acquire SRC Energy, which will make it the second-largest producer in the DJ Basin (PG.1), and privately held Hilcorp Energy signed a $5.6 billion deal to acquire all of BP's Alaskan assets, which will make it Alaska's third-largest producer (PG.1). Besides these notable exceptions,...
Aug 30, 2019
A&D - Freehold makes US debut in Bakken royalties purchase - August 2019
Canada-based Freehold Royalties made its US debut, announcing that it acquired Williston Basin royalty assets in North Dakota for $9.8 million from an undisclosed seller. The agreement was struck in June and closed in early Q3. The company picked up 450 net mineral title acres (5,800 gross) targeting the Bakken. Estimated royalty production from these 75%-oil-weighted assets in 2020 is 200 boe/d and forecasted 2020 funds from operations associated with the acquired assets is $2.3 million....
Aug 30, 2019
Get more news for A&D Transactions