A&D Transactions
Serving the asset marketplace with deals, analysis and business opportunities.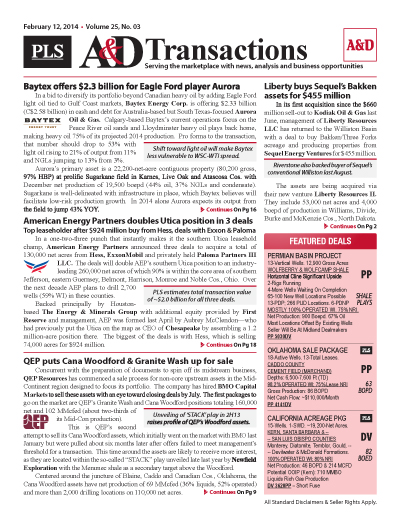 PLS publishes news and analysis on the acquisitions and divestitures (A&D) sector through its A&D module. The red banner report, published every 3 weeks, covers the active US asset marketplace and includes analysis of corporate mergers, property divestitures, completed transactions and deal metrics.
PLS' most popular report
Single copy pricing; Incl hard copy & email version
Guaranteed to increase deal flow & market insight
Every 2-3 weeks; 17+ issues per year
Latest in asset acquisitions, corporate M&A activity, deals in play & industry buying trends
Access to archives editions of A&D
Phone request to multiple listing
Search PLS' News Archive for complete oil & gas news for A&D Transactions .
See what it is about before you buy. View a sample issue of A&D Transactions.
Need more information? Click the button to recieve more details about the A&D Transactions
Opportunity is a reflection of information.
Call 713-650-1212 For More Information
Search A&D Transactions:

Headline
Publication
News Date
BP joins fellow supermajors in Permian
BP's $10.5 billion acquisition of most of BHP's U.S. onshore portfolio comes after the British company sold $80 billion in assets as it sought to pay $65 billion in penalties after the...
Aug 08, 2018
People & Companies - August 08, 2018
Concurrently with its relocation to Houston, Texas, Pacific Energy Development named 20-year industry veteran J. Douglas Schick its new president. He will be responsible for Pacific's E&P and M&A...
Aug 08, 2018
Enduro bankruptcy assets fetch $117MM at auction
After filing for Chapter 11 bankruptcy protection on May 15, Riverstone Holdings-backed Enduro Resource Partners and first lien lenders launched a court-supervised 363 sales process that culminated...
Aug 08, 2018
Get more news for A&D Transactions