A&D Transactions
Serving the asset marketplace with deals, analysis and business opportunities.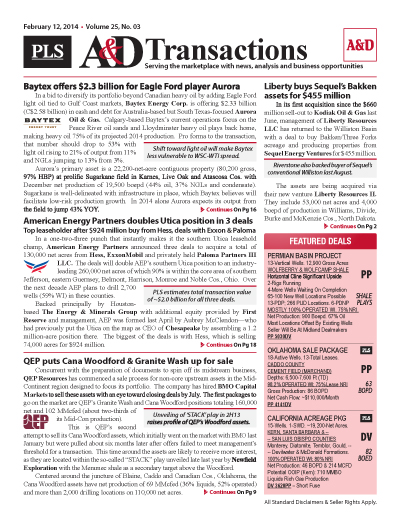 PLS publishes news and analysis on the acquisitions and divestitures (A&D) sector through its A&D module. The red banner report, published every 3 weeks, covers the active US asset marketplace and includes analysis of corporate mergers, property divestitures, completed transactions and deal metrics.
PLS' most popular report
Single copy pricing; Incl hard copy & email version
Guaranteed to increase deal flow & market insight
Every 2-3 weeks; 17+ issues per year
Latest in asset acquisitions, corporate M&A activity, deals in play & industry buying trends
Access to archives editions of A&D
Phone request to multiple listing
$ 1245 /Yr
Search PLS' News Archive for complete oil & gas news for A&D Transactions .
See what it is about before you buy. View a sample issue of A&D Transactions.
Need more information? Click the button to recieve more details about the A&D Transactions
Opportunity is a reflection of information.
Call 713-650-1212 For More Information
Search A&D Transactions:

Headline
Publication
News Date
STACK M&A heats up as H2 gets underway
Oklahoma's STACK/SCOOP/Merge is solidifying its place among various contenders including the Central Basin in the Permian and Powder River Basin in Wyoming as the next hot region for M&A. Now that...
Sep 27, 2017
Get more news for A&D Transactions