A&D Transactions
Serving the asset marketplace with deals, analysis and business opportunities.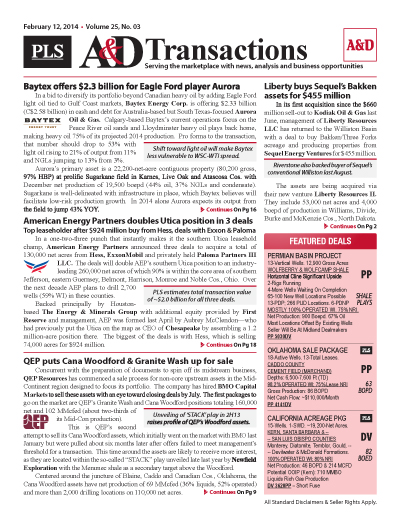 PLS publishes news and analysis on the acquisitions and divestitures (A&D) sector through its A&D module. The red banner report, published every 3 weeks, covers the active US asset marketplace and includes analysis of corporate mergers, property divestitures, completed transactions and deal metrics.
PLS' most popular report
Single copy pricing; Incl hard copy & email version
Guaranteed to increase deal flow & market insight
Every 2-3 weeks; 17+ issues per year
Latest in asset acquisitions, corporate M&A activity, deals in play & industry buying trends
Access to archives editions of A&D
Phone request to multiple listing
Search PLS' News Archive for complete oil & gas news for A&D Transactions .
See what it is about before you buy. View a sample issue of A&D Transactions.
Need more information? Click the button to recieve more details about the A&D Transactions
Opportunity is a reflection of information.
Call 713-650-1212 For More Information
Search A&D Transactions:

Headline
Publication
News Date
Diamondback completes $9.2B acquisition of Energen
Diamondback Energy completed its $9.2 billion all-stock acquisition of Energen Corp. on Nov. 29, a day after shareholders of both companies approved the deal. The transaction, which added Energen's...
Dec 12, 2018
Barclays shops deepwater GOM for LLOG & Marubeni
LLOG Exploration Co. and BlackStone have retained Barclays to assist in the sale of 16 deepwater assets in the Gulf of Mexico offshore Louisiana with 1Q18 total net production of 42,000 boe/d and...
Nov 21, 2018
A&D - People & Companies - November 21, 2018
Anadarko Petroleum appointed former finance EVP and CFO Bob Gwin to the position of president. Benjamin M. Fink, formerly SVP, president and CEO of the general partners of Western Gas Partners and...
Nov 21, 2018
SCOOP/STACK & Permian lead M&A in last few weeks
EnCana's $7.7 billion acquisition of Newfield Exploration, transforming it into North America's second-largest unconventional producer with a new core area in the SCOOP/STACK/Merge play, was the...
Nov 21, 2018
Flat Creek & TNM get PE backing for Permian M&A
Fort Worth-based Flat Creek Resources has received a $400 million equity commitment from private equity firm EnCap Investments as it focuses on "the consolidation and exploitation of core acreage in...
Nov 21, 2018
A&D - Analyst Notes - November 21, 2018
Shale M&A has moved from an outright trend to a full blown wave with another deal announced with Cimarex announcing a $1.6 billion deal to consolidate its acreage position in the Delaware basin...
Nov 21, 2018
Get more news for A&D Transactions