OilfieldServices
Serving the oilfield service sector with news, analysis and business opportunities.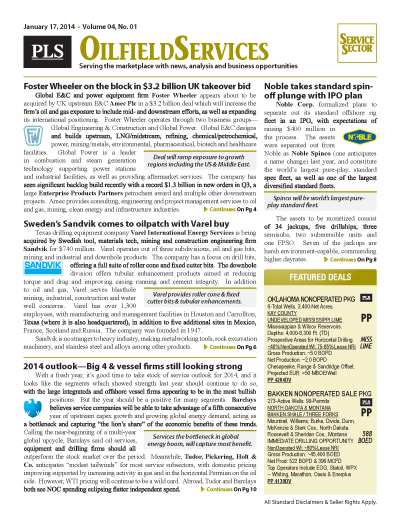 PLS publishes news and analysis on the oilfield service sector through its OFS module. The gold banner report, published every 3 to 4 weeks, covers the active sector with news and analysis on drilling, completions, field operations and technology.
Your access to oilfield service sector
Single copy pricing; Incl hard copy & email version
Increase understanding of field services & infrastructure
Published every 3 weeks; 17+ issues per year
Covers drilling rigs, field services, completions, equipment, OFS performance, supply, costs
Includes properties, oilfield services,
rigs & equipment for sale
Incl discounts for other PLS products & events
Search PLS' News Archive for complete oil & gas news for OilfieldServices .
See what it is about before you buy. View a sample issue of OilfieldServices.
Need more information? Click the button to recieve more details about the OilfieldServices
Opportunity is a reflection of information.
Call 713-650-1212 For More Information
Search OilfieldServices:

Headline
Publication
News Date
OFS - Transocean sees uptick in ultra-deepwater floater demand - January 2020
Transocean has secured an additional $352.9 million of contract backlog from new contracts and extensions since the last fleet status report in mid-October, a sharp improvement from that report's $75 million over three months. The offshore drilling company pointed to the results as proof that the sector is turning around. "Customer demand for the highest specification ultradeepwater floaters now equals or exceeds the number of marketable rigs currently available in many areas," CEO...
Jan 14, 2020
OFS - SBM Offshore FPSO starts producing oil at Liza field - January 2020
SBM Offshore's Liza Destiny produced first oil on Dec. 20 and is formally on hire. The FPSO is moored 190 km off Guyana at Liza field on the Stabroek block. Liza Destiny was converted from the very large crude carrier Tina and is currently producing from eight wells. Phase 1 calls for a total of 17 development wells and four subsea drill centers tied into the FPSO, and it has a breakeven oil price of $35/bbl WTI. ExxonMobil operates Stabroek with 45% WI, and Hess Corp. and CNOOC hold...
Jan 14, 2020
OFS - Maersk acquires one contract, loses another and sells jackup - January 2020
Maersk Drilling received a three-well contract for a semisubmersible from BP. However, another client canceled a threewell jackup contract. BP awarded the threewell contract for the semisub Maersk Discoverer for development drilling at the Matapal project off Trinidad and Tobago. The contract should start in July and is expected to last for 322 days. The firm contract is valued at $78 million, including a mobilization fee. The contract contains an additional one-well option. The Maersk...
Jan 14, 2020
OFS - CGG exits Seabed Geosolutions JV, leaving Fugro sole owner - January 2020
Fugro and CGG have parted ways in their Seabed Geosolutions JV, with Fugro becoming the sole shareholder of the company. CGG will transfer its 40% interest in Seabed Geosolutions to Fugro by the end of 1Q20 and will also pay Fugro $35 million, which will be used to lower Fugro's outstanding debt and strengthen Seabed Geosolutions' balance sheet. Fugro said it still views Seabed as a non-core asset held for sale, and becoming the sole owner will help with the divestment process. The two...
Jan 14, 2020
OFS - WaterBridge raises $345MM, completes three acquisitions - January 2020
WaterBridge Holdings raised $345 million of equity capital in December and completed acquisitions of produced water infrastructure in the southern Delaware Basin from Primexx Energy Partners, Tall City Exploration III and Jetta Permian. Following the acquisitions, WaterBridge has over 600,000 acres under long-term dedication in the southern Delaware. From Primexx, WaterBridge picked up 70 miles of pipeline and six disposal wells with 150,000 bbl/d permitted capacity in Reeves County,...
Jan 14, 2020
OFS - NexTier expects strong 4Q19 in efficiencies & calm weather - January 2020
NexTier Oilfield Solutions said its 4Q19 revenue might exceed the high end of previous guidance. The company, formed by the merger of Keane Group and C&J Energy Services, also upsized and accelerated the synergies it expects to realize from the merger. The third-largest supplier of fracking services said in a Jan. 7 investor presentation that it now expects 4Q19 revenue of $640- 660 million, compared with November guidance of $600-650 million. NexTier attributed the strong performance...
Jan 14, 2020
OFS - CGG anticipates 2019 to be first profitable year since 2012 - January 2020
CGG announced it will be back in the black in 2019 for the first time since 2012 and expects a positive net cash flow for the year of about $185 million. The Paris-based geoscience company forecast its 4Q19 revenue at $393 million, which would be its best quarterly figure in four years. The company also expects revenue from two of its three segments to be higher sequentially in 4Q19, with Geoscience revenue up 11% to $105 million and Equipment sales up 25% to $121 million. Multi-client...
Jan 14, 2020
OFS - News Briefs - January 14, 2020
Aker Solutions won a contract from Aker BP for the subsea production system for Ærfugl Phase 2 development. The subsea system includes wellheads, vertical subsea trees, satellite structures, control systems, a tie-in module and 30 km of umbilicals. The contract is valued at NOK700 million ($79 million) and will be booked as Q4 order intake. Aker Solutions is beginning the work immediately, and delivery is scheduled for this year. Electromagnetic Geoservices posted vessel...
Jan 14, 2020
OFS - A&D Briefs - January 14, 2020
Honeywell acquired Houston-based Rebellion Photonics for an undisclosed amount. Founded in 2009, Rebellion says it offers the industry's only real-time monitoring platform that visually identifies and quantifies gas releases, Honeywell said. The monitoring system incorporates an artificial intelligence-driven software platform that alerts plant operators if a gas leak, fire or security issue is detected and provides detailed analytics. The acquisition will become part of Honeywell's Safety and...
Jan 14, 2020
OFS - Projects Briefs - January 14, 2020
Aqueos' saturation diving vessel DP2 DSV Kelly Ann Candies is moving to the Gulf of Mexico for an unspecified award. The vessel completed saturation diving and remotely operated vehicle campaigns for multiple clients off the Northeastern US, conducting inspections, maintenance and repairs on several LNG offloading facilities up to 350 ft deep. The vessel is in a multiyear partnership with Otto Candies marine transport, with its crew focused on the vessel while Aqueos mans all diving and ROV...
Jan 14, 2020
Get more news for OilfieldServices