OilfieldServices
Serving the oilfield service sector with news, analysis and business opportunities.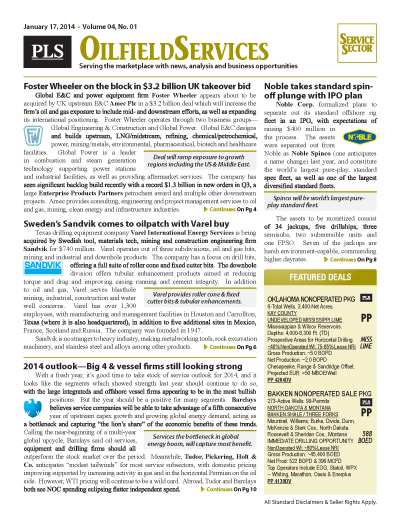 PLS publishes news and analysis on the oilfield service sector through its OFS module. The gold banner report, published every 3 to 4 weeks, covers the active sector with news and analysis on drilling, completions, field operations and technology.
Your access to oilfield service sector
Single copy pricing; Incl hard copy & email version
Increase understanding of field services & infrastructure
Published every 3 weeks; 17+ issues per year
Covers drilling rigs, field services, completions, equipment, OFS performance, supply, costs
Includes properties, oilfield services,
rigs & equipment for sale
Incl discounts for other PLS products & events
Search PLS' News Archive for complete oil & gas news for OilfieldServices .
See what it is about before you buy. View a sample issue of OilfieldServices.
Need more information? Click the button to recieve more details about the OilfieldServices
Opportunity is a reflection of information.
Call 713-650-1212 For More Information
Search OilfieldServices:

Headline
Publication
News Date
OFS - Wellboss Co. formed after completed merger of SBO units - October 2019
Downhole Technology and Resource Well Completion Technologies have finalized their merger and formed the WellBoss Company, which is wholly owned by SchoellerBleckmman Oilfield Equipment AG. The new company said it will be focused on providing operators with full well completion solutions while reducing inefficiencies in multi-stage fracturing equipment, such as rig idle time, wireline, coiled tubing and water usage. Downhole is known for its series of Boss Hog composite frac plugs...
Oct 09, 2019
OFS - Subsea 7 acquires 4Subsea to expand digital capability - October 2019
London-based Subsea 7 has acquired Norwegian energy services and technology firm 4Subsea through a 100% stock buyout. 4Subsea will be autonomous and maintain an independent brand and management team, including CEO Peter Jenkins. It will support Subsea 7 in delivering advanced digital solutions to customers and be a key contributor to the digital transformation of Subsea 7's business delivery. Subsea 7 EVP Stuart Fitzgerald said the acquisition is an important opportunity for his company...
Oct 08, 2019
OFS - Teekay Offshore to go private after Brookfield ups offer - October 2019
Teekay Offshore Partners and Brookfield Business Partners reached a $965.7 million agreement to go private with the investor consortium paying $1.55 in cash for each Teekay Offshore outstanding publicly held common unit. The cash consideration represents a premium of $0.34/unit to TOO's prior-day closing price and an increase of $0.50/unit from the original offer in May. Brookfield and its institutional partners will pay about $170 million for the 109.73 million units. Brookfield will...
Oct 08, 2019
OFS - NGL Energy makes another deal to boost Delaware water system - October 2019
NGL Energy Partners will add to its water disposal system in the Delaware basin by agreeing to acquire Hillstone Environmental Partners, LLC from Golden Gate Capital for about $600 million. The transaction comes three months after NGL closed its $892.5 million buy of Mesquite Disposals Unlimited and brings the system's disposal capacity to about 2.7 MMbbl/d. Hillstone has a fully interconnected produced water pipeline transportation and disposal system in southern Eddy and Lea counties,...
Oct 08, 2019
OFS - Schlumberger integrates Tibco tech to expand Delfi's power - October 2019
Schlumberger announced the integration of Tibco Software's Spotfire and Tibco Data Virtualization technologies into the oilfield services giant's Delfi cognitive E&P environment. The collaboration with the Palo Alto, California-based Tibco will augment Schlumberger domain science applications with new analytics capabilities, significantly expanding Delfi environment user access to intuitive data virtualization tools and analytical workflows, Schlumberger said. The Delfi environment...
Oct 08, 2019
OFS - Halliburton Landmark's app chosen by PTTEP for automation - October 2019
Thailand NOC PTTEP selected Halliburton business line Landmark's Digital Well Program application to automate drilling, completions and engineering processes across the well lifecycle. The agreement comes five months after an Indonesian state task force selected Landmark's DecisionSpace suite of software to improve E&P efficiency. Digital Well Program, an application within DecisionSpace 365, combines a digitalized planning and design process with engineering models on a single and open...
Oct 08, 2019
OFS - Rockwell & Schlumberger JV for automation made official - October 2019
Rockwell Automation and Schlumberger announced the closing of their JV, Sensia, touted as the oil and gas industry's first digitally enabled, integrated automation solutions provider. Headquartered in Houston, Sensia is projected to generate initial annual revenue of $400 million and employ about 1,000. The JV, initially announced in February, leverages Schlumberger's services knowledge and Rockwell's automation and information expertise to address this fast-growing market. Sensia will...
Oct 08, 2019
OFS - Propell & Stimline looking to automate wellsite equipment - October 2019
Propell and Stimline will collaborate to accelerate creation of next-generation wellsite equipment that is automated and fully integrated. Canada based Propell brings expertise and capacity in the design and manufacture of wellsite pumping and coiled tubing equipment, while Stimline, a technology company based in Kristiansand, Norway, brings manufacturing of automated wireline and coiled tubing equipment, control systems and digital infrastructure. The initial focus of the relationship...
Oct 08, 2019
OFS - Precision Drilling successfully intersects laterals at Eavor site - October 2019
Precision Drilling has successfully drilled world-first intersecting multi-lateral wellbores at Eavor's Eavor-Lite technology demonstration site on a Certus Oil and Gas lease east of Rocky Mountain House in Alberta. Two Precision rigs began drilling vertical wellbores spaced 2.5 km apart to a depth of about 2,400 meters. Once the vertical sections were cased and cemented in place, each rig drilled two lateral wellbore sections towards the opposing wellbore. Each 6-inch diameter lateral section...
Oct 08, 2019
OFS - Transocean deploys patented energy storage system on floater - October 2019
Transocean Ltd. announced it has successfully deployed the world's first hybrid energy storage system aboard a floating drilling unit. The system is now operational on the Transocean Spitsbergen, engaged in drilling at the Snorre field in Norway. The offshore driller said its patented hybrid power technology, developed in partnership with Aspin Kemp and Associates, reduces fuel consumption and increases a dynamically positioned rig's station-keeping reliability by capturing energy...
Oct 08, 2019
Get more news for OilfieldServices