OilfieldServices
Serving the oilfield service sector with news, analysis and business opportunities.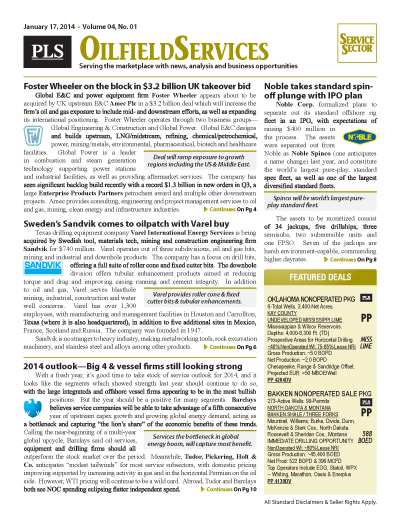 PLS publishes news and analysis on the oilfield service sector through its OFS module. The gold banner report, published every 3 to 4 weeks, covers the active sector with news and analysis on drilling, completions, field operations and technology.
Your access to oilfield service sector
Single copy pricing; Incl hard copy & email version
Increase understanding of field services & infrastructure
Published every 3 weeks; 17+ issues per year
Covers drilling rigs, field services, completions, equipment, OFS performance, supply, costs
Includes properties, oilfield services,
rigs & equipment for sale
Incl discounts for other PLS products & events
$ 695 /Yr
Search PLS' News Archive for complete oil & gas news for OilfieldServices .
See what it is about before you buy. View a sample issue of OilfieldServices.
Need more information? Click the button to recieve more details about the OilfieldServices
Opportunity is a reflection of information.
Call 713-650-1212 For More Information
Search OilfieldServices:

Headline
Publication
News Date
Nabors boosts Canrig subsidiary by acquiring Tesco
Nabors Industries, the world's largest land driller, will expand its rig equipment and drilling solutions businesses by acquiring Tesco Corp. for $216 million in stock. The Bermuda-based company will...
Sep 01, 2017
Russian official: US could block SLB's Eurasia bid
Schlumberger's attempt to buy 51% of Moscow-based Eurasia Drilling Company faces "big problems" in the current political environment, the head of Russia's competition watchdog said. However, the big...
Sep 01, 2017
Rowan-Aramco JV ready to begin operations
Rowan Companies expects its JV with Saudi Aramco to begin operations this quarter. The Houston company has dedicated five jackups to ARO Drilling, which connects Rowan to the world's largest user of...
Sep 01, 2017
Get more news for OilfieldServices