OilfieldServices
Serving the oilfield service sector with news, analysis and business opportunities.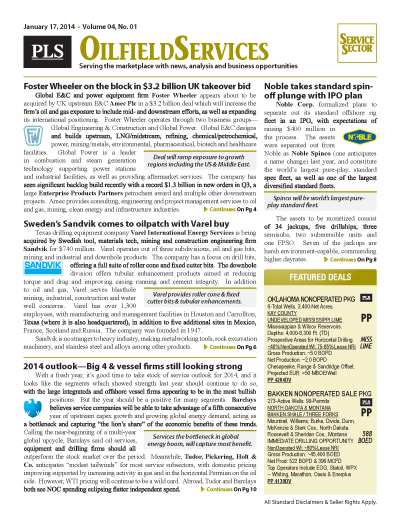 PLS publishes news and analysis on the oilfield service sector through its OFS module. The gold banner report, published every 3 to 4 weeks, covers the active sector with news and analysis on drilling, completions, field operations and technology.
Your access to oilfield service sector
Single copy pricing; Incl hard copy & email version
Increase understanding of field services & infrastructure
Published every 3 weeks; 17+ issues per year
Covers drilling rigs, field services, completions, equipment, OFS performance, supply, costs
Includes properties, oilfield services,
rigs & equipment for sale
Incl discounts for other PLS products & events
Search PLS' News Archive for complete oil & gas news for OilfieldServices .
See what it is about before you buy. View a sample issue of OilfieldServices.
Need more information? Click the button to recieve more details about the OilfieldServices
Opportunity is a reflection of information.
Call 713-650-1212 For More Information
Search OilfieldServices:

Headline
Publication
News Date
OFS - Bechtel lands $9.6B EPC contract for Rio Grande LNG - June 2019
Bechtel received up to a $9.565 billion engineering, procurement and construction contract from NextDecade for the first phase of the Rio Grande LNG project in the Port of Brownsville, Texas. The contract covers three liquefaction trains, two 180,000-cubicmeter LNG storage tanks and two marine berths. The fully wrapped lump-sum turnkey EPC contract includes cost, schedule and performance guarantees. Each liquefaction train is expected to have capacity up to 5.87 mtpa of LNG, which would...
Jun 04, 2019
OFS - Oversupply to prevent frac sand from rising with WTI - June 2019
The correlation of frac sand prices and WTI is "permanently reduced," according to a report from Moody's Investors Service, and sand prices will remain low for the foreseeable future. An oversupply of in-basin sand has led to turmoil in the industry, with companies idling mines, simplifying corporate structures and changing leadership. Hi-Crush Inc., Covia and U.S. Silica reported net losses in Q1. Emerge Energy Services, which has not reported earnings in two quarters as it negotiates with...
Jun 04, 2019
OFS - Singapore wealth fund GIC buys piece of WaterBridge - June 2019
GIC, Singapore's sovereign wealth fund, bought a minority stake in Delaware Basin wastewater services provider WaterBridge Resources from private equity firm Five Point Energy. The purchase price implies a WaterBridge enterprise value of $2.8 billion. Five Point did not release specifics, but a Wall Street Journal report said GIC acquired a 20% stake. An initial public offering WaterBridge had planned will be scrapped because of the GIC investment, the Journal reported. The valuation...
Jun 04, 2019
OFS - PPC CEO drops lawsuit after hearing 'message from God' - June 2019
A US district judge dismissed Performance Pulsation Control's trade-secret lawsuit against Sigma Drilling Technologies after PPC consented to the motion. The decision by Judge Amos Mazzant of the Eastern District of Texas was with prejudice, barring PPC from pursuing the same claim again. The court also notified the US Patent and Trademark Office that competing claims of ownership had been extinguished by the dismissal. PPC's lawsuit charged that Justin Manley, while still working as...
Jun 04, 2019
OFS - Bison buys fellow Oklahoma water solutions firm Cobalt - June 2019
Oklahoma City-based energy solutions provider Bison acquired Cobalt Environmental Solutions from Blue Sage Capital, a private equity firm based in Austin. Cobalt operates oilfield wastewater disposal and hydrocarbon extraction facilities in the SCOOP and Merge plays. Blue Sage created Cobalt as an oilfield waste platform and made its initial investment to finance an acquisition in April 2014. Over the next five years, Blue Sage assisted Cobalt with the subsequent development of...
Jun 04, 2019
OFS - RRIG Water Solutions to pay $450MM for West Texas ranch - June 2019
RRIG Water Solutions signed a letter of intent to buy a 67,500-acre ranch in Loving County, Texas, for $450 million. The transaction for the Hanging H Ranch is targeting an underground cache of fresh water needed for frackers. The ranch is highly valued not only for its location in the southern Delaware Basin but also for its proximity to Lea and Eddy counties, New Mexico. Texas law largely follows the "rule of capture," where landowners are free to pump water from under their property with...
Jun 04, 2019
OFS - TGS-NOPEC & Spectrum boards agree on final merger plan - June 2019
The boards of Norwegian seismic companies TGS-NOPEC Geophysical and Spectrum have unanimously approved a final merger agreement. Under the plan, TGS will issue 0.28 of its shares and pay $0.27 for each Spectrum share. Those terms are the same as when the $422 million deal was announced May 2. The merger plan will be submitted to the Norwegian Register of Business Enterprises. Completion of the merger is subject to approval by extraordinary general meetings of Asker-based TGS and Oslo-listed...
Jun 04, 2019
OFS - Brookfield offers $115MM for public's Teekay Offshore stake - June 2019
Brookfield Business Partners and its institutional partners are looking to take vessel operator Teekay Offshore Partners private. The consortium is offering $1.05 in cash for each of the 109.55 million publicly held limited partner common units, a total of $115 million for a 26.7% stake. The offer to acquire the units came three weeks after the Brookfield consortium acquired Teekay Corp.'s 49% general partner interest, common units, warrants and an outstanding $25 million loan for $100...
Jun 04, 2019
OFS - Helix buys majority stake in Scotland-based engineer - June 2019
Helix Energy Solutions Group acquired a majority stake in Subsea Technologies Group Limited, an Aberdeen, Scotland-based engineering company that specializes in the design and manufacture of subsea pressure control equipment, including well intervention, well control and subsea control systems. Terms of the acquisition were not disclosed. Buying STL gives Helix a "significant opportunity to offer in-house engineering services, product development and systems engineering," Helix COO...
Jun 04, 2019
OFS - Decommissioning trio to form Fairfield Decom - June 2019
A trio of North Sea decommissioning players will join forces to create Fairfield Decom. The company will combine expertise and assets from Decom Energy, Heerema Marine Contractors and AF Offshore Decom. The partners say the result will be a unique late-life operations and decommissioning operator. Decom Energy traces its origins to the E&P company Fairfield Energy. The business was reorganized in 2016 to focus on decommissioning wells in the UK Continental Shelf, a £1.5 billion-a...
Jun 04, 2019
Get more news for OilfieldServices