OilfieldServices
Serving the oilfield service sector with news, analysis and business opportunities.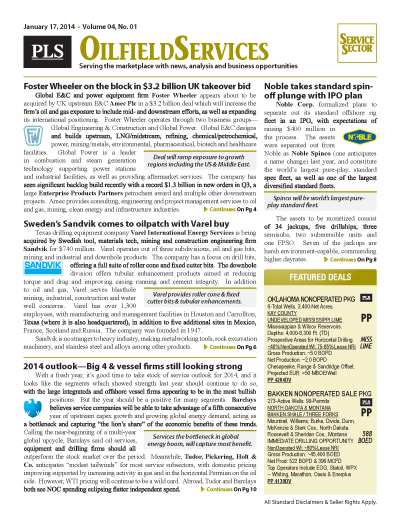 PLS publishes news and analysis on the oilfield service sector through its OFS module. The gold banner report, published every 3 to 4 weeks, covers the active sector with news and analysis on drilling, completions, field operations and technology.
Your access to oilfield service sector
Single copy pricing; Incl hard copy & email version
Increase understanding of field services & infrastructure
Published every 3 weeks; 17+ issues per year
Covers drilling rigs, field services, completions, equipment, OFS performance, supply, costs
Includes properties, oilfield services,
rigs & equipment for sale
Incl discounts for other PLS products & events
$ 695 /Yr
Search PLS' News Archive for complete oil & gas news for OilfieldServices .
See what it is about before you buy. View a sample issue of OilfieldServices.
Need more information? Click the button to recieve more details about the OilfieldServices
Opportunity is a reflection of information.
Call 713-650-1212 For More Information
Search OilfieldServices:

Headline
Publication
News Date
Aramco inks $4.5B in deals with global OFS firms
At the same time that deputy crown prince Mohammad Bin Salman Al Saud was orchestrating a purge of perceived dissident-elements, Saudi Aramco inked ~US$4.5 billion in deals with global oil services...
Nov 13, 2017
People & Companies - November 13, 2017
Essential Energy Services did not infringe on a patent of Packers Plus Energy Services, the Federal Court of Canada ruled. Packers Plus alleged in 2013 that certain methods associated with the Tryton...
Nov 13, 2017
Nabors-Tesco merger gets OK from US & Canada
Nabors Industries' acquisition of Tesco Corp. has received antitrust clearance from the US Department of Justice and the Canada Competition Bureau. The companies are also seeking approval from...
Nov 13, 2017
Newpark acquires mat services provider for $75MM
Newpark Resources agreed to buy Well Service Group for $75 million. The transaction adds a containment logistics and installation partner for Newpark's mats segment, which posted record revenue in...
Nov 13, 2017
Get more news for OilfieldServices