OilfieldServices
Serving the oilfield service sector with news, analysis and business opportunities.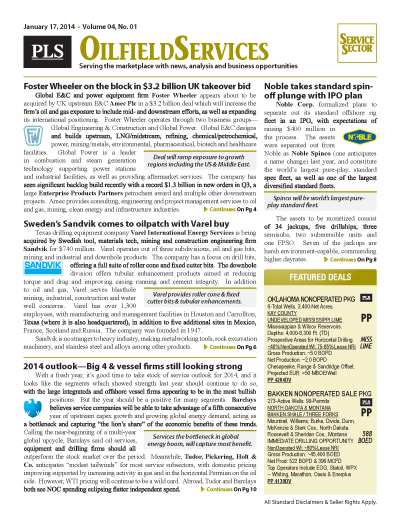 PLS publishes news and analysis on the oilfield service sector through its OFS module. The gold banner report, published every 3 to 4 weeks, covers the active sector with news and analysis on drilling, completions, field operations and technology.
Your access to oilfield service sector
Single copy pricing; Incl hard copy & email version
Increase understanding of field services & infrastructure
Published every 3 weeks; 17+ issues per year
Covers drilling rigs, field services, completions, equipment, OFS performance, supply, costs
Includes properties, oilfield services,
rigs & equipment for sale
Incl discounts for other PLS products & events
Search PLS' News Archive for complete oil & gas news for OilfieldServices .
See what it is about before you buy. View a sample issue of OilfieldServices.
Need more information? Click the button to recieve more details about the OilfieldServices
Opportunity is a reflection of information.
Call 713-650-1212 For More Information
Search OilfieldServices:

Headline
Publication
News Date
Vertex includes Three Star in its shopping spree
Vertex Resource Group completed its third acquisition in less than two months, closing Three Star Trucking for C$12.8 million (US$9.7 million). Three Star is an environmental service company...
Jul 31, 2018
Weatherford sells part of its land rigs for $288MM
Weatherford International agreed to sell its land drilling rig operations in Algeria, Kuwait and Saudi Arabia as well as two idle land rigs in IRAQ to Egypt-based ADES International Holding Ltd. for...
Jul 31, 2018
Saipem hired for $800MM in work over 5 countries
Milan-based Saipem received a batch of onshore E&C contracts worth a total of roughly $800 million. The contracts deal with work in Saudi Arabia, Serbia, Mexico, IRAQ and Nigeria.Saudi Aramco...
Jul 31, 2018
Get more news for OilfieldServices