OilfieldServices
Serving the oilfield service sector with news, analysis and business opportunities.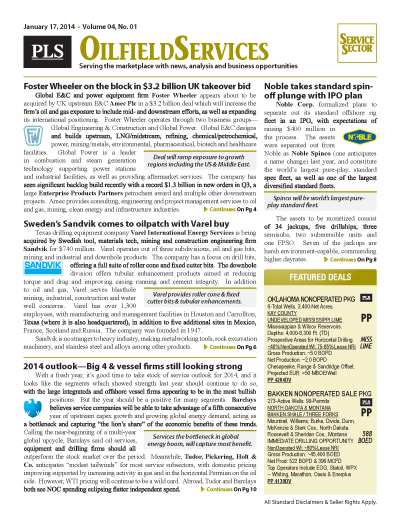 PLS publishes news and analysis on the oilfield service sector through its OFS module. The gold banner report, published every 3 to 4 weeks, covers the active sector with news and analysis on drilling, completions, field operations and technology.
Your access to oilfield service sector
Single copy pricing; Incl hard copy & email version
Increase understanding of field services & infrastructure
Published every 3 weeks; 17+ issues per year
Covers drilling rigs, field services, completions, equipment, OFS performance, supply, costs
Includes properties, oilfield services,
rigs & equipment for sale
Incl discounts for other PLS products & events
Search PLS' News Archive for complete oil & gas news for OilfieldServices .
See what it is about before you buy. View a sample issue of OilfieldServices.
Need more information? Click the button to recieve more details about the OilfieldServices
Opportunity is a reflection of information.
Call 713-650-1212 For More Information
Search OilfieldServices:

Headline
Publication
News Date
OFS - Halliburton cuts workforce as it turns to 'new playbook' - August 2019
Halliburton cut 8% of its North American workforce and stacked equipment as it adjusted to the slowdown in the US and Canada. The $58 million in severance costs and $108 million in asset impairments contributed to Halliburton reporting net income of $75 million, its lowest since 1Q18. When an analyst on the Q2 earnings call noted that Halliburton historically has used slowdowns to boost market share instead of cutting back, CEO Jeff Miller said Halliburton is working out of a "new playbook"...
Aug 06, 2019
OFS - Borr Drilling goes public in sector's first IPO since 1Q18 - August 2019
Borr Drilling debuted on the NYSE on Aug. 2, marking the first initial public offering in oilfield services in nearly 18 months. The offering netted just under $50 million, making it the smallest energy IPO in four years according to Drillinginfo's Capitalize platform, and suggesting limited appeal among investors for an offshore driller. Oilfield services had a short run when it was the leader in the IPO market with six companies in the first month and a half of 2018. But...
Aug 06, 2019
OFS - McDermott cuts 2019 forecast after posting loss in Q2 - August 2019
Freeport LNGMcDermott International slashed its 2019 guidance, cutting full-year revenue to $9.5 billion from $10 billion, reducing its operating income estimate by two-thirds and projecting a net loss of $310 million instead of net income of $170 million. The results caused MDR shares on the NYSE to drop 35% in one day. The company made the revision partially due to its disappointing Q2, which included a $61 million operating loss despite revenue increasing $402 million sequentially to $2.14...
Aug 06, 2019
OFS - Diamond service to keep an eye on blowout preventer - August 2019
Diamond Offshore Drilling launched of its Stack-View service, which it called a firstof-its-kind solution that applies 24/7 real-time monitoring, data visualization and advanced analytics to identify trends and detect anomalies in blowout preventer performance across its rig fleet. Stack-View delivers indicators that can lead to predictive maintenance and subsea downtime prevention, increasing drilling productivity and lowering the total cost of the well. The real-time data gathered and...
Aug 06, 2019
OFS - Ranger takes Q2 decline as it shifts to blue-chip clients - August 2019
Ranger Energy Services results took a dip in Q2 from Q1 after the company decided to idle some wireline equipment in anticipation of securing blue-chip customers in the Permian. Nearly all of Ranger's other individual business lines showed revenue increases. The transfer of two wireline trucks and two pump-down spreads reduced Ranger's average count of active wireline units to 11 from 13. The assets were redeployed by mid-June and all 13 wireline units and pumpdown spreads are back...
Aug 06, 2019
OFS - Caterpillar feels a drag from Permian Basin difficulties - August 2019
Caterpillar blamed a slowdown in Permian oil and gas activity for a $238 million or 4.2% YOY decline in its quarterly Energy & Transportation revenue. With $5.49 billion in Q2 sales, Energy & Transportation was the only Caterpillar segment to post a YOY decline. The equipment manufacturer predicted a turnaround after the shortage in Permian crude takeaway capacity is resolved in Q4 by the three major crude pipelines scheduled to go into service in H2. The segment's...
Aug 06, 2019
OFS - NOV posts $5.4B net loss but revenue gain softens the pain - August 2019
National Oilwell Varco reported a $5.39 billion net loss for Q2, increased expenses from early retirement offers and a second straight quarter of negative cash flow. However, the earnings report also showed a 10% sequential increase in revenue with both the Wellbore Technologies and Rig Technologies segments showing YOY gains as well. The massive net loss was primarily the result of $5.37 billion goodwill impairment. The non-cash charge is meant to better reflect the rising cost of...
Aug 06, 2019
OFS - RPC says Q2's pick-up in activity could be short-lived - August 2019
Improved customer activity allowed RPC earnings to rebound modestly in Q2 from Q1, but revenue and net income were down sharply YOY. The company attributed the YOY difference to lower pricing, lower activity levels and an unfavorable materials mix within Cudd Pressure Pumping, RPC's largest service line. CEO Rick Hubbell said there were "indications that drilling and completion activities may decline" during H2. RPC will receive two new frac fleets during Q3, but CFO Ben Palmer expects RPC's...
Aug 06, 2019
OFS - H&P expects its rig count to continue to slide in Q3 - August 2019
Helmerich & Payne saw its rig count fall 5% over Q2 and it expects another 5% decline over Q3 as the US onshore market continues to sink. Executives with the nation's leading land driller said E&P firms are showing capital discipline, and with most of its customers having already spent over 50% of their budgets, the slowdown is expected to get worse before 2020. H&P exited Q2 with 214 active rigs, just below its previous guidance. "Our expectation of the company's rig count reaching...
Aug 06, 2019
OFS - U.S. Silica expects to weather rocky H2 in frac sand - August 2019
U.S. Silica Holdings returned to the black as improved Northern White frac sand pricing and its Sandbox last-mile logistics service delivered record loads. The company is also preparing for a rough H2 it said could cause Permian competitors to close mines, although it has yet to see the expected slowdown in Q3. The Oil & Gas segment contribution margin of $71.5 million showed the impact of two trends felt throughout the frac sand industry. The Q2 margin was down 38% YOY, reflecting...
Aug 06, 2019
Get more news for OilfieldServices