InternationalCapital
Serving the global finance market with news, analysis and business opportunities.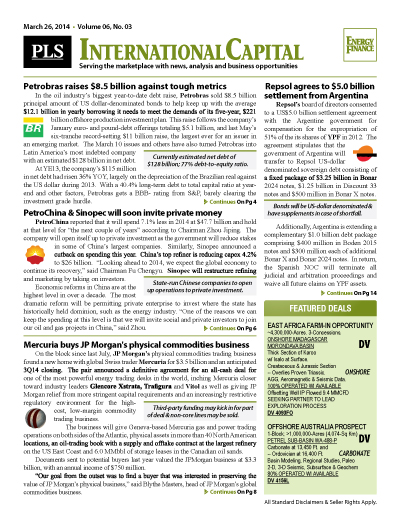 PLS publishes news and analysis in the energy finance sector through its InternationalCapital module. The green banner report includes news and analysis on company budgets, capital spending, financial performance and interviews with leading capital providers
Your access to energy finance
Single copy pricing; Incl hard copy & email version
Increase market insight & deal flow
Every 3 weeks
Covers financings, capex, earnings, new companies
Includes market analysis and new trends
Access to InternationalCapital archives
Phone request for multiple listings for sale
Includes discounts for other PLS products & events
Search PLS' News Archive for complete oil & gas news for InternationalCapital .
See what it is about before you buy. View a sample issue of InternationalCapital.
Need more information? Click the button to recieve more details about the InternationalCapital
Opportunity is a reflection of information.
Call 713-650-1212 For More Information
Search InternationalCapital:

Headline
Publication
News Date
ShaMaran to refinance $192 million in debt
ShaMaran Petroleum Corp. plans to issue US$240 million in bonds to refinance old debt and to expand its assets in Iraqi Kurdistan. The five-year bonds will be used to repay $192 million in existing...
Jun 15, 2018
Eni would not be impacted by Iran sanctions
Italy's ENI said it has no material exposure to Iran and will not be affected by sanctions announced by the U.S. administration. According to Reuters, the major has recouped all outstanding payments...
Jun 15, 2018
Vivo Energy plans to float $400MM in notes in June
Vivo Energy said it would issue $400 million in senior unsecured notes this month and use proceeds to pay down debt and expenses it recently incurred to list on both the London and Johannesburg stock...
Jun 15, 2018
People Briefs - June 15, 2018
Exxon Mobil Corp. named downstream controller Neil Hansen as new VP of investor relations and secretary effective July 1, succeeding Jeffrey Woodbury, who retired. Michael Dolan, SVP, intends to...
Jun 15, 2018
Get more news for InternationalCapital