InternationalCapital
Serving the global finance market with news, analysis and business opportunities.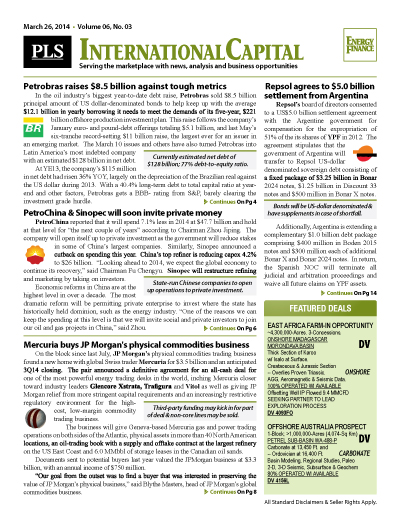 PLS publishes news and analysis in the energy finance sector through its InternationalCapital module. The green banner report includes news and analysis on company budgets, capital spending, financial performance and interviews with leading capital providers
Your access to energy finance
Single copy pricing; Incl hard copy & email version
Increase market insight & deal flow
Every 3 weeks
Covers financings, capex, earnings, new companies
Includes market analysis and new trends
Access to InternationalCapital archives
Phone request for multiple listings for sale
Includes discounts for other PLS products & events
Search PLS' News Archive for complete oil & gas news for InternationalCapital .
See what it is about before you buy. View a sample issue of InternationalCapital.
Need more information? Click the button to recieve more details about the InternationalCapital
Opportunity is a reflection of information.
Call 713-650-1212 For More Information
Search InternationalCapital:

Headline
Publication
News Date
Lundin Petroleum plans Q2 forex loss of $153MM
Lundin Petroleum warned that it plans to recognize a net foreign exchange loss of about $153 million and to realize a gross profit for marketing third party oil contracts of $500,000 in Q2,...
Jul 26, 2018
Managing & growing cash ahead of Q2 earnings
Saudi Arabia may well achieve its goal of funding its sovereign wealth fund, Public Investment Fund, to help meet the financial demands of the country's widespread Vision 2030 plan without the...
Jul 26, 2018
Diversified triples borrowing base to $600MM
AIM-listed Diversified Gas & Oil PLC announced that its five-year senior secured credit facility was enlarged to $1.0 billion with a $600 borrowing base that is triple its prior facility's...
Jul 26, 2018
South Africa to get $10B power boost from Saudis
Saudi Arabia plans to invest $10 billion in South Africa to build refineries, produce chemicals and fund renewable energy projects, a South African government spokesperson told CNBC. The country...
Jul 26, 2018
People Briefs - July 26, 2018
Evy Glørstad-Clark was named SVP Exploration of Aker BP effective August 1. She currently works as Asset Development Manager for the group's NOAKA unit. Aminex PLC Chairman Brian...
Jul 26, 2018
Get more news for InternationalCapital