InternationalCapital
Serving the global finance market with news, analysis and business opportunities.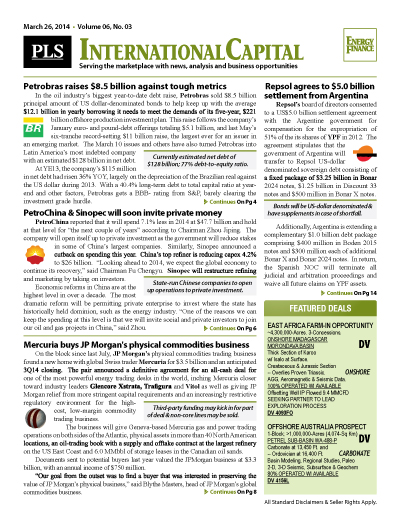 PLS publishes news and analysis in the energy finance sector through its InternationalCapital module. The green banner report includes news and analysis on company budgets, capital spending, financial performance and interviews with leading capital providers
Your access to energy finance
Single copy pricing; Incl hard copy & email version
Increase market insight & deal flow
Every 3 weeks
Covers financings, capex, earnings, new companies
Includes market analysis and new trends
Access to InternationalCapital archives
Phone request for multiple listings for sale
Includes discounts for other PLS products & events
$ 745 /Yr
Search PLS' News Archive for complete oil & gas news for InternationalCapital .
See what it is about before you buy. View a sample issue of InternationalCapital.
Need more information? Click the button to recieve more details about the InternationalCapital
Opportunity is a reflection of information.
Call 713-650-1212 For More Information
Search InternationalCapital:

Headline
Publication
News Date
People & Companies - November 16, 2017
Chevron named Oaktree Capital Management vice chairman John B. Frank to its board as a member of the audit committee. Frank was a partner with the law firm of Munger, Tolles & Olson, LLP. Prior...
Nov 16, 2017
Chevron will spend $500MM more in Argentina
Chevron will invest an additional $500 million by a third rig to the Loma Campana shale field in Argentina and boost activity there to push production past 40,000 boe/d. The decision came after...
Nov 16, 2017
German E&P Rohstoff floats $9.3MM more 2021 notes
Deutsch Rohstoff, an E&P that trades on the B?urse Frankfurt, sold €8.0 million ($9.3 million) principal amount in 5.625% unsubordinated unsecured bonds due 2021. The addon sale will be consolidated...
Nov 16, 2017
Pertamina nets $1.99B YTD on over $31B in revenue
Indonesian NOC Pertamina booked a net profit of US$1.99 billion over the first nine months of 2017 as revenue rose 18% to $31.38 billion YOY. The company produced 11% more oil at 342,000 bo/d and 4%...
Nov 16, 2017
Get more news for InternationalCapital