InternationalCapital
Serving the global finance market with news, analysis and business opportunities.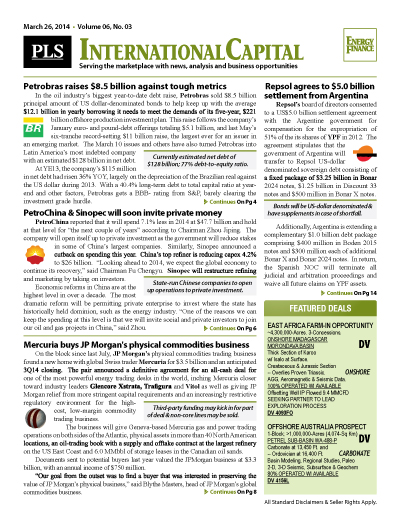 PLS publishes news and analysis in the energy finance sector through its InternationalCapital module. The green banner report includes news and analysis on company budgets, capital spending, financial performance and interviews with leading capital providers
Your access to energy finance
Single copy pricing; Incl hard copy & email version
Increase market insight & deal flow
Every 3 weeks
Covers financings, capex, earnings, new companies
Includes market analysis and new trends
Access to InternationalCapital archives
Phone request for multiple listings for sale
Includes discounts for other PLS products & events
Search PLS' News Archive for complete oil & gas news for InternationalCapital .
See what it is about before you buy. View a sample issue of InternationalCapital.
Need more information? Click the button to recieve more details about the InternationalCapital
Opportunity is a reflection of information.
Call 713-650-1212 For More Information
Search InternationalCapital:

Headline
Publication
News Date
Sonangol chooses Glencore & Total for fuel supply
Sonangol awarded its rare refined products buy tender to Glencore and Total, and cut out long-time supplier Trafigura as part of an attempt to broaden its supply base, it said. Over the next 12...
Apr 16, 2018
Totaltec raises funds to support Exxon on Liza
South Africa's TOTALTEC Oilfield Services Ltd. announced April 3 the completion of a second round of equity financing from a "large institutional investor" in February. No sum was disclosed but...
Apr 16, 2018
Brookside raises over $3MM to build SCOOP presence
Brookside Energy Ltd. placed 197.5 million common shares at A$0.016 each to gross $3.16 million on April 6 in a deal it called "heavily oversubscribed." Buyers included existing and new institutional...
Apr 16, 2018
Esrey raises $4MM through private placement
Esrey Resources plans to raise up to C$4.0 million ($3.13 million) through the private placement of 20 million units at $0.20 each. On April 2, the company issued 12.73 million units for...
Apr 16, 2018
UIL raises over $850,000 in equity sale
UIL Energy Ltd. announced completion of an offering of more than 28.5 million shares at A$0.04 each. The company net about $856,000 after underwriters Bizzell Capital Partners and Morgans Corporate...
Apr 16, 2018
Avant increases capex 150% for SUPERA
Mexico's Avant Energy S de RL de CV said it will increase its investment to $500 million from $200 million in SUPERA—the Altamira-Bajio Petroleum Supply System. About $260 million will be allocated...
Apr 16, 2018
Pemex & US ally with invest $617MM
Petroleos Mexicanos (Pemex) and Lewis Energy Mexico will spend $617 million on the Mexican side of the Eagle Ford through an integrated exploration and extraction contract to develop the Olmos field...
Apr 16, 2018
Dwellop AS to be spun off, listed
Oslo-listed Hunter Group will spin off well intervention product maker Dwellop AS into a listed company on the Merkur or another market. Dwellop shares will be distributed to Hunter shareholders, and...
Apr 16, 2018
Angola new regime investigates Dos Santos family
Angola's finance ministry has accused Jose Filomeno dos Santos, the son of former president Jose Eduardo dos Santos, of making plans to steal $1.5 billion of the country's $5.0 billion sovereign...
Apr 16, 2018
Get more news for InternationalCapital