InternationalCapital
Serving the global finance market with news, analysis and business opportunities.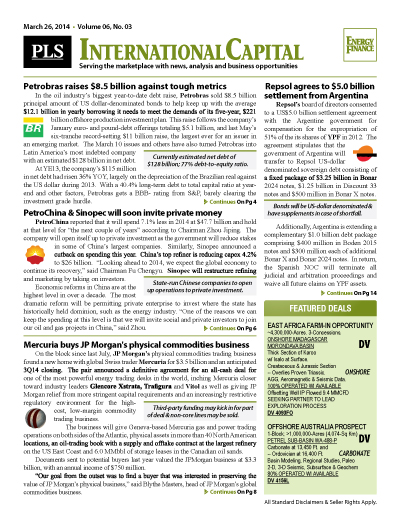 PLS publishes news and analysis in the energy finance sector through its InternationalCapital module. The green banner report includes news and analysis on company budgets, capital spending, financial performance and interviews with leading capital providers
Your access to energy finance
Single copy pricing; Incl hard copy & email version
Increase market insight & deal flow
Every 3 weeks
Covers financings, capex, earnings, new companies
Includes market analysis and new trends
Access to InternationalCapital archives
Phone request for multiple listings for sale
Includes discounts for other PLS products & events
$ 745 /Yr
Search PLS' News Archive for complete oil & gas news for InternationalCapital .
See what it is about before you buy. View a sample issue of InternationalCapital.
Need more information? Click the button to recieve more details about the InternationalCapital
Opportunity is a reflection of information.
Call 713-650-1212 For More Information
Search InternationalCapital:

Headline
Publication
News Date
Analysts Takes - August 10, 2017
Centrica/Bayerngas upstream merger: creates a European-focused independent E&P as utilities continue to move away from upstream. This creates another sizeable European focused upstream company,...
Aug 10, 2017
Jadestone raises $28MM through private placement
Jadestone Energy has raised $28.0 million in proceeds through a private placement of convertible bonds and has drawn down $15 million of the proceeds to fund capital expenditures and related...
Aug 10, 2017
Petronas cancels Pacific Northwest LNG project
As we covered in our Canadian reports Malaysia's Petronas opted not to proceed with the $27 billion Pacific North West LNG project in British Columbia, Canada which was six years in the making...
Aug 10, 2017
Get more news for InternationalCapital