InternationalDeals
Serving the global asset marketplace with deals, analysis and business opportunities.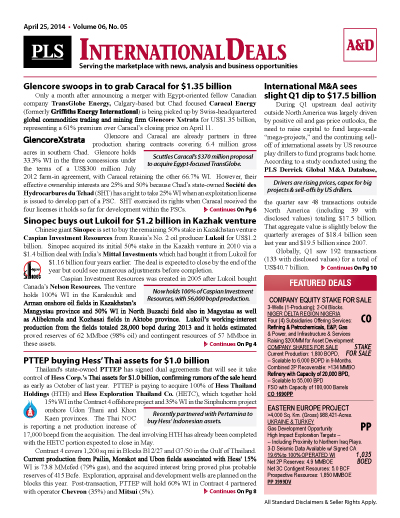 PLS publishes specialized international research and analysis under the InternationalDeals masthead. InternationalDeals includes market analysis and aggregated news on global m&a activities, acquisitions, divestitures, international exploration, new discoveries, lease concessions, farmouts, capital markets, midstream and downstream news.
PLS' most popular International report
Single copy pricing; Incl hard copy & email version
Guaranteed to increase deal flow and market insight
Every 3 weeks
Latest in asset acquisitions, corporate M&A activity, deals in play & industry buying trends
Access to InternationalDeals archives
Phone request to multiple listings
$ 945 /Yr
Search PLS' News Archive for complete oil & gas news for InternationalDeals .
See what it is about before you buy. View a sample issue of InternationalDeals.
Need more information? Click the button to recieve more details about the InternationalDeals
Opportunity is a reflection of information.
Call 713-650-1212 For More Information
Search InternationalDeals:

Headline
Publication
News Date
FAR farm-in with Erin in Gambia offshore approved
The Gambian government approved Houston-based Erin Energy's farm-out agreement with Australia's FAR, by which FAR acquires Erin's operated 80% WI in two offshore blocks in The Gambia. FAR will pay...
Aug 01, 2017
M&A poised for another year-end comeback?
The global upstream M&A scene is seeing an uptick as Q3 begins, with ~US$1.8 billion in deals in July versus $138.1 million in June. The increase comes after deal values fell 68% sequentially to $5.8...
Aug 01, 2017
People & Companies - August 01, 2017
Africa Energy Corp. appointed Garrett Soden president and CEO. Soden previously served as CFO of Etrion Corp., CFO of PetroFalcon, and CEO of RusForest. He also held positions in equity research and...
Aug 01, 2017
Get more news for InternationalDeals