InternationalDeals
Serving the global asset marketplace with deals, analysis and business opportunities.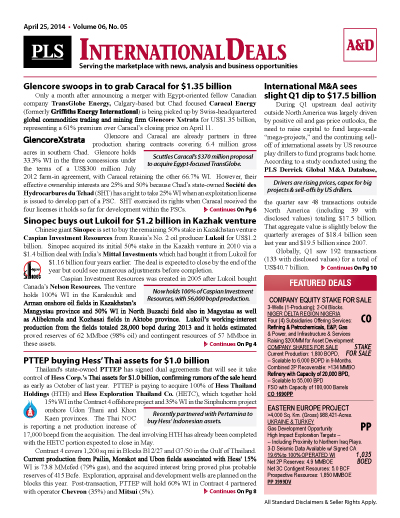 PLS publishes specialized international research and analysis under the InternationalDeals masthead. InternationalDeals includes market analysis and aggregated news on global m&a activities, acquisitions, divestitures, international exploration, new discoveries, lease concessions, farmouts, capital markets, midstream and downstream news.
PLS' most popular International report
Single copy pricing; Incl hard copy & email version
Guaranteed to increase deal flow and market insight
Every 3 weeks
Latest in asset acquisitions, corporate M&A activity, deals in play & industry buying trends
Access to InternationalDeals archives
Phone request to multiple listings
Search PLS' News Archive for complete oil & gas news for InternationalDeals .
See what it is about before you buy. View a sample issue of InternationalDeals.
Need more information? Click the button to recieve more details about the InternationalDeals
Opportunity is a reflection of information.
Call 713-650-1212 For More Information
Search InternationalDeals:

Headline
Publication
News Date
North Sea poised for strong finish to 2018
As of Sept. 30, year-to-date international upstream M&A totaled US$31.7 billion across 189 deals, down from $42.8 billion and 218 deals during the same period in 2017. The Middle East took the lead...
Oct 24, 2018
Perenco closes $200MM buy of Petrofac's Mexico ops
European E&P firm Perenco made its entry into Mexico, closing the acquisition of 49% of oil services provider Petrofac's operations in the country for US$200 million. Contingent payments will depend...
Oct 24, 2018
Talos & Pan American align stakes offshore Mexico
Talos Energy and Pan American Energy struck a deal to cross-assign their interests in two blocks in the Sureste Basin offshore Mexico. Gulf of Mexico producer Talos will assign 25% WI in Block 2 to...
Oct 24, 2018
International M&A falls 46% to $6.4 billion in Q3
International upstream M&A has not sustained the momentum of early 2018, with Q3 activity totaling US$6.39 billion across 60 total deals reported (including deals without disclosed values). These...
Oct 24, 2018
Get more news for InternationalDeals