South Texas Scout
Serving the local market with drilling activities, permits & multiple listings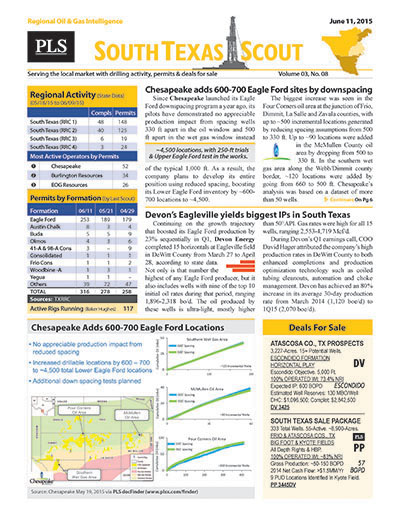 PLS publishes drilling activity in Railroad Districts 1,2,4 and select counties north of 3 through the South Texas Scout. Published every three (3) weeks, this local report covers lead stories on drilling activity, successes and new projects while also reporting on new permits, completions and P&A activity.
Stay in front of local prospects, plays & rigs!
South Texas RRC 1, 2, 4 and north of 3
Hard Copy and Email For 1 Individual
Every 3 Weeks (16-20 issues per year)
Regional discoveries, drilling activity, permits,
completions and summary drilling statistics, layered
with regional listings and business opportunities
Web access to the South Texas Scout archive
Does not include access to MLS
Search PLS' News Archive for complete oil & gas news for South Texas Scout .
See what it is about before you buy. View a sample issue of South Texas Scout.
Need more information? Click the button to recieve more details about the South Texas Scout
Opportunity is a reflection of information.
Call 713-650-1212 For More Information
Search South Texas Scout:

Headline
Publication
News Date
STS - Magnolia flows two of its best Giddings wells to date - June 18, 2020
During Q1, Magnolia Oil & Gas turned four new wells to sales in its Giddings area in southeast Texas with initial 60-day oil rates averaging 800 bo/d apiece, representing 75% of their overall output during that time frame. These included a two-well pad to replicate early-stage development, which generated 90-day oil rates of 1,000 bo/d per well and were called "two of our best wells drilled to date" by CEO Steve Chazen in a press release. D&C costs in the area are down by 20% compared to...
Jun 18, 2020
STS - Conoco's H1 Eagle Ford completions show consistency - June 18, 2020
Since the beginning of the year, ConocoPhillips has reported more than 50 completions in the Eagle Ford to Texas regulators. The wells were spread across DeWitt, Karnes, Live Oak and McMullen counties. The top-performing well by IP24 was completed in DeWitt County in January. The Korth Unit B#2 was completed with an 8,361-ft effective lateral fracked with 23.8 MMlb of proppant (2,845 lb/ft). During a 24-hour test, the well flowed 2,060 boe/d (88% oil), or 246 boe/d per 1,000 lateral ft,...
Jun 18, 2020
STS - Regional Highlights - June 18, 2020
The EIA projects that Eagle Ford production will fall by 28,000 bo/d and 96 MMcf/d sequentially in July to 1.173 MMbo/d and 6.333 Bcf/d.There were 1,349 DUCs in the Eagle Ford as of May, down by 13 from...
Jun 18, 2020
STS - Gavilan Resources Highlights - June 18, 2020
Gavilan Resources is marketing its South Texas portfolio through a Section 363 process after filing for bankruptcy protection May 15. The company owns about 77,000 net leasehold acres in a JV with operator Sanchez Energy in the Comanche area of the western Eagle Ford. The acreage lies mainly in Dimmit County, adjacent to Sanchez's Catarina...
Jun 18, 2020
STS - Freedom Oil & Gas Highlights - June 18, 2020
Eagle Ford producer Freedom Oil & Gas joined the ranks of E&P firms selling assets via Section 363 processes after filing for Chapter 11 bankruptcy. It plans to sell its assets to stalking-horse bidder Sendero Resources, an Australian environmental services company, for $4.27 million. Freedom holds 2,682 net acres in Dimmit County, Texas, including 120 acres of fee surface ownership. Net production in Q4 was 2,112 boe/d (60% oil, 22% NGLs) from 18 wells near Asherton. The company also holds...
Jun 18, 2020
STS - Titan Energy Highlights - June 18, 2020
Titan Energy entered a restructuring support agreement May 26 with key stakeholders for the sale of its Eagle Ford assets to an undisclosed buyer. The divestment, which would comprise substantially all of Titan's assets, is expected to generate $8.5 million in net proceeds. The assets cover 10,162 net acres in the heart of the black oil window south of the Atascosa Trough in Atascosa County, Texas. Net production as of September 2019 was 1,800 boe/d (92%...
Jun 18, 2020
STS - Inpex fracs its best Eagle Ford well yet before scaling back plans - May 28, 2020
Japan's largest E&P company, Inpex, entered the US shale sector in April 2019, when it bought 13,000 net acres in Karnes County, Texas, from GulfTex Energy. Since the closing of that transaction, Inpex has completed 31 wells, all of which were drilled on multi-well pads. Prior to 2020, the company's initial 24-hour rates ranged 105- 255 boe/d per 1,000 lateral ft, but in early 2020, a marked improvement in IP24 was achieved. In January, Inpex completed eight wells on the Wiatrek Unit in...
May 28, 2020
STS - Tidal kicks off 2020 with excellent wells, ready to weather downturn - May 28, 2020
In Karnes County, Texas, Tidal Petroleum completed the Arch #1H targeting the Eagle Ford. The well produced an initial 24-hour rate of 2,024 boe/d (90% oil) from a 2,288-ft effective lateral, or 885 boe/d per 1,000 lateral ft, on a 22/64-inch choke at 1,925 psi FTP. This is a top-tier IP24 for the company and strong per-1,000-ft rate for the play as a whole. The Arch #1H was the second well Tidal completed this year. The first, the Arch #2H, flowed an IP24 of 1,768 boe/d from a 2,433-ft...
May 28, 2020
STS - EOG Resources Highlights - May 28, 2020
EOG Resources' Eagle Ford activity is expected to average three rigs and three frac crews in 2020, skewed toward Q1. Of the 200 net wells planned for the play, 82 net were brought online in Q1. Prior plans were for seven rigs, five frac crews and 300 net completions. Compared with 2019, EOG is targeting a 7% drop in well costs to $5.3 million for 8,000-ft...
May 28, 2020
STS - Denbury Resources Highlights - May 28, 2020
Denbury Resources produced 3,419 boe/d from Texas during Q1, up 4% YOY. In March, the company closed the sale of half of its nearly 100% WI in four conventional southeast Texas oil fields for $40 million of net cash and a carried interest in 10 wells to be drilled by the...
May 28, 2020
Get more news for South Texas Scout