South Texas Scout
Serving the local market with drilling activities, permits & multiple listings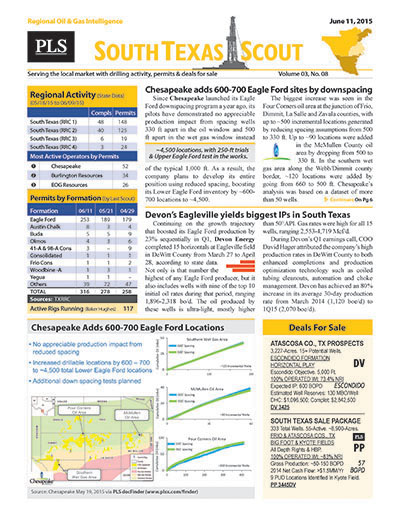 PLS publishes drilling activity in Railroad Districts 1,2,4 and select counties north of 3 through the South Texas Scout. Published every three (3) weeks, this local report covers lead stories on drilling activity, successes and new projects while also reporting on new permits, completions and P&A activity.
Stay in front of local prospects, plays & rigs!
South Texas RRC 1, 2, 4 and north of 3
Hard Copy and Email For 1 Individual
Every 3 Weeks (16-20 issues per year)
Regional discoveries, drilling activity, permits,
completions and summary drilling statistics, layered
with regional listings and business opportunities
Web access to the South Texas Scout archive
Does not include access to MLS
Search PLS' News Archive for complete oil & gas news for South Texas Scout .
See what it is about before you buy. View a sample issue of South Texas Scout.
Need more information? Click the button to recieve more details about the South Texas Scout
Opportunity is a reflection of information.
Call 713-650-1212 For More Information
Search South Texas Scout:

Headline
Publication
News Date
STS - Eagle Ford activity falls, but well productivity on the rise - October 17, 2019
Eagle Ford production is forecast to fall 11,540 bo/d and 38.1 MMcf/d sequentially in October to totals of 1.38 MMbo/d and 6.85 Bcf/d, according to the EIA Drilling Productivity Report. If correct, oil and gas volumes from the play will have fallen six out of 10 months in 2019. Oil volumes will be down 34,606 bo/d compared to December 2018, and gas volumes will have fallen 93.2 MMcf/d in the same period. Considering the 2018 and 2019 trend of shifting capex toward the Permian, volumes...
Oct 17, 2019
STS - Dallas Fed survey shows oil & gas activity declines in Q3 - October 17, 2019
Oil and gas sector activity in the 11th Federal Reserve District, which covers Texas, northern Louisiana and southern New Mexico, declined in Q3, according to a survey of 108 E&P companies and 55 service providers by the Dallas Fed. The business activity index fell to -7.4 in Q3 from -0.6 in Q2. Negative survey readings indicate contraction; those above zero suggest expansion. Oilfield services firms drove the decline, with their business activity index slumping to -21.8 from 6.6. Among...
Oct 17, 2019
STS - EP Energy Highlights - October 17, 2019
South Texas-focused EP Energy voluntarily filed petitions for Chapter 11 reorganization on Oct. 3. EP intends to use this process to reduce its debt significantly, strengthen its balance sheet and better position the company for the long...
Oct 17, 2019
STS - Enterprise Products Partners Highlights - October 17, 2019
Enterprise Products Partners secured enough long-term agreements to support a further expansion of the Midland-to-ECHO crude oil pipeline system. Enterprise will build a pipeline that connects its 6 MMbbl Midland, Texas, storage facility to its ECHO Terminal through its Eagle Ford system in South Texas. This pipeline will have an initial capacity of 450,000 bo/d, expandable to 540,000...
Oct 17, 2019
STS - Plains All American Pipeline Highlights - October 17, 2019
Eagle Ford Terminals Corpus Christi, a JV of Plains All American Pipeline and Enterprise Productions Partners, received its first vessel at its new dock on the Corpus Christi Ship Channel on Sept. 11. "The commissioning of our terminal in Corpus Christi is an important milestone for the Eagle Ford Terminals Corpus Christi joint venture that gives producers another option to move growing crude oil production from the Permian Basin and South Texas to markets where it can help to power progress,...
Oct 17, 2019
STS - Murphy tallies its best Tilden wells yet with new completions - September 26, 2019
Murphy Oil is applying its latest completion techniques in the Tilden area of the Eagle Ford for the first time this year, and the well results are the best the company has ever seen in the area, CEO Roger Jenkins said. During Q3, 10 wells targeting the Lower Eagle Ford on the Tyle Ranch pad have been brought online at an average initial 24-hour rate of 1,800 boe/d. The wells averaged 7,100-ft laterals and were spaced at 550 ft. The Tilden area lies primarily in Atascosa and Mcmullen counties,...
Sep 26, 2019
STS - EP completes high-oil-cut Eagle Ford wells in Frio County - September 26, 2019
Q2 was the height of EP Energy's DUC inventory build in the Eagle Ford, and at quarter's end the company dropped two of its three active rigs. Now it is focusing on completing DUCs in the play. In the latest available state data, EP completed five horizontal wells on the Siegele pad in the southeast corner of Frio County, Texas—its first in the county since 2016. The Siegele wells averaged 4,564-ft effective laterals and delivered initial 24-hour rates ranging 487-859 boe/d (98% oil)...
Sep 26, 2019
STS - Regional Highlights - September 26, 2019
The EIA projects that Eagle Ford production will fall by 6,000 bo/d and 18 MMcf/d sequentially in October to 1.374 MMbo/d and 6.729 Bcf/d.There are 1,458 DUCs in the Eagle Ford as of August, down by 16 from...
Sep 26, 2019
STS - Baytex Energy Highlights - September 26, 2019
On Sept. 9, Baytex Energy updated its 2019 production guidance to 97,000 boe/d (83% liquids). This is its second revision, following a tightening of guidance toward the high side on Aug. 1—to 96,000-97,000 boe/d from the original range of 93,000-97,000 boe/d. The company plans to exit the year producing 95,000- 97,000 boe/d. Capex for the year has also been revised, to $560 million from a $550-600 million range that was set Aug. 1. The original 2019 capex range was $550-650 million....
Sep 26, 2019
STS - Inpex Highlight - September 26, 2019
Inpex is preparing to drill its first wells in the Eagle Ford, roughly six months after buying into the play in a deal with GulfTex Energy. The deal included 13,000 operated acres primarily in Karnes, Gonzales, Atascosa, Wilson and La Salle counties, Texas. The company recently filed its first 11 permits, with locations in Karnes and La Salle...
Sep 26, 2019
Get more news for South Texas Scout