OilfieldServices
Serving the oilfield service sector with news, analysis and business opportunities.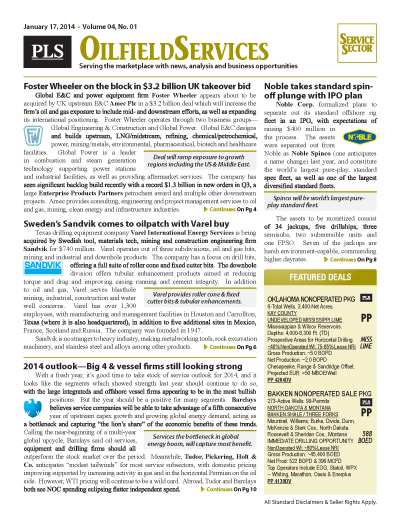 PLS publishes news and analysis on the oilfield service sector through its OFS module. The gold banner report, published every 3 to 4 weeks, covers the active sector with news and analysis on drilling, completions, field operations and technology.
Your access to oilfield service sector
Single copy pricing; Incl hard copy & email version
Increase understanding of field services & infrastructure
Published every 3 weeks; 17+ issues per year
Covers drilling rigs, field services, completions, equipment, OFS performance, supply, costs
Includes properties, oilfield services,
rigs & equipment for sale
Incl discounts for other PLS products & events
$ 695 /Yr
Search PLS' News Archive for complete oil & gas news for OilfieldServices .
See what it is about before you buy. View a sample issue of OilfieldServices.
Need more information? Click the button to recieve more details about the OilfieldServices
Opportunity is a reflection of information.
Call 713-650-1212 For More Information
Search OilfieldServices:

Headline
Publication
News Date
People & Companies - August 7, 2017
Pacific Drilling CEO Christian Beckett has stepped down from his post and as a member of the board to pursue other opportunities. Paul Reese, the company's current EVP and CFO, has been promoted to...
Aug 07, 2017
ALS sells oil & gas business at $471MM loss
Chicago-based Madison Industries, a privately held holding company of industrial firms, will pay $109 million for the oil and gas business of ALS, less than a fifth of what the Australian laboratory...
Aug 07, 2017
ION Geophysical at risk of being delisted
ION Geophysical will submit a plan within 45 days to prevent the seismic services company from being delisted by NYSE. The exchange gave ION written notice that the company has fallen below criteria...
Aug 07, 2017
Trendsetter completes operations of subsea system
Trendsetter Engineering has completed live well operations with STIM, its new 15,000 psi subsea hydraulic intervention system. STIM has now completed seven subsea projects in the GOM since November...
Aug 07, 2017
Get more news for OilfieldServices