OilfieldServices
Serving the oilfield service sector with news, analysis and business opportunities.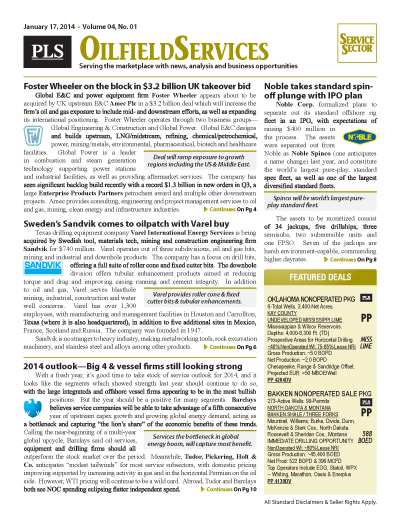 PLS publishes news and analysis on the oilfield service sector through its OFS module. The gold banner report, published every 3 to 4 weeks, covers the active sector with news and analysis on drilling, completions, field operations and technology.
Your access to oilfield service sector
Single copy pricing; Incl hard copy & email version
Increase understanding of field services & infrastructure
Published every 3 weeks; 17+ issues per year
Covers drilling rigs, field services, completions, equipment, OFS performance, supply, costs
Includes properties, oilfield services,
rigs & equipment for sale
Incl discounts for other PLS products & events
Search PLS' News Archive for complete oil & gas news for OilfieldServices .
See what it is about before you buy. View a sample issue of OilfieldServices.
Need more information? Click the button to recieve more details about the OilfieldServices
Opportunity is a reflection of information.
Call 713-650-1212 For More Information
Search OilfieldServices:

Headline
Publication
News Date
OFS - Analyst Notes - October 02, 2018
Stifel analyst finds plenty of buys in OFS Stifel's Stephen Gengaro argues that that near-term concern is no reason to eschew oilfield-services stocks. He predicts a strong growth to...
Oct 02, 2018
Frac sand starts to cool off as Q3 wraps up
After two years of explosive growth, the frac sand industry is finally losing momentum. Covia Holdings and Hi-Crush Partners idled facilities citing changing market dynamics. Some analysts...
Oct 02, 2018
GE replaces CEO but no changes announced for BHGE
General Electric ousted Chairman and CEO John Flannery after just over a year in the role, replacing him with Lawrence Culp Jr., who previously led Danaher Corp. Flannery's tenure included mixed...
Oct 02, 2018
OFS - Contracts Briefs - October 02, 2018
Seadrill Partners secured a onewell contract with multiple options with ExxonMobil for the semi-submersible West Aquarius in Canada. Backlog for the firm portion of the contract is expected to be $24...
Oct 02, 2018
OFS - People Briefs - October 02, 2018
Calgary-based Precision Drilling Corp. added David Williams to its board of directors. Williams served as CEO of Noble Corp. from January 2008 to January 2018. Prior to joining Noble in 2006,...
Oct 02, 2018
OFS - A&D News Briefs - October 02, 2018
Gulf Island Fabrication agreed to sell its North Yard facilities in Aransas Pass, Texas, to an undisclosed buyer for $28 million. The sale, which includes certain associated equipment but...
Oct 02, 2018
Get more news for OilfieldServices