OilfieldServices
Serving the oilfield service sector with news, analysis and business opportunities.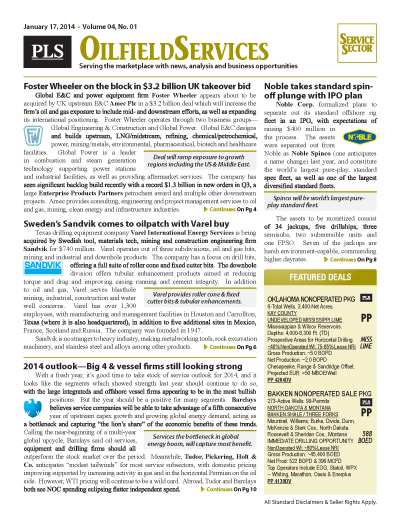 PLS publishes news and analysis on the oilfield service sector through its OFS module. The gold banner report, published every 3 to 4 weeks, covers the active sector with news and analysis on drilling, completions, field operations and technology.
Your access to oilfield service sector
Single copy pricing; Incl hard copy & email version
Increase understanding of field services & infrastructure
Published every 3 weeks; 17+ issues per year
Covers drilling rigs, field services, completions, equipment, OFS performance, supply, costs
Includes properties, oilfield services,
rigs & equipment for sale
Incl discounts for other PLS products & events
Search PLS' News Archive for complete oil & gas news for OilfieldServices .
See what it is about before you buy. View a sample issue of OilfieldServices.
Need more information? Click the button to recieve more details about the OilfieldServices
Opportunity is a reflection of information.
Call 713-650-1212 For More Information
Search OilfieldServices:

Headline
Publication
News Date
P2 acquires fellow software company iLandMan
Denver-based upstream software company P2 Energy Solutions signed a definitive agreement to acquire iLandMan, a cloud-based land and lease management software provider. Headquartered in Lafayette,...
May 31, 2018
Transocean hired to send semisub to off UK
AziNor Catalyst has signed a letter of intent with Transocean in the UK continental shelf. The semisub Transocean Leader will drill a well in Q3 for the E&P backed by energy investor Seacrest...
May 31, 2018
Eco-Stim US frac fleets plagued by downtime in Q1
One of Eco-Stim Energy Solutions' two fracking fleets was idle for most of Q1 while waiting for sand and other equipment. The other one completed 238 stages during the quarter as it suffered from...
May 31, 2018
High Arctic's results disrupted by earthquake
High Arctic Energy Services reported Q1 results that fell YOY largely due to drilling disruptions in Papua New Guinea. Q1 featured net income of C$4.4 million (US$3.4 million) on revenue of C$53.7...
May 31, 2018
Get more news for OilfieldServices