OilfieldServices
Serving the oilfield service sector with news, analysis and business opportunities.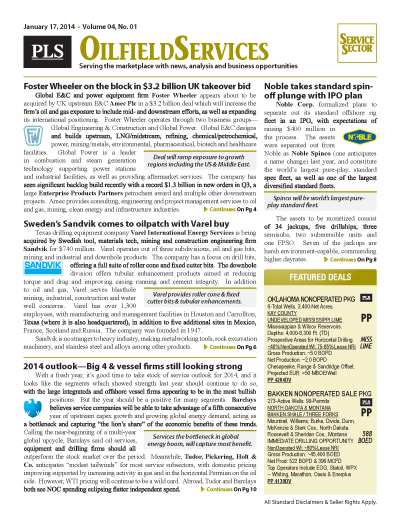 PLS publishes news and analysis on the oilfield service sector through its OFS module. The gold banner report, published every 3 to 4 weeks, covers the active sector with news and analysis on drilling, completions, field operations and technology.
Your access to oilfield service sector
Single copy pricing; Incl hard copy & email version
Increase understanding of field services & infrastructure
Published every 3 weeks; 17+ issues per year
Covers drilling rigs, field services, completions, equipment, OFS performance, supply, costs
Includes properties, oilfield services,
rigs & equipment for sale
Incl discounts for other PLS products & events
Search PLS' News Archive for complete oil & gas news for OilfieldServices .
See what it is about before you buy. View a sample issue of OilfieldServices.
Need more information? Click the button to recieve more details about the OilfieldServices
Opportunity is a reflection of information.
Call 713-650-1212 For More Information
Search OilfieldServices:

Headline
Publication
News Date
Transocean completes acquisition of Songa Offshore
Transocean wrapped up its $3.4 billion acquisition of Songa Offshore, buying 97.5% of Songa shares, and will initiate a compulsory acquisition of the remainder. The transaction completes 12 months of...
Feb 12, 2018
Statoil to pay $10-15MM for West Hercules' labor
Statoil contracted North Atlantic Norway's West Hercules semisubmersible rig for drilling two exploration wells in the Barents Sea in 2018 with options to drill another five exploration wells. The...
Feb 12, 2018
Mammoth sub signs $245MM extension in Puerto Rico
A Mammoth Energy Services infrastructure subsidiary has doubled the size of its contract to repair the electrical grid in Puerto Rico as the island continues to recover from Hurricane Maria. The...
Feb 12, 2018
Trinidad Drilling moving 8 rigs to Permian Basin
Trinidad Drilling Ltd. is moving eight rigs to the Permian Basin in response to increased customer demand, moving three from Saudi Arabia and the rest from other US and Canada sites. The rigs brought...
Feb 12, 2018
BHGE expects $700MM in synergies even without GE
Baker Hughes a GE company is already preparing for its independence as General Electric looks for divestment options. But BHGE shared no new details at its 4Q17 earnings conference call about how or...
Feb 12, 2018
Get more news for OilfieldServices