Permian Scout
Serving the local market with drilling activities, permits & multiple listings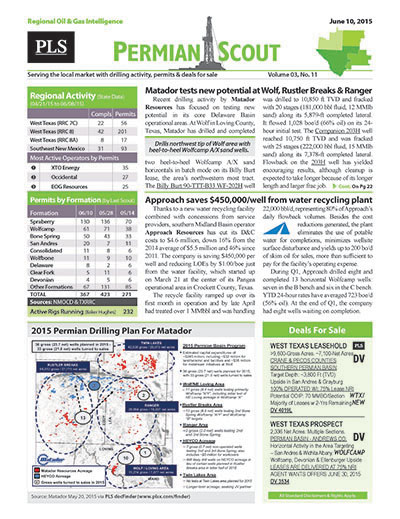 PLS publishes exploration news and drilling insights in West Texas and Southeast New Mexico through our Permian Scout.
Published every two (2) weeks, this regional report (RRC 7C, 8, & 8A) includes lead stories on drilling activity, successes and new projects while also reporting on drilling rigs, new permits, completions and P&A activity.
Stay in front of local prospects, plays & rigs!
West Texas, Southeast New Mexico
Hard Copy and Email For 1 Individual
Every 2 Weeks (22-25 issues per year)
Regional discoveries, drilling activity, permits,
completions and summary drilling statistics, layered
with regional listings and business opportunities.
Web access to the Permian Scout archive.
Does not include access to MLS
Search PLS' News Archive for complete oil & gas news for Permian Scout .
See what it is about before you buy. View a sample issue of Permian Scout.
Need more information? Click the button to recieve more details about the Permian Scout
Opportunity is a reflection of information.
Call 713-650-1212 For More Information
Search Permian Scout:

Headline
Publication
News Date
PS - Wolfcamp A-XY test at Arrowhead has Matador looking north - June 12, 2019
Matador Resources says production results from its Stebbin #204H well testing the Wolfcamp A-XY demonstrates further potential Wolfcamp prospectivity moving northward in the Delaware Basin. The well was completed in the Arrowhead area of Eddy County, New Mexico, with a 4,586-ft effective lateral using 10.7 MMlb of proppant and flowed 2,005 boe/d (72% oil) during a 24-hour test, or 437 boe/d per 1,000 lateral ft. After eight months, it has delivered a cumulative 250,000 boe. An earlier well, the...
Jun 12, 2019
PS - Pioneer Spraberry appraisals progress toward full development - June 12, 2019
Pioneer Natural Resources' Spraberry appraisal program has successfully derisked 120,000 acres since the company commenced the program in 2018. In Q1, Pioneer completed its third multi-zone Spraberry appraisal pad in Martin County, Texas, with one well targeting the Middle Spraberry, two targeting the Jo Mill and two targeting the Lower Spraberry. Cumulative output has outperformed previous wells in the Spraberry by 24%. Pioneer is progressing the formation from appraisal to...
Jun 12, 2019
PS - Callon Petroleum Highlights - June 12, 2019
Callon Petroleum drilled 21 wells and placed 13 online during Q1. Drilling and completion efficiency are up so far this year. Frac stages completed per day are up by more than 25% compared to 1Q18, and D&C costs are down 15% versus 4Q18, with average costs per lateral foot below...
Jun 12, 2019
PS - EOG Resources Highlights - June 12, 2019
EOG Resources completed five Wolfcamp wells on the Green Drake 16 pad in Lea County, New Mexico. The wells averaged 7,140- ft effective laterals fracked with 17.6 MMlb of proppant and flowed average initial 24-hour rates of 6,226 boe/d (76% oil), or 871 boe/d per 1,000 lateral ft. The top performer among the five and second-highest IP24 for the company in New Mexico was the #701H, which was completed with a 7,272-ft lateral using 18.1 MMlb of sand. The well tested at 6,942 boe/d, or 955...
Jun 11, 2019
PS - Concho Resources Highlights - June 12, 2019
Concho Resources ran 33 rigs and eight completion crews during Q1, but has since cut its rig count to 29, with 20 in the Delaware Basin and nine in the Midland Basin. In the Delaware, 23 wells brought online by the company during Q1 have at least 60 days of production. These wells averaged 9,125-ft laterals, initial 30- day rates of 1,817 boe/d (73% oil) and 60-day IPs of 1,647 boe/d (72% oil). In the Midland Basin, 27 wells brought online by the company during Q1 have at least 60 day of...
Jun 11, 2019
PS - Apache improves capital efficiency at Alpine High - May 30, 2019
Drilling costs at Apache's Alpine High project have fallen 20% since 2017 to a 1Q19 average of $194 per ft for all wells and $153 per ft for 13 wells that were drilled on multi-well pads. The improvement was driven by drilling design optimization such as pad and batch drilling, reduced hole size and the elimination of intermediate casing strings. Completion costs are also down, having fallen 32% during the same period. Total D&C costs in Q1 averaged $476 per lateral ft for all wells and $458...
May 30, 2019
PS - Carrizo's initial cube co-development results encouraging - May 30, 2019
Carrizo Oil & Gas' operational focus in the Delaware Basin this year is testing multilayer co-development concepts, and the company recently completed its first largescale co-development test of the Wolfcamp A, B and C. Named "The Six" and located in the Phantom area straddling the border of Reeves and Ward counties, Texas, the development consists of six wells targeting four landing zones on 330-ft wine-rack spacing. While still in cleanup, the wells have averaged an aggregate 10,600 boe/d...
May 30, 2019
PS - Regional Highlights - May 30, 2019
The EIA projects Permian production will rise 56,000 bo/d and 241 MMcf/d sequentially in June to 4.173 MMbo/d and 14.41 Bcf/d. There are 3,964 DUCs in the Permian as of April, up by 47 compared to...
May 30, 2019
PS - EOG Resources Highlights - May 30, 2019
EOG Resources continues to deliver quality Upper Wolfcamp results in Lea County, New Mexico. The Caravan 28 State Com #702H was completed with a 9,902-ft effective lateral using 19.2 MMlb of proppant. The well flowed an initial 24-hour rate of 6,152 boe/d (75% oil), or 621 boe/d per 1,000 lateral ft, on a 1-inch choke at 2,561 psi FCP. Two other wells on the same five-well pad turned in IP24s of 5,990 boe/d (77% oil) and 5,529...
May 30, 2019
Get more news for Permian Scout