Permian Scout
Serving the local market with drilling activities, permits & multiple listings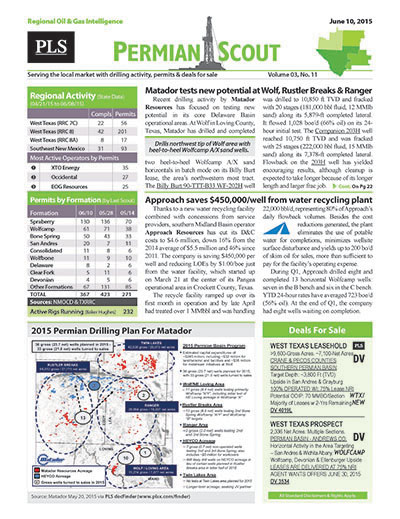 PLS publishes exploration news and drilling insights in West Texas and Southeast New Mexico through our Permian Scout.
Published every two (2) weeks, this regional report (RRC 7C, 8, & 8A) includes lead stories on drilling activity, successes and new projects while also reporting on drilling rigs, new permits, completions and P&A activity.
Stay in front of local prospects, plays & rigs!
West Texas, Southeast New Mexico
Hard Copy and Email For 1 Individual
Every 2 Weeks (22-25 issues per year)
Regional discoveries, drilling activity, permits,
completions and summary drilling statistics, layered
with regional listings and business opportunities.
Web access to the Permian Scout archive.
Does not include access to MLS
Search PLS' News Archive for complete oil & gas news for Permian Scout .
See what it is about before you buy. View a sample issue of Permian Scout.
Need more information? Click the button to recieve more details about the Permian Scout
Opportunity is a reflection of information.
Call 713-650-1212 For More Information
Search Permian Scout:

Headline
Publication
News Date
PS - Parsley coming to Jagged Peak's premium acreage in $2.3B deal - October 16, 2019
Since the beginning of 2018, the Permian has seen a notable number of billion-dollarplus corporate mergers such as Concho Resources' $9.5 billion deal for RSP Permian; Diamondback Energy's $1.2 billion buy of Ajax Resources and $9.2 billion buy of Energen; and Cimarex Energy's acquisition of Resolute Energy for $1.6 billion. Much of the drive for the Occidental Petroleum-Anadarko Petroleum and Callon Petroleum-Carrizo Oil & Gas deals related to Permian assets. Now in Q4, another Permian merger...
Oct 16, 2019
PS - Apache's Alpine High output could surpass 100,000 boe/d in Q4 - October 16, 2019
The Kinder Morgan-led Gulf Coast Express pipeline entered into full commercial service at the end of September, paving the way for Apache to end its gas deferrals at Alpine High. Apache's production in the area is expected to rise from an average of 49,000 boe/d in Q2 to a Q4 average of more than 100,000 boe/d. That target could be impacted if the company chooses to reject ethane processed at Altus Midstream's cryogenic processing plant based on low gas and NGL prices. Q2 production deferrals...
Oct 16, 2019
PS - Regional Highlights - October 15, 2019
The EIA projects that Permian production will rise by 63,000 bo/d and 210 MMcf/d sequentially in November to 4.61 MMbo/d and 16.076 Bcf/d. There were 3,668 DUCs in the Permian as of September, down by 49 compared to...
Oct 16, 2019
PS - Abraxas Petroleum Highlights - October 15, 2019
Abraxas Petroleum's two-well Woodberry pad (100% WI) in Ward County, Texas, has been online 66 days and delivered 72,000 bo and 85 MMcf during that period. One well targets the Wolfcamp A-1 and the other the Lower Third Bone Spring. Both wells sport 4,800-ft laterals and were fracked in an average of 31 stages. Abraxas has suspended its Permian drilling program until...
Oct 16, 2019
PS - Cimarex Energy Highlights - October 15, 2019
The US Bureau of Land Management's New Mexico office conducted a lease sale Sept. 5 for 12 parcels in New Mexico (Eddy, Lea and Chaves counties), two in Oklahoma (Coal and Major counties) and one in Kansas (Greeley County). The sale brought in $9.8 million for 15 parcels covering 3,174 acres. Cimarex Energy Co paid the most per acre at $31,001, or $1.24 million total, for a 40-acre parcel in Lea County, N.M. The most paid for a parcel was Platform Energy III's $3.18 million ($8,001/acre) bid...
Oct 16, 2019
PS - Ring Energy Highlights - October 15, 2019
In Q3, Ring Energy drilled six 1-mile San Andres horizontals on the Northwest Shelf, of which three have been completed and tested. In addition to the three new producers, the company completed testing and filed IPs on eight additional horizontal wells drilled in Q1 and Q2. The average IP rate for all 11 horizontals was 475 boe/d, or 101 boe per 1,000 lateral ft on an average lateral of 4,741 ft. The company also performed nine conversions from electric submersible pumps to rod pumps, which...
Oct 16, 2019
PS - Laredo's Yellow Rose confirms wide spacing productivity - October 2, 2019
To improve capital efficiency and moderate oil declines associated with tightly spaced Permian wells, Laredo Petroleum is transitioning to a wide spacing development program utilizing four to eight wells per DSU for the Upper and Middle Wolfcamp and four wells per DSU for the Lower Wolfcamp and Cline. This compares with tight spacing of 12-16 wells per DSU for the Upper and Middle Wolfcamp and six to eight wells for the Lower Wolfcamp and Cline. Laredo's first wide spacing developments came...
Oct 02, 2019
PS - CrownQuest tallies a company record in Howard County - October 2, 2019
Permian-focused CrownQuest Operating recently flowed a strong initial rate from a Spraberry producer in Howard County. The Spa #1HA was completed during Q3 with a 10,450-ft effective lateral using 20.4 MMlb of proppant. On test, the well flowed an initial 24-hour rate of 2,414 boe/d (88% oil), or 231 boe/d per 1,000 lateral ft, on a 1-inch choke at 1,670 psi FCP. The Spa well is CrownQuest's top IP24 rate in Howard County to date and a top 10 IP24 industrywide for the county. So far...
Oct 02, 2019
PS - Regional Highlights - October 2, 2019
The EIA projects that Permian production will rise by 71,000 bo/d and 229 MMcf/d sequentially in October to 4.485 MMbo/d and 15.144 Bcf/d. There are 3,839 DUCs in the Permian as of August, down by 25 compared to July.In a survey by the Dallas Federal Reserve, half of oil and gas executives in the 11th Fed District said they believe the EIA's DUC count is inflated. Among those who answered this question, 23% said their estimate was significantly lower and 27% said it was slightly...
Oct 02, 2019
PS - Matador Resources Highlights - October 2, 2019
Matador Resources was granted permits by the Bureau of Land Management for six wells on its western Antelope Ridge asset. All wells will have 2-mile laterals drilled from two separate, three-well pads on the Rodney Robinson tract. The wells are scheduled to be completed and turned to sale in...
Oct 02, 2019
Get more news for Permian Scout