Permian Scout
Serving the local market with drilling activities, permits & multiple listings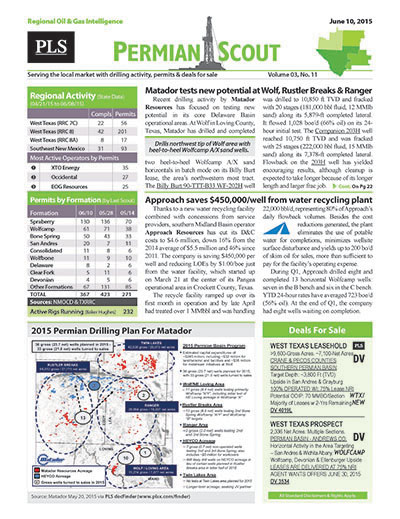 PLS publishes exploration news and drilling insights in West Texas and Southeast New Mexico through our Permian Scout.
Published every two (2) weeks, this regional report (RRC 7C, 8, & 8A) includes lead stories on drilling activity, successes and new projects while also reporting on drilling rigs, new permits, completions and P&A activity.
Stay in front of local prospects, plays & rigs!
West Texas, Southeast New Mexico
Hard Copy and Email For 1 Individual
Every 2 Weeks (22-25 issues per year)
Regional discoveries, drilling activity, permits,
completions and summary drilling statistics, layered
with regional listings and business opportunities.
Web access to the Permian Scout archive.
Does not include access to MLS
Search PLS' News Archive for complete oil & gas news for Permian Scout .
See what it is about before you buy. View a sample issue of Permian Scout.
Need more information? Click the button to recieve more details about the Permian Scout
Opportunity is a reflection of information.
Call 713-650-1212 For More Information
Search Permian Scout:

Headline
Publication
News Date
PS - Centennial brings its best oil well yet, tests co-development - August 07, 2019
Multiple intervals delivered strong wells results for Centennial Resource Development in the Delaware Basin during Q2, including its best oil producing well to date and four of the top five wells in company history. In Lea County, New Mexico, the Chorizo 12 State Com 601H flowed an initial 30-day rate of 2,961 boe/d (86% oil) from a 9,800-ft effective lateral in the Third Bone Spring, with an oil rate equivalent to 260 bo/d per 1,000 lateral ft. "The well gives us further confidence as...
Aug 07, 2019
PS - EOG Wolfcamp IPs exceeding forecasts, exceed 2018 wells - August 07, 2019
EOG Resources' Delaware Basin activity in Q2 focused on the Wolfcamp. The company placed online 63 horizontal wells averaging 6,500-ft laterals in the formation, with initial 30-day rates averaging 2,900 boe/d (67% oil). Wolfcamp IP30s, IP60s and IP90s have improved 12% in H1 compared to 2018 and are exceeding forecasts. The company's top-performing Q2 well by initial 24-hour rate was the Antietam 9 Federal Com #715H in Lea County, New Mexico. The well was completed with a 7,329-ft...
Aug 07, 2019
PS - Regional Highlights - August 07, 2019
The EIA projects that Permian production will rise 34,000 bo/d and 157 MMcf/d sequentially in August to 4.206 MMbo/d and 14.704 Bcf/d. There are 4,002 DUCs in the Permian as of June, up by 42 compared to...
Aug 07, 2019
PS - EnCana Highlights - August 07, 2019
EnCana's cube development continues to drive success in the Permian. The company brought online 38 net well in the basin during Q2, including two new cubes. The 14- well HNC 248 cube, in Martin County, Texas, flowed a record aggregate oil rate of 17,000 bo/d after 60 days on production. After 90 days, the wells still had overall production rates averaging 1,400...
Aug 07, 2019
PS - BP Highlights - August 07, 2019
BP's US shale subsidiary BPX Energy continues to ramp up activity on the BHP assets it acquired in Q1, with 10 rigs running: seven in the Eagle Ford and three in the Permian. Well performance in both basins is performing at or above expectations, and D&C costs are falling. The company is testing additional zones in the Permian and working to optimize ultimate recovery in the...
Aug 07, 2019
PS - Occidental Highlights - August 07, 2019
Occidental Petroleum is forming a $1.5 billion JV with Colombian national oil company Ecopetrol to develop 97,000 net acres of its Midland Basin leasehold. Ecopetrol will pay $750 million cash and $750 million of carried capital in exchange for a 49% stake in the acreage. Oxy will hold the remaining 51% and serve as operator. During the carry period, EcoPetrol will pay 75% ofOxy's share of capital expenditures. The transaction is expected to close in...
Aug 07, 2019
PS - Concho Resources Highlights - August 07, 2019
Concho Resources and Solaris Water Midstream agreed to form a produced water management JV in the northern Delaware Basin. Solaris will manage Concho's produced water gathering, transportation, disposal and recycling for an area covering 1.6 million acres primarily in Eddy County, New Mexico. Concho will contribute 13 saltwater disposal wells and 40 miles of large-diameter produced water gathering pipelines in exchange for cash and an equity ownership in Solaris...
Aug 07, 2019
PS -Cimarex tallies strong results from Wolfcamp in Culberson - July 24, 2019
Cimarex energy is spending 34% of its 2019 capex in Culberson County, Texas, where it holds 100,000 net acres in a joint development agreement with Chevron. Five developments with a total of 27 horizontals targeting the Upper Wolfcamp or Bone Spring will be brought online during the year. One of these, the Sir Barton project, was brought online during Q2. Sir Barton is comprised of seven wells targeting the Upper Wolfcamp. The wells were completed with 10,125-ft effective laterals and...
Jul 24, 2019
PS - Ring wells exceeding IP targets, 2019 drilling plans reduced - July 24, 2019
Ring Energy released preliminary results of its Q2 operations and updates on a number of existing producing projects. The company drilled 13 San Andres wells during the quarter: seven on the Central Basin Platform and six on its newly acquired Northwest Shelf property. Two of the wells were completed and turned to sales, seven have been completed and are in various stages of testing, and four are awaiting completion. The Bruce E Gentry JR 647 A 2H on the Northwest Shelf produced a...
Jul 24, 2019
PS - Regional Highlights - July 24, 2019
The EIA projects that Permian production will rise 34,000 bo/d and 157 MMcf/d sequentially in August to 4.206 MMbo/d and 14.704 Bcf/d. There are 4,002 DUCs in the Permian as of June, up by 42 compared to...
Jul 24, 2019
Get more news for Permian Scout