Bakken Scout
Serving the local market with drilling activities, permits & multiple listings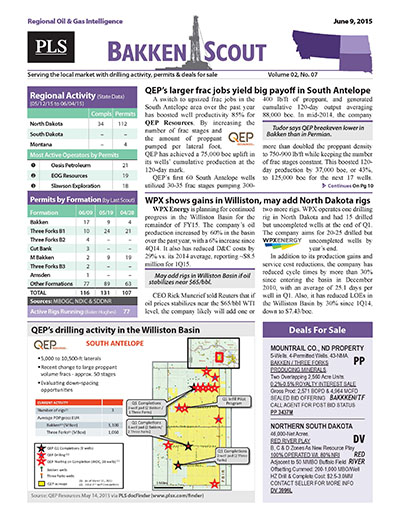 PLS's Bakken Scout covers oil and gas permitting, rig activity and completions in the Dakotas and Montana. The report is available by subscription and is delivered by hard copy and email every 3 weeks. Like other Regionals, the Bakken is packed full of local statistical analysis covering permits, rigs and completions while also covering top stories, fun facts, quick stats and production anomalies.
Stay in front of local prospects, plays & rigs!
North Dakota, South Dakota and Montana
Hard Copy and Email For 1 Individual
Every 3 Weeks (16-20 issues per year)
Regional discoveries, drilling activity, permits,
completions and summary drilling statistics, layered
with regional listings and business opportunities.
Web access to the Bakken Scout archive.
Does not include access to MLS
Search PLS' News Archive for complete oil & gas news for Bakken Scout .
See what it is about before you buy. View a sample issue of Bakken Scout.
Need more information? Click the button to recieve more details about the Bakken Scout
Opportunity is a reflection of information.
Call 713-650-1212 For More Information
Search Bakken Scout:

Headline
Publication
News Date
Regional Highlights - July 24, 2018
The North Dakota Department of Mineral Resources reported that the state's May oil production rose 5% sequentially to a new record of 1.25 MMbo/d. Natural gas volumes rose ~7% to 2.32 Bcf/d....
Jul 24, 2018
Marathon Highlights - July 24, 2018
The top IP24 reported in this issue is marathon's Ryan #42-5TFH (9,963-ft lateral; 45 stages; 9.8 MMlbs proppant) in McKenzie County. The well tested at 3,438 bo/d and 4,384 Mcf/d, or 4,169 boe/d...
Jul 24, 2018
PetroShale Highlights - July 24, 2018
PetroShale has entered into an agreement to acquire Bakken assets for $55 million. PetroShale is gaining 1,931 net undeveloped acreages (100% HBP) and 550 boe/d (90% liquids) of production. Ownership...
Jul 24, 2018
Northern Oil & Gas Highlights - July 24, 2018
Northern Oil & Gas entered into an agreement with Pivotal Petroleum to acquire Williston Basin assets for $152 million. The large package of producing wells has production of 4,100 boe/d and will...
Jul 24, 2018
Oasis sells non-core Bakken assets for $283MM
Oasis Petroleum signed two deals to sell non-core Williston Basin assets for $283 million, achieving more than half of its $500 million divestment goal in the basin. The sales are meant to fully...
Jul 02, 2018
Denbury Resources Highlights - July 02, 2018
Denbury Resources sanctioned a CO2 EOR project at Cedar Creek Anticline. Phase 1 targets 30 MMbbl of estimated recoverable oil in the Red River formation at East Lookout Butte and Cedar Hills South...
Jul 02, 2018
Get more news for Bakken Scout