Bakken Scout
Serving the local market with drilling activities, permits & multiple listings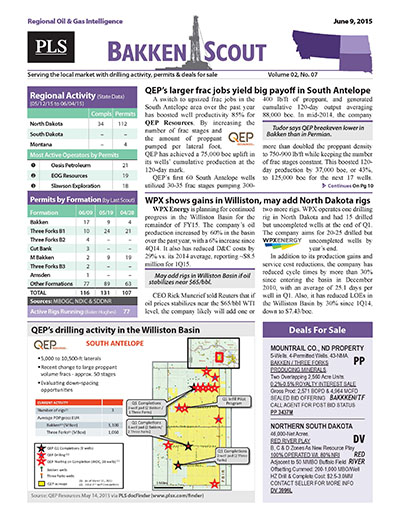 PLS's Bakken Scout covers oil and gas permitting, rig activity and completions in the Dakotas and Montana. The report is available by subscription and is delivered by hard copy and email every 3 weeks. Like other Regionals, the Bakken is packed full of local statistical analysis covering permits, rigs and completions while also covering top stories, fun facts, quick stats and production anomalies.
Stay in front of local prospects, plays & rigs!
North Dakota, South Dakota and Montana
Hard Copy and Email For 1 Individual
Every 3 Weeks (16-20 issues per year)
Regional discoveries, drilling activity, permits,
completions and summary drilling statistics, layered
with regional listings and business opportunities.
Web access to the Bakken Scout archive.
Does not include access to MLS
Search PLS' News Archive for complete oil & gas news for Bakken Scout .
See what it is about before you buy. View a sample issue of Bakken Scout.
Need more information? Click the button to recieve more details about the Bakken Scout
Opportunity is a reflection of information.
Call 713-650-1212 For More Information
Search Bakken Scout:

Headline
Publication
News Date
Regional Highlights - February 07, 2018
Commenting on the outlook for 2018, North Dakota Dept. of Mineral Resources Director Lynn Helms said: "We're pretty optimistic. Everything points to more (oil) rigs, more frack crews and more...
Feb 07, 2018
Abraxas Highlights - February 07, 2018
abraxas recently flowed back its best Bakken/TF results to-date. The Yellowstone 2H-4HR threewell pad tested at a 24-hour rate of more than 2,000 boe/d each. The Yellowstone 2H and 4H...
Feb 07, 2018
Enerplus Highlights - February 07, 2018
Enerplus' North Dakota production outperformed expectations in Q4 at 35,500 boe/d. Volumes were up 70% vs. 1Q17. The company's $535-585MM 2018 capex, up 24% YOY, is allocated 75% to the Williston...
Feb 07, 2018
Hess Highlights - February 07, 2018
Hess is laying off 300 employees, or 13% of its workforce. Most of the cuts will be made in Houston. Hess Midstream Partners is forming a 50/50 JV with Targa Resources to construct a...
Feb 07, 2018
Marathon sets IP-24 record with high proppant well
At the beginning of December, Marathon Oil tested its highest 24-hour IP well to date in the Williston Basin. The Forsman USA #44-22H (9,464-ft lateral; 45 stages; 15 MMlbs of proppant) flowed 6,289...
Jan 17, 2018
Regional Highlights - January 17, 2018
As of November 2017, there are 713 DUCs in the Bakken, down 11 month-over-month.North Dakota Rep. Marvin Nelson is suing the state to stop Senate Bill 2134 from being enacting....
Jan 17, 2018
Get more news for Bakken Scout