Bakken Scout
Serving the local market with drilling activities, permits & multiple listings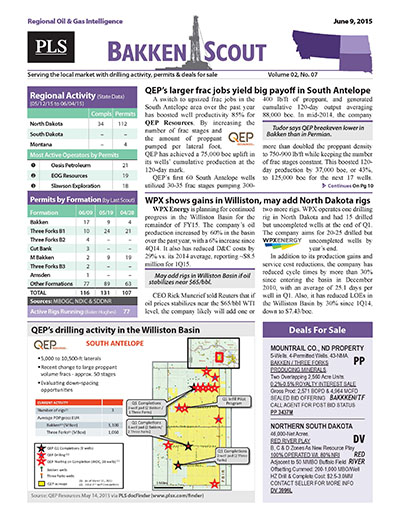 PLS's Bakken Scout covers oil and gas permitting, rig activity and completions in the Dakotas and Montana. The report is available by subscription and is delivered by hard copy and email every 3 weeks. Like other Regionals, the Bakken is packed full of local statistical analysis covering permits, rigs and completions while also covering top stories, fun facts, quick stats and production anomalies.
Stay in front of local prospects, plays & rigs!
North Dakota, South Dakota and Montana
Hard Copy and Email For 1 Individual
Every 3 Weeks (16-20 issues per year)
Regional discoveries, drilling activity, permits,
completions and summary drilling statistics, layered
with regional listings and business opportunities.
Web access to the Bakken Scout archive.
Does not include access to MLS
Search PLS' News Archive for complete oil & gas news for Bakken Scout .
See what it is about before you buy. View a sample issue of Bakken Scout.
Need more information? Click the button to recieve more details about the Bakken Scout
Opportunity is a reflection of information.
Call 713-650-1212 For More Information
Search Bakken Scout:

Headline
Publication
News Date
EOG drills fantastic well in Antelope Extension
EOG Resources spent most of 2017 drawing down DUCs in the Bakken after building quite the inventory in the price downturn several years ago. Once that inventory was cleared, the company was able to...
Apr 10, 2018
Marathon Oil Highlights - April 10, 2018
The top completion of this issue was Marathon Oil's Deane USA #24-22H (9,791-ft lateral; 45 stages; 14.7 MMbbls proppant). The McKenzie County well tested at an IP24 of 4,881 bo/d and 5,387 Mcf/d, or...
Apr 10, 2018
WPX Highlights - April 10, 2018
In Mountrail County, WPX's Arikara #15-22HW (9,644-ft lateral) flowed a 24-hour IP of 2,528 bo/d and 2,858 Mcf/d, or 3,004 boe/d (84% oil), from the Bakken. Another well on the same pad, the Arikara...
Apr 10, 2018
Hess Highlights - April 10, 2018
In Mountrail County, Hess's ENKulczyk- #154-94-2029H-10 (9,268-ft lateral; 60 stages; 8.4 MMlbs proppant) delivered an IP24 of 2,553 bo/d and 2,625 Mcf/d, or 2,991 boe/d (85% oil), from the Middle...
Apr 10, 2018
Alta Vista Oil Highlights - April 10, 2018
In Big Horn County, MT, Alta Vista Oil drilled a test of the Mowry formation on federal lands. The Slaughterville #1H tested at a 24-hour rate of 562 bo/d and 221 Mcf/d, or 599 boe/d (94% oil). Alta...
Apr 10, 2018
SM Energy Highlights - April 10, 2018
SM Energy reached a deal to divest the remainder of its assets in Divide Co. The holding covers 119,400 predominantly contiguous net acres with 6,100 boe/d (68% oil) in production and 28.8 MMboe...
Apr 10, 2018
Continental scores record IP30 in Banks field
During Q4, Continental Resources achieves some its best 30-day rates to date. Five operated wells during the quarter averaged 2,230 boe/d, including the Monroe 6-2H (Banks field; McKenzie Co.) that...
Mar 20, 2018
Get more news for Bakken Scout