Bakken Scout
Serving the local market with drilling activities, permits & multiple listings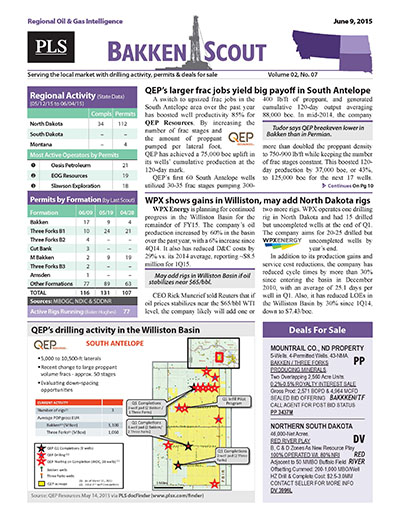 PLS's Bakken Scout covers oil and gas permitting, rig activity and completions in the Dakotas and Montana. The report is available by subscription and is delivered by hard copy and email every 3 weeks. Like other Regionals, the Bakken is packed full of local statistical analysis covering permits, rigs and completions while also covering top stories, fun facts, quick stats and production anomalies.
Stay in front of local prospects, plays & rigs!
North Dakota, South Dakota and Montana
Hard Copy and Email For 1 Individual
Every 3 Weeks (16-20 issues per year)
Regional discoveries, drilling activity, permits,
completions and summary drilling statistics, layered
with regional listings and business opportunities.
Web access to the Bakken Scout archive.
Does not include access to MLS
$ 595 /Yr
Search PLS' News Archive for complete oil & gas news for Bakken Scout .
See what it is about before you buy. View a sample issue of Bakken Scout.
Need more information? Click the button to recieve more details about the Bakken Scout
Opportunity is a reflection of information.
Call 713-650-1212 For More Information
Search Bakken Scout:

Headline
Publication
News Date
Slawson flows 2,796 boe/d from the Middle Bakken
Slawson Exploration completed its second best Bakken well to date. In the Big Bend field in Montrail Co., the Lunker Federal #1 SLH (8,910-ft lateral) flowed a 24-hr IP of 2,548 bo/d and 1,486 Mcf/d,...
Nov 08, 2017
EIA Highlights - November 08, 2017
The EIA projects November Bakken production will average 1.10 MMbo/d and 2.03 Bcf/d compared to 1.09 MMbo/d and 2.01 Bcf/d in October. The agency reported that as of Sept. DUCs numbered 772 in the...
Nov 08, 2017
Hess Highlights - November 08, 2017
Hess produced 103,000 boe/d in the Bakken during Q3, down 5,000 boe/d from Q2 due to reduced field availability created by adverse weather and delays in completing new wells. The company ran...
Nov 08, 2017
Linn Energy - November 08, 2017
Linn Energy sold non-op interests in the Williston Basin for $285 million. The position includes 8,000 boe/d (65% oil) from 1,073 gross producing wells. PD reserves were booked at 20 MMboe at...
Nov 08, 2017
Marathon Highlights - November 08, 2017
Marathon Oil's Q3 Bakken production rose 20% sequentially to 59,000 boe/d. The company completed five Hectors wells with IP30s averaging 2,380 boe/d (85%...
Nov 08, 2017
Whiting Highlights - November 08, 2017
Whiting appointed Bradley J. Holly CEO and President, replacing James Volker. The company's Bakken/Three Forks assets produced 102,015 boe/d in Q3, down 3% sequentially. Enhanced completions are...
Nov 08, 2017
Get more news for Bakken Scout