Bakken Scout
Serving the local market with drilling activities, permits & multiple listings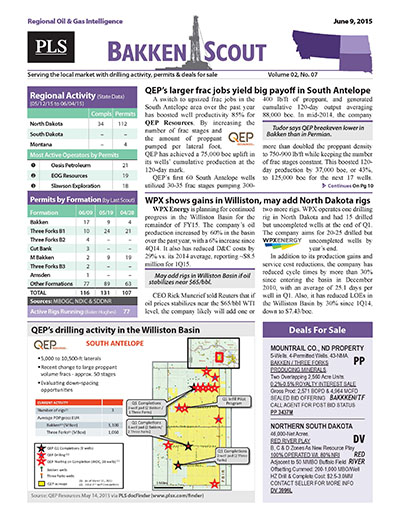 PLS's Bakken Scout covers oil and gas permitting, rig activity and completions in the Dakotas and Montana. The report is available by subscription and is delivered by hard copy and email every 3 weeks. Like other Regionals, the Bakken is packed full of local statistical analysis covering permits, rigs and completions while also covering top stories, fun facts, quick stats and production anomalies.
Stay in front of local prospects, plays & rigs!
North Dakota, South Dakota and Montana
Hard Copy and Email For 1 Individual
Every 3 Weeks (16-20 issues per year)
Regional discoveries, drilling activity, permits,
completions and summary drilling statistics, layered
with regional listings and business opportunities.
Web access to the Bakken Scout archive.
Does not include access to MLS
$ 595 /Yr
Search PLS' News Archive for complete oil & gas news for Bakken Scout .
See what it is about before you buy. View a sample issue of Bakken Scout.
Need more information? Click the button to recieve more details about the Bakken Scout
Opportunity is a reflection of information.
Call 713-650-1212 For More Information
Search Bakken Scout:

Headline
Publication
News Date
Regional Highlights - August 8, 2017
• There are 54 rigs running in the Bakken region this issue, up from 28 YOY.• There are 12 rigs running in Williams County, ND, up from 2 YOY. • Mountrail County, ND has 11 rigs...
Aug 09, 2017
Continental Resources Highlights - August 8, 2017
Continental Resources drilled the second and third best wells in this issue. Located in Banks field of McKenzie County, the Garfield Federal #6-5H (~11,000-ft lateral) and Garfield #4-5H (~11,000-ft...
Aug 08, 2017
EOG Highlights - August 8, 2017
In North Dakota, EOG completed 22 wells (8,400-ft laterals) during Q2 with IP30s averaging 1,450 boe/d (81% oil, 10% NGLs). In Antelope field in McKenzie County, the Clarks Creek 73,74,75 and...
Aug 08, 2017
Oasis Petroleum Highlights - August 8, 2017
During Q2, Oasis drilled 15 gross) operated wells in the Williston, with 60% of those wells turned to sale in June. Oasis expects to complete 48 gross operated wells in H2. Company production will...
Aug 08, 2017
Statoil Highlights - August 8, 2017
Statoil drilled the top completion in this issue. In Todd field in Williams County, the Lougheed 2-11 #5H (~10,000-ft lateral) flowed 3,236 boe/d (87% oil) from the Middle...
Aug 08, 2017
Whiting Petroleum Highlights - August 8, 2017
In the Williston Basin, Whiting Petroleum has drilled 69 enhanced completions using 7.0 MMlbs of sand per well since January 2016, additional stages and new diverter technology. On average, the wells...
Aug 08, 2017
WPX 6-well pad delivers 258,000 boe in 30 days
WPX Energy achieved strong results from a six-well pad in the Bakken in Q2. The wells on the Etstatis pad delivered peak 24-hr IPs that averaged 2,809 boe/d per well and 30-day cumulative volumes of...
Aug 08, 2017
Get more news for Bakken Scout