PetroScout
Serving the E&P market with news, analysis and business opportunities.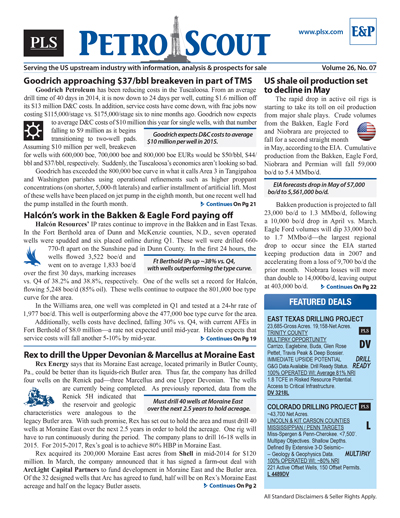 PLS publishes news and analysis on the exploration and production (E&P) sector through its E&P module. The blue banner report covers new well discoveries, drilling activities, acreage sales, industry statistics (drilling results, activity permits and intents to drill) and technological updates.
Covering exploration & production
Single copy pricing; Incl hard copy & email version
Increase market insight & deal flow
Every 3 weeks; 17+ issues per year
Latest in exploration, discoveries, resource plans, land grabs, volumes, development projects & trends
Access to archives covering E&P
Phone request for prospects and lands listed for sale
Includes discounts for other PLS products & events
Search PLS' News Archive for complete oil & gas news for PetroScout .
See what it is about before you buy. View a sample issue of PetroScout.
Need more information? Click the button to recieve more details about the PetroScout
Opportunity is a reflection of information.
Call 713-650-1212 For More Information
Search PetroScout:

Headline
Publication
News Date
PS - Apache improves capital efficiency at Alpine High project - June 2019
Drilling costs at Apache's Alpine High project have fallen 20% since 2017 to a 1Q19 average of $194 per foot for all wells and $153 per foot for 13 wells that were drilled on multi-well pads. The improvement was driven by drilling design optimization such as pad and batch drilling, reduced hole size and the elimination of intermediate casing strings. Completion costs are also down, having fallen 32% during the same period. Total D&C costs in Q1 averaged $476 per lateral foot for all...
Jun 13, 2019
PS - Laredo transitions to wider spacing, raises capex 27% - June 2019
8Because of operational improvements, Laredo Petroleum completed 20 wells in Q1, rather than just the 15 planned. The wells averaged 10,900-ft laterals and were completed as two 10-well packages—the last ones in Laredo's tight-spacing program. Laredo's tight spacing consists of 12-16 wells per DSU for the Upper and Middle Wolfcamp and six to eight wells for the Lower Wolfcamp and Cline. This compares to wide spacing that utilizes four to eight wells for the Upper and Middle and four...
Jun 13, 2019
PS - Chaparral's Meramec/Woodford spacing test ahead of curve - June 2019
Initial results are in for Chaparral Energy's operated Foraker spacing test in Canadian County, Oklahoma, and the news is encouraging. The 11-well, cube-style codevelopment test delivered initial 30-day rates of 1,357 boe/d (48% oil) per well. The wells sported 1-mile laterals and were fracked in a manner designed to create the greatest amount of near-wellbore complexity while maintaining sufficient pressure boundaries to minimize inter-well frac communication. The nine Upper and Lower...
Jun 13, 2019
PS - Encana lowers Anadarko well costs by $1MM, boosts output - June 2019
When EnCana completed its takeover of Newfield Exploration, the goal was to reduce costs in the Anadarko Basin by $1 million per well by 2H19. The company achieved this milestone early in Q2 and in some cases saw greater than $1 million savings. Application of its cube approach will drive costs down further. A number of actions led to the costs savings, including renegotiating supply agreements. By self-sourcing sand and chemicals, a $400,000 reduction in costs were realized. The use of...
Jun 13, 2019
PS - SandRidge eyes North Park wine racks at 15 wells/section - June 2019
Sandridge Energy's wells in the North Park Basin continue to exceed expectations. During Q1, four wells were drilled and eight were brought online. Three wells—one extended and two standard laterals—in the Sunshine unit at the far southern end of the play are producing 1,800 boe/d each after being brought online late in the quarter. One of the standard laterals is averaging 800 bo/d, which is twice the type curve oil rate. The other five wells are high-density spacing tests on...
Jun 13, 2019
PS - Abraxas reaping rewards of completion improvements - June 2019
Abraxas Petroleum is "extremely pleased" with the results of four new wells on its Raven NE pad in McKenzie County, North Dakota. Despite being choked back because of the installation of a gas pipeline, the pad has produced more than 715,000 boe (73% oil) in the first 160 days, with the wells currently producing 900 boe/d each. These child wells have produced an average of 75% of the cumulative volumes as legacy parent wells on the same pad, which has been online for more than seven...
Jun 13, 2019
PS - Hess' multi-zone pad flows IP24s of 376 boe/d per 1,000 ft - June 2019
At the beginning of April, Hess Corp. completed four wells on the AN-Dinwoodie #153-94-2833H pad in McKenzie County, North Dakota. This year, the company is transitioning to plug-and-perf completions from 60-stage sliding-sleeve completions and increasing proppant loading to an average intensity of 10 MMlb per well compared to 8.4 MMlb previously. The Dinwoodie wells were completed in an average of only 35 stages with 11.7-18.8 MMlb of sand and proppant. The four horizontals...
Jun 13, 2019
PS - Devon achieves 12x productivity jump from Eagle Ford refracs - June 2019
Encouraging initial results are coming in from Devon Energy's nascent Eagle Ford refrac program. The company has identified 200 refrac candidates and plans to appraise 20 locations in 2019. However, Devon estimates it has more than 700 potential refracs on its position. The initial wells in the program were brought online in Q1, with initial 30-day rates averaging 1,300 boe/d. These rates represent a 12x increase in well productivity. Devon also competed nine new Eagle Ford horizontals during...
Jun 13, 2019
PS - EOG growth engine has more than 10 years of runway - June 2019
EOG Resources has been developing the Eagle Ford at an aggressive pace for about 10 years. After a 9% production increase last year, the company believes its Eagle Ford program can continue to grow for at least 10 more years at premium returns. Only 40% of EOG's identified locations have been developed to date. In order to maintain the longterm viability of its Eagle Ford position, EOG is focusing on operational efficiencies. Q1 drilling costs were down 7% compared to 2018, while...
Jun 13, 2019
PS - Montage integration drives production beat & increase - June 2019
The financial combination of Eclipse Resources and Blue Mountain Resources was completed in Q1, and at the end the quarter Montage Resources was a month into the operational integration. Operational efficiencies from the two teams drove production to exceed guidance while lowering production costs. Montage's Q1 volumes beat guidance and were up 29% YOY at 407.5 MMcfe/d. As a result, the company revised its FY19 guidance upward by 3% to 520-540 MMcfe/d. Q1 production costs averaged...
Jun 13, 2019
Get more news for PetroScout