PetroScout
Serving the E&P market with news, analysis and business opportunities.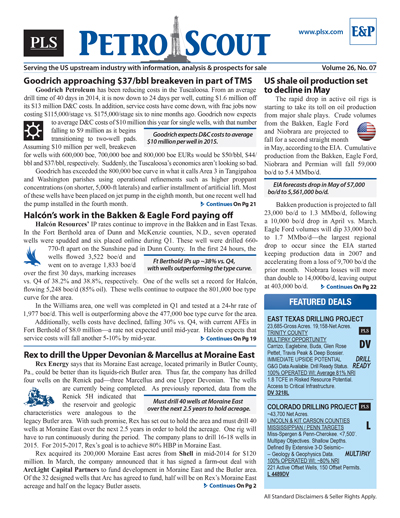 PLS publishes news and analysis on the exploration and production (E&P) sector through its E&P module. The blue banner report covers new well discoveries, drilling activities, acreage sales, industry statistics (drilling results, activity permits and intents to drill) and technological updates.
Covering exploration & production
Single copy pricing; Incl hard copy & email version
Increase market insight & deal flow
Every 3 weeks; 17+ issues per year
Latest in exploration, discoveries, resource plans, land grabs, volumes, development projects & trends
Access to archives covering E&P
Phone request for prospects and lands listed for sale
Includes discounts for other PLS products & events
Search PLS' News Archive for complete oil & gas news for PetroScout .
See what it is about before you buy. View a sample issue of PetroScout.
Need more information? Click the button to recieve more details about the PetroScout
Opportunity is a reflection of information.
Call 713-650-1212 For More Information
Search PetroScout:

Headline
Publication
News Date
PS - Parsley efficiencies coming to Jagged Peak's premium acreage - October 2019
Since the beginning of 2018, the Permian has seen a notable number of billiondollar-plus corporate mergers such as Concho Resources' $9.5 billion deal for RSP Permian; Diamondback Energy's $1.2 billion buy of Ajax Resources and $9.2 billion buy of Energen; and Cimarex Energy's acquisition of Resolute Energy for $1.6 billion. Much of the drive for the Occidental Petroleum-Anadarko Petroleum and Callon Petroleum-Carrizo Oil & Gas deals related to Permian assets. Now in Q4, another Permian...
Oct 21, 2019
PS - HighPoint's Hereford wells see 75% productivity improvement - October 2019
HighPoint Resources recently provided an encouraging update on its Hereford field assets in the DJ Basin. The company has completed the implementation of an extensive reservoir and geological study. Wells completed with its Gen. 2 high-fluidintensity completions have demonstrated dramatically improved early production, as is highlighted by seven wells on the eastern portion of DSU 11-63-16 that came online in June. These wells were developed on 16-wells-per-section spacing and were...
Oct 21, 2019
PS - Samson's initial Turner wells beat pre-drill expectations - October 2019
Samson Resources II announced initial results for its first two operated Turner wells in the Hornbuckle area of Converse County, Wyoming. The wells were drilled to delineate the Turner on Samson's acreage, which lies west of the industry's current Turner core. The Brushy Creek Fed 3772-0631 #1FH was drilled with a 9,716-ft lateral and produced a 24-hour IP of 2,260 boe/d and an initial 30-day rate of 1,708 boe/d, or 176 boe/d per 1,000 ft of lateral. The Reynolds Fed 3872-3106 #3FH produced an...
Oct 21, 2019
PS - To e-frac or not? Not everyone is sold on the method - October 2019
With an abundance of cheap natural gas being produced across the US, oil and gas operators are considering utilizing the clean burning fuel as a fuel source for hydraulic fracking fleets. Electric frac, or e-frac, fleets use electric-driven pumps that are most commonly powered by natural gas turbine generating units, according to Baker Hughes CEO Lorenzo Simonelli. E-frac units have a number of benefits compared to diesel-powered setups. Fuel costs are reduced substantially, with costs...
Oct 21, 2019
PS - Murphy tallies its best Tilden wells yet with new completions - October 2019
Murphy Oil is applying its latest completion techniques in the Tilden area of the Eagle Ford for the first time this year, and the well results are the best the company has ever seen in the area, CEO Roger Jenkins said. During Q3, 10 wells targeting the Lower Eagle Ford on the Tyler Ranch pad have been brought online at an average initial 24-hour rate of 1,800 boe/d. The wells averaged 7,100-ft laterals and were spaced at 550 ft. The Tilden area lies primarily in Atascosa and Mcmullen counties,...
Oct 21, 2019
PS - EP completes high-oil-cut Eagle Ford wells in Frio County - October 2019
Q2 was the height of EP Energy's DUC inventory build in the Eagle Ford, and at quarter's end the company dropped two of its three active rigs. Now it is focusing on completing DUCs in the play. In the latest available state data, EP completed five horizontal wells on the Siegele pad in the southeast corner of Frio County, Texas—its first in the county since 2016. The Siegele wells averaged 4,564-ft effective laterals and delivered initial 24-hour rates ranging 487-859 boe/d (98% oil)...
Oct 21, 2019
PS - Excalibur flows strong Mississippian & Woodford gas rates - October 2019
Excalibur Resources achieved its highest initial 24-hour rate to date and a topquartile IP in Custer County, Oklahoma. The Bedivere #1-4-9XH was completed with a 7,512-ft effective lateral using 16.5 MMlb of sand. During a 24-hour test, the well produced 17.1 MMcf/d from the Mississippian on a 22/64-inch choke. On the same pad, the Bedivere #2-4-9XH was brought online around the same time. This well sports a 5,951-ft effective lateral and was completed with 17.4 MMlb of sand. During a 24-hour...
Oct 21, 2019
PS - Short-term outlook for Q4 shows bearish sentiment - October 2019
The last quarter of 2019 is upon us, and it seems that for the last year, the upstream oil and gas industry has been treading water. WTI prices have not returned to the more than $70/bbl highs of early last October and prices have remained in a $46-$65 range all year. The 12-month strip as of Oct. 16 was $52.73/bbl. With prices in the last month in the $50s and natural gas prices below $3/MMbtu, Q4 activity is decelerating and 2020 plans appear to be flat or down. Extraction Oil & Gas...
Oct 21, 2019
PS - Cimarex pays $31,001/acre for Lea County parcel in BLM lease sale - October 2019
The US Bureau of Land Management's New Mexico office conducted a lease sale Sept. 5 for 12 parcels in New Mexico (Eddy, Lea and Chaves counties), two in Oklahoma (Coal and Major counties) and one in Kansas (Greeley County). The sale brought in $9.8 million for 15 parcels covering 3,174 acres. Cimarex Energy paid the most per acre at $31,001, or $1.24 million total, for a 40-acre parcel in Lea County, N.M. The most paid for a parcel was Platform Energy III's $3.18 million ($8,001/ acre) bid for...
Oct 21, 2019
PS - Midcontinent Briefs - October 21, 2019
During Q3, Gulfport Energy drilled one operated SCOOP well and had two wells in various stages of completion at the end of the quarter. Production during the quarter averaged 285 MMcfe/d, up 3% YOY. Infinity Energy Resources signed an agreement to make Haas Petroleum the operator of a contiguous 11,000-acre leasehold it plans to acquire from Core Energy LLC in central Kansas. Haas will execute Infinity's exploration and development plan for the acreage, including the drilling of at...
Oct 21, 2019
Get more news for PetroScout