PetroScout
Serving the E&P market with news, analysis and business opportunities.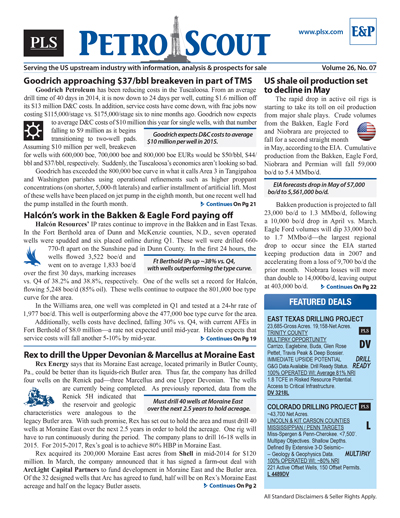 PLS publishes news and analysis on the exploration and production (E&P) sector through its E&P module. The blue banner report covers new well discoveries, drilling activities, acreage sales, industry statistics (drilling results, activity permits and intents to drill) and technological updates.
Covering exploration & production
Single copy pricing; Incl hard copy & email version
Increase market insight & deal flow
Every 3 weeks; 17+ issues per year
Latest in exploration, discoveries, resource plans, land grabs, volumes, development projects & trends
Access to archives covering E&P
Phone request for prospects and lands listed for sale
Includes discounts for other PLS products & events
Search PLS' News Archive for complete oil & gas news for PetroScout .
See what it is about before you buy. View a sample issue of PetroScout.
Need more information? Click the button to recieve more details about the PetroScout
Opportunity is a reflection of information.
Call 713-650-1212 For More Information
Search PetroScout:

Headline
Publication
News Date
PS - Austerity coming to Appalachia in 2020 as price outlook worsens - January 2020
The price outlook for natural gas is currently worse than it was a year ago, thanks to rapidly growing US output driven by associated gas from oil production. As of Dec. 30, the 12-month strip price for Henry Hub is $2.33/MMbtu compared to $2.95/MMbtu a year ago. The Energy Information Administration estimates that US production grew 10% in 2019 to 92.1 Bcf/d and will grow 3% in 2020 to 95.1 Bcf/d. Storage numbers are bearish, with the EIA estimating October through March withdrawals of 1.9...
Jan 06, 2020
PS - Devon Energy partners with Dow to jumpstart STACK drilling - January 2020
After Devon Energy dropped to zero rigs in the STACK to focus on oilier projects, exploration and production EVP David Harris told investors on a Nov. 6 conference call that the company was "actively working to rejuvenate returns in the play to more competitive levels within our portfolio by lowering our D&C costs and through evaluation of partnership and Drillco structures." That process has now resulted in an agreement with chemical giant Dow to jointly develop 133 liquids-rich STACK...
Jan 06, 2020
PS - Conoco's Permian to reach 400,000 boe/d over the next decade - January 2020
ConocoPhillips' approach to US unconventionals is meant to bring each asset to an "optimal plateau, generate strong returns and free cash flow, keep learning, find upside and increase value," Lower 48 president Dominic Macklon said at the company's 2019 analyst day. The company is in the plateau stage in the Bakken and will reach that stage in the Eagle Ford over the next few years. The company's Permian assets, which are comprised of 90,000 net Delaware Basin acres, 20,000 net Northwest Shelf...
Jan 06, 2020
PS - Bruin ends 2019 with its best initial well productivity yet - January 2020
ArcLight Capital-backed Bruin E&P recently brought online eight outstanding wells on its FB James lease in McKenzie County, North Dakota. The company was already delivering consistently strong results in Williams County, as highlighted in our Dec. 6 issue. This time, Bruin is achieving its most impressive initial 24-hour rates in McKenzie County to date, including one monster well that ranks as the company's best. The eight wells, all targeting the Middle Bakken or Three Forks, were...
Jan 06, 2020
PS - Goodrich to grow output & free cash flow on 35% lower capex - January 2020
Goodrich Petroleum laid out a 2020 operating plan that will see lower capex, higher production and free cash flow generation. The company plans to spend $55-65 million, which is down 35% compared to the midpoint of 2019 guidance. At natural gas and oil prices of $2.50/Mcf and $55.00/bbl, respectively, Goodrich expects to generate $15-25 million of free cash flow. The company anticipates growing 2020 output 12.5-17.5% to an average of 145-153 MMcfe/d (99% gas). Operational plans include...
Jan 06, 2020
PS - Rockcliff delivers 64 MMcf/d from three-well pad at Carthage - January 2020
Privately held East Texas operator Rockcliff Energy completed a three-well Haynesville pad in Harrison County, according to recently released state data. Located at Carthage field, the wells delivered initial 24-hour rates averaging 21.4 MMcf/d from effective laterals averaging 8,937 ft after being fracked Sept. 21 with proppant loads averaging 31.9 MMlb. The top performer was the Abney RK B HV Unit C #3H. Sporting an 8,944-ft effective lateral, the well delivered an IP24 of 23.1 MMcf/d on a...
Jan 06, 2020
PS - GeoSouthern flows two Haynesville wells over 40 MMcf/d - January 2020
GeoSouthern Energy's Haynesville JV company GEP Haynesville delivered its best initial rates to date from a two-well pad in Red River Parish, Louisiana, beating its previous record by about a third. According to recently released state data, the Cecile Land 9-16 HC #1-ALT was completed in late September with a 7,624-ft effective lateral using 23.4 MMlb of proppant. During a 24-hour test, the well delivered an IP of 43 MMcf/d on a 34/64-inch choke at 7,970 psi FCP. The neighboring #2-ALT well...
Jan 06, 2020
PS - Operators draw in partners for 2020 development - January 2020
At a time when free cash flow is taking priority over other objectives, companies are finding ways to move development forward with less investment. Several JVs were announced in the final weeks of 2019. Much like it did in the Barnett last year, Devon Energy entered into a joint development agreement with Dow in the STACK. Dow will receive half of Devon's working interest, estimated to average 60%, in a mix of standard and extended-reach horizontal locations in central Oklahoma in...
Jan 06, 2020
PS - Mississippian zones see initial productivity boost during 2019 - January 2020
While drilling activity in Oklahoma has taken a dive in the last year—there are 60 active rigs in the state as of Dec. 30 compared with 149 a year ago—initial well productivity is improving. For example, new production per rig in the Anadarko Basin in January is expected to be 625 bo/d and 4.2 MMcf/d compared to 410 bo/d and 2.9 MMcf/d in January 2019, according to the US Energy Information Administration. In the first nine months of 2019 (data is not yet available for Q4), the Mississippian...
Jan 06, 2020
PS - Ark-La-Tex Briefs - January 6, 2020
Brix Operating brought online its best well to date at the end of Q3. Located in DeSoto Parish, Louisiana, the San Patricio 12-13HC #1 was completed with a 9,920-ft effective lateral using 44.7 MMlb of proppant. During a 24-hour test, the well delivered an IP rate of 24.1 MMcf/d from the Haynesville on a 16/64-inch choke at 8,189 psi FCP. Sabine Oil & Gas brought online a two-well pad in Panola County, Texas, at the end of September. The LefoyLewin #1H and #2H averaged 10,887-ft...
Jan 06, 2020
Get more news for PetroScout