CapitalMarkets
Serving the finance market with news, analysis and investment opportunities.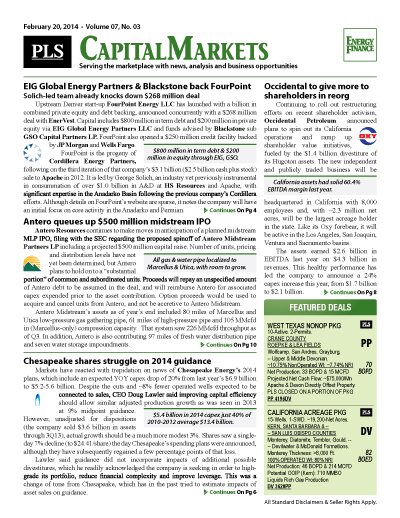 PLS publishes news and analysis in the energy finance sector through its capital markets module. The green banner report includes news and analysis on company budgets, capital spending, financial performance and interviews with leading capital providers.
Your access to energy finance
Single copy pricing; Incl hard copy & email version
Increase market insight & deal flow
Every 3 weeks; 17+ issues per year
Covers financings, capex, earnings, new companies
Includes market analysis and new trends
Access to capital market archives
Phone request for multiple listings published in reports
Includes discounts for other PLS products & events
Are you looking to subscribe to Capitalize? Click here for the latest Capital Markets Report
Search PLS' News Archive for complete oil & gas news for CapitalMarkets .
See what it is about before you buy. View a sample issue of CapitalMarkets.
Need more information? Click the button to recieve more details about the CapitalMarkets
Opportunity is a reflection of information.
Call 713-650-1212 For More Information
Search CapitalMarkets:

Headline
Publication
News Date
CM - Apache's $1B notes light up dull 2019 upstream debt sales - June 2019
Apache Corp. issued $1 billion in bonds, becoming the biggest US upstream corporate debt issuer YTD. The company sold $600 million aggregate principal amount in 4.25% senior notes due 2023 at 99.819 and $400 million in 30-year notes with a 5.35% coupon, which it sold at 99.391. The new issues bring Apache's total notes and debentures to over $9.2 billion, some of which the company has offered to buy back through a tender offer for up to nine separate notes that it launched at the same time the...
Jun 21, 2019
CM - Jerry Jones kicking in for Comstock's $2.2B Covey buy - June 2019
Comstock Resources, which was refinanced and revived last year by transactions involving Dallas Cowboys owner Jerry Jones, agreed to buy Haynesville standout Covey Park Energy for $2.2 billion, in part using funds it will realize from equity sales to Jones. He will invest $475 million total cash in Comstock, buying 50 million new common shares at $6 each for $300 million and $175 million worth of new 10% perpetual convertible preferred stock. Combined with the more than 88...
Jun 21, 2019
CM - EQT has got one life to live: Who's right? Who's wrong? - June 2019
EQT Corp.'s latest announcement to shareholders says what every hydrocarbon E&P investor likes to hear: Q2 production will be at the high end of its 355-375 Bcfe guidance range and spending is expected to be lower. EQT's pre-Q2 end report comes as the company is trying to keep shareholders from voting out a majority of its directors in favor of nominees proposed by brothers Toby and Derek Rice as the July 10 annual meeting looms. By announcing what it's done for shareholders lately, EQT...
Jun 21, 2019
CM - Legacy Reserves' RSA will reduce debt by over $900MM - June 2019
Legacy Reserves Inc. confirmed a global restructuring support agreement with its reserve based revolving credit facility lenders, and groups holding the company's second lien term loan and notes. The RSA will be executed while the company restructures under Chapter 11 of the US Bankruptcy Codes and is expected to extinguish more than $900 million of debt. Legacy will file the RSA within 30 days following its June 18 petition to enter bankruptcy protection. In addition to relieving over...
Jun 21, 2019
CM - Blackstone's GSO closes $4.5B Energy Select Fund II - June 2019
The Blackstone Group's credit arm, GSO Capital Partners, reached its $4.5 billion goal for funding its second energy fund, GSO Energy Select Opportunities Fund II. GSO started investing even as funds were still being raised, having committed 20% of the total capital collected to various investments. GSO said it sourced commitments from a global investor base, including US state, corporate and international pension funds, financial institutions, endowments, foundations and family...
Jun 21, 2019
CM - PE groups TPG Sixth Street & Glendale in $500MM partnership - June 2019
TPG Sixth Street Partners and Glendale Energy Ventures teamed up to start a new oil and gas investment partnership with an initial $500 million in capital to invest in upstream oil and gas assets across the US. They've already deployed funds to acquire $55 million of non-operated interests in STACK drilling pads. The pair will structure investments in non-operated interests and those that are operated by others. "We are pleased to be partnering with Glendale's experienced team … to...
Jun 21, 2019
CM - Continental introduces dividend and launches $1B buyback - June 2019
Continental Resources launched an effort to woo back investors with a $1 billion stock buyback and a new quarterly dividend. It also said it would continue its multi-year program to reduce debt. The buyback will start before H2 and continue through 2020, with a "substantial portion" executed this year, Continental said, adding that it could prioritize further share repurchases in lieu of production growth. "This demonstrates the confidence we have in the quality and sustainability of...
Jun 21, 2019
CM - US E&P companies to lose Norway as shareholder - June 2019
As expected, the Norwegian parliament voted June 12 to direct the country's sovereign wealth fund—the world's biggest, valued at more than $1 trillion—to divest from fossil fuels. The selloff will involve its equity stakes in an estimated 134 publicly traded oil and gas E&P companies, as defined by index manager FTSE Russell, as well as coal, mining and trading houses that engage in related activities. Several dozen American energy companies will lose a shareholder but in most cases the...
Jun 21, 2019
CM - Denbury reorganizing debt through exchange offers - June 2019
Denbury Resources Inc. and senior noteholders agreed to exchange $402 million of older debt into cash and new notes through private transactions. Institutional holders will swap about $44.8 million principal amount of the company's 6% notes due 2021, $93.1 million of 5.5% notes due 2022 and $96.3 million of 4 % notes due 2023 for nearly $48.5 million of cash, $36.6 million aggregate principal amount of new 7.75% senior secured second lien notes due 2024 and $149.1 million of new 6 % convertible...
Jun 21, 2019
CM - EOG breaking even at lower price points, spending less on F&D - June 2019
EOG Resources, Inc. told investors its breakevens would trend downward while adding more wells at lower finding and developing costs. Its breakevens have fallen from more than $80/bbl a few years ago to $55/bbl last year to $50 this year, EVP Ken Boedeker said at a June 18 industry conference. During the 2015-2016 downturn, EOG turned to a premium drilling strategy with a 30%-plus after-tax return target assuming a flat oil price of $40/bbl and gas at $2.50/Mcf. EOG said it can add...
Jun 21, 2019
Get more news for CapitalMarkets