PetroScout
Serving the E&P market with news, analysis and business opportunities.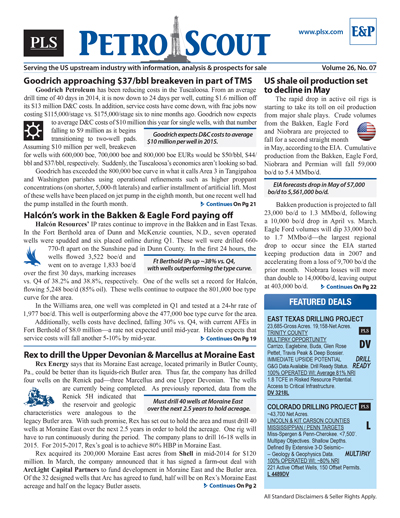 PLS publishes news and analysis on the exploration and production (E&P) sector through its E&P module. The blue banner report covers new well discoveries, drilling activities, acreage sales, industry statistics (drilling results, activity permits and intents to drill) and technological updates.
Covering exploration & production
Single copy pricing; Incl hard copy & email version
Increase market insight & deal flow
Every 3 weeks; 17+ issues per year
Latest in exploration, discoveries, resource plans, land grabs, volumes, development projects & trends
Access to archives covering E&P
Phone request for prospects and lands listed for sale
Includes discounts for other PLS products & events
Search PLS' News Archive for complete oil & gas news for PetroScout .
See what it is about before you buy. View a sample issue of PetroScout.
Need more information? Click the button to recieve more details about the PetroScout
Opportunity is a reflection of information.
Call 713-650-1212 For More Information
Search PetroScout:

Headline
Publication
News Date
PS - Continental's Project SpringBoard oil rates exceed target - May 2019
Continental Resources' Project SpringBoard oil volumes are outperforming guidance, totaling 14,000 bo/d in the first 28 days of April. As a result, the Q3 target has been raised to 18,000 bo/d from 16,500 bo/d. During Q1, the company completed six Woodford wells at SpringBoard that generated 24-hour IPs averaging 1,660 boe/d (75% oil) per well, with the horizontals outperforming the legacy 1.5 MMboe Woodford oil type curve. Overall SCOOP production averaged 67,659 boe/d in Q1, up 9% YOY. A...
May 02, 2019
PS - Southwestern drills company record laterals in Appalachia - May 2019
Southwestern Energy continues to make operational improvements in its postFayetteville era. During Q1, the company set a new pad completion time record of 8.3 stages per day in southwestern Appalachia. The company also drilled a record 8,300 lateral ft in 24 hours, 100% in the target zone. Lateral length records were achieved in West Virginia and Pennsylvania at 18,019 ft and 18,683 ft, respectively. With operational improvements came reductions in costs. Q1 wells costs were down 10%...
May 02, 2019
PS - Centennial's N.M. wells meeting or exceeding expectations - May 2019
Centennial Resource Development brought online a well in New Mexico that produced 52,000 bo in its first 30 days. Chairman and CEO Mark Papa says the well is the company's best in New Mexico. In January, Centennial completed the Airstream 24 State Com 502H (78% WI) in Lea County, New Mexico. The Second Bone Spring well was completed with a ~10,000-ft effective lateral using 27.1 MMlb proppant. The company said the well produced a 30-day rate of 2,385 boe/d (83% oil), or 198 boe/d per 1,000...
May 02, 2019
PS - Chevron & Occidental vying for Permian supremacy - May 2019
Anadarko Petroleum is for sale, and both Chevron and Occidental Petroleum want it. The battle for the company will result in one of the largest upstream mergers ever and create the largest Permian Basin producer. Chevron offered $50 billion. Occidental subsequently offered $57 billion. Anadarko announced it would formally pursue a merger with Oxy on April 29 and should a deal be secured, Chevron would be owed a $1 billion breakup fee. Regardless of the outcome, here's what could have...
May 02, 2019
PS - Vermilion's Q1 US production 'Hilighted' by new Turner well - May 2019
Toronto-based Vermilion Energy's Q1 production from its US operations in the Powder River Basin's Turner Sand play was up 3% sequentially to 3,653 boe/d, primarily because of the performance of its first Hilight well, which was drilled in Q4. Vermilion acquired the Hilight assets in August from Massif Oil & Gas for $143 million. Located on 55,700 net acres in Campbell County, Wyoming, with an average operated 96% WI (93% HBP), Hilight is a light oil growth project with 93...
May 02, 2019
PS - Peak Powder River's Turner program yields strong wells - May 2019
Peak Powder River Resources delivered some of the strongest results for the Turner formation in Campbell County, Wyoming, during 2018. Recently reported to the state and completed in Q4, the Roush Fed #2-27-22TH was completed with a 8,501-ft lateral using 4.3 MMlb sand. The well tested at an initial 24-hour rate of 1,709 boe/d (96% oil) from the Turner on a 32/64-inch choke at 1,350 psi FTP. Earlier in the year, the Atwood-Laur State #1-36TH, which sports a 3,861-ft lateral, flowed an...
May 02, 2019
PS - SRC raises production guidance on reduced uncertainty - May 2019
SRC Energy started 2019 off with conservative plans because of the political environment in Colorado and uncertainty surrounding the completion of DCP Midstream's O'Connor 2 gas processing plant. Now, the SB-181 bill has been passed and will overhaul how oil and gas drilling is regulated in the state by handing more control of well siting and permitting to county and municipal governments. O'Connor 2 looks to be on schedule to start processing volumes late in Q2. As a result of the...
May 02, 2019
PS - Extraction scales down 2019 plans to stay within cash flow - May 2019
Extraction Oil & Gas set a 2019 D&C budget of $585-675 million compared to $776 million in 2018. This is a 7% reduction to the initial plans announced in October. The company plans to drill 125 wells, with laterals averaging 2 miles, complete 122 wells and turn to sales 11 wells. Crude production is expected to grow 12% YOY in 2019 to an average of 43,000-45,500 bo/d.Total output is expected to rise 19% YOY to an average of 87,500-93,000 boe/d. "We've worked tirelessly over the past...
May 02, 2019
PS - Devon's Teapot & Parkman 'filler' drilling delivers high oil cuts - May 2019
As Devon Energy works through its Turner appraisal program this year to pursue full development as soon as 2020, it is also pursuing what it calls "filler" activity in shallower Teapot and Parkman formations. The company delivered solid results from several wells it brought online in these formations in late 2018 and early 2019 in Converse County, Wyoming. Targeting the Teapot on the CU Downs Fed lease, the 15-2 was completed with a 10,500-ft lateral using 5.5 MMlb proppant and the 35-1...
May 02, 2019
PS - Trinity & Canyon Creek complete Woodford dry gas wells - May 2019
Recent completion data shows some standout results for Woodford dry gas wells in Hughes County, Oklahoma. Trinity Operating reported the completion of 16 Woodford wells in Hughes, including one that is a company high for the county. The Glynell #1-31/30H has a 10,164-ft lateral and was completed with 10.8 MMlb of sand. During a 24- hour IP test, the well flowed 10.3 MMcf/d. Only Trinity's Belle #3-20/29H (8,770- ft lateral; 9.8 MMlb sand) in neighboring Pittsburg County produced a...
May 02, 2019
Get more news for PetroScout