PetroScout
Serving the E&P market with news, analysis and business opportunities.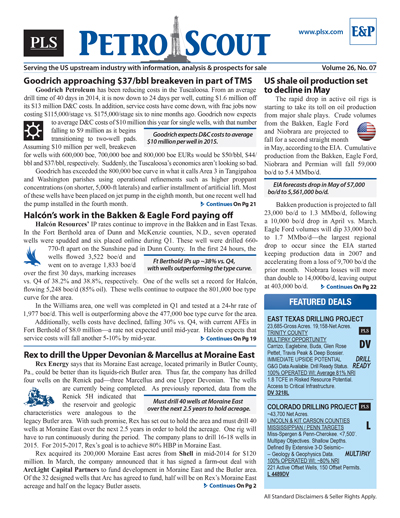 PLS publishes news and analysis on the exploration and production (E&P) sector through its E&P module. The blue banner report covers new well discoveries, drilling activities, acreage sales, industry statistics (drilling results, activity permits and intents to drill) and technological updates.
Covering exploration & production
Single copy pricing; Incl hard copy & email version
Increase market insight & deal flow
Every 3 weeks; 17+ issues per year
Latest in exploration, discoveries, resource plans, land grabs, volumes, development projects & trends
Access to archives covering E&P
Phone request for prospects and lands listed for sale
Includes discounts for other PLS products & events
Search PLS' News Archive for complete oil & gas news for PetroScout .
See what it is about before you buy. View a sample issue of PetroScout.
Need more information? Click the button to recieve more details about the PetroScout
Opportunity is a reflection of information.
Call 713-650-1212 For More Information
Search PetroScout:

Headline
Publication
News Date
Activity picking up beyond Permian
The U.S. oil patch continued an upward swing in June with several companies chasing after opportunities in once lackluster regions. Of particular note were players in the Gulf of Mexico and out west...
Jun 14, 2018
People & Companies - June 14, 2018
Geoffrey King, VP and CFO of Abraxas Petroleum, resigned to pursue another opportunity in the financial sector. He has been CFO and VP since September 2012. The company stressed his resignation is...
Jun 14, 2018
Comstock & QEP turning Haynesville wells on line
PLS' Ark-La-Tex Scout reports Comstock and QEP registered 24-hour IPs for new wells. At Bethany-Longstreet Field in DeSoto Parish, Comstock's Roberts 26-35 HC #2-Alt (9,018-ft lateral) tested 28.0...
Jun 14, 2018
Fracking bottlenecks could slow Bakken growth
Add North Dakota to the list of U.S. regions that are starting to see some difficulty in keeping up with the recent increase in oilfield activity. Currently, North Dakota has enough frack crews to...
Jun 14, 2018
Get more news for PetroScout