PetroScout
Serving the E&P market with news, analysis and business opportunities.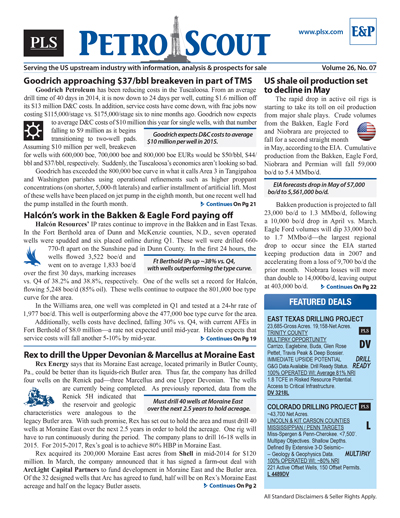 PLS publishes news and analysis on the exploration and production (E&P) sector through its E&P module. The blue banner report covers new well discoveries, drilling activities, acreage sales, industry statistics (drilling results, activity permits and intents to drill) and technological updates.
Covering exploration & production
Single copy pricing; Incl hard copy & email version
Increase market insight & deal flow
Every 3 weeks; 17+ issues per year
Latest in exploration, discoveries, resource plans, land grabs, volumes, development projects & trends
Access to archives covering E&P
Phone request for prospects and lands listed for sale
Includes discounts for other PLS products & events
Search PLS' News Archive for complete oil & gas news for PetroScout .
See what it is about before you buy. View a sample issue of PetroScout.
Need more information? Click the button to recieve more details about the PetroScout
Opportunity is a reflection of information.
Call 713-650-1212 For More Information
Search PetroScout:

Headline
Publication
News Date
Permian gas takeaway projects abound
Several companies are stepping up to the plate in order to break up the Permian Basin's gas takeaway logjam. More than 10.5 Bcf/d of pipeline expansions have been proposed including Kinder Morgan,...
Jul 27, 2018
Conoco boosts Willow estimate by 100-450 MMboe
ConocoPhillips finished analyzing results from its winter drilling campaign in Alaska and has concluded that it has found up to 1.1 Bboe in resources since 2016. The estimate is based on findings...
Jul 27, 2018
Chesapeake gusher crushes Haynesville IP24 record
Chesapeake has done it again in the Haynesville play, where a recently completed well at Johnson Branch field in Caddo Parish, Louisiana, registered a record-shattering 24-hour IP rate. The company's...
Jul 27, 2018
Well results expand Marathon's Eagle Ford core
Marathon Oil's completions are yielding high IP rates that are expanding what the company considers its core Eagle Ford acreage. In early June, Marathon completed five wells on the Guajillo Unit 10...
Jul 27, 2018
EnVen finds overlooked pay at Lobster in GOM
Ongoing work at EnVen Energy Corp.'s 8,000 bo/d Lobster field in the U.S. Gulf of Mexico has turned up additional oil. EnVen's A-2 well targeted unbooked resources at the field in the Ewing Bank area...
Jul 27, 2018
Council Oak tests extended Mississippian lateral
Council Oak Resources completed its first extended lateral at the end of Q1. Located in Blaine County, Oklahoma, the John Kent #1-21-16UWH (10,671-ft lateral; 24.3 MMlb proppant) flowed an initial...
Jul 27, 2018
Get more news for PetroScout