PetroScout
Serving the E&P market with news, analysis and business opportunities.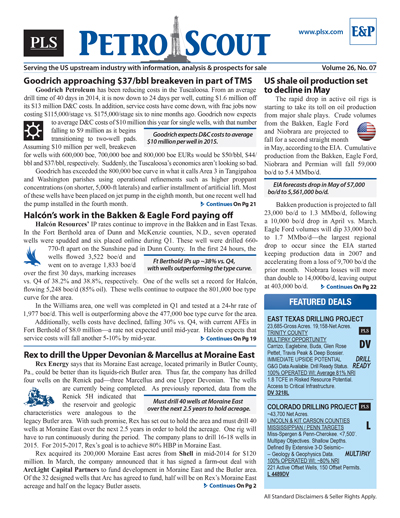 PLS publishes news and analysis on the exploration and production (E&P) sector through its E&P module. The blue banner report covers new well discoveries, drilling activities, acreage sales, industry statistics (drilling results, activity permits and intents to drill) and technological updates.
Covering exploration & production
Single copy pricing; Incl hard copy & email version
Increase market insight & deal flow
Every 3 weeks; 17+ issues per year
Latest in exploration, discoveries, resource plans, land grabs, volumes, development projects & trends
Access to archives covering E&P
Phone request for prospects and lands listed for sale
Includes discounts for other PLS products & events
Search PLS' News Archive for complete oil & gas news for PetroScout .
See what it is about before you buy. View a sample issue of PetroScout.
Need more information? Click the button to recieve more details about the PetroScout
Opportunity is a reflection of information.
Call 713-650-1212 For More Information
Search PetroScout:

Headline
Publication
News Date
BOEM preps for 2019 Beaufort Sea sale
The Bureau of Ocean Energy Management has published a call for nominations for the Beaufort Sea planning area, which spans 11,876 whole and partial blocks covering 65 million acres. The potential is...
Apr 12, 2018
Cabot targeting 15% volume increase into 2018
Cabot Oil & Gas produced an estimated 1.82-1.87 Bcfe/d (2-3% liquids) in Q1 and is targeting 2018 full-year production growth of 10-15%. This growth is weighted toward H2 and will be driven by...
Apr 12, 2018
Eclipse boosts its Marcellus condensate type curve
Eclipse Resources is increasing its Marcellus condensate type curve by ~13% to 1.8 Bcfe per 1,000 ft based on initial results from two Marcellus wells drilled in January at existing Ohio Utica pads....
Apr 12, 2018
BP looks ahead to new hub as Mad Dog 2 progresses
BP walked away with the most new blocks in the recent Gulf sale 250, showing the supermajor remains committed to developing resources off the US. BP's regional president for the Gulf of Mexico and...
Apr 12, 2018
Get more news for PetroScout