PetroScout
Serving the E&P market with news, analysis and business opportunities.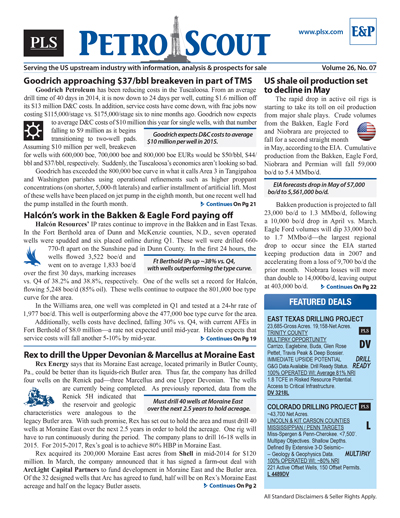 PLS publishes news and analysis on the exploration and production (E&P) sector through its E&P module. The blue banner report covers new well discoveries, drilling activities, acreage sales, industry statistics (drilling results, activity permits and intents to drill) and technological updates.
Covering exploration & production
Single copy pricing; Incl hard copy & email version
Increase market insight & deal flow
Every 3 weeks; 17+ issues per year
Latest in exploration, discoveries, resource plans, land grabs, volumes, development projects & trends
Access to archives covering E&P
Phone request for prospects and lands listed for sale
Includes discounts for other PLS products & events
Search PLS' News Archive for complete oil & gas news for PetroScout .
See what it is about before you buy. View a sample issue of PetroScout.
Need more information? Click the button to recieve more details about the PetroScout
Opportunity is a reflection of information.
Call 713-650-1212 For More Information
Search PetroScout:

Headline
Publication
News Date
PS - Analyst Notes - October 19, 2018
Ring Energy (REI; $10.65-Oct. 2; Neutral; PT-$12) REI shares have underperformed the XOP by ~46% since the company's May Q1 conference call ... In light of this underperformance and...
Oct 19, 2018
PS - People & Companies - October 19, 2018
Louisiana-focused E&P firm Empire Petroleum announced the election of CEO Tommy Pritchard to its board. A longtime energy investment banker, Pritchard was hired to lead Empire in late 2017 after the...
Oct 19, 2018
PS - South Texas Briefs - October 19, 2018
Toronto-listed Emerald Bay Energy Inc. spudded its operated Floyd 1 well on its recently acquired F. Poenitz lease in Guadalupe County, Texas. The Floyd 1 and Floyd 2 wells are being drilled in...
Oct 19, 2018
PS - Rockies Briefs - October 19, 2018
The US Bureau of Land Management raised $60.4 million in high bids during a three-day auction for Wyoming where it offered 348 parcels and received bids on 311 covering 301,605 acres. Deputy...
Oct 19, 2018
Get more news for PetroScout