PetroScout
Serving the E&P market with news, analysis and business opportunities.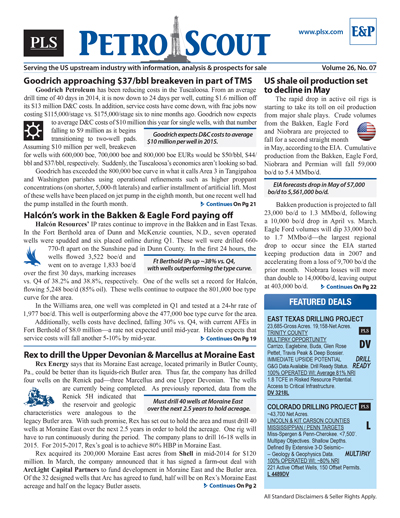 PLS publishes news and analysis on the exploration and production (E&P) sector through its E&P module. The blue banner report covers new well discoveries, drilling activities, acreage sales, industry statistics (drilling results, activity permits and intents to drill) and technological updates.
Covering exploration & production
Single copy pricing; Incl hard copy & email version
Increase market insight & deal flow
Every 3 weeks; 17+ issues per year
Latest in exploration, discoveries, resource plans, land grabs, volumes, development projects & trends
Access to archives covering E&P
Phone request for prospects and lands listed for sale
Includes discounts for other PLS products & events
Search PLS' News Archive for complete oil & gas news for PetroScout .
See what it is about before you buy. View a sample issue of PetroScout.
Need more information? Click the button to recieve more details about the PetroScout
Opportunity is a reflection of information.
Call 713-650-1212 For More Information
Search PetroScout:

Headline
Publication
News Date
Freezing weather disrupts gas flow to Sabine Pass
Production at Cheniere Energy's Sabine Pass LNG plant in Louisiana is running well below capacity, resulting in disruption to cargo loadings. Feed gas supply into the plant dropped sharply recently,...
Feb 02, 2018
Chevron to drill in MC 610
BSEE approved Chevron's plan to drill the Twickenham prospect in Mississippi Canyon Block 610. The drill site lies 73 miles offshore in 7,108 ft of water. Chevron hasn't given a specific spud date,...
Feb 02, 2018
Emerald Bay finishes work at MarPat lease
Emerald Bay Energy is perforating the last of its 16 wells at the MarPat lease in Somerset, TX. The wells have shown commercial viability in the Anacocho, Olmos, and Escondido formations, and to date...
Feb 02, 2018
ExxonMobil named 2017 Explorer of the Year
ExxonMobil was named 2017 Explorer of the Year by the World Oil and Gas Council in recognition of excellence and innovation in the energy industry. During 2017, ExxonMobil made a number of...
Feb 02, 2018
Alaska approves Icewine 3D seismic survey
Alaska approved Geokinetics' Icewine 2018 3D seismic survey permit application. This authorizes the company to carry out a seismic survey 12 mi west of Dalton Highway, subject to conditions of the...
Feb 02, 2018
Jericho drilling in the STACK
Jericho Oil started drilling its first horizontal Osage well in Major Co., OK after signing a farm-in agreement with an undisclosed private operator. A total of two initial wells are planned, with...
Feb 02, 2018
Get more news for PetroScout