PetroScout
Serving the E&P market with news, analysis and business opportunities.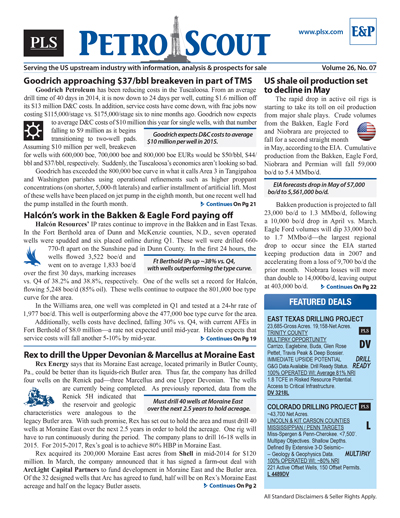 PLS publishes news and analysis on the exploration and production (E&P) sector through its E&P module. The blue banner report covers new well discoveries, drilling activities, acreage sales, industry statistics (drilling results, activity permits and intents to drill) and technological updates.
Covering exploration & production
Single copy pricing; Incl hard copy & email version
Increase market insight & deal flow
Every 3 weeks; 17+ issues per year
Latest in exploration, discoveries, resource plans, land grabs, volumes, development projects & trends
Access to archives covering E&P
Phone request for prospects and lands listed for sale
Includes discounts for other PLS products & events
$ 645 /Yr
Search PLS' News Archive for complete oil & gas news for PetroScout .
See what it is about before you buy. View a sample issue of PetroScout.
Need more information? Click the button to recieve more details about the PetroScout
Opportunity is a reflection of information.
Call 713-650-1212 For More Information
Search PetroScout:

Headline
Publication
News Date
FIG Tree participates in OK well
FIG Tree Capital Ventures partner Chesapeake Energy's Bradford 5-18-5 in Kingfisher Co., OK, was completed in the Oswego formation and produced 1,800 boe/d (63% oil) during the first 24 hours of...
Oct 31, 2017
Gulfport averages 1.2 Bcfe/d in Q3
Gulfport Energy's net daily production for 3Q17 averaged 1.2 Bcfe/d (12% liquids). The company put 19 gross operated Utica wells on stream, and also started producing from six gross operated...
Oct 31, 2017
Rose wraps us 3D seismic campaign in Utah
Rose Petroleum completed acquisition of 40 sq mi of 3D seismic data in Utah's Paradox Basin. The survey was completed three weeks ahead of schedule and on budget. Cleanup and processing will proceed,...
Oct 31, 2017
Torchlight completing first Permian well
Torchlight Energy Resources flowed back its first Permian Wolfcamp A horizontal after installing an ESP in the Flying B Ranch #3H. The well is producing 2,500 bbl/d of fluid (6% oil) with increasing...
Oct 31, 2017
Burnett's Big Cypress seismic work will go on
Florida will allow Burnett Oil to continue exploring a 110-sq mi area of the Big Cypress National Preserve. Burnett's permits do not allow for drilling, just the use of trucks to carry out a seismic...
Oct 31, 2017
Winds of change blowing through oil patch (again)
Few industries have been whipsawed quite as much as the US oil industry over the past decade. During that time oil prices peaked at $147 in July 2007, only to crash below $40 by February 2009. Seven...
Oct 31, 2017
People & Companies - October 31, 2017
Anadarko named Danny Brown US onshore operations EVP after he served as international and deepwater EVP. Mitch Ingram has been appointed international and deepwater operations EVP after serving as...
Oct 31, 2017
Bakken production, well transfers get boost
North Dakota oil production rose 3.5% sequentially in August to 1.08 MMbo/d. Dunn, Mckenzie and Williams counties provided the bulk of the new volumes, with Bottineau, Burke, Mountrail, Slope and...
Oct 31, 2017
Get more news for PetroScout