PetroScout
Serving the E&P market with news, analysis and business opportunities.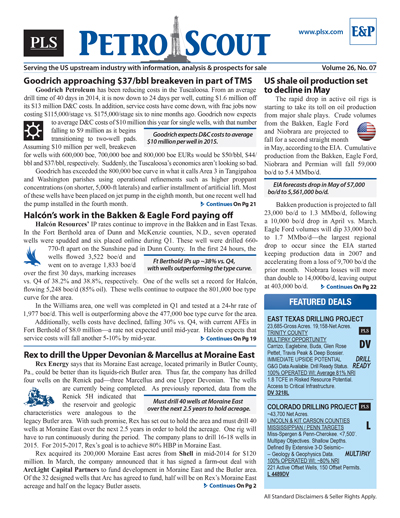 PLS publishes news and analysis on the exploration and production (E&P) sector through its E&P module. The blue banner report covers new well discoveries, drilling activities, acreage sales, industry statistics (drilling results, activity permits and intents to drill) and technological updates.
Covering exploration & production
Single copy pricing; Incl hard copy & email version
Increase market insight & deal flow
Every 3 weeks; 17+ issues per year
Latest in exploration, discoveries, resource plans, land grabs, volumes, development projects & trends
Access to archives covering E&P
Phone request for prospects and lands listed for sale
Includes discounts for other PLS products & events
Search PLS' News Archive for complete oil & gas news for PetroScout .
See what it is about before you buy. View a sample issue of PetroScout.
Need more information? Click the button to recieve more details about the PetroScout
Opportunity is a reflection of information.
Call 713-650-1212 For More Information
Search PetroScout:

Headline
Publication
News Date
Concho improves IP30s 21%, grows production 37%
Concho Resources' 2018 was highlighted by M&A activity, development across its acreage and production growth. The company closed its $9.5 billion acquisition of RSP Permian in July, adding 47,000 net acres in the Midland Basin, 45,000 net acres in the Delaware Basin and 62,400 boe/d of 4Q17 production. The company also executed 15 asset trades in order to expand its inventory of long laterals and divested an additional $361 million of non-core holdings. Concho continued...
Feb 28, 2019
Callon plans 20% production growth, 15% longer laterals
Callon Petroleum plans to shift to full field development in 2019 as it moves toward a sustainable operating business model. The company is maintaining its commitment to free cash flow generation by driving operational capex down for the second year in a row, having set operational capital expenditures at $500-525 million. Callon will cut its rig count from six currently to four by mid-year. The company has allocated 60% of its operational capital expenditures to the Delaware Basin in...
Feb 28, 2019
Cabot's Upper Marcellus Gen 5 completions outperforming
Cabot Oil & Gas' long-term plan is to fully develop the Lower Marcellus before beginning development in the Upper Marcellus. During 2018, the company completed nine Generation 5 Upper Marcellus wells to reconfirm the potential in the formation. Current data shows the wells are outperforming the 2.9 Bcfe type curve. Cabot won't increase its type curve until more production history is gathered. Each year, the company plans to allocate a small amount of capital to Upper Marcellus Gen 5...
Feb 28, 2019
Antero Resources becomes US's largest NGL producer
Antero Resources' Q4 production of 3.2 Bcf/d set a company record, up 18% sequentially and 37% year-over-year. For the full year, production averaged 2.7 Bcfe/d, up 20% from 2017. About 72% of Antero's production was gas, making it the fifth-largest US gas producer last year. A 51% YOY increase in liquids production to 162,077 bbl/d made Antero the largest NGL producer in the country. In Q4, Antero drilled 31 wells with an average lateral length of 10,100 ft in an average of 11.5 total...
Feb 28, 2019
Permian oil output to rise more than 4.0 bo/d in March
The EIA projects production from major shale plays will sequentially rise 84,000 bo/d and 858 MMcf/d to 8.4 MMbo/d and 78.0 Bcf/d in March. Oil increases will be led by the Permian, where output will grow 43,000 bo/d to a record 4.0 MMbo/d. Niobrara output will rise 16,000 bo/d to 713,000 bo/d, Bakken volumes will jump 13,000 bo/d to 1.5 MMbo/d and the Eagle Ford will add 9,000 bo/d to 1.4 MMbo/d. Natural gas increases will be largest in Appalachia, where output will grow 310 MMcf/d to...
Feb 28, 2019
Bruin Bakken HZ delivers ~100,000 bo in first 30 days
Bruin E&P completed some of the most productive wells in Williston Basin history during 2018. In McKenzie County, North Dakota, the Ft. Berthold 151-94-27A-34-16H (Anderson-LL) was drilled with a 10,176-ft lateral and completed using 14.4 MMlb of proppant. The well flowed an initial 24-hour rate of 6,020 boe/d (84% oil; 592 boe/d per 1,000 lateral ft) from the Middle Bakken, which is the highest IP24 to date for Bruin. In the first 30 days, the well produced 96,045 bo, or 3,202 bo/d, which is...
Feb 28, 2019
Continental's Bakken delivering capital-efficient growth
Continental Resources grew its Bakken production 26% year-over-year in 2018 to an average of 167,800 boe/d. Q4 output was up 10% sequentially and 11% YOY at 183,836 boe/d. The company continues to be the largest oil producer in the play, operating 14% of Bakken oil production in North Dakota. Throughout the year, Continental worked to optimize its Williston Basin completions, which led to record company results and outstanding capital efficiency, president Jack Stark said during a...
Feb 28, 2019
Marathon Oil setting the bar for Bakken well productivity - PS
It's no secret that Marathon Oil's completion enhancements in the Williston Basin in the last two years have led to prolific results. The company has delivered 45 of the top 50 all-time Middle Bakken and Three Forks oil wells. The company's most prolific well was completed at the end of 3Q18 in McKenzie County, North Dakota. Targeting the Three Forks, the Jerome USA 12-23TFH was drilled with a 12,675-ft lateral and completed with 11.4 MMlb of proppant. The well flowed a Marathon IP24 record of...
Feb 28, 2019
Paloma IV developing solid STACK/Merge position - PS
Paloma Partners IV is starting off 2019 strong with a quality oil well in Blaine County, Oklahoma. Completed in mid-January, the Porkchop 34-15N-11W #1H (4,714-ft lateral; 17.8 MMlb proppant) tested at an initial 24-hour rate of 1,442 boe/d (53% oil; 306 boe/d per 1,000 lateral ft) from the Mississippian on a 26/64-inch choke. The well continues a series of solid results by the company over the last two years. Paloma's top IP24 rates have been in Blaine County and marked in state completion...
Feb 28, 2019
Devon settles on 4-6 wells/DSU for 2019 STACK program - PS
Infill spacing optimization in Devon Energy's STACK program drove 4Q18 oil volumes up 9% sequentially to 31,000 bo/d, the company reported. Based on early results from its Pony Express, Northwoods and Scott units, the company says pilots with lighter spacing are delivering better returns and the Upper Meramec is the best-performing interval on its acreage. Devon has also implemented a flowback approach designed to optimize oil recoveries. Normalized to 10,000-ft laterals, it reported 10-day...
Feb 28, 2019
Get more news for PetroScout