PetroScout
Serving the E&P market with news, analysis and business opportunities.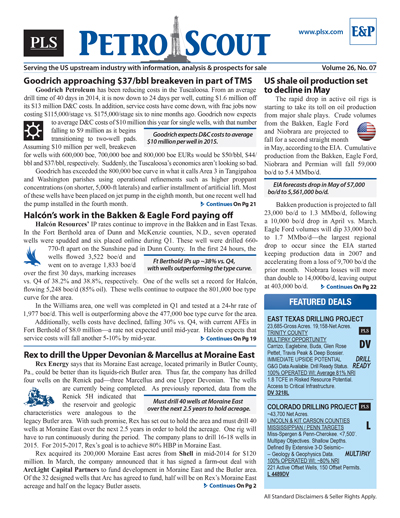 PLS publishes news and analysis on the exploration and production (E&P) sector through its E&P module. The blue banner report covers new well discoveries, drilling activities, acreage sales, industry statistics (drilling results, activity permits and intents to drill) and technological updates.
Covering exploration & production
Single copy pricing; Incl hard copy & email version
Increase market insight & deal flow
Every 3 weeks; 17+ issues per year
Latest in exploration, discoveries, resource plans, land grabs, volumes, development projects & trends
Access to archives covering E&P
Phone request for prospects and lands listed for sale
Includes discounts for other PLS products & events
$ 645 /Yr
Search PLS' News Archive for complete oil & gas news for PetroScout .
See what it is about before you buy. View a sample issue of PetroScout.
Need more information? Click the button to recieve more details about the PetroScout
Opportunity is a reflection of information.
Call 713-650-1212 For More Information
Search PetroScout:

Headline
Publication
News Date
Dealmakers set for July 13 in Dallas
Dealmakers, PLS' signature Prospect and Property Expo, is returning to Dallas July 13 at the Hyatt Regency in downtown. This one-day event is the perfect marketplace to explore current plays and...
Jun 07, 2017
Chesapeake drills new zones, enhances completions
Chesapeake laid out a number of initiatives for 2H17 in a recent presentation. The company's plans include testing new zones and driving value through enhanced completions and longer laterals in some...
Jun 07, 2017
Lonestar Resources ramps up Eagle Ford program
Lonestar is tripling its D&C program and seeing volume growth again as a result. The company is drilling 12 net wells versus 2016's program of 3.8 net completions. Q1 volumes averaged 5,266 boe/d...
Jun 07, 2017
EP, Tesoro ink 60-well Altamont drilling program
EP Energy secured a drilling JV with Tesoro Corp. for a 60-well Altamont program in the Uinta Basin. Tesoro will purchase all oil volumes as feedstock for its Salt Lake City refinery. The driller is...
Jun 07, 2017
Whiting revamps Redtail field completion design
Whiting Petroleum will ramp up its Redtail field DUC completions in H2 with two frac crews now working in Weld Co., CO. The company will complete 95 of the 105-well backlog in the back half of the...
Jun 07, 2017
Anadarko shelves Shenandoah after failed well
Anadarko reportedly killed its Shenandoah project in the GOM after the Shenandoah-6 appraisal and a sidetrack didn't encounter the oil-water contact on the eastern part of the field. Contractors who...
Jun 07, 2017
Antero averaged 18.6 MMcfe/d in the Marcellus
Antero's Q1 completion activity was concentrated in the Marcellus, with 25 wells being placed online. Their average 30-day rate was 18.6 MMcfe/d. No Utica wells were completed in Q1, however the...
Jun 07, 2017
Get more news for PetroScout