MidstreamIntelligence
Serving the downstream sector with news, analysis and business opportunities.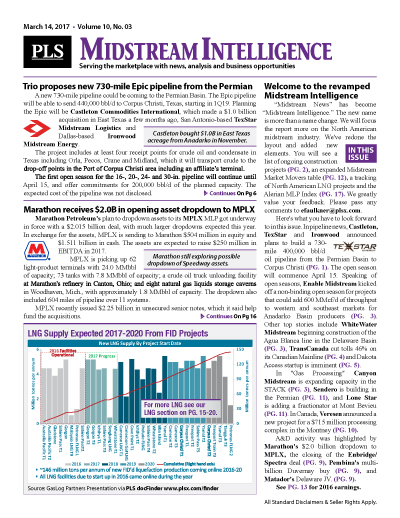 The PLS MidstreamIntelligence Module covers news and analysis on the midstream sector. The purple banner report includes market information, news and analysis on gas gathering, marketing, pipelines, storage, midstream mergers, acquisitions, capital and corporate performance.
Your access to midstream & downstream markets
Single copy pricing; Incl hard copy & email version
Increase market insight & deal flow
Published every 3 weeks; 17+ issues per year
Covers gathering, rail, processing, pipelines, refining and LNG
Phone request for multiple listings for sale
Includes discounts for other PLS products & events
$ 595 /Yr
Search PLS' News Archive for complete oil & gas news for MidstreamIntelligence .
See what it is about before you buy. View a sample issue of MidstreamIntelligence.
Need more information? Click the button to recieve more details about the MidstreamIntelligence
Opportunity is a reflection of information.
Call 713-650-1212 For More Information
Search MidstreamIntelligence:

Headline
Publication
News Date
Buffett still poised to buy Oncor but some resist
 Warren Buffett's Berkshire Hathaway agreed to buy the bankrupt parent of Oncor, one of the US largest power-transmission companies, for $9.0 billion in cash in a deal valued at $18 billion including...
Jul 27, 2017
Veresen stockholders approve acquisition by Pembina
Veresen shareholders approved the company's C$9.7 billion ($7.7 billion) acquisition by Pembina Pipeline Corp. that will create one of Canada's largest energy infrastructure companies. The deal also...
Jul 27, 2017
FERC down to 1 member, while 4 nominees wait
The FERC is down to one commissioner while four Trump nominees wait for Senate action. The commission, which must approve interstate gas pipeline projects, has lacked a quorum of three since...
Jul 27, 2017
JSW Steel ready to revamp Baytown plate mill
Vowing to create the "Plate Mill of the Future," JSW Steel has launched a full-scale modernization of its 1.2 million ton a year plate mill in Baytown, TX. The renovation is expected to take 20...
Jul 27, 2017
Get more news for MidstreamIntelligence