MidstreamIntelligence
Serving the downstream sector with news, analysis and business opportunities.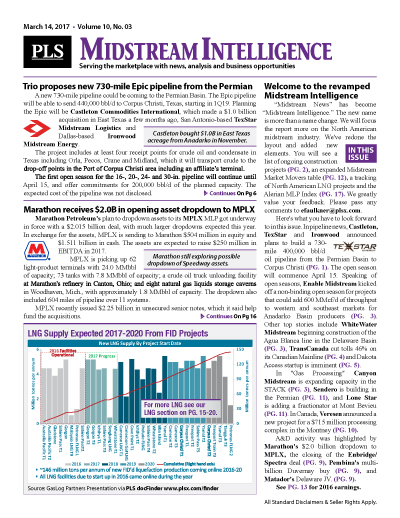 The PLS MidstreamIntelligence Module covers news and analysis on the midstream sector. The purple banner report includes market information, news and analysis on gas gathering, marketing, pipelines, storage, midstream mergers, acquisitions, capital and corporate performance.
Your access to midstream & downstream markets
Single copy pricing; Incl hard copy & email version
Increase market insight & deal flow
Published every 3 weeks; 17+ issues per year
Covers gathering, rail, processing, pipelines, refining and LNG
Phone request for multiple listings for sale
Includes discounts for other PLS products & events
Search PLS' News Archive for complete oil & gas news for MidstreamIntelligence .
See what it is about before you buy. View a sample issue of MidstreamIntelligence.
Need more information? Click the button to recieve more details about the MidstreamIntelligence
Opportunity is a reflection of information.
Call 713-650-1212 For More Information
Search MidstreamIntelligence:

Headline
Publication
News Date
MI - Phillips 66's $1B bond sale includes 2025 add-on, new 2030s - June 2020
Phillips 66 launched debt offerings totaling $1 billion on June 9. The offerings comprised two tranches: $850 million aggregate principal amount of 2.15% senior notes due 2030 and a $150 million add-on tranche to its existing 3.85% senior notes due 2025, of which the company initially sold $500 million on April 9. Phillips 66 said both 2025 offerings will be treated as a single series upon settlement. The new 2025 tranche was sold at a premium of 111.947, reflecting the existing 2025...
Jun 17, 2020
MI - Investor confidence trickling back with 'cautious optimism' - June 2020
Midstream companies and MLPs have rebounded on the stock market significantly from their lows in March but are still down around 20% YTD, midstream and infrastructure fund specialist Alerian noted. The performance of the Alerian Midstream Energy Select Index (AMEI) is off 19.5% this year but still outshines all other major energy industry benchmarks. In its latest report, the group said that its 21-constituent MLP Infrastructure Index (AMZI) fell 67.4% from the end of 2019 through...
Jun 17, 2020
MI - Plains sells $750MM of 10-year notes to repay upcoming 2021s - June 2020
Plains All American Pipeline, LP completed a public offering of $750 million aggregate principal amount of 3.8% senior unsecured notes due 2030 on June 11. The notes were priced at 99.79 for a yield to maturity of 3.825%. The company said it will use net proceeds from the offering, estimated at $748 million, to repay the $600 million principal amount outstanding of 5% senior notes that come due next February, either on or before their maturity date. Other uses for the proceeds will be for...
Jun 17, 2020
MI - NFG offers $150MM in common following $500MM debt sale - June 2020
National Fuel Gas Co. offered 3.8 million common shares at $39.50 each on May 28 for net proceeds of $144.8 million. The company also granted underwriters, led by JP Morgan, BofA and Goldman Sachs, a 570,000-share overallotment option, which if exercised in full would add around $21.7 million to net proceeds. Following the closing of the equity offering and greenshoe, NFG will have about 90.3 million shares outstanding. The common stock sale came quickly on the heels of the issuance of...
Jun 17, 2020
MI - Citgo places over $1B of 5-year notes privately, pays down debt - June 2020
Citgo Petroleum Corp. closed the private placement of $1.125 billion of 7% senior secured notes due 2025 on June 9. The notes will remain unregistered for the time being. The offering was upsized from an initially contemplated $750 million. The company said proceeds would repay all $614 million outstanding under its term loan B due 2021, including accrued and unpaid interest. Proceeds will also fund working capital and general corporate purposes. Citgo has a B- credit rating. The...
Jun 17, 2020
MI - Pembina Pipeline floats more bonds to pay down Cochin buy - June 2020
Pembina Pipeline Corp. closed an offering of C$500 million ($353 million) of senior unsecured notes in two tranches: C$400 million of 4.67% Series 16 notes due 2050 and C$100 million of 3.71% Series 7 notes due 2026 through an add-on offering, bringing that series' total outstanding to C$600 million. The 2050 notes were sold at 99.920 for a 4.675% yield to maturity, while the 2026 notes sold at 105.24, reflecting their current trading price, and provided a 2.749% yield to maturity for new...
Jun 17, 2020
MI - Keyera sells new 10-year notes to refinance credit facility debt - June 2020
Keyera Corp. closed an offering of C$400 million ($298 million) principal amount of 3.959% senior unsecured notes due 2030 through a syndicate of underwriters on May 29. The Canadian company said it will use net proceeds to refinance short-term debt under its credit facility and for general corporate purposes, including funding capital expenditures and repayment of debt maturing this year. CIBC, National Bank Financial and RBC were lead underwriters. Other syndicate members were...
Jun 17, 2020
MI - NGL Energy Partners replaces bridge loan with new term loan - June 2020
NGL Energy Partners LP signed a new $250 million term loan facility with affiliates of Apollo Global Management, refinancing an existing bridge loan of the same amount from a year ago. The new loan, announced June 4, will take out the old facility that was arranged by TD Bank to help pay for NGL Energy's acquisition of Delaware Basin water management company Mesquite Disposals Unlimited last summer. The new term loan matures in three years but is callable after two years at par. It is payable...
Jun 17, 2020
MI - A&D Briefs - June 17, 2020
Sprague Resources Holdings LLC withdrew a non-binding proposal that it had made in March to buy all the outstanding common units of Sprague Resources LP. Holdings offered $13/share in cash to buy up all the remaining shares in the partnership that it did not already own. Holdings and affiliates owned 53.3% of the NYSE-traded partnership units when the offer was made. Portsmouth, New Hampshire based Sprague buys, stores, distributes and sells refined products and natural gas. It also...
Jun 17, 2020
MI - Finance Briefs - June 17, 2020
Energy infrastructure company New Fortress Energy LLC converted all of its Class B common shares into Class A shares to move forward with just the single class of shares, the company announced June 10. The conversion will "significantly reduce its future tax distribution obligations," and instead redirect money to new project development, the company said. New Fortress has LNG and logistics units. Toronto-based infrastructure investor InstarAGF Asset Management Inc. closed its Essential...
Jun 17, 2020
Get more news for MidstreamIntelligence