MidstreamIntelligence
Serving the downstream sector with news, analysis and business opportunities.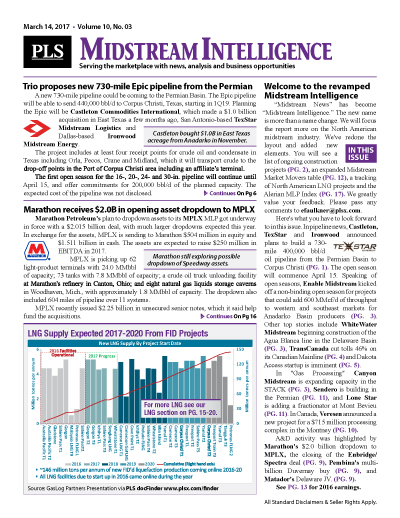 The PLS MidstreamIntelligence Module covers news and analysis on the midstream sector. The purple banner report includes market information, news and analysis on gas gathering, marketing, pipelines, storage, midstream mergers, acquisitions, capital and corporate performance.
Your access to midstream & downstream markets
Single copy pricing; Incl hard copy & email version
Increase market insight & deal flow
Published every 3 weeks; 17+ issues per year
Covers gathering, rail, processing, pipelines, refining and LNG
Phone request for multiple listings for sale
Includes discounts for other PLS products & events
Search PLS' News Archive for complete oil & gas news for MidstreamIntelligence .
See what it is about before you buy. View a sample issue of MidstreamIntelligence.
Need more information? Click the button to recieve more details about the MidstreamIntelligence
Opportunity is a reflection of information.
Call 713-650-1212 For More Information
Search MidstreamIntelligence:

Headline
Publication
News Date
Analyst Notes - July 24, 2018
Antero Midstream Partners (NYSE: AM; July 23–$31.64)Most of the Appalachian basin's output has come on line in the last five years, but it'll grow by an even larger amount in the next five...
Jul 24, 2018
People & Companies - July 24, 2018
Harry Pefanis has joined the board of Oasis Midstream Partners LP's general partner, where he will also serve as a member of both the audit and conflicts committees. Pefanis currently serves as...
Jul 24, 2018
BW LPG strengthens takeover bid for Dorian LPG
Shipper BW LPG Limited increased its unsolicited $1.1 billion proposal to combine with rival Dorian LPG Ltd. and got the support of a significant shareholder. Dorian, which rejected...
Jul 24, 2018
NuStar Energy completes merger of GP and LP
A subsidiary of NuStar Energy LP (NS) completed its acquisition of NuStar GP Holdings LLC (NSH) on July 20, five months after CEO Brad Barron declared that investor "appetite for new MLP common...
Jul 24, 2018
Get more news for MidstreamIntelligence