MidstreamIntelligence
Serving the downstream sector with news, analysis and business opportunities.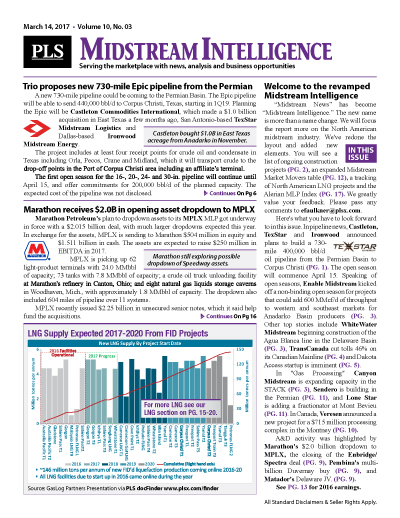 The PLS MidstreamIntelligence Module covers news and analysis on the midstream sector. The purple banner report includes market information, news and analysis on gas gathering, marketing, pipelines, storage, midstream mergers, acquisitions, capital and corporate performance.
Your access to midstream & downstream markets
Single copy pricing; Incl hard copy & email version
Increase market insight & deal flow
Published every 3 weeks; 17+ issues per year
Covers gathering, rail, processing, pipelines, refining and LNG
Phone request for multiple listings for sale
Includes discounts for other PLS products & events
Search PLS' News Archive for complete oil & gas news for MidstreamIntelligence .
See what it is about before you buy. View a sample issue of MidstreamIntelligence.
Need more information? Click the button to recieve more details about the MidstreamIntelligence
Opportunity is a reflection of information.
Call 713-650-1212 For More Information
Search MidstreamIntelligence:

Headline
Publication
News Date
Anadarko closes gas gathering system in Colorado
Anadarko Petroleum will permanently close the Third Creek gas gathering system in northern Colorado, citing safety considerations. The system serves Adams, Arapahoe, Denver and Elbert counties. About...
Jun 12, 2018
Petronas buys 25% stake in Shell-led LNG Canada
Petronas bought into the LNG Canada project in Kitimat, British Columbia, nearly one year after it pulled the plug on its own planned 18 mtpa project. The Malaysian NOC's decision to acquire a...
Jun 12, 2018
Get more news for MidstreamIntelligence