MidstreamIntelligence
Serving the downstream sector with news, analysis and business opportunities.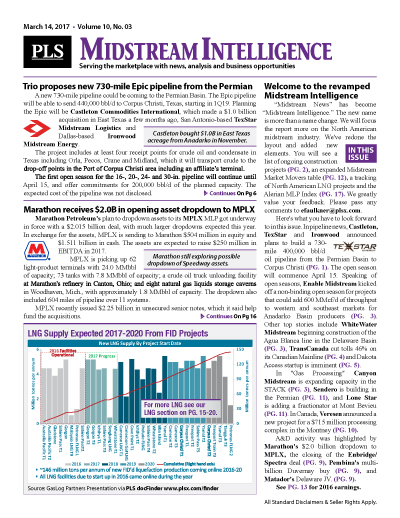 The PLS MidstreamIntelligence Module covers news and analysis on the midstream sector. The purple banner report includes market information, news and analysis on gas gathering, marketing, pipelines, storage, midstream mergers, acquisitions, capital and corporate performance.
Your access to midstream & downstream markets
Single copy pricing; Incl hard copy & email version
Increase market insight & deal flow
Published every 3 weeks; 17+ issues per year
Covers gathering, rail, processing, pipelines, refining and LNG
Phone request for multiple listings for sale
Includes discounts for other PLS products & events
$ 595 /Yr
Search PLS' News Archive for complete oil & gas news for MidstreamIntelligence .
See what it is about before you buy. View a sample issue of MidstreamIntelligence.
Need more information? Click the button to recieve more details about the MidstreamIntelligence
Opportunity is a reflection of information.
Call 713-650-1212 For More Information
Search MidstreamIntelligence:

Headline
Publication
News Date
Medallion seeking commitments for Delaware crude
An open season is underway for the Medallion Delaware Express, a new 30-mile crude gathering system. The 90,000 bo/d Delaware Express will also include a 63-mile, 16-in. mainline from Ward County,...
Nov 01, 2017
ETP under Norway fund's microscope
The ethics committee for Norway's $1.0 trillion sovereign wealth fund is looking into a possible breach of guidelines by Energy Transfer partners. The fund owned $248 million in ETP's bonds at YE16....
Nov 01, 2017
British Columbia's new regulations
New British Columbia regulations require transporters of liquid petroleum products to have a plan in place to deal with spills. The spill preparedness rule applies to pipeline operators as well as...
Nov 01, 2017
Get more news for MidstreamIntelligence