CanadianAcquirer
Serving the Canadian E&P market with news, analysis and business opportunities.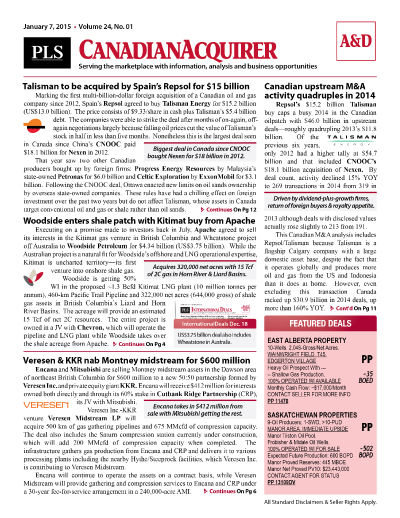 The CanadianAcquirer (red banner report) covers news and analysis on the Canadian acquisitions and divestitures (A&D) sector. This news report on the active Canadian asset marketplace features analysis of corporate mergers, property divestitures, completed transactions, deals in play and deal metrics.
PLS' most popular Canadian report
Single copy pricing; Includes hard copy & email version
Guaranteed to increase deal flow and market insight
Every 3 weeks
Latest in asset acquisitions, corporate M&A activity,
deals in play & industry buying trends
Access to archives editions of CanadianAcquirer
Phone request to multiple listing
Search PLS' News Archive for complete oil & gas news for CanadianAcquirer .
See what it is about before you buy. View a sample issue of CanadianAcquirer.
Need more information? Click the button to recieve more details about the CanadianAcquirer
Opportunity is a reflection of information.
Call 713-650-1212 For More Information
Search CanadianAcquirer:

Headline
Publication
News Date
Upstream deal flow yields to midstream and LNG M&A
With two weeks left in Q2, there has been $7.9 billion in M&A across 18 deals in the upstream Canadian sector for the quarter, already markedly up from Q1 in terms of deal value when there was $1.4...
Jun 12, 2018
People & Companies - A&D - June 12, 2018
Crescent Point Energy Corp. announced that Craig Bryska has taken over as interim President and CEO of the company, replacing Scott Saxberg, one of the company's founders. Saxberg founded the company...
Jun 12, 2018
Canuc signs LOI to acquire Full Circle
Canuc Resources struck signed a letter of intent to acquire southwest Saskatchewan focused Full Circle Energy. The acquisition will be executed on a share exchange basis with a valuation to be...
Jun 12, 2018
Warburg buys into Artis with a $180MM commitment
Artis Exploration Ltd. received a $180 million equity commitment from private equity firm Warburg Pincus, with proceeds slated to fund the E&P's development program on its 260,000 net-acre position...
Jun 12, 2018
Besides Kitimat, Canada LNG sector is slow
In addition to Petronas' LNG Canada acquisition, the sector's hopes were also modestly buoyed last November with Quebec E&P Petrolia Inc. and privately held LNG-focused Pieridae Energy Ltd.'s reverse...
Jun 12, 2018
Get more news for CanadianAcquirer