CanadianAcquirer
Serving the Canadian E&P market with news, analysis and business opportunities.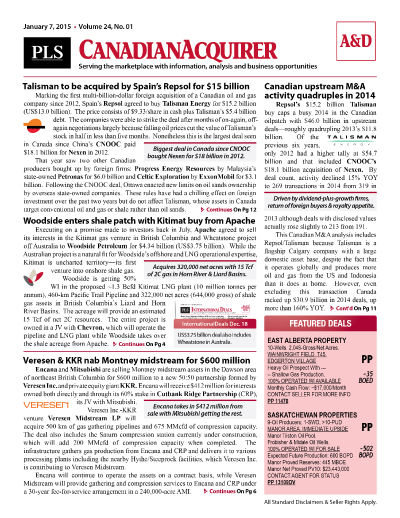 The CanadianAcquirer (red banner report) covers news and analysis on the Canadian acquisitions and divestitures (A&D) sector. This news report on the active Canadian asset marketplace features analysis of corporate mergers, property divestitures, completed transactions, deals in play and deal metrics.
PLS' most popular Canadian report
Single copy pricing; Includes hard copy & email version
Guaranteed to increase deal flow and market insight
Every 3 weeks
Latest in asset acquisitions, corporate M&A activity,
deals in play & industry buying trends
Access to archives editions of CanadianAcquirer
Phone request to multiple listing
Search PLS' News Archive for complete oil & gas news for CanadianAcquirer .
See what it is about before you buy. View a sample issue of CanadianAcquirer.
Need more information? Click the button to recieve more details about the CanadianAcquirer
Opportunity is a reflection of information.
Call 713-650-1212 For More Information
Search CanadianAcquirer:

Headline
Publication
News Date
Clearview Resources to merge with Bashaw Oil Corp
Clearview Resources announced Bashaw Oil Corp. will merge with one of its wholly owned subsidiaries, a transaction which will effectively combine both privately-held companies. Under terms of the...
Apr 12, 2018
Crescent Point builds East Duvernay position
Williston and Uinta Basin-focused Crescent Point Energy announced that it has built a significant presence in the emergent East Duvernay Shale play since 2015. The company has spent $111.8 million...
Apr 12, 2018
Longshore shops Wembley area assets
Longshore Resources is shopping its non-core oil and gas properties located in the Wembley area of Alberta. The properties consist of consolidated land blocks that are held by long-life, low-decline...
Apr 12, 2018
Hong Kong's MIE sells Alberta assets for $60MM
Hong Kong-based MIE Holdings is selling assets in central Alberta for $60 million to an undisclosed Calgary-based producer with international assets. The divested assets consist of petroleum and...
Apr 12, 2018
Major factors yielding low and slow deal flow
The steep decline in dealmaking—both sequentially and year-over-year— is attributable to a series of factors that converged to slow Canadian upstream deal flow in Q1. From the broader perspective,...
Apr 12, 2018
Get more news for CanadianAcquirer