CanadianAcquirer
Serving the Canadian E&P market with news, analysis and business opportunities.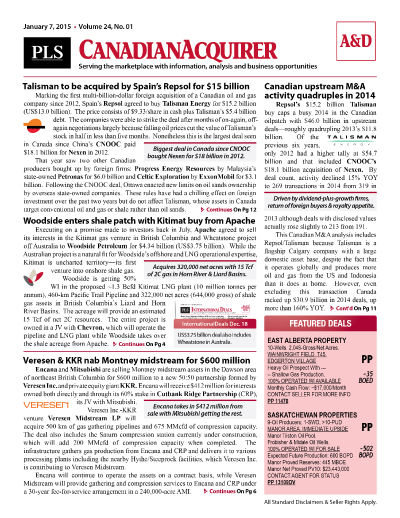 The CanadianAcquirer (red banner report) covers news and analysis on the Canadian acquisitions and divestitures (A&D) sector. This news report on the active Canadian asset marketplace features analysis of corporate mergers, property divestitures, completed transactions, deals in play and deal metrics.
PLS' most popular Canadian report
Single copy pricing; Includes hard copy & email version
Guaranteed to increase deal flow and market insight
Every 3 weeks
Latest in asset acquisitions, corporate M&A activity,
deals in play & industry buying trends
Access to archives editions of CanadianAcquirer
Phone request to multiple listing
$ 845 /Yr
Search PLS' News Archive for complete oil & gas news for CanadianAcquirer .
See what it is about before you buy. View a sample issue of CanadianAcquirer.
Need more information? Click the button to recieve more details about the CanadianAcquirer
Opportunity is a reflection of information.
Call 713-650-1212 For More Information
Search CanadianAcquirer:

Headline
Publication
News Date
Manitok's $55.4MM Questfire buy deadline extended
The closing date for Manitok Energy's $55.4 million acquisition of Questfire Energy has been extended to Nov. 30, according to a joint statement on Oct. 31. The Questfire buy was Manitok's second...
Nov 06, 2017
Pengrowth sells remaining non-core Alberta assets
Pengrowth Energy has sold the vast majority of its remaining non-core assets in Alberta as it continues to sharpen focus on its operated Lindbergh SAGD project in the Cold Lake oil sands region and...
Nov 06, 2017
Thailand's PTTEP postpones Mariana oil sands FID
Thailand's PTTEP has delayed rendering a final investment decision for the development of its Mariana oil sands project (MOSP) in Alberta, resulting in a US$550 million impairment in Q3—its third on...
Nov 06, 2017
Toscana divests non-core northern Alberta assets
Toscana Energy Income Corp. entered a purchase and sale agreement for the divestment of undeveloped acreage in northern Alberta to a private company in a deal expected to close by the end of...
Nov 06, 2017
Get more news for CanadianAcquirer