CanadianAcquirer
Serving the Canadian E&P market with news, analysis and business opportunities.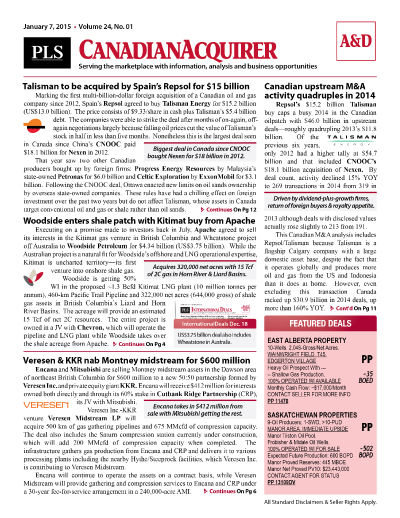 The CanadianAcquirer (red banner report) covers news and analysis on the Canadian acquisitions and divestitures (A&D) sector. This news report on the active Canadian asset marketplace features analysis of corporate mergers, property divestitures, completed transactions, deals in play and deal metrics.
PLS' most popular Canadian report
Single copy pricing; Includes hard copy & email version
Guaranteed to increase deal flow and market insight
Every 3 weeks
Latest in asset acquisitions, corporate M&A activity,
deals in play & industry buying trends
Access to archives editions of CanadianAcquirer
Phone request to multiple listing
$ 845 /Yr
Search PLS' News Archive for complete oil & gas news for CanadianAcquirer .
See what it is about before you buy. View a sample issue of CanadianAcquirer.
Need more information? Click the button to recieve more details about the CanadianAcquirer
Opportunity is a reflection of information.
Call 713-650-1212 For More Information
Search CanadianAcquirer:

Headline
Publication
News Date
Nexen nixes $20B Aurora LNG in latest foreign exit
Another foreign-operated LNG venture in British Columbia has been cancelled following Petronas' decision this summer to scuttle the $30 billion Pacific NorthWest LNG project. This time, a consortium...
Sep 20, 2017
Dundee launches sales process for Ontario assets
Dundee Energy Ltd. started the sales process for its Ontario assets after commencing bankruptcy proceedings in August and appointing FTI Consulting Canada as trustee to oversee the process. Dundee...
Sep 20, 2017
Analyst Notes - September 20, 2017
Cenovus gets credit for taking Pelican Lake across finish line "(Cenovus) gets credit for getting the first of four targeted deals across the line," TD Securities analyst Menno Hulshof said...
Sep 20, 2017
Get more news for CanadianAcquirer