CanadianAcquirer
Serving the Canadian E&P market with news, analysis and business opportunities.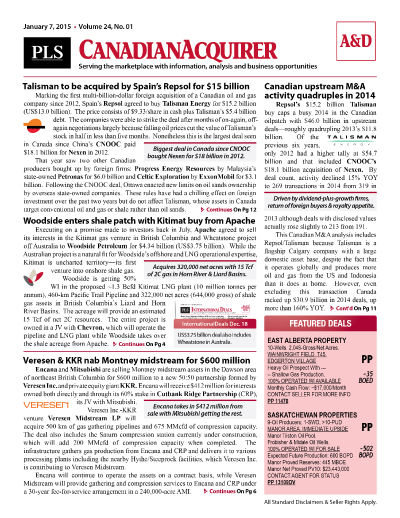 The CanadianAcquirer (red banner report) covers news and analysis on the Canadian acquisitions and divestitures (A&D) sector. This news report on the active Canadian asset marketplace features analysis of corporate mergers, property divestitures, completed transactions, deals in play and deal metrics.
PLS' most popular Canadian report
Single copy pricing; Includes hard copy & email version
Guaranteed to increase deal flow and market insight
Every 3 weeks
Latest in asset acquisitions, corporate M&A activity,
deals in play & industry buying trends
Access to archives editions of CanadianAcquirer
Phone request to multiple listing
$ 845 /Yr
Search PLS' News Archive for complete oil & gas news for CanadianAcquirer .
See what it is about before you buy. View a sample issue of CanadianAcquirer.
Need more information? Click the button to recieve more details about the CanadianAcquirer
Opportunity is a reflection of information.
Call 713-650-1212 For More Information
Search CanadianAcquirer:

Headline
Publication
News Date
Paramount spends $1.45B in Trilogy & Apache deals
Paramount Resources is doubling its acreage position, tripling its 1P and 2P reserves and quadrupling its production through a $996.5 million merger with Trilogy Energy and $496 million acquisition...
Jul 18, 2017
Recent Paramount/Trilogy deals prepare for combo
Paramount and Trilogy, the latter formed in 2005 through the spin-off of Paramount's Kaybob and Grand Prairie (Marten Creek) assets, both recently announced the sale of assets in the Valhalla area of...
Jul 18, 2017
People Briefs - July 18, 2017
Shareholders of Canadian Equipment Rentals Corp. approved changing the name of the company to Zedcor Energy Inc. The company began trading under the symbol ZDC on June 30. Zedcor says the name change...
Jul 18, 2017
Get more news for CanadianAcquirer