MidContinent Scout
Serving the local market with drilling activities, permits & multiple listings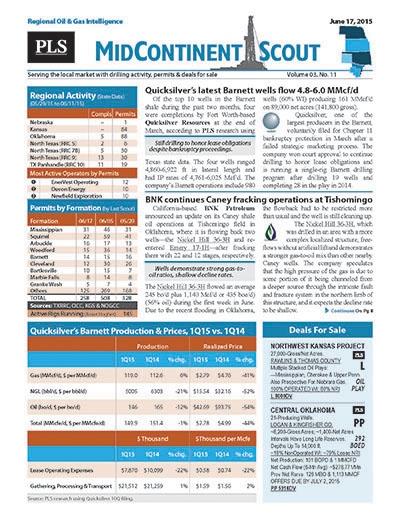 PLS's MidContinent Scout covers regional drilling, discoveries and developments in Oklahoma, Texas Panhandle, (RRC 10), North Texas (RRC 7B & 9), Kansas and Nebraska. The report also covers permit stats, completions and P&A activity, as well as describing business opportunities listed for sale in the Woodford, Mississippi Lime, Barnett, Granite Wash, Eastern Niobrara and the region's historically productive conventional plays
Stay in front of local prospects, plays & rigs!
Oklahoma, Kansas, Nebraska, TX Panhandle, North Texas
Hard Copy and Email For 1 Individual
Every 2 Weeks (22-25 issues per year)
Regional discoveries, drilling activity, permits, completions and summary drilling statistics, layered with regional listings and business opportunities
Web access to the MidContinent Scout archive
Does not include access to MLS
Search PLS' News Archive for complete oil & gas news for MidContinent Scout .
See what it is about before you buy. View a sample issue of MidContinent Scout.
Need more information? Click the button to recieve more details about the MidContinent Scout
Opportunity is a reflection of information.
Call 713-650-1212 For More Information
Search MidContinent Scout:

Headline
Publication
News Date
MCS - Trinity sees improved Woodford IPs with shorter laterals - January 15, 2020
One of the largest private operators in the US, Trinity Operating has focused its activity on the Eagle Ford and Midcontinent. The company's Midcon holdings are primarily a gas play in the Woodford formation. As of the end of October (the latest data that has been released by Oklahoma regulators), the company had completed 48 horizontal Woodford wells during the first 10 months of 2019: 22 in Pittsburg County, 13 in Hughes County, nine in Haskell County and four in Coal County. Effective...
Jan 15, 2020
MSC - Judge rejects BCE-Mach III's $310MM Alta Mesa-Kingfisher bid - January 15, 2020
A federal judge rejected a combined $310 million joint stalking-horse bid for the assets of Alta Mesa Resources and subsidiary Kingfisher Midstream from BCE-Mach III. The decision comes after Kingfisher filed for Chapter 11 protection on Jan. 12, several months after parent Alta Mesa's Sept. 11 filing, and the cases were bundled in joint administration. Judge Marvin Isgur rejected a $224.75 million stalking-horse offer made by BCEMach III, a JV of Bayou City Energy Management and Mach...
Jan 15, 2020
MCS - Paloma Partners IV Highlights - January 15, 2020
Paloma Partners IV substantially increased its northwest STACK exposure through the acquisition of fellow EnCap portfolio company Excalibur Resources. Houston-based Paloma, which is also backed by Macquarie Americas, added Excalibur's assets primarily in Dewey, Custer and Caddo counties, Oklahoma to its existing portfolio spanning the STACK and Merge plays and reaching into the SCOOP. According to its website, Paloma IV currently operates two rigs on its 102,000-net-acre position. Formed in...
Jan 15, 2020
MCS - Gulfport Energy Highlights - January 15, 2020
Gulfport Energy agreed to sell its SCOOP water infrastructure assets for $50 million cash to Bison Oilfield Services, Oklahoma's largest water infrastructure, logistics and solutions provider. Bison will acquire 2.3 MMbbl of storage, 40,000 bbl/d of recycling, 55,000 bbl/d of freshwater supply capacity and a pending saltwater disposal permit. Closing is expected in January. The companies simultaneously entered 15-year agreements whereby Bison will manage all of Gulfport's water gathering,...
Jan 15, 2020
MCS - Revolution Resources Highlights - January 15, 2020
Revolution Resources completed its $201.5 million acquisition of Oklahoma driller Jones Energy, whose shareholders received $14.06 cash for each Jones Energy Class A common share or Jones Energy Holdings II unit. The final consideration was down slightly from $14.11 reported in the Dec. 6 deal announcement. Now a wholly owned Revolution subsidiary, Jones exited Chapter 11 in May with a $225 million borrowing base agreement after filing for bankruptcy in April. According to a March 6...
Jan 15, 2020
MCS - Mississippian initial productivity sees boost in 2019 - December 31, 2019
While drilling activity in Oklahoma has taken a dive in the last year—there are 60 active rigs in the state as of Dec. 30 compared with 149 a year ago—initial well productivity is improving. For example, new production per rig in the Anadarko Basin in January is expected to be 625 bo/d and 4.2 MMcf/d compared to 410 bo/d and 2.9 MMcf/d in January 2019, according to the US Energy Information Administration. In the first nine months of 2019 (data is not yet available for Q4), the Mississippian...
Dec 31, 2019
MCS - Thai miner to become top Barnett producer in $770MM Devon buy - December 31, 2019
Devon Energy announced the final stage of its transformation into what it calls a "New Devon" Dec. 18 with the $770 million sale of its remaining Barnett shale assets in North Texas. The buyer is BKV Oil & Gas Capital Partners LP, an investment vehicle of Thailand-based coal mining and power generating company Banpu Pcl set up through its Denver-based affiliate Kalnin Ventures to acquire US natural gas assets. This is BKV's seventh transaction since 2016 and marks its debut in the Barnett,...
Dec 31, 2019
MCS - Regional Highlights - December 31, 2019
The EIA projects that Anadarko Basin production will fall by 15,000 bo/d and 132 MMcf/d sequentially in December to 553,000 bo/d and 7.523 Bcf/d. There are 679 DUCs in the Anadarko Basin as of November, down by 58 from...
Dec 31, 2019
MCS - Raven Resources Highlights - December 31, 2019
Raven Resources retained The Oil & Gas Asset Clearinghouse to market 328 net acres of undeveloped leasehold in Dewey and Blaine counties, Oklahoma, with an additional 88 net acres available (Enverus Deal ID: 12102). There has been heavy offset permitting and drilling in the Mississippian and Woodford, with 170 horizontal wells drilled in these formation over the last five...
Dec 31, 2019
MCS - Triumph Energy Partners - December 31, 2019
Triumph Energy Partners has retained TPH to sell non-operated and mineral assets in the STACK play. The non-operated offering consists of 5,096 net acres (98% HBP) with an average 8.3% WI (76.8% NRI) and net production in June of 4,021 boe/d (38% liquids) generating annualized 2019 cash flow of $18.4 million (Enverus Deal ID: 12087). The mineral offering covers 1,816 net royalty acres with an average 0.52% royalty interest and net production in June of 70.3 boe/d (54% liquids) with estimated...
Dec 31, 2019
Get more news for MidContinent Scout