MidContinent Scout
Serving the local market with drilling activities, permits & multiple listings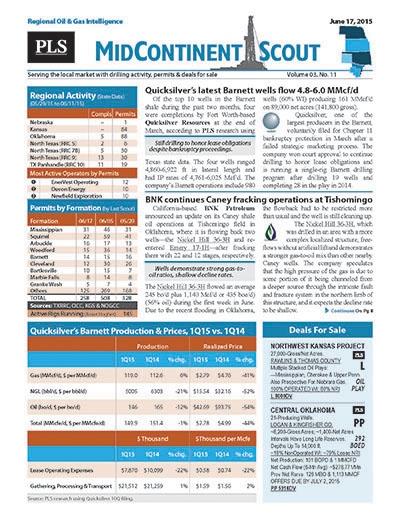 PLS's MidContinent Scout covers regional drilling, discoveries and developments in Oklahoma, Texas Panhandle, (RRC 10), North Texas (RRC 7B & 9), Kansas and Nebraska. The report also covers permit stats, completions and P&A activity, as well as describing business opportunities listed for sale in the Woodford, Mississippi Lime, Barnett, Granite Wash, Eastern Niobrara and the region's historically productive conventional plays
Stay in front of local prospects, plays & rigs!
Oklahoma, Kansas, Nebraska, TX Panhandle, North Texas
Hard Copy and Email For 1 Individual
Every 2 Weeks (22-25 issues per year)
Regional discoveries, drilling activity, permits, completions and summary drilling statistics, layered with regional listings and business opportunities
Web access to the MidContinent Scout archive
Does not include access to MLS
Search PLS' News Archive for complete oil & gas news for MidContinent Scout .
See what it is about before you buy. View a sample issue of MidContinent Scout.
Need more information? Click the button to recieve more details about the MidContinent Scout
Opportunity is a reflection of information.
Call 713-650-1212 For More Information
Search MidContinent Scout:

Headline
Publication
News Date
MCS - Chaparral Meramec/Woodford spacing test outperforming curve - June 05, 2019
Initial results are in for Chaparral Energy's operated Foraker spacing test in Canadian County, Oklahoma, and the news is encouraging. The 11-well, cube-style co-development test delivered initial 30-day rates of 1,357 boe/d (48% oil) per well. The wells sported 1-mile laterals and were fracked in a manner designed to create the greatest amount of near-wellbore complexity while maintaining sufficient pressure boundaries to minimize inter-well frac communication, which reduced cycle time....
Jun 05, 2019
MCS - Valpoint flows Cherokee horizontal near 1,000 boe/d - June 05, 2019
Valpoint Operating completed an outstanding horizontal targeting the Cherokee formation in Ellis County, Oklahoma. The Weston 36-25 #1H was drilled with an 8,018- ft lateral and completed using 10.8 MMlb of 40/70 sand. During an initial 24-hour test, the well flowed 983 boe/d (48% oil), or 122 boe/d per 1,000 lateral ft, on a 28/64-inch choke. This is the highest IP24 reported for a Cherokee horizontal in Ellis County and Valpoint's highest IP24 to date. Amarillo, Texas-based Valpoint is...
Jun 05, 2019
MCS - Cimarex Energy Highlights - June 05, 2019
Cimarex energy's Midcontinent operations averaged 90,386 boe/d in Q1, down 1% YOY and 13% sequentially. The company completed 26 wells (~12% WI) in the region during Q1 and had 75 wells that were waiting on completion at the end of the quarter. Cimarex is currently operating one drilling rig and one completion crew in the...
Jun 05, 2019
MCS - BCE-Mach Highlights - June 05, 2019
BCE-Mach LLC entered an agreement to acquire certain Mississippian Lime assets in Barber and Harper counties, Kansas. "This purchase continues our consolidation of the play, provides a solid addition of producing properties and expands our inventory of drilling opportunities," CEO Tom Ward said. The transaction is expected to close this summer, subject to necessary...
Jun 05, 2019
MCS - Panhandle Oil & Gas Highlights - June 05, 2019
During the first half of its fiscal 2019, which ended March 31, Panhandle Oil & Gas acquired 374 net mineral acres in the SCOOP and STACK for $1.8 million. The company holds 10,600 net mineral acres in the...
Jun 05, 2019
MCS - Oneok Highlights - June 05, 2019
ONEOK has 1.2 Bcf/d of gas processing capacity through an integrated asset network in the Midcontinent. It has more than 300,000 acres dedicated in the SCOOP and...
Jun 05, 2019
MCS - Roan's pressure management program reducing decline rates - May 22, 2019
Merge-focused Roan Resources continues to see positive results from its pressure management program in the Midcontinent. The 16 wells in the program continue to demonstrate low decline rates, with IP90s of 1,059 boe/d (50% oil, 20% NGLs), IP120s of 1,006 boe/d (48% oil, 21% NGLs) and IP150s of 999 boe/d (47% oil, 22% NGLs), normalized to 10,000-ft laterals. Wells in the program have shown shallow declines with reduced IPs, higher cumulative oil rates after four to six months and...
May 22, 2019
Get more news for MidContinent Scout