CapitalMarkets
Serving the finance market with news, analysis and investment opportunities.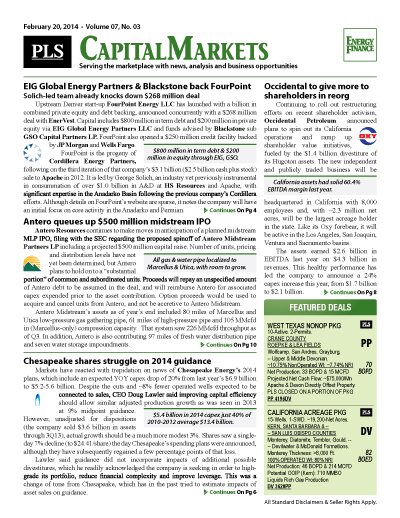 PLS publishes news and analysis in the energy finance sector through its capital markets module. The green banner report includes news and analysis on company budgets, capital spending, financial performance and interviews with leading capital providers.
Your access to energy finance
Single copy pricing; Incl hard copy & email version
Increase market insight & deal flow
Every 3 weeks; 17+ issues per year
Covers financings, capex, earnings, new companies
Includes market analysis and new trends
Access to capital market archives
Phone request for multiple listings published in reports
Includes discounts for other PLS products & events
Are you looking to subscribe to Capitalize? Click here for the latest Capital Markets Report
Search PLS' News Archive for complete oil & gas news for CapitalMarkets .
See what it is about before you buy. View a sample issue of CapitalMarkets.
Need more information? Click the button to recieve more details about the CapitalMarkets
Opportunity is a reflection of information.
Call 713-650-1212 For More Information
Search CapitalMarkets:

Headline
Publication
News Date
CM - Callon closes $5B credit facility concurrent with Carrizo buy - January 2020
Callon Petroleum signed a new $5 billion credit agreement with a 22-member lending syndicate that provides a senior secured revolving credit facility with a $2.5 billion initial borrowing base. For now, Callon has elected an initial $2 billion aggregate commitment from that base, and it had about $1.3 billion in borrowings outstanding under the facility as of Dec. 20, the date it closed the purchase of Carrizo Oil & Gas. The facility will mature Dec. 20, 2024, or earlier if certain...
Jan 10, 2020
CM - WPX offers $900MM in notes, pays 27% of common for Felix - January 2020
WPX Energy issued $900 million in new 4.5% senior unsecured notes due 2030 to cover the cash component of a $2.5 billion deal to buy Delaware Basin producer Felix Energy Holdings II. The larger $1.6 billion portion of the payment will be made in WPX common stock. WPX will net about $888.75 million in proceeds, which will be deposited into escrow. While the offering isn't contingent upon the completion of the Felix purchase, the notes are subject to a special mandatory redemption should the...
Jan 10, 2020
CM - ET & EPP ring in 2020 with $9.1B of securities in the market - January 2020
Energy Transfer and Enterprise Products Partners each started the new year with triple-tranche, multibillion-dollar bond offerings resulting in a combined $7.5 billion of new midstream sector debt in the market. Top US midstream revenue generator ET, through its Energy Transfer Operating sub, floated $4.5 billion in senior notes and also sold $1.6 billion of preferred shares on Jan 7. One day earlier, EPP, the US's largest midstream company by market cap, put $3 billion of senior notes on...
Jan 10, 2020
CM - Oxy & Western Midstream will consciously uncouple this year - January 2020
Occidental Petroleum will make Western Midstream Partners a standalone business after a tumultuous 2019 that revolved around the purchase and integration of Western's parent company, Anadarko Petroleum. Oxy will cut its majority stake in the MLP below 50% this year, facilitate the movement of employees onto new Western payrolls, gradually reduce administrative services and expand Western unitholders' rights to replace the general partner under an amended limited partnership agreement....
Jan 10, 2020
CM - Laredo Petroleum plans to float a $900MM double tranche - January 2020
Laredo Petroleum announced Jan. 6 that it intends to offer $900 million aggregate principal amount of senior notes through two tranches. It will sell $450 million each of senior unsecured notes due 2025 and 2028 at a price and coupon to be determined. The company intends to use net proceeds to refinance $450 million of its 5.625% senior unsecured notes due 2022 and $350 million of 6.25% senior unsecured notes due 2023 through cash tender offers. Remaining proceeds would be used for...
Jan 10, 2020
CM - Contango sells more stock, signs development deal with Juneau - January 2020
Contango Oil & Gas will gross $59.2 million from a common stock sale to asset manager T. Rowe Price and other institutional and accredited investors, as well as preferred stock sales to company insiders. It will use funds for capex related to a joint development agreement with Juneau Oil & Gas. Contango will place 19 million new shares privately with the accredited investors for gross proceeds of $53.35 million, and 2.34 million Series C shares, a new series, with entities owned...
Jan 10, 2020
CM - Tema Oil & Gas becomes partial Class A shareholder of Rosehill - January 2020
Delaware Basin-focused Rosehill Resources said that shareholder Tema Oil & Gas exchanged 14.1 million Class B common shares for the equivalent number of Class A common shares for tax-planning considerations. The exchange gives Tema, which now operates as an E&P subsidiary of Baltimore-based Rosemore, Inc., Class A shares in Rosehill which it did not own before, as well as about 15.7 million Class B shares that it will continue to hold. Tema said that it has no intention to sell its newly...
Jan 10, 2020
CM - Baby New Year enters with bonds, bonds, bonds - January 2020
We've started 2020 with a burst of bond offerings, hopefully portending a busy and easy fundraising year for the industry. Energy Transfer (PG.1) issued $4.5 billion and Enterprise Products Partners (PG.1) issued $3 billion of notes, each through three tranches on Jan. 6 and 7, WPX (PG.1) and Laredo Petroleum (PG.3) each announced $900 million bond flotations, and CVR Energy (PG.6), Nabors Industries (PG.15) and Range Resources (PG.4) announced planned debt placements of $1.1 billion, $1...
Jan 10, 2020
CM - Range launches tender offer, plans $500MM notes sale - January 2020
Range Resources plans to sell $500 million aggregate principal amount of senior notes with a six-year maturity in a private placement to eligible purchasers. The company said it will use the proceeds to buy back, through a tender offer, up to the same amount of older debt issued across three separate instruments. The company said it will also borrow from its credit facility, if necessary, to complete the buybacks. The company launched the tender offer Jan. 8. It is asking holders of...
Jan 10, 2020
CM - Upstream Capital Briefs - January 10, 2020
Northern Oil and Gas will begin paying dividends to its shareholders in April, with the first payout at $0.15 per common share. The maiden dividend represents a 3% annual yield based on the current price of Northern's NYSEtraded shares. Chairman Bahram Akradi called the new dividend "a conservative but meaningful step." Startup Ossidiana Energy Holdings announced that it has received a round of funding from new investor Warburg Pincus. The Oklahoma-based company focuses on...
Jan 10, 2020
Get more news for CapitalMarkets