CapitalMarkets
Serving the finance market with news, analysis and investment opportunities.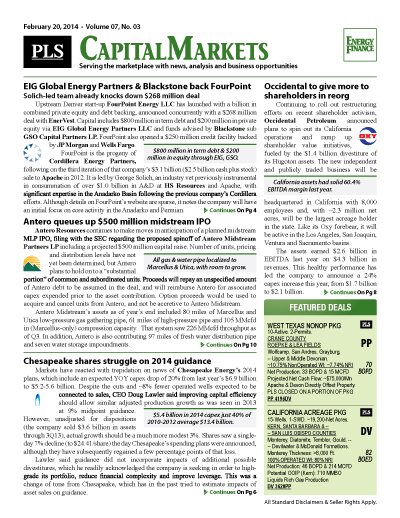 PLS publishes news and analysis in the energy finance sector through its capital markets module. The green banner report includes news and analysis on company budgets, capital spending, financial performance and interviews with leading capital providers.
Your access to energy finance
Single copy pricing; Incl hard copy & email version
Increase market insight & deal flow
Every 3 weeks; 17+ issues per year
Covers financings, capex, earnings, new companies
Includes market analysis and new trends
Access to capital market archives
Phone request for multiple listings published in reports
Includes discounts for other PLS products & events
Are you looking to subscribe to Capitalize? Click here for the latest Capital Markets Report
Search PLS' News Archive for complete oil & gas news for CapitalMarkets .
See what it is about before you buy. View a sample issue of CapitalMarkets.
Need more information? Click the button to recieve more details about the CapitalMarkets
Opportunity is a reflection of information.
Call 713-650-1212 For More Information
Search CapitalMarkets:

Headline
Publication
News Date
CM - Fortis Minerals to launch IPO with a probable $115MM raise - October 2019
Fortis Minerals, LLC, which acquires and manages oil and gas mineral royalty interests, filed an S-1 registration with the US Securities and Exchange Commission on Sept. 27 to conduct an initial public offering. The company will offer $100 million of its Class A common shares on NYSE under the symbol NRI through a syndicate led by Credit Suisse and Goldman Sachs, according to the filing. It plans to offer an overallotment option. Fortis will be the sixth domestic US energy IPO of a lackluster...
Oct 04, 2019
CM - Marathon Petroleum better off broken up, says activist Elliott - October 2019
Activist investor Elliott Management Corp. wants Marathon Petroleum Corp. to split into three distinct independent companies. The investment management firm believes the current conglomerate structure is a disservice to shareholders and that dividing into separate retail, refining and midstream companies would "remedy the company's chronic underperformance, improve its businesses and unlock significant and sustainable value for its shareholders." It also believes such actions could be...
Oct 04, 2019
CM - Schlumberger issues almost $1.8B in notes, buys back $1.1B - October 2019
Investing in digital tech, reviewing North American business Schlumberger, the world's largest oilfield services company, issued €500 million ($545.2 million) each of five-year zero-coupon bonds, 0.25% guaranteed notes due 2027 and 0.5% senior unsubordinated unsecured notes due 2031, and another $160 million of short-term zero coupon bonds, all through its Dutch finance arm Schlumberger Finance BV. The company also announced on Sept. 25 that it expected to accept for repurchase...
Oct 04, 2019
CM - US shale producers hedge big on news of Saudi attack - October 2019
Making the most of the global oil market's temporary reaction to the attack on Saudi Arabian oil assets, US shale producers upped their oil hedges to lock in future revenue for the rest of this year and 2020. The price of Brent oil jumped 20%, or $12/bbl, in early trading on Sept. 16—its biggest individual leap in 28 years— before settling at $69.02 for the day, or 11% higher than the previous trading day. WTI rose 15% in early trading and closed the day at $62.90, or 10% higher than the...
Oct 04, 2019
CM - Kimmeridge Energy's Fund V closes at $800 million hard cap - October 2019
Kimmeridge Energy Management Co. closed its Energy Fund V at its $800 million hard cap on Oct. 2. The fifth fund for this US unconventional oil and gas specialist group closed at twice the size of Fund IV and was oversubscribed. Money from Fund V will be used to acquire and develop unconventional assets in top-tier basins, the firm said. Kimmeridge has raised about $2.8 billion in limited partner commitments since its founding seven years ago. The group has also emerged as a vocal...
Oct 04, 2019
CM - Oxy board getting shareholder-friendly for 2020 meeting - October 2019
It may soon take just 15% of Occidental Petroleum's common stockholders to call a special meeting, down from the current 25%, if a proposal on its 2020 meeting agenda is approved. Oxy directors told the US Securities and Exchange Commission on Sept. 19, nearly six months in advance of proxy season, that it will propose to amend articles of incorporation at the next annual meeting, including the relaxed threshold and some shareholders rights matters. Oxy would also form a committee on...
Oct 04, 2019
CM - Conoco realizes proceeds from asset sale, provides Q3 guidance - October 2019
ConocoPhillips said that proceeds from its sale of two UK subsidiaries for $2.675 billion would be used for general corporate purposes. It sold its businesses, which indirectly held E&P assets and about $1.8 billion in asset retirement obligations, to Chrysaor E&P Ltd. after a 50-year history in the area. The assets brought in about 72,000 boe/d of production during H1. Conoco intends to maintain its commercial trading business in London and continue to operate the Teesside oil terminal in...
Oct 04, 2019
CM - EnCap sets up energy transition team to move into renewables - October 2019
Prolific energy investor EnCap Investments LP announced Sept. 23 that it will look at lower-carbon prospects. It is going to pursue opportunities created by the global transition to solar, wind and natural gas that is "enhanced by the implementation of lowcost, proven battery storage systems." "Fossil fuels will continue to play an essential role in meeting global energy demand in the coming decades. However, renewable energy sources are poised for rapid growth. In fact, renewables...
Oct 04, 2019
CM - A new IPO & PE investment as lenders redetermine - October 2019
IPO activity has been sparse in 2019. When one does appear on the horizon, we celebrate it because it means that investors believe new companies and management teams in the energy industry are worth the risk. At a projected $115 million in gross proceeds including greenshoe, Fortis Minerals (PG.1) will be the smallest domestic IPO to occur year to date, but hopefully will not be the last. Both Elliott Management and legendary activist shareholder Carl Icahn are pushing forward on their...
Oct 04, 2019
CM - NGP commits to its fourth Wing deal with $100 million - October 2019
Wing Resources IV, LLC said that NGP Natural Resources XII, LP has committed $100 million in new equity investment, continuing the fund manager NGP's affiliation with the Wing team through the fourth iteration. Fund XII is NGP's most recent private equity fund to focus on natural resources. Wing IV CEO Nick Varel said his group will "build a premier mineral and royalty acquisition platform focused on delivering superior risk-adjusted returns to its stakeholders." Joining Varel is EVP of...
Oct 04, 2019
Get more news for CapitalMarkets