Event Schedule
2013
Dealmakers
Prospects & Property
Expo
The original forum for buying and selling prospects & properties since the 1980s
Buyers Love Dealmakers
Hundreds of deals! Solid shopping! Exceptional networking!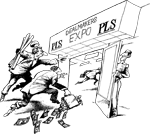 Dealmakers is the original forum for buying and selling prospects and properties with PLS having hosted shows since the 1980's.
Quick and Easy!
Buyers love PLS' Dealmakers events for their simplicity. In one day- purchasers and capital providers can attend a regional expo and run the floor for deals that fit their buying criteria shopping and stopping as applicable. Buyers can also see full or partial presentations and/or step in to one of the informative breakout sessions on important industry topics like "M&A activity, exploration trends, capital markets, oilfield service supplies, oil and gas pricing considerations and hedging strategies.
Want more?
Dealmakers is perfect for detailed showings, as the case may be, and sellers and buyers are not endlessly interrupted by overzealous networkers. Many buyers go so far as to pre-set showings and appointments with exhibitors they know to be exhibiting at Dealmakers shows or turn to PLS for introductions to applicable playmakers and prospect generators. Email
conferences@plsx.com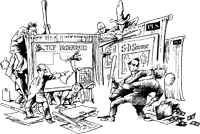 Professionals vs staff.
As compared to larger events, PLS regional shows have consistently drawn a higher percentage of C-level executives, decision makers and real buyers.
Dealmakers is just the right size- small enough for intimacy- but large enough for the critical mass necessary to assure a successful and profitable day.
Price?
Dealmakers is also inexpensive. Badges vary by show but generally cost between $135-$215 for buyers as compared to $295-$345 plus at larger events like Nape.
Finally, potential purchasers can also leverage the forum for additional networking during lunch or the evening reception. Dealmakers is well worth a one day investment. Its intimate. efficient. informative and effective.
Download Invitation
Dealmakers:
1-day power packed expos
Unique opportunity for showing deals
Intimate atmosphere for deal discussions
Focused setting perfect to show deals


What companies?
Exploration companies
Independent geologists & prospect generators
Service companies
Public & private independents
Land owners
State, province, federal & Indian land officials
Oil & gas operators
Banks, investors & capital providers


Which professionals?
Geologists
Landmen
Petroleum engineers
Consultants
Property brokers
Investment bankers
Financial analysts
Service company executives


Things to do:
Sell your prospect or property
Find capital for your project
Meet new partners
Sell working interest or overrides
Negotiate & structure deals
Learn about capital markets
| | |
| --- | --- |
| The original forum for buying, selling & networking | |
Cancellation and Refund Policy:
Any person who registers to attend Dealmakers Expo shall be eligible to substitute the name of the person on the pre-registered pass at no additional cost. Attendee cancellations must be submitted in writing and will not be charged a cancellation fee, however no refunds will be issued under any circumstance. Send written transfer or cancellation requests to
memberservices@plsx.com
. Attendees who have purchased booths may not assign or apportion the whole or any part of the space allotted to them without first receiving written consent from PLS. PLS does not grant expo booth cancellation reimbursements at any time prior to the oil & gas show, in the event a company registers for a booth, and needs to cancel the booth registration fee shall be forfeited. If for any reason PLS Inc. cancels the Dealmakers Expo, PLS Inc. is not responsible for any costs including but not limited to, travel and hotel accommodations incurred by the registrant. For more information about PLS oil and gas expos contact the registration desk at 713-650-1212