Dallas
The original forum for buying and selling prospects & properties since the 1980s
Dallas Dealmakers Expo
Hilton Anatole
PLS's Summer Dealmakers Prospect & Property Expo of 2015 kicks off on
Thursday, July 23rd
in Dallas, Texas, at the Hilton Anatole. This one-day oil and gas prospect and property expo is a must-see event for industry buyers, sellers and capital providers to attend and view various industry plays, property packages and exploration opportunities. Remaining Expos planned for 2015 include: Houston (September 30); Calgary (October 6); Midland (October 22); and Denver (November 3).
These Expos are intimate, cost effective, and productive; bringing together leading prospect generators, exploration firms, deal-takers, operators, non-operated working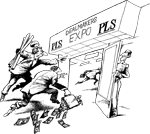 interest owners, capital providers, advisors, divestiture professionals, investment bankers and other energy executives active in buying and selling oil and gas assets.
These power-packed, one-day events also include an evening cocktail networking reception for attendees, exhibitors, and sponsors.
The Dealmakers Expo is timed and sized just right for making deals: small enough for intimacy but large enough for the critical mass necessary to assure a successful and profitable day. The event is structured around deal-making, with networking opportunities including an open expo hall, lunch buffet and evening cocktail reception.
PLS has been hosting oil and gas industry buyer and seller exhibitions since the 1980s and has previously promoted shows in Corpus Christi, New Orleans, San Antonio and Oklahoma City. The Dealmakers Expos are an active extension of PLS's multiple listing service and are the perfect event to catch up on current plays and initiate contacts with some of the industry's preeminent buyers and sellers.
Thursday
July 23, 2015
Event Schedule
7:00 am Late Setup
9:00 am Doors Open/Continental Breakfast
12:00 pm Network Luncheon
3:00 pm Cocktail Reception
5:00 pm Booth Breakdown
For Additional Information
Or Special Offers
Contact:
Michael Sunja
Sales Associate
Phone: 713-650-1212
Direct: 713-600-0142
Email:
msunja@plsx.com
| | |
| --- | --- |
| The original forum for buying, selling & networking | |
Cancellation and Refund Policy:
Any person who registers to attend Dealmakers Expo shall be eligible to substitute the name of the person on the pre-registered pass at no additional cost. Attendee cancellations must be submitted in writing and will not be charged a cancellation fee, however no refunds will be issued under any circumstance. Send written transfer or cancellation requests to
memberservices@plsx.com
. Attendees who have purchased booths may not assign or apportion the whole or any part of the space allotted to them without first receiving written consent from PLS. PLS does not grant expo booth cancellation reimbursements at any time prior to the oil & gas show, in the event a company registers for a booth, and needs to cancel the booth registration fee shall be forfeited. If for any reason PLS Inc. cancels the Dealmakers Expo, PLS Inc. is not responsible for any costs including but not limited to, travel and hotel accommodations incurred by the registrant. For more information about PLS oil and gas expos contact the registration desk at 713-650-1212