Dallas

•Some of the industry's finest oil and gas exploration & resource players convene for a day of prospecting and networking.
The original forum for buying and selling prospects & properties since the 1980s
Winter Dealmakers Expo
Hilton Anatole
2201 North Stemmons Fwy, Dallas, TX 75207, USA
Property buyers, prospect generators and capital providers will be in Dallas Wednesday at the Hilton Anatole looking over the industry's latest oil and gas offerings. On tap for buyers are projects, prospects and properties in some of the industry's hottest oil and gas plays including the Mississippi Lime, Eaglebine, Wolfcamp, Cline, Utica, Niobrara and Uinta. Besides resource plays, PLS has also brought together sellers with conventional properties and prospects in the Gulf Coast, ArkLaTex and Mid-Continent regions.
On a regional basis, companies offering Gulf Coast deals include American Energy Oil & Gas (Salt Dome Prospect, Iberia Pr, La), Asset Management LLC (Tuscaloosa Shale Prospect), Cameron Mineral Trusts (multiple East Texas acreage packages) and Cypress Production (two prospects in St. Landry Pr, La.).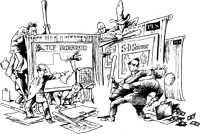 Also available on the Gulf Coast are assets from Gibraltar Energy (Black Warrior Basin), Magnum Producing LP (three Jefferson Co., Tx Prospects), McGovco LLC (three Texas Gulf Coast prospects) and Mestena Operating (13,000 acres on Texas Gulf Coast). Halex Oil is offering a multipay Woodbine prospect in Walker Co., Tx. Rozel Energy has a prospect in Louisiana's Bayou Sorrel field, Shelf Energy has two Louisiana prospects, and Stallings Interests is marketing a Frio prospect in Kleberg Co., Texas.
In South Texas, ZaZa Energy is offering two acreage packages totaling 24,000 net acres, Frio Pecan Farm LP is marketing a prospect in Hogg Co., Hurd Enterprises has two Wilcox prospects, and Sien Energy is offering a 4,450-acre Yegua package.
In the Mid-Continent, deals are being marketed in the Kansas Mississippian by D&J Oil Co. (Harper Co. property), Gene F. Lang & Co. (38,000 net acres), Panpermian Energy Partners (104,000 Central Kansas acres) and T-C Oil (10,500 Net Acres in Kansas Mississippian).
Additionally, PLS is marketing three packages totaling 67,000 acres in the Mississippian trend for private sellers. In North Texas Dallas Energy Group (Two Barnett packages in Wise Co.), Fairchild Petroleum Interests (Fischer Co.), Maxwell Resources (3,200 acres in Granite Wash), Nytex Petroleum (Marble Falls prospect), and Stallings Interests (two Chappel prospects) will be showing deals.
In the Permian Basin, sale packages are available from Cameron Mineral Trusts (10,000 San Andres Play), Fairchild Petroleum (45,000 acres in the Cline), Longneck Energy (Wolfcamp & Yates acreage), Maverick Royalty (Johnson Ranch Acreage), Porvenir Exploration (52,7000 Olmos/Eagle Ford acres), Purvis Operating (Wolfcamp), Rawhide Ranches (35,000 Delaware Basin acres with multiple objectives) and Stallings Interests (Clines Shale). Additionally, PLS divestment arm is representing two packages at the Expo with production for sell from private sellers.
The ArkLaTex region has deals from Bradport LLC (Central Arkansas Production), Cameron Mineral Trusts (20,000 acres, Texas Haynesville/Bossier), East Texas Oil & Gas (Eaglebine Oil), Imagery Exploration (two prospects in Louisiana & Texas) and Rippy Interests (Eaglebine). In the Rockies, packages are available from Esenjay Petroleum (16,000 net acres in Colorado DJ Basin), Dejour Energy (80,000 acres in Colorado Piceance Basin), Preferred Oil (20,000-net-acre Colorado Niobrara-Codell prospect), Renegade Petroleum (Bakken) and Rockies Standard Oil Co. (165,000-net-acre Uinta Basin). Also, PLS is marketing multi-pay acreage in Colorado for a private seller.
In the Appalachian, Green Hills Energy LLC is offering six packages in the Pennsylvania Marcellus and Utica. Other property sellers and prospect generators include: APO Energy, Arctic Falcon Exploration, Aterra Exploration, Black Mountain Exploration, Carbon Creek Resources, EMH Resources, Fortay Inc, GFL & Associates, Harvest Hill Oil & Gas, Metano Energy, Montex Resources, New Century, Exploration, Omega Coastal Development, Phillips Energy Partners, Primexx Operating Co, RHB Exploration & Production, Shackelford Oil Properties, Shale Exploration, TOCO Energy, US Energy Development Corp and Victor P. Smith Oil Co.
Service Companies and Capital Providers include: BlueRock Energy Capital, Coquest Structured Products, Direct Drivehead Inc, ECHO Geophysical Corp, Five States Energy Capital, Holland Services, Macquarie Bank, NGP Capital Resources, OGRE Systems, Petro Capital Securities, PetroCap Inc, Polymer Services, Seismic Exchange, Seismic Ventures, SunCoast Technical Services, Texas Alliance of Energy Producers, The DRM Companies, TIPRO, Wardlaw Services and WellSight Data.
PLS has been hosting oil and gas buyer-seller exhibitions since the 1980s and has previously promoted shows in Corpus Christi, Denver, Houston, New Orleans, Oklahoma City and San Antonio.
Wednesday
January 16, 2013
Event Schedule
6:00 am Late Setup
8:30 am Doors Open/Continental Breakfast
10:30 - 11:30 am Energy Capital 101
12:00 pm Network Luncheon
4:00 pm Cocktail Reception
6:00 pm Booth Breakdown
For Additional Information
Or Special Offers
Contact:
Michael Sunja
Sales Associate
Phone: 713-650-1212
Direct: 713-600-0142
Email:
msunja@plsx.com
| | |
| --- | --- |
| The original forum for buying, selling & networking | |
Cancellation and Refund Policy:
Any person who registers to attend Dealmakers Expo shall be eligible to substitute the name of the person on the pre-registered pass at no additional cost. Attendee cancellations must be submitted in writing and will not be charged a cancellation fee, however no refunds will be issued under any circumstance. Send written transfer or cancellation requests to
memberservices@plsx.com
. Attendees who have purchased booths may not assign or apportion the whole or any part of the space allotted to them without first receiving written consent from PLS. PLS does not grant expo booth cancellation reimbursements at any time prior to the oil & gas show, in the event a company registers for a booth, and needs to cancel the booth registration fee shall be forfeited. If for any reason PLS Inc. cancels the Dealmakers Expo, PLS Inc. is not responsible for any costs including but not limited to, travel and hotel accommodations incurred by the registrant. For more information about PLS oil and gas expos contact the registration desk at 713-650-1212