Event Schedule
2013
Dealmakers
Prospects & Property
Expo
The original forum for buying and selling prospects & properties since the 1980s
Dealmakers!
Selling prospects, properties & projects is as easy as signing up for a booth!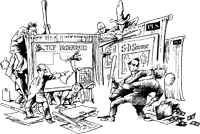 Track Record!
PLS has been hosting prospect and property expos since the 1980s and was actually the founder of the summer event now known as Summer Nape. In fact, PLS' predecessor company Petroleum Registry created the prospect exposition format back in 1985.
Success!
Exhibiting at Dealmakers is easy, inexpensive and profitable considering the number of explorationists, prospect generators and capital providers who have either sold deals, opened new opportunities or started new business relationships based on introductions initiated at Dealmaker events over the years. To exhibit just go online and sign up for a booth. And then show up with your maps, plats and logs. It's that easy!! Questions? Email
rbenoche@plsx.com
Comfort!
Unlike larger events set in cavernous exposition halls, Dealmakers' classic and intimate hotel setting assures a setting conducive to showing prospects, selling assets and closing deals. Breakout sessions, food, bars and restrooms are all close at hand while registration, walk-in and set-up are seamless. Lunch and the late afternoon reception creates excellent networking opportunities. PLS even provides complimentary wireless at the show for office connectivity. Finally, Dealmakers is always structured around a simple one-day format where buyers and sellers can get in and out of town quickly.
Dealmakers is focused on dealmaking.
Besides a show atmosphere conducive to closing transactions, PLS's powerful brand, reputation and 20-plus years of prospect-expo experience assure a critical mass of show participants along with the right balance of booths to delegates; buyers to sellers; prospect sellers to service companies; landmen to lawyers; and capital providers to capex spenders. Each regional Dealmakers Expo averages 80-120 booths and 600-1,000 delegates depending on the city and time of year. Since the 1980s, PLS has provided successful exhibit space to more than 1,000 different prospect generation shops, exploration companies, property sellers, brokers and/or capital providers. And best yet, the PLS events are known for bringing C-level executives and decision makers in person. As one seller told PLS: "When buyers come to Dealmakers, they come to buy!" "Its a show, focused on deals without all the distractions and interruptions that come from Nape."
Affordable!
Booth prices vary by show but are always all inclusive and generally average around $795-$945 for prospect generators and property sellers, $ 1, 500-$2,500 for capital providers and $2,500-$3,500 for service companies.
All-In!
Unlike other expos, PLS booth fees include 2-4 passes for prospect generators and other sellers and 4-10 passes for capital providers and service vendors. Besides passes, PLS exhibit fees also come with all other necessary booth supplies such as carpet, table, chairs, drapery, trash can and signage. Tack boards are extra, but PLS has negotiated favorable rates with Freeman and other dressage firms. In Canada this year we are offering free booth space to qualified sellers to promote the show, and in the U.S. we have always offered flexible pricing for underfunded generators, newcos and the between-job professionals who need support till they sell a deal or find a new gig. PLS offers seller's financial assistance because we believe in building events and relationships for the long term so the industry can get more wells drilled. Email
msunja@plsx.com
to learn more.
Friendly service!
Unlike some shows, PLS also does not charge for name changes and lost badges. And PLS will help sellers find guests, clients or even buyers to use your extra badges. PLS also offers our sponsors unique and creative ways to get clients to the show and to your booth. We'll even help you with your booth art, prospect packages, reproduction and graphics needs. Email
ocastro@plsx.com
for more information.
Event Schedule
6:00 am Late Setup!
8:15 am Continental Breakfast
8:30 am Doors Open
12:00 pm Network Luncheon
4:30 pm Cocktail Reception
6:00 pm Booth Breakdown
Download Invitation
Dealmakers:
1-day power packed expos
Unique opportunity for showing deals
Intimate atmosphere for deal discussions
Focused setting perfect to show deals


What companies?
Exploration companies
Independent geologists & prospect generators
Service companies
Public & private independents
Land owners
State, province, federal & Indian land officials
Oil & gas operators
Banks, investors & capital providers


Which professionals?
Geologists
Landmen
Petroleum engineers
Consultants
Property brokers
Investment bankers
Financial analysts
Service company executives


Things to do:
Sell your prospect or property
Find capital for your project
Meet new partners
Sell working interest or overrides
Negotiate & structure deals
Learn about capital markets
| | |
| --- | --- |
| The original forum for buying, selling & networking | |
Cancellation and Refund Policy:
Any person who registers to attend Dealmakers Expo shall be eligible to substitute the name of the person on the pre-registered pass at no additional cost. Attendee cancellations must be submitted in writing and will not be charged a cancellation fee, however no refunds will be issued under any circumstance. Send written transfer or cancellation requests to
memberservices@plsx.com
. Attendees who have purchased booths may not assign or apportion the whole or any part of the space allotted to them without first receiving written consent from PLS. PLS does not grant expo booth cancellation reimbursements at any time prior to the oil & gas show, in the event a company registers for a booth, and needs to cancel the booth registration fee shall be forfeited. If for any reason PLS Inc. cancels the Dealmakers Expo, PLS Inc. is not responsible for any costs including but not limited to, travel and hotel accommodations incurred by the registrant. For more information about PLS oil and gas expos contact the registration desk at 713-650-1212