Southeastern Scout
Serving the local market with drilling activities, permits & multiple listings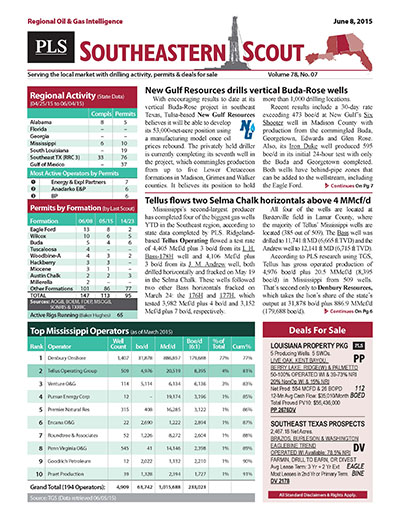 PLS publishes local exploration news and drilling insights on a regional basis through reports like the Southeastern Scout. Previously known as the Southeastern Oil Review and published since 1926, this unique report has a loyal following of explorationists, operators, drillers, landmen and landowners in South Louisiana, Mississippi, Alabama and Florida.
Stay in front of local prospects, plays & rigs!
South Louisiana, Mississippi, Alabama, Florida
Hard Copy and Email For 1 Individual
Every 3 Weeks (16-20 issues per year)
Regional discoveries, drilling activity, permits,
completions and summary drilling statistics, layered
with regional listings and business opportunities
Web access to the Southeastern Scout archive
Does not include access to MLS
$ 695 /Yr
Search PLS' News Archive for complete oil & gas news for Southeastern Scout .
See what it is about before you buy. View a sample issue of Southeastern Scout.
Need more information? Click the button to recieve more details about the Southeastern Scout
Opportunity is a reflection of information.
Call 713-650-1212 For More Information
Search Southeastern Scout:

Headline
Publication
News Date
Apache leads RRC 3 completions in Eagle Ford
Southeast Texas dominated this issue's completions according to state data, led by Apache at Giddings field. The company completed two strong Eagle Ford wells in Brazos County, Texas. The Tucker Unit...
Feb 17, 2017
New player Upstream targets East Cox Bay field
Upstream Exploration completed its second successful well in East Cox Bay field in Plaquemines Parish, Louisiana. The Palmetto C Prospect well flowed 690 boe/d (73% oil) on a 9/64-in. choke with no...
Jan 27, 2017
Earthstone recompletes strong Fayette County pair
Earthstone Energy recompleted two oil wells in Fayette County, TX, at Southern Bay field, according to state data. The Flatonia Townsite Unit #2H targeted the Eagle Ford and flowed 639 boe/d (87%...
Jan 27, 2017
Southeastern Quick News - January 27, 2017
• The SoutheasternOnshore region has 19 rigs—17 oil and two gas— running this issue, down from 34 YOY. • Lincoln, Marion and Simpson counties, Mississippi, all have one rig each running this...
Jan 27, 2017
Southeastern Quick News - January 10, 2017
• The Southeastern Onshore region has 17 rigs running—14 oil and three gas—down from 32 YOY. • Burleson Co., Texas, has three oil rigs running, up from two YOY. • Apache completed the...
Jan 10, 2017
Denbury Resources catches a break in Oyster Bayou
Denbury Resources has completed a successful gas well at Oyster Bayou field in Chambers County, Texas. The Oyster Bayou Field Unit #1025 was drilled to 8,372 ft TD and flowed 7.0 MMcfe/d. This is the...
Dec 09, 2016
Get more news for Southeastern Scout