Bakken Scout
Serving the local market with drilling activities, permits & multiple listings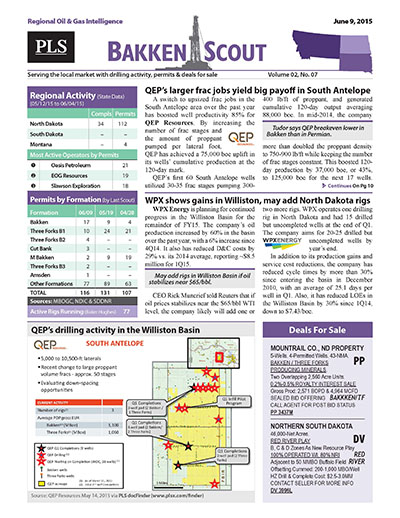 PLS's Bakken Scout covers oil and gas permitting, rig activity and completions in the Dakotas and Montana. The report is available by subscription and is delivered by hard copy and email every 3 weeks. Like other Regionals, the Bakken is packed full of local statistical analysis covering permits, rigs and completions while also covering top stories, fun facts, quick stats and production anomalies.
Stay in front of local prospects, plays & rigs!
North Dakota, South Dakota and Montana
Hard Copy and Email For 1 Individual
Every 3 Weeks (16-20 issues per year)
Regional discoveries, drilling activity, permits,
completions and summary drilling statistics, layered
with regional listings and business opportunities.
Web access to the Bakken Scout archive.
Does not include access to MLS
$ 595 /Yr
Search PLS' News Archive for complete oil & gas news for Bakken Scout .
See what it is about before you buy. View a sample issue of Bakken Scout.
Need more information? Click the button to recieve more details about the Bakken Scout
Opportunity is a reflection of information.
Call 713-650-1212 For More Information
Search Bakken Scout:

Headline
Publication
News Date
Hess builds momentum in Bakken with $675MM plan
Hess will allocate $675 million to the Bakken this year, up 57% from 2016's spending level and nearly a third of its overall budget. The company will ramp up from two to six rigs and begin production...
Feb 21, 2017
New Bakken player scores with first operated well
Calgary-based and Bakken/Three- Forks-focused PetroShale recently completed its first operated well, which ranks as this issue's second best. The Petroshale US #8H (73% WI) flowed 3,273 boe/d (84%...
Feb 21, 2017
Bakken Scout - Quick News - February 21,2017
• The Bakken region has 36 oil rigs running this issue, unchanged YOY. • Both Stark and Roosevelt counties have one rig running, up from zero YOY. • McKenzie County has 18 rigs...
Feb 21, 2017
Whiting's upsized proppant drives performance
Whiting's enhanced completions continue to deliver top rates—as illustrated by two of this issue's top three wells, which were completed at Poe field in McKenzie County, North Dakota. The Koala...
Jan 31, 2017
Bakken Quick News - January 31, 2017
• The Bakken region has 37 oil rigs running this issue, down from 44 YOY. • McKenzie County has 16 rigs running, down 22 YOY. • Burke, Roosevelt and Stark counties each have one rig...
Jan 31, 2017
Statoil keeps 5,000 boe/d Banks field streak alive
Statoil continues to deliver top-tier Bakken wells at Banks field in McKenzie County, North Dakota. The company's latest high performer, Cheryl 17-20 #5H, IP'd at 5,105 boe/d (72% oil) on a 44/64-in....
Jan 11, 2017
Bakken Quick News - January 11, 2017
• At the North Fork prospect in McKenzie County, Abraxas Petroleum's Stenehjem 10H and 15H wells continue to exceed expectations with the two wells' cumulative oil production at more than 100,000 bbl...
Jan 11, 2017
Get more news for Bakken Scout