Ark-La-Tex Scout
Serving the local market with drilling activities, permits & multiple listings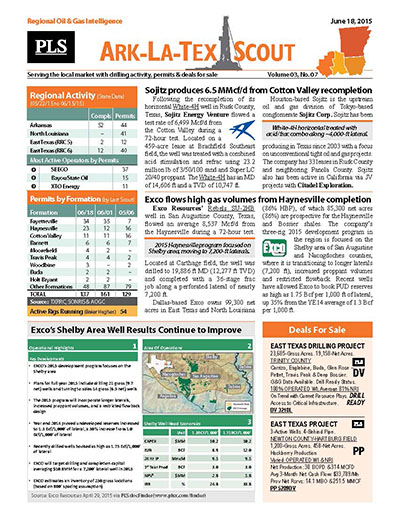 PLS publishes exploration news and drilling insights in Arkansas, Louisiana and East Texas through our Ark-La-Tex Scout. A famed area with significant of oil and gas history- this Region- known for East Texas stacked pays (Smackover, Bossier Sand, Cotton Valley, Travis Peak, Woodbine, Glen Rose, Rodessa, Pettit, James Lime, Edwards, Georgetown); Arkansas's shales (Brown Dense & Fayetteville) and North Louisiana's gas (Hosston & Haynesville) is still a core area for many operators from Dallas to Shreveport.
Stay in front of local prospects, plays & rigs!
Arkansas, Louisiana, East Texas
Hard Copy and Email For 1 Individual
Every 3 to 4 Weeks (12-16 issues per year)
Regional discoveries, drilling activity, permits,
completions and summary drilling statistics, layered
with regional listings and business opportunities
Web access to the Ark-La-Tex Scout archive
Does not include access to MLS
$ 695 /Yr
Search PLS' News Archive for complete oil & gas news for Ark-La-Tex Scout .
See what it is about before you buy. View a sample issue of Ark-La-Tex Scout.
Need more information? Click the button to recieve more details about the Ark-La-Tex Scout
Opportunity is a reflection of information.
Call 713-650-1212 For More Information
Search Ark-La-Tex Scout:

Headline
Publication
News Date
Indigo Minerals dominates Haynesville completions
Yorktown Partners-backed Indigo Minerals is among the private players that have been a force in the Haynesville over the last year. The company delivered this issue's best well and six of the top 10,...
Apr 13, 2017
Regional Highlights - April 13, 2017
• The Ark-La-Tex region has 55 active rigs—51 gas and four oil— up from 25 YOY. • White County, Arkansas, has a rig running, up from zero YOY. • The Haynesville has 38 rigs running,...
Apr 13, 2017
Exco gets performance uplift in Haynesville
Enhanced completions and longer laterals have driven up type curves for Exco Resources, particularly in the southern Shelby area of East Texas (up 73%) and the Holly core of North Louisiana (up 13%)....
Mar 23, 2017
PetroQuest launches new initiatives in East Texas
PetroQuest is implementing a number of new concepts for the company in its 2017 Cotton Valley program, including longer laterals, tighter spacing, pad drilling and gathering microseismic data. The...
Mar 23, 2017
Ark-La-Tex Quick News - March 23,2017
• The Ark-La-Tex region has 55 rigs—53 gas and two oil—running this issue, up from 26 YOY. • DeSoto Parish, La., is the most active county again with 18 rigs, up from six YOY. • Cass...
Mar 23, 2017
Ark-La-Tex Quick News - March 2, 2017
• The Ark-La-Tex region has 52 rigs running—51 gas and one oil— running this issue, up from 28 YOY. • DeSoto Parish is the top county this issue, with 15 rigs running, up from four YOY....
Mar 03, 2017
Ark-La-Tex Scout-DF

Feb 09, 2017
Get more news for Ark-La-Tex Scout