MidstreamIntelligence
Serving the downstream sector with news, analysis and business opportunities.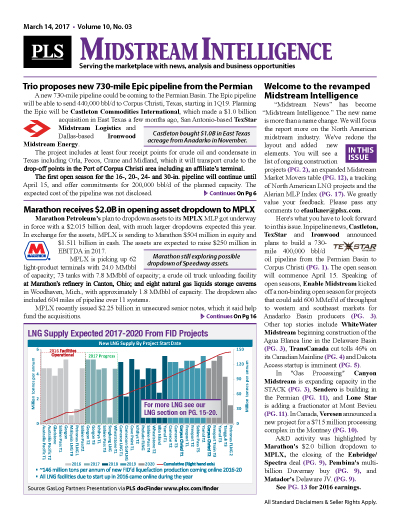 The PLS MidstreamIntelligence Module covers news and analysis on the midstream sector. The purple banner report includes market information, news and analysis on gas gathering, marketing, pipelines, storage, midstream mergers, acquisitions, capital and corporate performance.
Your access to midstream & downstream markets
Single copy pricing; Incl hard copy & email version
Increase market insight & deal flow
Published every 3 weeks; 17+ issues per year
Covers gathering, rail, processing, pipelines, refining and LNG
Phone request for multiple listings for sale
Includes discounts for other PLS products & events
$ 595 /Yr
Search PLS' News Archive for complete oil & gas news for MidstreamIntelligence .
See what it is about before you buy. View a sample issue of MidstreamIntelligence.
Need more information? Click the button to recieve more details about the MidstreamIntelligence
Opportunity is a reflection of information.
Call 713-650-1212 For More Information
Search MidstreamIntelligence:

Headline
Publication
News Date
Atlantic Sunrise Expansion
An opponent of Williams Partners' Atlantic Sunrise expansion said its filing of a motion of rehearing before the Federal Energy Regulatory Commission (FERC) should stop the expansion. A spokesperson...
Apr 07, 2017
Pinnacle Midstream in the Delaware Basin
Pinnacle Midstream has started up a new truck transloading facility in the Delaware basin. The Sierra Grande CDP in Culberson County, Texas, includes truck offloading racks with the ability of...
Apr 07, 2017
Williams Partners reduced Delaware assets
Williams Partners has completed a set of deals reducing its Delaware basin assets in exchange for a stronger position in the Marcellus. Western Gas Partners and its affiliates picked up Williams' 50%...
Apr 07, 2017
EVX Midstream Partners builds in the Eagle Ford
EVX Midstream Partners is building additional crude oil gathering infrastructure in the Eagle Ford. The partnership has also acquired additional strategic saltwater-disposal facilities. "Area...
Apr 07, 2017
Crestwood Equity Partners funded buyback
Crestwood Midstream Partners said it received valid tenders for more than $744 million for its cash tender offers that expired March 13. Crestwood Midstream offered $807.7 million in cash for all...
Apr 07, 2017
Enable Midstream Partners priced $700 millon
Enable Midstream Partners has priced its $700 million offering of 4.400% senior notes due 2027 at a price to the public of 99.615% of their face value. Enable Midstream said it will use the net...
Apr 07, 2017
Energy Transfer Equity bought $300mm in Sunoco LP
Energy Transfer Equity bought $300 million in Sunoco LP preferred equity in a private placement. Sunoco LP will use the proceeds of the transaction to repay borrowings under its revolving credit...
Apr 07, 2017
Get more news for MidstreamIntelligence