QuickPrice
Serving the marketplace with prices, metrics and analysis.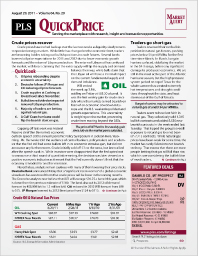 Click Here
Other U.S.A. Reports
A&D Transactions
CapitalMarkets
ProspectCentre
MidstreamNews
OilfieldServices
Southeastern Oil Scout
View All U.S.A. Publications
PLS publishes news and analysis impacting oil and gas pricing through its QPi (Pricing) Module. The maroon report is designed to provide active operators, acquirers, explorationists, capital providers and investors the key market and price information they need to be successful. The report includes analysis on the trading floor (Nymex), transaction arena, capital markets (polls) and industry price forecasts. QuickPrice also carries market deal metrics and transaction comparisions on a periodic basis. Delivery is electronic only.

PLS' QuickPrice is a unique tool for executives and financial professionals to stay abreast of oil and gas price history, current price dynamics and future outlook.
Opportunity is a reflection of information.
Call 713-650-1212 For More Information