QuickPrice
Serving the marketplace with prices, metrics and analysis.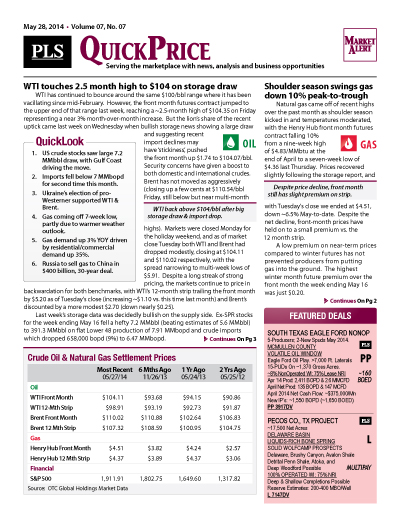 PLS publishes news and analysis impacting oil and gas pricing through its QPi (Pricing) Module. The maroon report is designed to provide active operators, acquirers, explorationists, capital providers and investors the key market and price information they need to be successful.
Your access to energy commodity pricing
Single copy pricing; Only email version
Increase understanding of oil and gas pricing
Published every 2 weeks
Stay abreast of current price dynamics and future outlook.
Includes discounts for other PLS products & events
$ 0 /Yr
Search PLS' News Archive for complete oil & gas news for QuickPrice .
See what it is about before you buy. View a sample issue of QuickPrice.
Need more information? Click the button to recieve more details about the QuickPrice
Opportunity is a reflection of information.
Call 713-650-1212 For More Information
Search QuickPrice:

Headline
Publication
News Date
Jan. 20-27 Recap:
WTI settled at $52.42/bbl on Jan. 20, while Henry Hub futures closed at $3.20/MMbtu. These prices closed Friday at ?$53.17/bbl and ?$3.39/MMbtu. For the week, WTI was up 75 cents/bbl, or 1%, while...
Jan 30, 2017
2017 Jan. 6-13 Recap:
WTI settled at $53.99/bbl on Jan. 6, while Henry Hub futures closed at $3.29/MMbtu. These prices closed Friday at $52.37/bbl and $3.42/MMbtu. WTI was down $1.62/bbl, or 3%, while natural gas rose 13...
Jan 16, 2017
Original OPEC decision bolstered by non-OPEC cuts
The market settled up 15 cents today to $52.98/bbl, up 15 cents after 10 non- OPEC nations agreed to cut production by 558,000 bo/d in the first half of 2017. The bulk of the cuts, or 300,000 bo/d,...
Dec 13, 2016
OPEC's white flag a long time coming
The Saudi-led decision by OPEC to cut production signaled a surrender in the two-year price war against US shale producers that it announced in November 2014 as oil prices plunged. Headlines focused...
Dec 13, 2016
Get more news for QuickPrice