International Scout
Serving the global E&P market with news, analysis and business opportunities.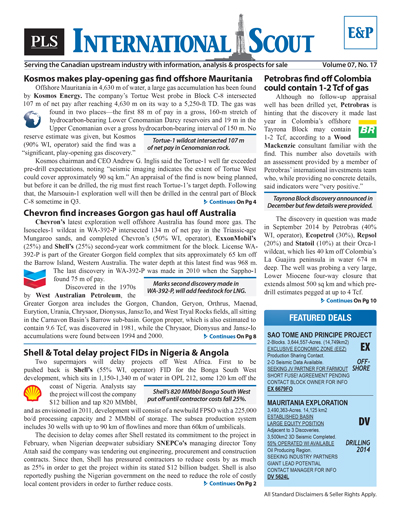 PLS publishes news and analysis on the international exploration and production (E&P) sector through its International Scout. Published every 3 weeks, the blue banner report covers new well discoveries, drilling activities, acreage sales, industry statistics (drilling results, activity permits & intents to drill) and technological updates.
Covering exploration & production
Single copy pricing; Incl hard copy & email version
Increase market insight & deal flow
Every 3 weeks
Latest in exploration, discoveries, resource plans, land grabs, volumes, development projects & trends
Access to International Scout archives
Phone request for prospects and lands listed for sale
Includes discounts for other PLS products & events
$ 745 /Yr
Search PLS' News Archive for complete oil & gas news for International Scout .
See what it is about before you buy. View a sample issue of International Scout.
Need more information? Click the button to recieve more details about the International Scout
Opportunity is a reflection of information.
Call 713-650-1212 For More Information
Search International Scout:

Headline
Publication
News Date
Strategic waiting to complete Muskeg wells
Strategic O&G has drilled five Muskeg horizontal wells at its Marlowe property in north Alberta this year that will be completed in Q2. The company also built a 4.0-km pipeline in Q1 to tie in the...
Apr 20, 2017
Eni to collect 3D seismic data off Ireland
Eni will carry out a new, 1,800-sqkm multi-client 3D seismic survey of FEL 3/04 offshore Ireland. The objective is to collect data on the potential of the undrilled Dunquin South prospect, a Lower...
Apr 13, 2017
Norway approves Trestakk plan
Norway approved Statoil's development plan for the Trestakk discovery in the Norwegian Sea. Trestakk was discovered in 1986 and contains a recoverable 76 MMboe, mainly oil. It will be developed as a...
Apr 13, 2017
NPD data repository reaches 6,000 wells
Norwegian Petroleum Directorate's catalog of borehole core samples from wells drilled on the Norwegian Continental Shelf now stands at 6,000 cores. The Core Store, as NPD's data and sample repository...
Apr 13, 2017
Oman Oil hits pay in Block 60
Oman Oil E&P found oil at the Bisat prospect in Block 60 onshore Oman. The company probed Bisat with two horizontal wells that proved the pay zone there is capable of producing more than 1,000 bo/d...
Apr 13, 2017
Turkey to collect offshore seismic data
Turkey is directing TPAO to gain a better understanding of the country's offshore resources. Turkish Minister of Energy and Natural Resources Berat Albayrak said the country will produce a...
Apr 13, 2017
Lukoil spuds first well in East Taymyrsky
Lukoil wrapped up a 2,500-km 2D seismic program in Western Siberia's East Taymyrsky Block and began drilling its first 5,000-m exploration well there six months ahead of schedule. The well will be...
Apr 13, 2017
Rosneft makes small West Siberia find
Rosneft made a minor oil discovery in Western Siberia. In Bashkortostan, two exploration wells targeting the Anastasyinskoye prospect in the West Kungak license intersected oil-bearing reservoir,...
Apr 13, 2017
Rosneft drilling northernmost Arctic shelf well
Rosneft began drilling the Tsentralno- Olginskaya-1 exploration well in the Khatangsky license in the Russian Arctic. The well is targeting an offshore prospect in the Laptev Sea but is being drilled...
Apr 13, 2017
TGS expanding its MSGBC Basin library
TGS will expand its NWAAM multiclient library in the MSGBC Basin by acquiring more than 11,000 km of long-offset broadband 2D seismic data together with magnetic and gravity data in Senegal and...
Apr 13, 2017
Get more news for International Scout