International Scout
Serving the global E&P market with news, analysis and business opportunities.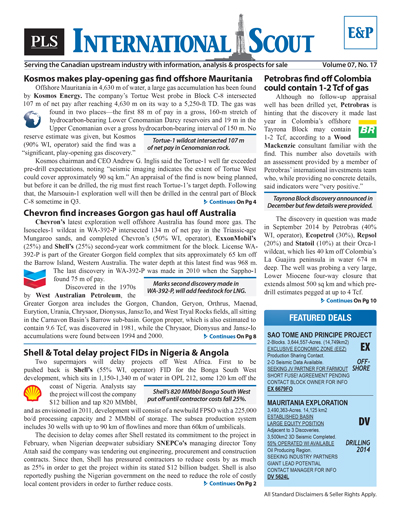 PLS publishes news and analysis on the international exploration and production (E&P) sector through its International Scout. Published every 3 weeks, the blue banner report covers new well discoveries, drilling activities, acreage sales, industry statistics (drilling results, activity permits & intents to drill) and technological updates.
Covering exploration & production
Single copy pricing; Incl hard copy & email version
Increase market insight & deal flow
Every 3 weeks
Latest in exploration, discoveries, resource plans, land grabs, volumes, development projects & trends
Access to International Scout archives
Phone request for prospects and lands listed for sale
Includes discounts for other PLS products & events
$ 745 /Yr
Search PLS' News Archive for complete oil & gas news for International Scout .
See what it is about before you buy. View a sample issue of International Scout.
Need more information? Click the button to recieve more details about the International Scout
Opportunity is a reflection of information.
Call 713-650-1212 For More Information
Search International Scout:

Headline
Publication
News Date
Eland shipping 10,000 bo/d from Nigerian field
Eland O&G's restarted commercial sales at Opuama field in Nigeria. Although the field is capable of up to 14,500 bo/d after having undergone a recent workover program, sales had not yet started up...
Feb 09, 2017
CNOOC well tests at over 10,000 bbl/d of light oil
A fifth well drill by CNOOC in Pearl River Mouth Basin Block 28/03 has turned up pay for the offshore operator. The PY10–4–3 appraisal well was drilled by CNOOC's Hai Yang Shi You 943 jackup rig to...
Feb 09, 2017
ONGC to add 10,000 bo/d at Mumbai High field
ONGC is moving on another part of its multi-year plan to increase oil and gas production from India's offshore. The company is inviting bids for a contract to rehabilitate the R-12-A wellhead...
Feb 09, 2017
Gazprom Neft boosts Arctic field by 13,900 bo/d
Gazprom Neft commissioned two new production wells at Prirazlomnoye field, the only producing project operating on the Russian Arctic shelf. Their combined depth is 8,000 m, and one was equipped with...
Feb 09, 2017
People & Companies - February 09, 2017
Cairn Energy appointed Nicoletta Giadrossi as an independent non-executive director starting Jan. 10. She will join the remuneration committee. Giadrossi is currently an independent non-executive...
Feb 09, 2017
Get more news for International Scout