International Scout
Serving the global E&P market with news, analysis and business opportunities.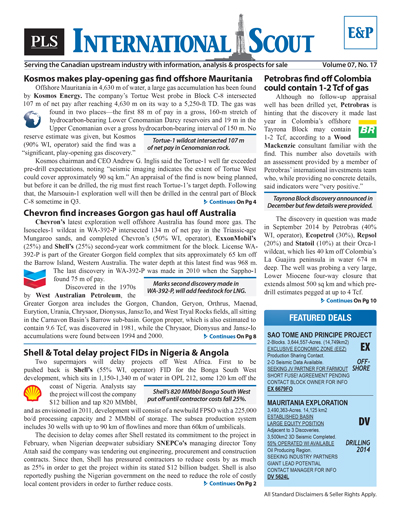 PLS publishes news and analysis on the international exploration and production (E&P) sector through its International Scout. Published every 3 weeks, the blue banner report covers new well discoveries, drilling activities, acreage sales, industry statistics (drilling results, activity permits & intents to drill) and technological updates.
Covering exploration & production
Single copy pricing; Incl hard copy & email version
Increase market insight & deal flow
Every 3 weeks
Latest in exploration, discoveries, resource plans, land grabs, volumes, development projects & trends
Access to International Scout archives
Phone request for prospects and lands listed for sale
Includes discounts for other PLS products & events
$ 745 /Yr
Search PLS' News Archive for complete oil & gas news for International Scout .
See what it is about before you buy. View a sample issue of International Scout.
Need more information? Click the button to recieve more details about the International Scout
Opportunity is a reflection of information.
Call 713-650-1212 For More Information
Search International Scout:

Headline
Publication
News Date
Aminex tests Tanzanian well at 17 MMcf/d
Aminex successfully flow tested its Ntorya-2 appraisal well in Tanzania after deepening the well to 2,795 m TD. The well initially reached 2,750 m and intersected 51 m of gross gas pay with trace...
Mar 23, 2017
Anadarko moving on smaller Mozambique LNG project
Anadarko expects to advance its LNG project in Mozambique in 2017, where it submitted a development plan for the Golfinho-Atum discoveries that lie offshore in Area 1 in December. The plan envisions...
Mar 23, 2017
Cairn's SNE off Senegal could deliver 120,000 bo/d
Cairn Energy continues to turn up good results from its SNE oil discovery off Senegal. Its most recent appraisal, SNE-5, reached 2,852 m TD in February. DSTs were conducted in the upper part of the...
Mar 23, 2017
Chevron starts up Mafumeira Sul's CPF off Angola
Chevron started oil and gas production from the main production facility at Mafumeira Sul offshore Angola. Early output levels were 10,000 bo/d. The facility has capacity to handle 150,000 bbl/d of...
Mar 23, 2017
Get more news for International Scout