Permian Scout
Serving the local market with drilling activities, permits & multiple listings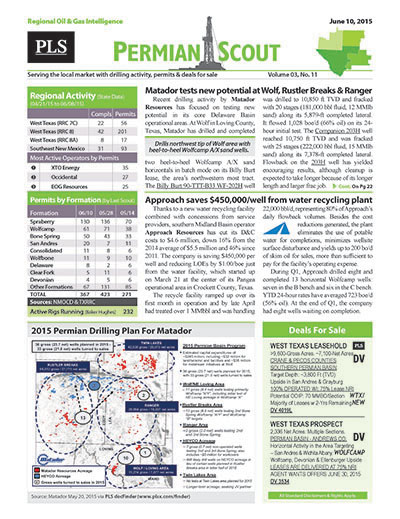 PLS publishes exploration news and drilling insights in West Texas and Southeast New Mexico through our Permian Scout.
Published every two (2) weeks, this regional report (RRC 7C, 8, & 8A) includes lead stories on drilling activity, successes and new projects while also reporting on drilling rigs, new permits, completions and P&A activity.
Stay in front of local prospects, plays & rigs!
West Texas, Southeast New Mexico
Hard Copy and Email For 1 Individual
Every 2 Weeks (22-25 issues per year)
Regional discoveries, drilling activity, permits,
completions and summary drilling statistics, layered
with regional listings and business opportunities.
Web access to the Permian Scout archive.
Does not include access to MLS
$ 795 /Yr
Search PLS' News Archive for complete oil & gas news for Permian Scout .
See what it is about before you buy. View a sample issue of Permian Scout.
Need more information? Click the button to recieve more details about the Permian Scout
Opportunity is a reflection of information.
Call 713-650-1212 For More Information
Search Permian Scout:

Headline
Publication
News Date
Pioneer to run 18 rigs in Spraberry/Wolfcamp
Pioneer Natural Resources will add a rig in March for a total of 18 running in the Spraberry/Wolfcamp in 2017. The company expects to place 45 wells in this area on production during Q1 and 260 on...
Feb 16, 2017
Permian Quick News - February 16,2017
• The Permian's oil rig count is 298, up from 173 YOY. • Reeves County, Texas, has 45 rigs running this issue, up from 25 YOY. • Parsley Energy raised capex to $1.0-1.2 billion from...
Feb 16, 2017
Anadarko targets 14 operated Delaware rigs by Q2
Anadarko is putting into action its recent strategy to use M&A to fuel growth in its high-return onshore basins, including the Delaware. The company recently accelerated to 11 operated rigs in the...
Feb 01, 2017
Permian Quick News - February 1, 2017
• The Permian region has 286 oil rigs running this issue, up from 182 YOY. • In Reeves County, 45 rigs are running, up from 28 YOY.• Lea County, has 27 rigs running, up from 16 YOY....
Feb 01, 2017
Parsley transitions into Delaware development
Parsley Energy sees 2017 as a turning point for the company in the Delaware Basin. The company plans to sharply increase completions—35-45 wells versus 5-7 in 2016—as it transitions into development...
Jan 19, 2017
Permian Quick News - January 19, 2017
• The Permian region has 264 oil rigs running in this issue, up from 200 YOY. • Reeves County has 40 oil rigs operating, up from 22 YOY. • Scurry County has five rigs running, up from...
Jan 19, 2017
Get more news for Permian Scout