CanadianCapital
Serving the Canadian finance market with news, analysis and business opportunities.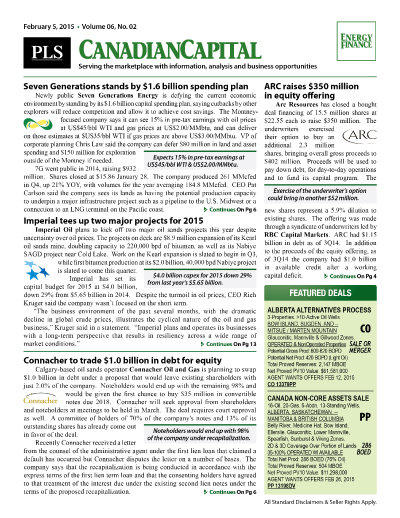 The CanadianCapital (green banner report) covers news and analysis on the energy finance sector, including company budgets, capital spending, financial performance and interviews with leading capital providers. The timely research report also contains analysis of public and private financings as well as tracks trends in capital availability from commercial banks, private equity, public markets and other providers.
Your access to Canadian energy finance
Single copy pricing; Includes hard copy & email version
Increase market insight & deal flow
Every 3 weeks
Covers Canadian financings, capex,
earnings, new companies
Includes market analysis & new trends
Access to CanadianCapital archives
Phone request for multiple listings for sale
Includes discounts for other PLS products & events
$ 595 /Yr
Search PLS' News Archive for complete oil & gas news for CanadianCapital .
See what it is about before you buy. View a sample issue of CanadianCapital.
Need more information? Click the button to recieve more details about the CanadianCapital
Opportunity is a reflection of information.
Call 713-650-1212 For More Information
Search CanadianCapital:

Headline
Publication
News Date
AER rules for Penn West in EOR dispute
Penn West Petroleum will be allowed to proceed with an EOR project after a ruling by the Alberta Energy Regulator. A group of land owners had petitioned AER to stop Penn West from using waterflood...
Apr 20, 2017
What the Analysts are Saying - April 11, 2017
ConocoPhillips (COP; US$50-March 30; Outperform; PT-US$61.00)The price of the [ConocoPhillips' sale of its share of FCCL and most of its Canadian assets for US$13.3bln] deal was very strong....
Apr 11, 2017
Improved conditions in 2017 began in 4Q16
As the Q4 earnings season comes to a close, Canadian O&G on the whole finds itself much better situated than this time last year when oil prices had cratered to multi-year lows. With rumors of a...
Apr 11, 2017
People & Companies - April 11, 2017
Activist investor Seymour Schulich now holds 40 million shares of Birchcliff Energy after acquiring an additional 2.5 million shares on March 27, 500,000 shares on April 3, and 2.0 million shares on...
Apr 11, 2017
Pengrowth cuts debt by $530 million since YE16
Pengrowth Energy Corp. has reduced its debt from YE16 by $530 million to $1.15 billion after repaying US$300 million of the US$400 million 6.35% senior notes due July 26, and redeemed with cash on...
Apr 11, 2017
Canada's S&P/TSX index rises and falls with oil
The S&P/TSX Composite Index ranked 21st among global developed markets in 1Q17, and investors do not expect this poor performance to meaningfully improve for the rest of the year. Forecasts compiled...
Apr 11, 2017
Chinook narrows FY16 loss by 35% to $55 million
Chinook Energy posted a FY16 net loss of $54.7 million on revenue of $37 million compared with a bigger $83.6 million loss in 2015 on revenue of $49 million. However, Q4 earnings of $6.4 million and...
Apr 11, 2017
Granite spending 23% less YOY after losing $8.6MM
Granite Oil Corp., focused entirely on the Alberta Bakken, reported revenue last year of $27.6 million, markedly down from 2015's $92.3 million, while 2016 earnings of $150 million were contrasted to...
Apr 11, 2017
Get more news for CanadianCapital