OilfieldServices
Serving the oilfield service sector with news, analysis and business opportunities.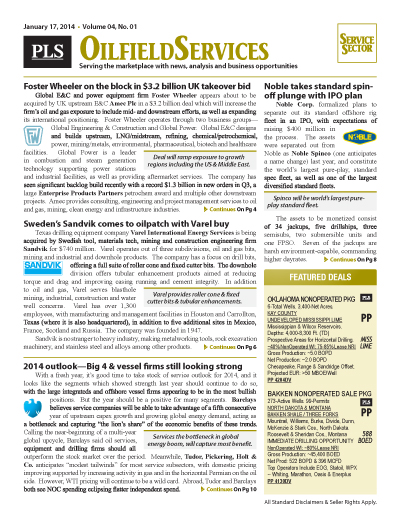 PLS publishes news and analysis on the oilfield service sector through its OFS module. The gold banner report, published every 3 to 4 weeks, covers the active sector with news and analysis on drilling, completions, field operations and technology.
Your access to oilfield service sector
Single copy pricing; Incl hard copy & email version
Increase understanding of field services & infrastructure
Published every 3 weeks; 17+ issues per year
Covers drilling rigs, field services, completions, equipment, OFS performance, supply, costs
Includes properties, oilfield services,
rigs & equipment for sale
Incl discounts for other PLS products & events
$ 695 /Yr
Search PLS' News Archive for complete oil & gas news for OilfieldServices .
See what it is about before you buy. View a sample issue of OilfieldServices.
Need more information? Click the button to recieve more details about the OilfieldServices
Opportunity is a reflection of information.
Call 713-650-1212 For More Information
Search OilfieldServices:

Headline
Publication
News Date
Savanna urgers shareholders to reject Total offer
Contact driller Savanna Energy Services is urging its shareholders to reject a bid from competitor Total Energy Services (TOT). In its most recent proposal, TOT offered 0.13 of its share per Savanna...
Feb 06, 2017
Greenwell acquires Exclusive Energy Services
Greenwell Energy Solutions, an independent specialty provider of completion and production services for the upstream energy industry, has acquired Exclusive Energy Services. Exclusive provides highly...
Feb 06, 2017
Ideal closes acquisition of Cathedral assets
Ideal Completion Services completed the purchase of Cathedral Energy Services' flowback and production testing assets in Canada and the US, which will be Ideal's initial operations. Ideal management...
Feb 06, 2017
Schlumberger acquires Peak Well Systems
Schlumberger has acquired Peak Well Systems, a provider of flow control technologies, from private equity firm Summit Partners. Peak Well Systems designs and manufactures advanced downhole tools...
Feb 06, 2017
Select Sands buys bolt-on acreage near Sandtown
Select Sands sub American Select completed the purchase of an additional 457 acres in northeastern Arkansas that Select Sands believes lies over the St. Peters Sandstone formation. The location,...
Feb 06, 2017
Technip, FMC complete merger, now TechnipFMC
A merger creating an integrated subsea giant with $18 billion in combined revenues is complete as FMC Technologies and Technip are now doing business as TechnipFMC. The company employs 44,000 people...
Feb 06, 2017
Forbes files for Chapter 11 bankruptcy protection
Forbes Energy Services Ltd. will exchange $280 million in debt for new equity under its bankruptcy reorg plan. The Alice, Texas-based oilfield contractor said it filed for Chapter 11 protection with...
Feb 06, 2017
Get more news for OilfieldServices