OilfieldServices
Serving the oilfield service sector with news, analysis and business opportunities.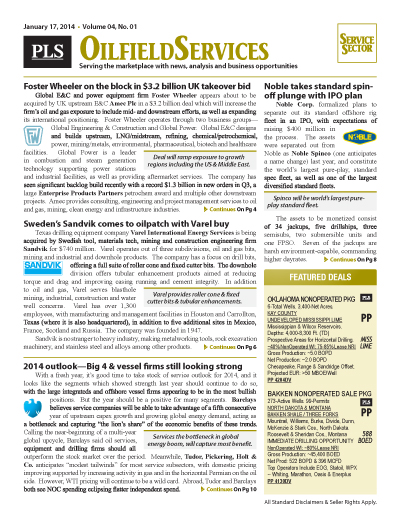 PLS publishes news and analysis on the oilfield service sector through its OFS module. The gold banner report, published every 3 to 4 weeks, covers the active sector with news and analysis on drilling, completions, field operations and technology.
Your access to oilfield service sector
Single copy pricing; Incl hard copy & email version
Increase understanding of field services & infrastructure
Published every 3 weeks; 17+ issues per year
Covers drilling rigs, field services, completions, equipment, OFS performance, supply, costs
Includes properties, oilfield services,
rigs & equipment for sale
Incl discounts for other PLS products & events
$ 695 /Yr
Search PLS' News Archive for complete oil & gas news for OilfieldServices .
See what it is about before you buy. View a sample issue of OilfieldServices.
Need more information? Click the button to recieve more details about the OilfieldServices
Opportunity is a reflection of information.
Call 713-650-1212 For More Information
Search OilfieldServices:

Headline
Publication
News Date
OilfieldServices-MA

Apr 21, 2017
Total Energy Services clinches Savanna ownership
Total Energy Services (TES) finally acquired majority ownership of Savanna Energy Services after more than 51% of Savanna's shareholders accepted TES' $333 million (C$444 million) shares-and-cash...
Apr 21, 2017
Schlumberger creates JV with YPF to develop shale
Schlumberger and Argentina's state-controlled YPF signed a $390 million agreement to start a shale oil pilot project in Bandurria Sur Block of the Vaca Muerta. Under the terms of the agreement, YPF...
Apr 21, 2017
Select Energy Services raises $122 million in IPO
Water services company Select Energy Services went public on April 21, and raised $121.8 million after issuing 8.7 million shares at $14 a share. Underwriters were granted a 1.305 million-share...
Apr 21, 2017
Big service names driving dynamic deals
It had been two and a half months since Schlumberger (SLB) made a acquisition so it came as no surprise when the frequent buyer returned in a set of deals at the end of Q1. The first deal was made...
Apr 21, 2017
China's Greka hired to drill offshore India
Chinese company Greka Drilling has been chosen by India's Oil and Natural Gas Corp. (ONGC) to drill its Bokaro coalbed methane offshore asset. ONGC is expect to issue an LOI sometime this month...
Apr 21, 2017
People Briefs - April 21, 2017
Divergent Energy Services has appointed Cameron Barton to its board of directors. Barton has more than 35 years of international experience in implementing change strategies, corporate financial...
Apr 21, 2017
Get more news for OilfieldServices