OilfieldServices
Serving the oilfield service sector with news, analysis and business opportunities.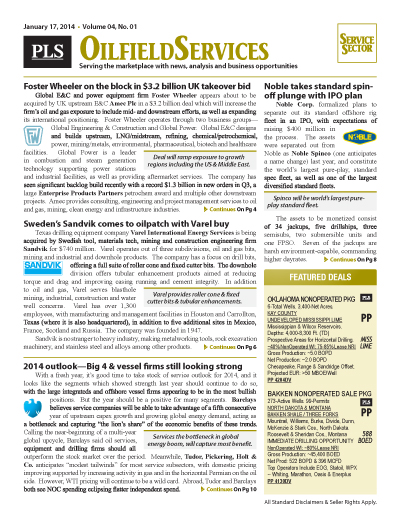 PLS publishes news and analysis on the oilfield service sector through its OFS module. The gold banner report, published every 3 to 4 weeks, covers the active sector with news and analysis on drilling, completions, field operations and technology.
Your access to oilfield service sector
Single copy pricing; Incl hard copy & email version
Increase understanding of field services & infrastructure
Published every 3 weeks; 17+ issues per year
Covers drilling rigs, field services, completions, equipment, OFS performance, supply, costs
Includes properties, oilfield services,
rigs & equipment for sale
Incl discounts for other PLS products & events
$ 695 /Yr
Search PLS' News Archive for complete oil & gas news for OilfieldServices .
See what it is about before you buy. View a sample issue of OilfieldServices.
Need more information? Click the button to recieve more details about the OilfieldServices
Opportunity is a reflection of information.
Call 713-650-1212 For More Information
Search OilfieldServices:

Headline
Publication
News Date
Investment firm acquires ?MAX Environmental
Investment firm Altus Capital Partners has acquired Pennsylvania environmental solutions and waste management company MAX Environmental Technologies. Altus partnered with industry operating executive...
Feb 28, 2017
Hunt Valve Company acquires Precision Technology
Engineering firm Hunt Valve Co. has acquired Precision Technology, a severe-duty, designer, manufacturer and supplier of linear motion actuators for automation, machinery, material handling and...
Feb 28, 2017
Pelican Energy buys stake in Quinn Artificial Lift
Houston-based private equity firm Pelican Energy Partners said it is making a "significant growth equity investment" in Canadian-based Quinn Artificial Lift Services. Quinn manufactures high-quality...
Feb 28, 2017
Get more news for OilfieldServices