OilfieldServices
Serving the oilfield service sector with news, analysis and business opportunities.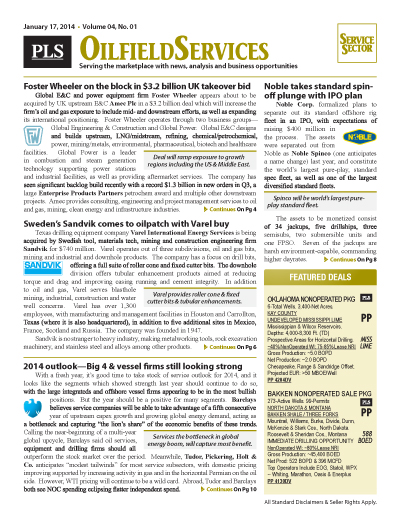 PLS publishes news and analysis on the oilfield service sector through its OFS module. The gold banner report, published every 3 to 4 weeks, covers the active sector with news and analysis on drilling, completions, field operations and technology.
Your access to oilfield service sector
Single copy pricing; Incl hard copy & email version
Increase understanding of field services & infrastructure
Published every 3 weeks; 17+ issues per year
Covers drilling rigs, field services, completions, equipment, OFS performance, supply, costs
Includes properties, oilfield services,
rigs & equipment for sale
Incl discounts for other PLS products & events
$ 695 /Yr
Search PLS' News Archive for complete oil & gas news for OilfieldServices .
See what it is about before you buy. View a sample issue of OilfieldServices.
Need more information? Click the button to recieve more details about the OilfieldServices
Opportunity is a reflection of information.
Call 713-650-1212 For More Information
Search OilfieldServices:

Headline
Publication
News Date
OFS giants refig, reboot or IPO frac businesses
It's a front page full of "frac maneuvers" as Baker Hughes plans to bring back BJ Services in a modern-day PE-funded reboot (PG. 1). Baker hopes to better position the lowermargin, highly competitive...
Dec 29, 2016
Forbes prepares to file for bankruptcy
Forbes Energy Services entered into a restructuring support agreement on Dec. 21 with certain noteholders of its 9% senior unsecured notes due 2019. Under a backstop agreement, the company has agreed...
Dec 29, 2016
Get more news for OilfieldServices