CapitalMarkets
Serving the finance market with news, analysis and investment opportunities.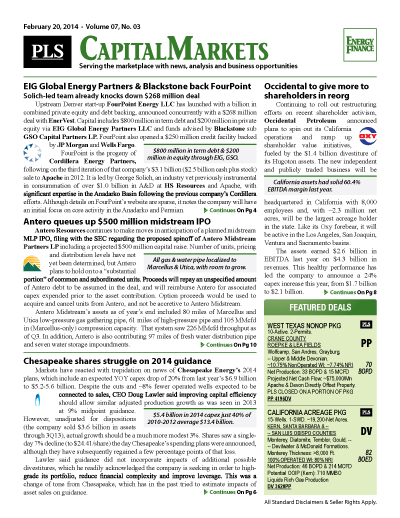 PLS publishes news and analysis in the energy finance sector through its capital markets module. The green banner report includes news and analysis on company budgets, capital spending, financial performance and interviews with leading capital providers.
Your access to energy finance
Single copy pricing; Incl hard copy & email version
Increase market insight & deal flow
Every 3 weeks; 17+ issues per year
Covers financings, capex, earnings, new companies
Includes market analysis and new trends
Access to capital market archives
Phone request for multiple listings published in reports
Includes discounts for other PLS products & events
$ 695 /Yr
Are you looking to subscribe to Capitalize? Click here for the latest Capital Markets Report
Search PLS' News Archive for complete oil & gas news for CapitalMarkets .
See what it is about before you buy. View a sample issue of CapitalMarkets.
Need more information? Click the button to recieve more details about the CapitalMarkets
Opportunity is a reflection of information.
Call 713-650-1212 For More Information
Search CapitalMarkets:

Headline
Publication
News Date
Optimistic earnings, more IPOs mark upbeat sector
Q1 earnings are out and many oil and gas companies have a suspiciously similar pattern—they did well! Not spectacular, but well enough to have put much of the past pricing slump behind them as they...
May 10, 2017
Memorial MLP emerges as Amplify Energy Corp.
Memorial Production Partners LP emerged from Chapter 11 bankruptcy on May 4 as a corporation named Amplify Energy Corp. The company said its move from an MLP was for US federal income tax purposes....
May 10, 2017
Parsley borrowing base nearly 60% greener at $1.4B
Facility redetermination worked out well for Parsley Energy, Inc. this spring. Its borrowing base rose almost 60% to $1.4 billion, and the elected borrowing base commitments increased by two-thirds...
May 10, 2017
People Briefs - May 10, 2017
Bonanza Creek Energy announced a new post-bankruptcy slate of directors that includes returning directors Richard Carty, the company's president and CEO, and Jeffrey Wojahn. New members are Energy...
May 10, 2017
Get more news for CapitalMarkets