CapitalMarkets
Serving the finance market with news, analysis and investment opportunities.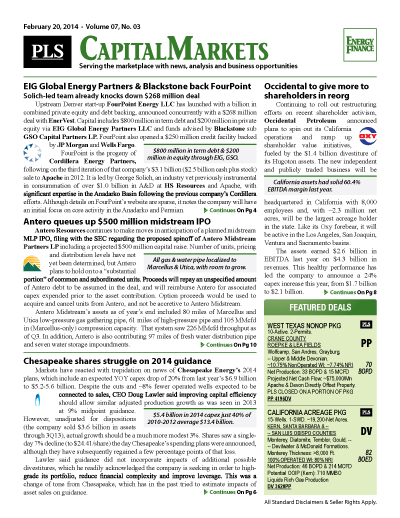 PLS publishes news and analysis in the energy finance sector through its capital markets module. The green banner report includes news and analysis on company budgets, capital spending, financial performance and interviews with leading capital providers.
Your access to energy finance
Single copy pricing; Incl hard copy & email version
Increase market insight & deal flow
Every 3 weeks; 17+ issues per year
Covers financings, capex, earnings, new companies
Includes market analysis and new trends
Access to capital market archives
Phone request for multiple listings published in reports
Includes discounts for other PLS products & events
$ 695 /Yr
Are you looking to subscribe to Capitalize? Click here for the latest Capital Markets Report
Search PLS' News Archive for complete oil & gas news for CapitalMarkets .
See what it is about before you buy. View a sample issue of CapitalMarkets.
Need more information? Click the button to recieve more details about the CapitalMarkets
Opportunity is a reflection of information.
Call 713-650-1212 For More Information
Search CapitalMarkets:

Headline
Publication
News Date
NRP nets $245MM selling preferred units privately
Natural Resource Partners LP placed 250,000 Class A 12% convertible preferred units privately at $1,000 each to gross $250 million, and net $243.75 million. The Feb. 22 sale included participation...
Mar 09, 2017
Camber Energy files $150MM shelf registration
Camber Energy filed a Form S-3 with the SEC on Feb. 24 to register $150 million of securities for future sale. The company, which recently changed its name from Lucas Energy, said the shelf...
Mar 09, 2017
Cobalt plans to regain NYSE compliance
The NYSE informed Cobalt International Energy on Feb. 27 that it had fallen out of continued listing standards as its share price failed to close above $1.00 in a trailing 30-day average. The company...
Mar 09, 2017
New Crimson entity working with Vortus Investments
New South Texas-focused Crimson Resources LLC said it partnered with a group led by Fort Worth investor Vortus Investments LP to acquire, lease oil and natural gas assets. The new company is headed...
Mar 09, 2017
New TNM Resources to get Och-Ziff lift
TNM Resources, LLC and Fortuna Management said that they are being financed via an equity commitment from affiliates of Och- Ziff Capital Management Group. Houston-based TNM will focus on E&P...
Mar 09, 2017
Get more news for CapitalMarkets