CapitalMarkets
Serving the finance market with news, analysis and investment opportunities.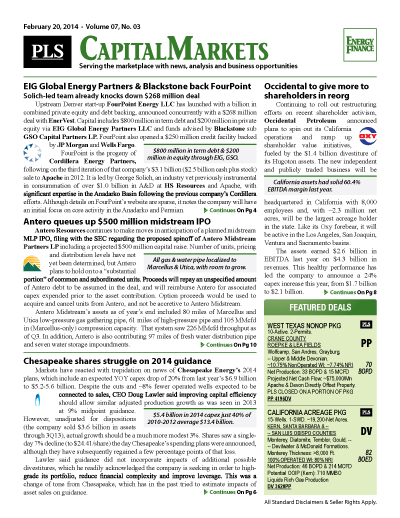 PLS publishes news and analysis in the energy finance sector through its capital markets module. The green banner report includes news and analysis on company budgets, capital spending, financial performance and interviews with leading capital providers.
Your access to energy finance
Single copy pricing; Incl hard copy & email version
Increase market insight & deal flow
Every 3 weeks; 17+ issues per year
Covers financings, capex, earnings, new companies
Includes market analysis and new trends
Access to capital market archives
Phone request for multiple listings published in reports
Includes discounts for other PLS products & events
$ 695 /Yr
Are you looking to subscribe to Capitalize? Click here for the latest Capital Markets Report
Search PLS' News Archive for complete oil & gas news for CapitalMarkets .
See what it is about before you buy. View a sample issue of CapitalMarkets.
Need more information? Click the button to recieve more details about the CapitalMarkets
Opportunity is a reflection of information.
Call 713-650-1212 For More Information
Search CapitalMarkets:

Headline
Publication
News Date
Earnings & debt the main attractions mid-quarter
Earnings season began a few weeks ago with the first numbers trickling in mainly from the oilfield services industry—Schlumberger (PG. 16), Halliburton (PG. 1), Weatherford (PG. 18) and Baker Hughes...
Feb 15, 2017
WildHorse sells $350MM in senior notes privately
WildHorse Resource Development Corp. placed $350 million aggregate principal amount of 6.875% senior unsecured notes due 2025 privately at 99.244 under SEC Rule 144A and Regulation S in transactions...
Feb 15, 2017
Chevron reports FY16 net loss of $497 million
Chevron earned $415 million in 4Q16 on $31.5 billion in revenue, compared with a $588 net loss on $29.2 billion in revenue YOY, but it couldn't extend that trajectory to FY16 results, reporting...
Feb 15, 2017
Get more news for CapitalMarkets