CapitalMarkets
Serving the finance market with news, analysis and investment opportunities.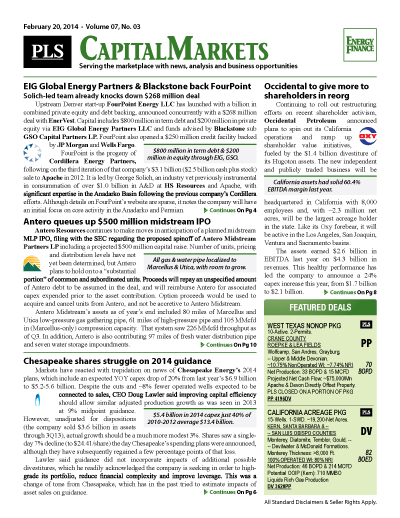 PLS publishes news and analysis in the energy finance sector through its capital markets module. The green banner report includes news and analysis on company budgets, capital spending, financial performance and interviews with leading capital providers.
Your access to energy finance
Single copy pricing; Incl hard copy & email version
Increase market insight & deal flow
Every 3 weeks; 17+ issues per year
Covers financings, capex, earnings, new companies
Includes market analysis and new trends
Access to capital market archives
Phone request for multiple listings published in reports
Includes discounts for other PLS products & events
$ 695 /Yr
Are you looking to subscribe to Capitalize? Click here for the latest Capital Markets Report
Search PLS' News Archive for complete oil & gas news for CapitalMarkets .
See what it is about before you buy. View a sample issue of CapitalMarkets.
Need more information? Click the button to recieve more details about the CapitalMarkets
Opportunity is a reflection of information.
Call 713-650-1212 For More Information
Search CapitalMarkets:

Headline
Publication
News Date
Southeastern Quick News - April 20, 2017
• There are 24 rigs—20 oil and four gas—active in the onshore Southeastern region, up from 16 YOY. • The most active county in the region, Burleson County, Texas, has four rigs running up...
Apr 20, 2017
In April 2017, there's something for everyone
IPOs and the activities of private equity groups took center stage this cycle, and it was busy! Another blank check company, Vantage Energy Acquisition Corp., went public (PG. 1) after fellow SPACs...
Apr 19, 2017
PLS enlarges its Energy Advisors capabilities 
Martin Buckley and Myron Boots, principals of 30-year old Houston-based advisory group Buckley & Boots, have joined PLS Energy Advisors. B&B's engineering and technical expertise will enable PLS...
Apr 19, 2017
Emerald Oil emerges from Chapter 11
Emerald Oil, Inc. emerged from Chapter 11 protection on April 7 after the US Bankruptcy Court confirmed the company's liquidation plan on March 24. Most of the company was bought by Crestline...
Apr 19, 2017
Exterran sells $375MM of 8.125% debt privately
Exterran Corp. said its subsidiaries Exterran Energy Solutions, LP and EES Finance Corp. sold $375 million aggregate principal amount of 8.125% senior unsecured notes due 2025 at 100. The private...
Apr 19, 2017
People Briefs - April 18, 2017
Cobalt International Energy president of E&P James Painter has resigned after being appointed to the post in January. Current VP of Exploration Tim Nicholson has been appointed SVP of exploration and...
Apr 19, 2017
Get more news for CapitalMarkets