InternationalCapital
Serving the global finance market with news, analysis and business opportunities.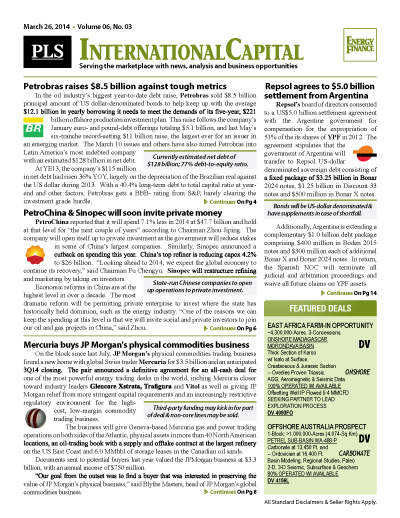 PLS publishes news and analysis in the energy finance sector through its InternationalCapital module. The green banner report includes news and analysis on company budgets, capital spending, financial performance and interviews with leading capital providers
Your access to energy finance
Single copy pricing; Incl hard copy & email version
Increase market insight & deal flow
Every 3 weeks
Covers financings, capex, earnings, new companies
Includes market analysis and new trends
Access to InternationalCapital archives
Phone request for multiple listings for sale
Includes discounts for other PLS products & events
$ 745 /Yr
Search PLS' News Archive for complete oil & gas news for InternationalCapital .
See what it is about before you buy. View a sample issue of InternationalCapital.
Need more information? Click the button to recieve more details about the InternationalCapital
Opportunity is a reflection of information.
Call 713-650-1212 For More Information
Search InternationalCapital:

Headline
Publication
News Date
International Capital-MA

Feb 23, 2017
Brent above $50 crucial to supermajors' cash flow
Brent prices need to be $50-$60/bbl for cash flow at Europe's supermajors to break even this year, analysts from Fitch Ratings reported. Royal Dutch Shell, Total and BP would all be able to cover...
Feb 23, 2017
Megaprojects still won't see spending this year
Despite the upturn in oil prices, major integrated oil companies have yet to follow suit with capex plans. The total planned expenditures for 2017 of six major firms are down significantly from the...
Feb 23, 2017
Total's net income up 15% in FY16 to €2.41 billion
With CEO Patrick Pouyanné citing the company's resilience and increasing dividends, Total reported adjusted net income of €2.41 billion ($2.57 billion), up 15% YOY, on revenue that grew 12% to €42.3...
Feb 23, 2017
Oil trader Vitol considers expansion in Africa
A Vitol executive says the lack of refining capacity in Africa relative to demand is an opportunity for the oil trader to expand its footprint within the continent. Vitol Asia president Kho...
Feb 23, 2017
Get more news for InternationalCapital