InternationalCapital
Serving the global finance market with news, analysis and business opportunities.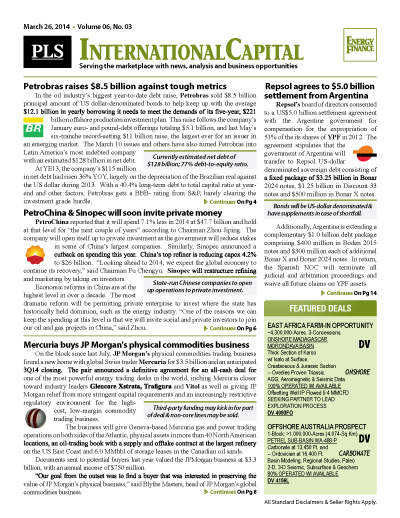 PLS publishes news and analysis in the energy finance sector through its InternationalCapital module. The green banner report includes news and analysis on company budgets, capital spending, financial performance and interviews with leading capital providers
Your access to energy finance
Single copy pricing; Incl hard copy & email version
Increase market insight & deal flow
Every 3 weeks
Covers financings, capex, earnings, new companies
Includes market analysis and new trends
Access to InternationalCapital archives
Phone request for multiple listings for sale
Includes discounts for other PLS products & events
$ 745 /Yr
Search PLS' News Archive for complete oil & gas news for InternationalCapital .
See what it is about before you buy. View a sample issue of InternationalCapital.
Need more information? Click the button to recieve more details about the InternationalCapital
Opportunity is a reflection of information.
Call 713-650-1212 For More Information
Search InternationalCapital:

Headline
Publication
News Date
Shearwater reprocessing Barents Sea seismic data
The Norwegian Petroleum Directorate awarded Shearwater GeoServices a contract for the reprocessing of 2D seismic data in the Barents Sea. The work consists of two projects run in parallel to...
Apr 13, 2017
Park Place starts work at new Turkish field
Park Place Energy relogged the Akcakoca-3 well, confirming up to 65 m of potential gas reservoir off northwest Turkey. A 10-m zone was perforated, and the well stabilized at 3.0 MMcf/d on a 24/64-in....
Apr 13, 2017
NPD grants Sigyn facilities extension
Norwegian Petroleum Directorate approved ExxonMobil's request to continue to use Sigyn field's subsea facilities until the end of 2022. The extra time will allow for an additional 18 MMboe to be...
Apr 12, 2017
Eastern Quick News - April 11, 2017
• The Eastern Region has 69 active rigs this issue—66 gas, two oil and one miscellaneous—up from 43 YOY. • Two oil rigs are running in Illinois, up one YOY. • The top county this...
Apr 11, 2017
Mayan Energy raises £600k, reverse splitting
AIM-traded Mayan Energy Ltd. sold 12 billion ordinary shares, representing 36.2% of its total shares outstanding, to private and institutional investors at 0.005p each to raise £600,000. After the...
Apr 06, 2017
Solo sells £1.2MM in shares to fund helium buy
AIM-listed Solo Oil plc raised £1.2 million through a subscription with institutional and private investors for 222,222,222 new ordinary shares at 0.54p each, representing nearly 3% of the company's...
Apr 06, 2017
Chinese funds may be big Aramco buyers
The $814 billion China Investment Corp. may become be a key investor in the Saudi Aramco IPO next year, say people familiar with the matter. China National Petroleum Corp. may also invest in the IPO....
Apr 06, 2017
Oil India buying back 5.6% of shares for $236MM
Oil India Ltd. is launching a tender offer under which it will seek to repurchase up to 44,912,000 shares at INR 340 each, representing 5.6% of its shares outstanding, for an aggregate buyback price...
Apr 06, 2017
Three Sinopec execs wanted on red notice
Indonesian police said Interpol issued red notices for three Chinese executives suspected of fraud related to Sinopec's $800 million West Point terminal project in Indonesia. The project's finance...
Apr 06, 2017
Get more news for InternationalCapital