Canadian Scout
Serving the Canadian E&P market with news, analysis and business opportunities.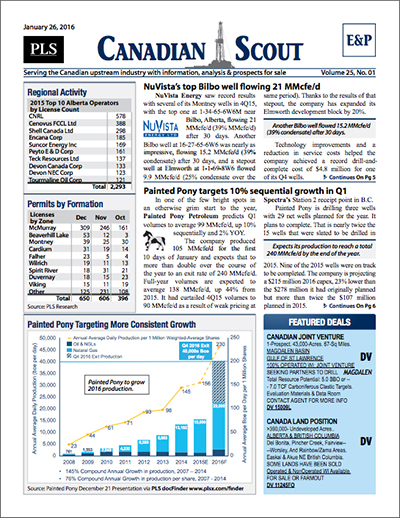 The Canadian Scout (blue banner report) covers news and analysis on the Canadian exploration and production (E&P) sector including new well discoveries, drilling activities, acreage sales, industry statistics (drilling results, activity permits & intents to drill) and technological updates. Besides composite E&P news, the Canadian Scout also carries market insight, analyst comments and respected featured interviews with leading E&P executives.
Covering exploration & production
Single copy pricing; Includes hard copy & email version
Increase market insight & deal flow
Every 3 weeks
Latest in exploration, discoveries, resource plans, land grabs, volumes, development projects & trends
Access to archives covering E&P
Phone request for prospects and lands listed for sale
Includes discounts for other PLS products & events
$ 745 /Yr
Search PLS' News Archive for complete oil & gas news for Canadian Scout .
See what it is about before you buy. View a sample issue of Canadian Scout.
Need more information? Click the button to recieve more details about the Canadian Scout
Opportunity is a reflection of information.
Call 713-650-1212 For More Information
Search Canadian Scout:

Headline
Publication
News Date
PSAC boosts 2017 drilling estimate
The Petroleum Services Association of Canada revised upward its estimate of the number of oil and gas wells companies will drill this year, reflecting a growing confidence in the sector as higher...
Feb 15, 2017
Advantage hits Lower Montney sweet spot at Glacier
Advantage Oil &Gas' combo of longer laterals and more frac stages on its Lower Montney wells at Glacier is producing results comparable to the Upper Montney. As PLS reported in January, Advantage put...
Feb 15, 2017
ARC makes big inroads on Montney well costs
ARC Resources' focus on drilling and completion costs has made its Montney asset base competitive with US producers. In 2016 the company cut drilling times at all three of its BC operating areas,...
Feb 15, 2017
Birchcliff reserve boost primes pump for growth
In 2017 Birchcliff Energy will spend $355 million—139% more than in 2016—mostly on its liquids-rich Montney/Doig assets. About 60%, or $213 million, will go to the Pouce Coup, where 32 Montney...
Feb 15, 2017
Blackbird Energy starts producing Montney gas
Blackbird Energy achieved initial Montney production at Elmworth/Pipestone. Wells 5-26, 2-20, 02/2-20 and 6-26 were tied to infrastructure in late January and will be followed by the 3-28 well after...
Feb 15, 2017
Get more news for Canadian Scout