Canadian Scout
Serving the Canadian E&P market with news, analysis and business opportunities.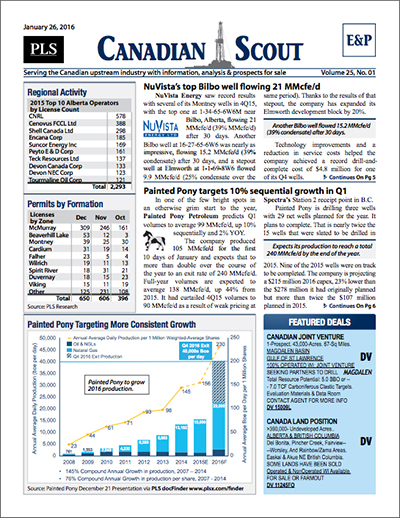 The Canadian Scout (blue banner report) covers news and analysis on the Canadian exploration and production (E&P) sector including new well discoveries, drilling activities, acreage sales, industry statistics (drilling results, activity permits & intents to drill) and technological updates. Besides composite E&P news, the Canadian Scout also carries market insight, analyst comments and respected featured interviews with leading E&P executives.
Covering exploration & production
Single copy pricing; Includes hard copy & email version
Increase market insight & deal flow
Every 3 weeks
Latest in exploration, discoveries, resource plans, land grabs, volumes, development projects & trends
Access to archives covering E&P
Phone request for prospects and lands listed for sale
Includes discounts for other PLS products & events
$ 745 /Yr
Search PLS' News Archive for complete oil & gas news for Canadian Scout .
See what it is about before you buy. View a sample issue of Canadian Scout.
Need more information? Click the button to recieve more details about the Canadian Scout
Opportunity is a reflection of information.
Call 713-650-1212 For More Information
Search Canadian Scout:

Headline
Publication
News Date
Hemisphere reserves increase 21% YOY
Hemisphere Energy spent only $2.4 million in 2016 but was able to add 823,000 boe to its 2P reserve base. This puts the company's total 2P position at 4.6 MMboe, split between its assets in south and...
Mar 16, 2017
Point Loma to restart drilling in H1
Point Loma Resources will resume drilling horizontal wells in H1, targeting the West Cove Nordegg oil pool and the Upper and Lower Mannville in Alberta's Paddle River region. The company will also...
Mar 16, 2017
Zargon production drops 33% from 3Q16
Zargon Oil &Gas's 4Q16 production was 2,449 boe/d (80% liquids), a 33% drop from 3Q16 due to divestiture of the company's southeast Saskatchewan and Killam, Alberta properties. Production in Q4...
Mar 16, 2017
A tale of two oil industries
Q1 earnings season and release of government data by AER (PG. 18) shows that two different Canadian oil and gas industries are emerging from the downturn. The first consists of small-to-mid-sized...
Mar 13, 2017
BC Feb. land sales sees more interest in Montney
British Columbia's February land sales netted $3.69 million, driven by industry interest in the Montney formation. A total of 8,177 hectares were sold at an average price of $451.33 per hectare....
Mar 13, 2017
Exxon confident oil sands projects will resume     
Despite ExxonMobil writing off 3.5 Bbbl of bitumen reserves at its Canadian oil sands assets in February, the supermajor isn't looking to abandon such projects altogether. At the company's analyst...
Mar 13, 2017
Canada oil sands become less foreign
Canada's oil and gas sector is starting to recover, but not all parts are being revived equally. Canadian Natural Resources Ltd.'s $12.7 billion acquisition of a 17% stake in Shell and Marathon Oil's...
Mar 13, 2017
Get more news for Canadian Scout