Canadian Scout
Serving the Canadian E&P market with news, analysis and business opportunities.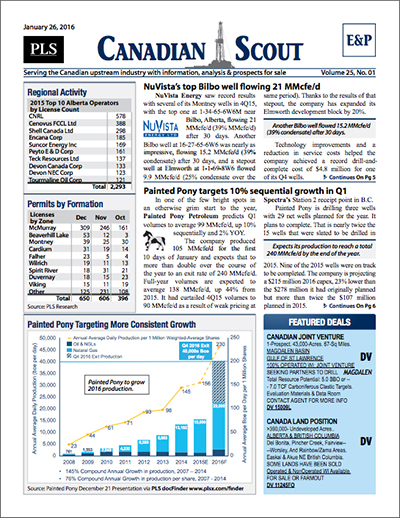 The Canadian Scout (blue banner report) covers news and analysis on the Canadian exploration and production (E&P) sector including new well discoveries, drilling activities, acreage sales, industry statistics (drilling results, activity permits & intents to drill) and technological updates. Besides composite E&P news, the Canadian Scout also carries market insight, analyst comments and respected featured interviews with leading E&P executives.
Covering exploration & production
Single copy pricing; Includes hard copy & email version
Increase market insight & deal flow
Every 3 weeks
Latest in exploration, discoveries, resource plans, land grabs, volumes, development projects & trends
Access to archives covering E&P
Phone request for prospects and lands listed for sale
Includes discounts for other PLS products & events
$ 745 /Yr
Search PLS' News Archive for complete oil & gas news for Canadian Scout .
See what it is about before you buy. View a sample issue of Canadian Scout.
Need more information? Click the button to recieve more details about the Canadian Scout
Opportunity is a reflection of information.
Call 713-650-1212 For More Information
Search Canadian Scout:

Headline
Publication
News Date
People & Companies - April 20, 2017
Ceiba Energy Services announced the resignation of Richard Lane as director of the company effective March 22. He was Ceiba's CEO from September 2016 to March 13 and COO from January 2013 to March...
Apr 20, 2017
Oil sands exit continues as Deep Basin beckons
Canada is facing the prospect of another major international oil company leaving the Alberta oil sands as Chevron is looking to sell its share of the Athabasca Oil Sands Project (PG. 3), following...
Apr 20, 2017
Q1 Crown land sale up across Western Canada
Alberta's first Q2 Crown land sale netted the province $11.4 million in bonus bids on April 5. The auction sold 37,920 hectares at an average price of $293.73, with three parcels in the area around...
Apr 20, 2017
Canadians confident of oil sands, says minister
Federal Natural Resources Minister Jim Carr is unconcerned about the exodus of foreign oil and gas companies out of Canada's oil sands patch. At a conference in the US, Carr said the move by...
Apr 20, 2017
Newfoundland heads for 20 years of oil production
A few months after ExxonMobil's Hibernia field offshore Newfoundland pumped its billionth barrel of oil, the province Hibernia lies in will soon celebrate its 20th full year of being an oil producer....
Apr 20, 2017
Altura Energy reduces Eyehill drilling time
Q1 saw Altura Energy drill five wells in Alberta and one in Saskatchewan. Of the Alberta wells, three were drilled at its Eyehill property and one each at Killam and Leduc-Woodbend, while the...
Apr 20, 2017
Bellatrix eyes three-year program
Bellatrix Exploration CEO Brent Eshleman told attendees at a recent investors conference in Toronto that the company is planning a three-year development drilling program in the Deep Basin, focusing...
Apr 20, 2017
Blackbird Resources plots out growth to 2029
By the end of 1Q16, Blackbird Resources had drilled a total of three Upper Montney and three Middle Montney wells at its Elmworth/Pipestone property near Grande Prairie, Alberta. These wells span...
Apr 20, 2017
Get more news for Canadian Scout