CanadianAcquirer
Serving the Canadian E&P market with news, analysis and business opportunities.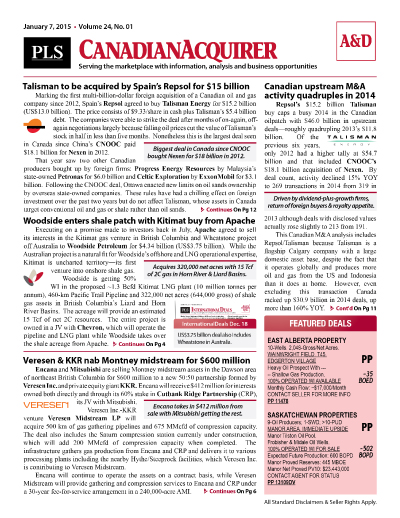 The CanadianAcquirer (red banner report) covers news and analysis on the Canadian acquisitions and divestitures (A&D) sector. This news report on the active Canadian asset marketplace features analysis of corporate mergers, property divestitures, completed transactions, deals in play and deal metrics.
PLS' most popular Canadian report
Single copy pricing; Includes hard copy & email version
Guaranteed to increase deal flow and market insight
Every 3 weeks
Latest in asset acquisitions, corporate M&A activity,
deals in play & industry buying trends
Access to archives editions of CanadianAcquirer
Phone request to multiple listing
$ 845 /Yr
Search PLS' News Archive for complete oil & gas news for CanadianAcquirer .
See what it is about before you buy. View a sample issue of CanadianAcquirer.
Need more information? Click the button to recieve more details about the CanadianAcquirer
Opportunity is a reflection of information.
Call 713-650-1212 For More Information
Search CanadianAcquirer:

Headline
Publication
News Date
Suncor's Q4 shows impact of 2016 COS, Murphy buys
Suncor's Q4 results reflected the impact of its two major acquisitions last year: the $6.6 billion acquisition of Canadian Oil Sands, which increased its ownership in Syncrude from 12.2% to 48.7% WI,...
Feb 22, 2017
Canadian O&G dealmaking picks up in February
The flow in dealmaking at the end of 2016 slowed to a drip at the start of 2017, but there are nascent signs that activity could be picking up. In the last two months of 2016, 21 deals were made...
Feb 22, 2017
Steelhead Petroleum closes $40 million Toro buy
Arc Financial-backed Steelhead Petroleum completed its $39.5 million acquisition of Toro Oil & Gas, which was delisted from the TSX Venture Exchange on Feb. 2. The deal complements Steelhead's...
Feb 22, 2017
Petrus expands Cardium footprint in Ferrier
Petrus Resources will acquire additional oil and gas interests at its core Ferrier area in Alberta's Deep Basin. The assets hold ~40 boe/d of production and include 100% WI in a Cardium horizontal...
Feb 22, 2017
Focusing on core assets to drive M&A activity
So far this year, the Canadian M&A market continues to feel the effects of low oil and gas prices. While the US market awakened after WTI jumped over $50 last June, Canadian producers haven't hit a...
Feb 22, 2017
CERC's 4-Way sale to Cooper narrows focus to OFS
Canadian Equipment Rentals Corp. narrowed its focus to upstream and midstream energy services through the $8.5 million sale of all the assets of subsidiary 4-Way Equipment Rentals Corp. to Cooper...
Feb 21, 2017
Get more news for CanadianAcquirer